Sebonack Restaurant, NY - USA
Residenz Heinz Winkler - Germany
British Airways new Business Class
NEXT: Restaurant Heinz Winkler - Germany
NEXT: Four Seasons, Las Vegas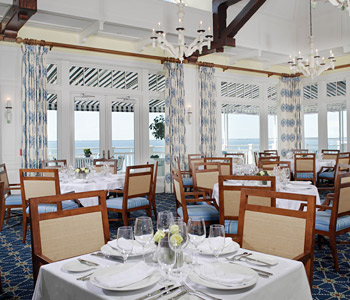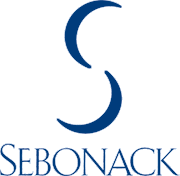 Long Island, NY - USA

5 Stars and 5 Stripes
The Executive Dining Room is old-world style with its rich dark wood paneling and elegant oversized windows. Chef Michael's menu started with his Sebonack Seafood Platter: Lobster Tail, Jumbo Shrimps and Crabmeat with Lemon, Mustard, Cocktail Sauce and a Micro Green Salad beautifully displayed on fine white china. It was a treat to sample this trio of ocean-fresh and firm crustaceans in such regal surroundings. The well dressed wait staff was quick, personal but unobtrusive and efficient. ...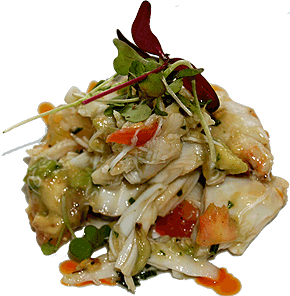 Congratulations to Executive Chef Michael Meehan and his team for presenting visually appealing and delicious cuisine and the efforts of the service team that resulted in a prefect dining experience. To GM Troy Albert, for his skill in making sure that Sebonack runs seamlessly on its path to becoming the finest golf club in America. And most certainly congratulations to owner and visionary Michael Pascucci for converting his dream into a spectacular reality! Because of their combined efforts, Sebonack is at the very pinnacle of the U.S. golf world. ...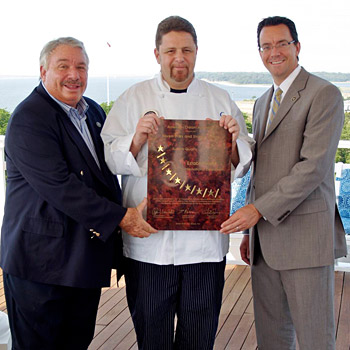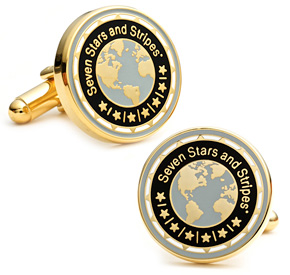 Seven Stars and Stripes Inc. now offers, for the first time, this extraordinary, custom designed 'His & Her Seven Stars Cufflink set. Limited Edition.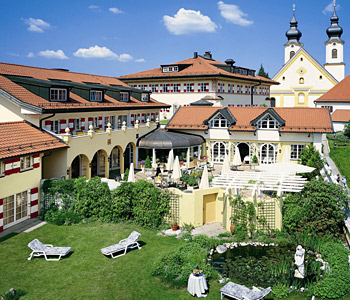 Aschau, Germany

5 Stars and 5 Stripes
The Heinz Winkler Residenz and his celebrated restaurant are located an hour south of Munich in the precious town of Aschau am Chiemsee. If we had thought that we had experienced so far a scenic ride, we were now in for some of the real breathtaking views of Germany's Alpine heartland. At the small train station we were welcomed by the driver of a Porsche Cayenne, proudly displaying the Winkler Residenz logo on the polished doors of the five-seat, mid-sized sports utility vehicle that was granting us ample space. ...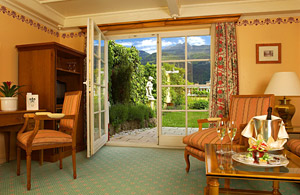 Check inn was casual-friendly, warm smiles and no formality at all after which we were guided to our two level suites, furnished and decorated in modern-traditional style with warm gold tones and extraordinary art. The Winklers had purchased this historic inn almost twenty years ago, a late medieval building which had had been called the 'Hotel Post' for centuries. Today, this hotel features thirty-two rooms and suites, all with a balcony, terrace or garden access and is supported by the Venetian Restaurant and the Garden Salon. ...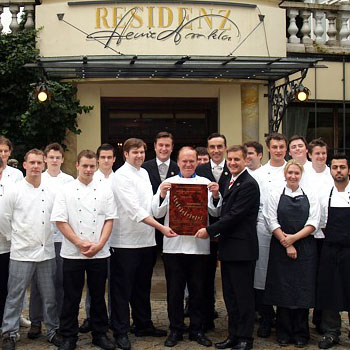 | | | |
| --- | --- | --- |
| Dear Friends, | | |
since the world is your playground and your possibilities are endless, you need not really rely on the season! But fewer crowds and congestion may, no matter where your home base, influence how you will experience your holidays. What can be more inspiring then taking the ICE Luxury Train from Northern Germany to Munich this fall or winter; which we highly recommend to travelers who are discovering this historically significant country for the first time. How about the romantic Winkler Residenz in Aschau am Chiemsee, located in close proximity to a fairytale castle of Ludwig II of Bavaria, with the breathtaking Alps as backdrop. With often 'Indian-summer-like' fall temperatures this precious gourmet destination resort and spa is even more romantic in the winter. We also experienced the inspiring cuisine of Executive Chef Michael Meehan at the Sebonack Golf Club in Southampton, New York. This majestic clubhouse overlooks the Great Peconic Bay and is well on the way to be considered as one of America's finest elite golf clubs. Flying from Europe, reserve British Airways' 'New Club World' all flat bed flights; Heathrow's 'Terminal Five' is the all-time best of BA's 'New Club World' lounges. Until next month from the Four Seasons Hotel Las Vegas, definitely to be considered for a New Year's Eve celebration with all your friends and finally the full restaurant review of one of the world's greatest chefs, Heinz Winkler and his Seven Star cuisine.
I remain yours truly
| | |
| --- | --- |
| | |
| | |
| | Thorsten Buehrmann |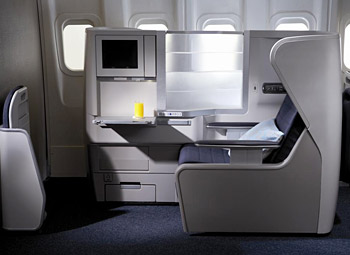 Business Class

5 Stars and 5 Stripes
The shiny 'New Club World' lounge in Los Angeles was by any means superbly maintained and in one word 'accommodating'. The buffet cuisine was diverse, descent and fresh. The modern and sleek high speed IT lounge was equipped with a battery of computers lined up in the business center for those traveling without their own. I had instant success to connect with my office and downloaded e-mails and files on to my laptop so that I would be able to work on my upcoming ten-hour flight to London. Then I decided to checkout the spa facilities; squeaky-clean, well-temperatured and welcoming with relaxing sounds of music in the hallway. The relatively spacious shower facilities featured oversized showerheads, perfect for full body coverage. I recognized Molton Brown's 'cool mentha' hair and body wash, an invigorating shower gel, promoting the feeling of jumping into the shower. ...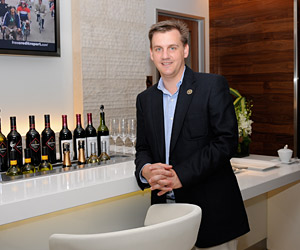 Finally we were boarded by a friendly crew and guided to our cabin, which displayed a very effective layout allowing forward and rear facing seating. For us as married couple, we were assigned cabins allowing us to face each other. The new automatic, vertically adjustable privacy screen was no comparison to the old van screens. A footstool allowed us to expand the length of the new extra wide, full flat bed and was also adjustable in height for working and entertainment. A safety bedside locker permitted us not only to store our valuables and laptops and but also charge my MacBook Pro while I was sleeping. The entertainment system was truly compelling; we watched the lastet movies, as one would do in the privacy of home supported by optimal body recliner capabilities. The cabins were overall very comfortable and clean and all passengers seemed to be pleased with their 'accommodations' and the facilities on board. ...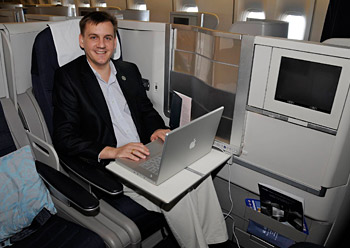 Seven Stars and Stripes Awards for: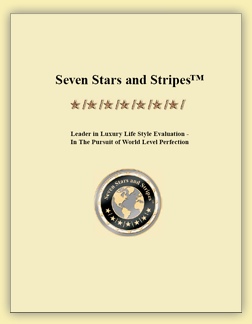 Our Seven Stars and Stripes™ book - 2003 to 2006 world-edition, is still available. Over 300 pages - featuring only the finest establishments and fascinating cuisine art images from around the world. All beautifully compiled in this full-color collector's edition. ISBN# 1-4259-4267-9
Congratulations to all, from your Guests and from Seven Stars and Stripes:
For your visible commitment to excellence.
For your willingness to be recognized for your latest innovations.
For your devotion to your staff and company.
For your ability to receive.
For your decision to raise the bar.
In Next Gazette:
* Restaurant Heinz Winkler - Germany
* Four Seasons Las Vegas - USA
In The Press:
* World Level Perfection Cuisine: