Seven Stars Green World Award
Tabacon, La Fortuna - Costa Rica
Thomas Noll & Whitney Houston & Tanya Noll
Los Tucanes, La Fortuna - Costa Rica
Tabacon Grand SPA, La Fortuna - Costa Rica
NEXT: IBERIA Business Class + NYC Restaurant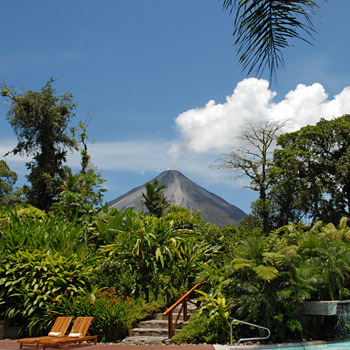 La Fortuna - Costa Rica

6 Stars and 5 Stripes
My corner suite displayed the look that combines traditional detailing with the clean lines of contemporary style and art, allowing the romantic baldachin boudoir-styled bed to be the centerpiece without letting it takeover the room. Cool, clean natural stone floors corresponded with elegant furniture of solid mahogany. Suite 508 displayed also opulent bath facilities, decorated with interesting sculptures, the flowers of the land and designer soaps and toiletries by Molton Brown. Besides, one can see the fascinating living jungle in the shower as well as from the oversized bathtub. The landscape atmosphere is nature embracing and is felt practically everywhere in the suite, including the bar and desk. ... (CLICK HERE for more)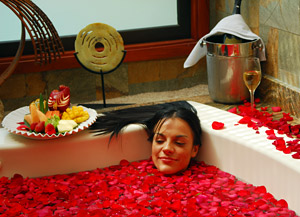 ... One of the most unusual natural mineral water spas of the world was beckoning me that day and I couldn't wait to get there. Natural hot mineral water, heated deep within the earth, high in minerals and legendary for its healing powers are feeding chemical free waterfalls and natural lagoons on-site. Tabacón's hot springs are 97% rain-based and 3% magma-based. People visit Tabacón from all over the world and are comparing the Grand Spa minerals springs with the thermal water spas of Baden-Baden, Vichy and Evian. Europeans especially, are aware of the health benefits of mineral water spas and visit them frequently for their healing attributes, and cherish Tabacón's location. ... (CLICK HERE for more)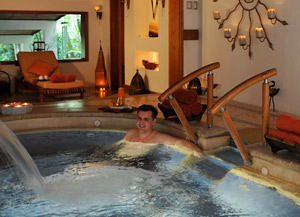 ... Tabacón's star is Uwe Wagner, a man who has put his heart and soul into this project thereby placing Costa Rica's Arsenal region on the global map. The German born Managing Director began a major renovation project to upgrade and change the old resort's identity shortly after he took over as general manager, five years ago. Wagner and his dedicated team transformed the resort and its' former Iskandria Spa into the Tabacón Grand Spa Thermal Resort, which has become one of the most accredited Green Thermal Spas worldwide. Uwe Wagner's philosophy is that environmental awareness and motivation starts at home. "If you wish to see change happen, YOU have to be the change…". ... (CLICK HERE for more)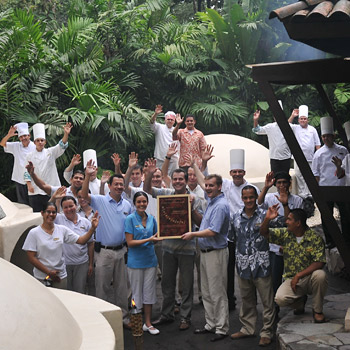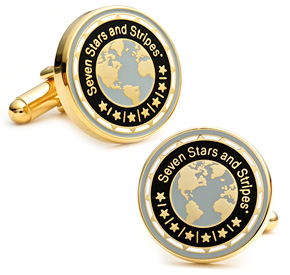 Seven Stars and Stripes Inc. now offers, for the first time, this extraordinary, custom designed 'His & Her Seven Stars Cufflink set. Limited Edition.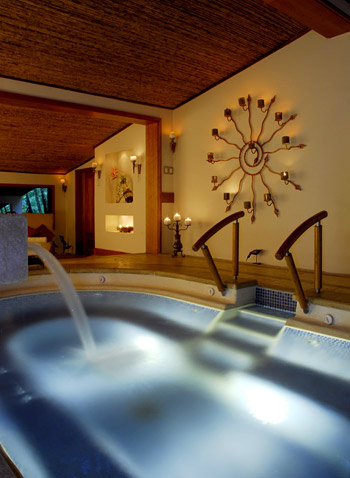 GRAND SPA
La Fortuna - Costa Rica

'Of Global Distinction'
... This worthwhile, possibly life changing experience takes place in a womb-like structure, where energy from the center of the earth and from all four winds is summoned and flows in circular motion, in direct relation to the natural elements which make up this magical place: Earth, Water, Fire and Air. The Grand Spa as I experienced it that day, fully emigrated in its environment as a part of its natural surroundings, is a Green project with little carbon footprint that GM Uwe Wagner and Spa Director Rosa Paulina Perez take very serious. ... (CLICK HERE for more)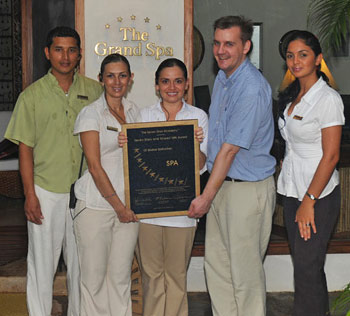 Congratulations to all, from your Guests and from Seven Stars and Stripes:
For your visible commitment to excellence.
For your willingness to be recognized for your latest innovations.
For your devotion to your staff and company.
For your ability to receive.
For your decision to raise the bar.
| | | |
| --- | --- | --- |
| Dear Friends, | | |
We hope that you are able to enjoy your holidays with your family and friends wherever in the world you are. If you haven't made plans for where you want to welcome 2010 and you care for a vitamin D kick-start for the New Year, Costa Rica's weather is great! How about the zero carbon footprint Tabacon Grand Spa Thermal Resort at the foothills of the Arenal Volcano with unforgettable adventures, natural hot mineral springs, amazing cuisine and celebration. Jorge Rodriguez, Costa Rica's Environmental Minister recently accepted the Seven Stars Green World Award as the first of its kind for Tabacon and Costa Rica. At the International Climate Change Summit, Costa Rica's Environmental Minister asked developed nations to reduce emissions by 45 percent by 2020. Rodriguez said that Costa Rica's proposal includes increased protection of forests and a goal of reducing emissions by 95 percent from their 1990 levels by 2050. I toast to that.
I remain yours truly
| | |
| --- | --- |
| | |
| | |
| | Thorsten Buehrmann |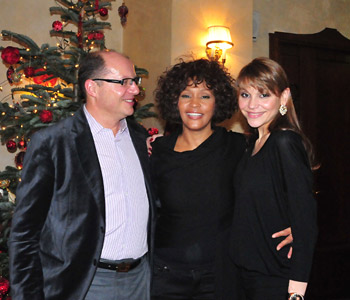 Thomas Noll & Whitney Houston & Tanya Noll
Multiple Grammy Award winner Whitney Houston started her global comeback in Russia this month with a rehearsal concert at St. Petersburg's Olimpiisky Ice Palace. The pop diva who is getting ready for her world tour, which starts in Japan in February 2010, resided at the Grand Hotel Europe during her stay. Seven Stars and Stripes Advisory Board Member and General Manager of Grand Hotel Europe Thomas Noll and wife Tanya, invited the diva to a casual dinner at the Caviar Bar Restaurant after the show. Ms. Houston, who obviously had a wonderful time, surprised the Nolls and other guests later on after dinner at the Lobby Bar with a few fabulous songs of her new album, "I Look to You".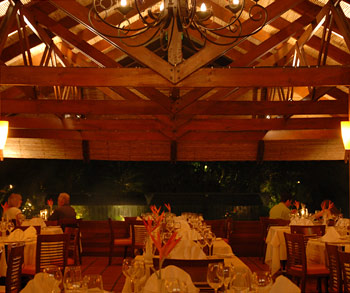 La Fortuna - Costa Rica

5 Stars and 6 Stripes
... Los Tucanes Restaurant, a special place to share your wild soul with someone you love, you have to truly experience the deft handling of superb cuisine and glorious atmosphere by being there. The restaurant is the culinary focal point of the Tabacon Grand Spa Thermal Resort, set up in a rainforest atmosphere and dominated by views of the towering Arenal volcano, which performs nightly fire and lava shows as if on cue. Uwe Wagner, the GM of the entire resort has a personal goal in his business life that is to bring world-class, heart-healthy cuisine to the jungles of Costa Rica in an eco-friendly way. For the job at hand, Mr. Wagner hired F&B Director Leopoldo Cortes who oversees the restaurant operation together with Executive Chef Imade Budiana and Executive Chef de Cuisine Pravesh K. Bhatnagar. ... (CLICK HERE for more)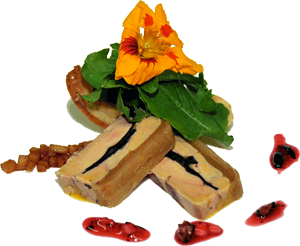 ... The menu at Los Tucanes is based on experiencing the six tastes of sweet, sour, salty, pungent, bitter and astringent, which in turn should always be included in a balanced Ayurvedic diet. An opening course of Foie Gras Terrine with black truffle, caramelized apple and red fruit sauce, one of the most extreme delicacies of French cuisine proved to be a tantalizing prelude of things to come. The aromatic scent of earth and mushrooms instantly radiated throughout the room originating from the small amount of black truffles on the foie gras. This was followed by Tomato & Saffron Consommé with Fresh Holy Basil further adhering to the principles of Ayurveda by cooking with one of the most sacred and important herbs in Hindu traditions, holy basil. As its flavor intensifies with cooking, holy basil is thought to help the body cope with stress. ... (CLICK HERE for more)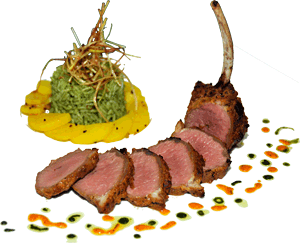 ... After an intermezzo of Rose Sorbet to cleanse our palates, we were ready for the main course of Tandoor Smoked New Zealand Lamb Chop, with mint Basmati rice and fenugreek tomato sauce. The lamb chops are coated with a paste made of ginger, cumin, paprika, turmeric, coriander, cayenne, garlic, lemon juice and oil after which they are placed into a special 'Tandoori' oven that quickly cooks the meat at an intense heat thereby sealing in the succulent juices and delivering that awesome rose-colored pink throughout the chop. This was accompanied by a bottle of Luigi Bosca Malbec Reserva, 2006 Argentina harvested from grapes grown almost 1000 meters high in the Andes, presenting soft, sweet tannins coupled with hot spice and berries enveloped in a deep oxblood red. ... (CLICK HERE for more)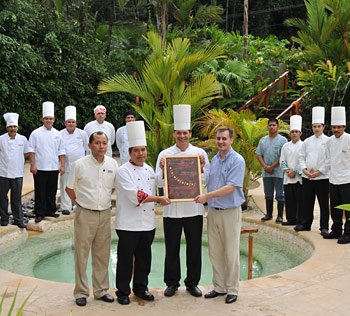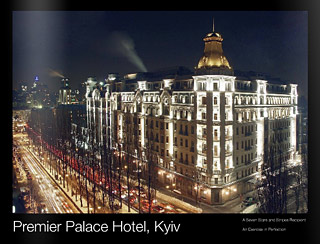 (CLICK HERE TO FLIP THE BOOK!)
Our exquisite hardcover coffee table books, custom designed for each resort, hotel, spa and restaurant, feature highlights and possible excursions of each establishment, along with the Seven Stars and Stripes review and award presentation. These impressive hard cover books, now available in three different styles, are luxuriously wrapped and make great holiday gifts and keepsakes, all the while showing the full potential of what guests may experience. Please 'CLICK and FLIP through the 2009 Seven Stars and Stripes review and award celebration at the Premier Palace, Kiev - Ukraine. Enjoy!
In Next Gazette:
* IBERIA Business Class - NYC Restaurant
In The Press:
* Seven Stars Green World Award:
Tabacon Grand SPA Thermal Resort