Kempinski Le Mirador, Geneva - Switzerland
Restaurant Le Trianon, Geneva - Switzerland
Woelffer Cuvee Sparkling Wine Brut 1999
Seven Stars and Stripes - The Book
Next Gazette: Caravelle, Saigon - Vietnam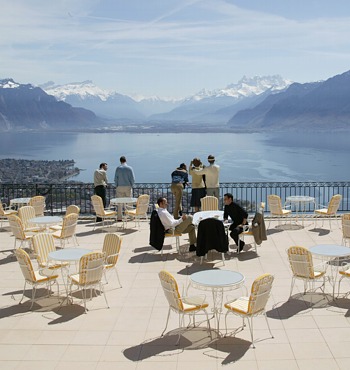 Kempinski Le Mirador
Lake Geneva, Switzerland

6 Stars and 5 Stripes
Waking up above the clouds conveys a feeling of serenity but waking up overlooking Lake Geneva is waking up in paradise. The Kempinski Le Mirador is one of Switzerland's finest and most luxurious resorts, coming across as a sophisticated mansion. As I sipped on a superb cup of coffee, the clouds parted and displayed amazing rolling meadows, hibernating vineyards, pastures and the eternal lake, turquoise today - reflecting the colors of the silent sky.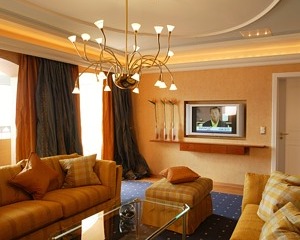 After a fabulous breakfast in a cozy dining nook adjoining my spacious living room with view-to-die-for, we met with General Manager Eric Favre. This highly qualified individual has worked all over the world in respected positions in Bangkok, Thailand, Riyadh, Saudi Arabia and several renowned resorts in Switzerland. Always on the go, he is now in the process of remodeling an attached wing with the intention of converting it into private apartments, thus allowing affluent tenants 5 to 30 year long-term leases.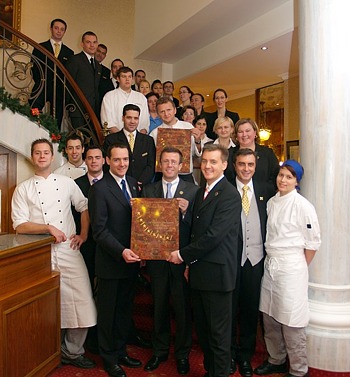 Congratulations to all, from your Guests and from Seven Stars and Stripes:
For your visible commitment to excellence.
For your willingness to be recognized for your latest innovations.
For your devotion to your staff and company.
For your ability to receive.
For your decision to raise the bar.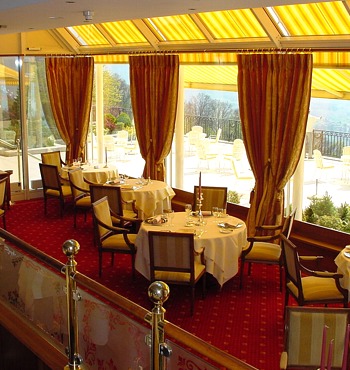 Lake Geneva - Switzerland
Chef de Cuisine: Peter Knogl

6 Stars and 7 Stripes
Chef Knogl has gained recognition over the years as a "bright new shining star of the Swiss cuisine world" with his modern adaptations of traditional Swiss fare faithfully using only the freshest locally grown produce in his creative recipes. I was equally inspired to chat with Chef Sommelier Nicole Lecoq, who dutifully paired Knogl's creations with wines from a list that won Wine Spectator's Award for "Most Outstanding Restaurant Wine List in the World" four times in the last 10 years.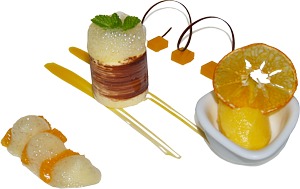 Chef Knogl's dedicated team now shifts into high gear with the arrival of the Clementine and Satsuma duo with its Sherbet brought on with even greater flair while accompanied by Gewürztraminer de Lavaux, 2003 J.M. Conne. The dessert, while framed in an edible architectural stovepipe made up of diaphanous white and dark chocolate and topped with citrus foam was accompanied by slices of mandarins and mandarin flavored sherbet.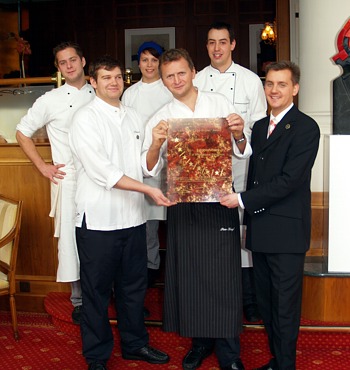 In Next Gazette:
* Caravelle Hotel, Saigon - Vietnam
* Asian Reflections Restaurant, Saigon
Luxury Product Recognition:
* Maybach - Transportation for the Elite
* Rimowa - Luggage for the World Traveler
* Pictured at Emirates Palace - U.A.E.
| | | |
| --- | --- | --- |
| Dear Friends, | | |
A Fabulous New Beginning to All!
January has some interesting holidays that are worth jetting around the globe for. Obviously New Year's Day on January 1st has passed and was by many people in the northern hemisphere welcomed with an annual Polar Bear Dip, a form of cleansing while committing to a new and better start. Then there is Martin Luther King Day celebrated in the United States on the 3rd Monday on the month, or Australia Day and Republic Day in India both celebrated on January 26th, just to mention a few. These all-important holidays are national events and allow the locals as well as visitors of their country to enjoy a few days of celebration, reflection and be able to enjoy a good reason for a break. Many New Year's resolutions have to do with getting back into shape after the holidays. What could be more tempting then the views of the eternal snow-capped Swiss Alps and Lake Geneva while undergoing a health and fitness assessment at the Givenchy Spa at the Le Mirador Kempinski??? A dinner with your favorite person at the Le Trianon Restaurant prepared by Executive Chef Peter Knogl as a follow-up would be the clear choice for the evenings. However: Spa food, please! We urge you to look forward to our February Edition of the next Seven Stars and Stripes® Gazette, featuring another fascinating travel destination: Vietnam.
I am yours truly

Thorsten Buehrmann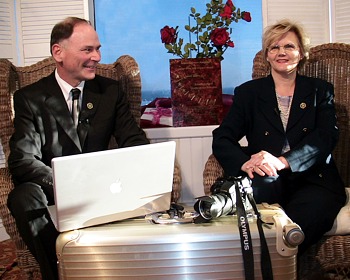 Watch the Seven Stars and Stripes
Award TV Show on
Hamptons Televisions WVVH World-Wide

Featured here on the set of the Seven Stars and Stripes Award TV Show are co-hosts Ingrid Lemme and John Lomitola, VP of Seven Stars and Stripes, Inc. WVVH Hamptons TV is a commercial cable and broadcast TV station airing NOW also in New Jersey, New York City, Westchester, Long Island (in the midst are the affluent Hamptons) and on TIME WARNER `On-Demand´. The station may be viewed world-wide in real-time via Live-Web-Stream on our website: http://www.WADTV.com

Woelffer Cuvee Sparkling Wine Brut 1999

5 Stars and 5 Stripes
It is fitting to observe that after 30+ years of wine production on the East End of Long Island, a product has been released that rivals the best that California has to offer and has been produced in one of the most beautiful locations in the world.
Woelffer Cuvee Sparkling Wine Brut is not technically a 'champagne', but offers up all the unique qualities of its cousins from France and is brought to you by the Woelffer Estate in Sagaponack, NY. Billed as an 'American Winery in the Classic European Tradition' and located in the heart of the Hamptons, Woelffer which also just released the area's first $100 bottle of wine (2000 Premier Cru Merlot), is surely on the way to breaking the well-known prejudice against East Coast wines.
It was potatoes that made Long Island famous in the old days, but according to the dreams of proprietor Christian Woelffer and winemaker Roman Roth, both of Germany, it is grapes for the future. This is due in part to the condition of the soil, called Bridgehampton loam, a fortunate by-product of the glacial activity of 10,000 years ago which sculpted the whole of Long Island.
| | | |
| --- | --- | --- |
| Winemaker Roth's efforts at 'hand crafting' this exceptional sparkling wine must have its roots in his experience gained while working as winemaker at Winzerkeller Wiesloch in Baden Germany where he perfected many award winning releases using Methode Champenoise. Woelffer Cuvee Sparkling Wine Brut is a blend of chardonnay and pinot noir grapes the latter of which is notoriously difficult to work with. The Master Winemaker and Cellar Master degree earned from the College for Oenology and Viticulture in Weinsberg Germany added to the already extensive experience achieved by Roth and together helped tame the inate difficulties of making sparkling wines. | | |
This lovely delicate wine has an elegant golden hue which glows with radiant sparkles and accentuates the slightly smoky texture with hints of white fruits suggesting apples and pears. The aging process is 3 1/2 years and produces a lively acidity and mineral flavor that lasts through the long finish to announce a great balance and majesty.
In terms of food paring, this wine is a natural partner to appetizers featuring salty accents like caviar, smoked salmon, prosciutto or cream based soups like lobster or crab bisque. Grilled fish or chicken and veal, along with hot and spicy flavors of Italian, TexMex or Chinese release the unbridled potential that slow fermentation in stainless steel tanks at a cool temperature achieves.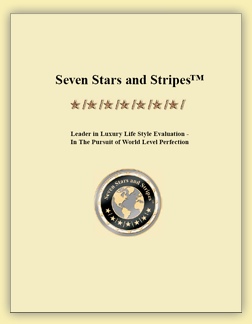 Our long-awaited book Seven Stars and Stripes™ - 2003 to 2006 world-edition, is now available. Over 300 pages - featuring only the finest establishments and fascinating cuisine art images from around the world. All beautifully compiled in this full-color collector's edition. ISBN# 1-4259-4267-9
Seven Stars and Stripes Awards for: