Le Mirador, Lake Geneva

Society - World Level Perfection
December 21st - 2006
6 Stars & 7 Stripes
Cuisine & Service

The Ultimate Award:
Seven Stars and Stripes™
A refreshing, crisp wind is blowing over Lake Geneva and I am overcome with sensory cues and visions depicting its origin somewhere high up in the surrounding ring of glacial peaks. I cannot take my eyes away from this surreal panorama in front of me as I stand atop my 1200-foot precipice on the terrace of Le Mirador Kempinski. We are about to enter the fabled Le Trianon Restaurant for an evening of appetite arousal but I pause once more to savor the deeply sensuous fresh scent of Lake Geneva. The light is fading fast now as my eyes hold on to the illuminated image of the city of Montreux below on the shores of the hushed Swiss Riviera.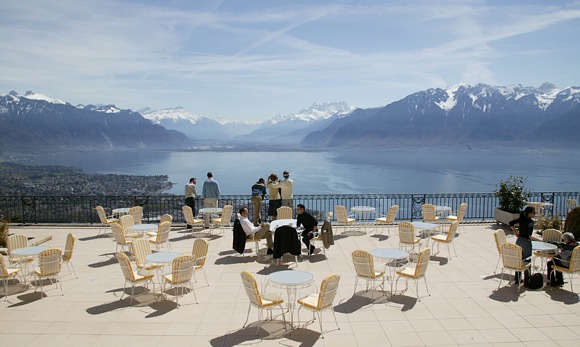 Our esteemed host for tonight's festivities is Executive Chef Peter Knogl who promises to put a fresh spin on chic cuisine and take us on a flavorful journey across established culinary frontiers. When we arrive at the entrance to the restaurant, Maitre d'Hotel Michel Carrez informs us that Chef Knogl had requested that we not be given a menu but instead he will fire-up his spirited imagination and treat us to some of his favorite preparations. That being said, we are seated to the inspired sounds of live piano music emanating from the bar area.
| | | |
| --- | --- | --- |
| Chef Knogl has gained recognition over the years as a "bright new shining star of the Swiss cuisine world" with his modern adaptations of traditional Swiss fare faithfully using only the freshest locally grown produce in his creative recipes. I was equally inspired to chat with Chef Sommelier Nicole Lecoq, who dutifully paired Knogl's creations with wines from a list that won Wine Spectator's Award for "Most Outstanding Restaurant Wine List in the World" four times in the last 10 years. | | |
"Chef Knogl seems to create poetry without ever picking up a pen." ~ TB
Our servers Alexander, Silvio and Gregory move around the table as if a well trained synchronized swim team was performing and they work effortlessly to provide enjoyable service. The tall Spiegleau wine glasses stand like elegant sentries as they are being filled with the first of our many wine samplings, in this case Laurent Perrier Ultra Brut providing a crisp, clean, airy and delicate effect on the palate with aromas of white fruits, honeysuckle and citrus. Our 'Amuse Bouche' turns out to be a delightfully simple rendition of Coriander Carrots served in a mocha cup adding to the allure of simplicity focusing on concentrated sweet and savory flavors. This is followed up by Duo of Tuna Carpaccio with Coriander Vinaigrette, a surprising variation of sliced seared tuna coated with coriander and chopped tuna tartare rolled with pickled ginger slices. Lying next to all this on the same Villeroy & Boch china are delicate lines of wasabe cream along with edible flowers. A bottle of Domaine La Colombe, Raymond Paccot Pinot Gris Reserve 2004 showed the Germanic side to this varietal offering a full body with notes of lemon, lime, pineapple and grapefruit. This wine is produced from 35 year old vines in the region around Lake Geneva and will stimulate the palate to appreciate the exciting exotic flavors of coriander and ginger.
| | | |
| --- | --- | --- |
| | | Our main course of Saddle of Venison with Juniper Sauce and Puréed Celery bore all the hallmarks of the great game preparations adding to that the earthy flavors of juniper and puréed celery root. Of course, a Cabernet d'Ollon, P.A. Meylan, 2005 with 100% cabernet franc grape is an enthusiastic partner to the venison as it offers an herbal yet spicy aroma and taste within a dark red liquid bringing to mind the thoughts of violets and black currants. |
Chef Knogl's dedicated team now shifts into high gear with the arrival of the Clementine and Satsuma duo with its Sherbet brought on with even greater flair while accompanied by Gewürztraminer de Lavaux, 2003 J.M. Conne. The dessert, while framed in an edible architectural stovepipe made up of diaphanous white and dark chocolate and topped with citrus foam was accompanied by slices of mandarins and mandarin flavored sherbet.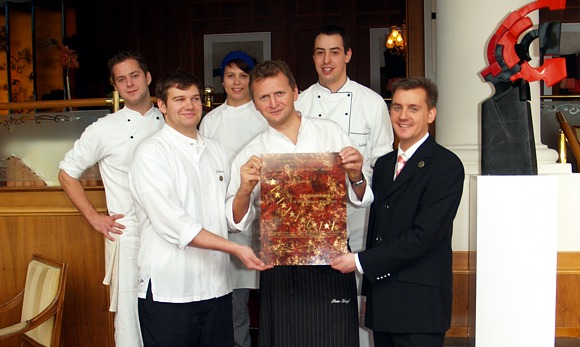 2006 Award-Hand-Out at Le Trianon
I can honestly say that the culinary display that Chef Knogl and his team put on today makes Le Trianon at Le Mirador Kempinski worthy of inclusion of everyone's list of "1,000 places to see before you die."
"Chef Knogl's performance was a fireworks; an explosion of culinary brilliance!" ~ TB
by Thorsten Buehrmann & Arno Goudschaal

Editor-in-Chief: John Lomitola

© 2006 ~ Seven Stars and Stripes, Inc.