Lake Geneva, Switzerland receives

Society - Extraordinary
December 21st - 2006
6 Stars & 5 Stripes
Hotel & Service

The Ultimate Award:
Seven Stars and Stripes®
We booked flights over Northern Europe and landed at Geneva International Airport, Switzerland (GVA), which still appeared quite busy as a result these late arrivals. We reached lake Geneva within half an hour and walked into the gracious, welcoming golden doors of Le Mirador Kempinski in less then an hour. The location is, due to lack of better words, 'a diamond in a platinum setting'. There is nothing on either side of the lake that comes even close to the wonders of this stunning resort.
"The location is, due to lack of better words, 'a diamond in a platinum setting'... " ~ TB
Lake Geneva in the Swiss Alps is a favorite playground of many internationally renowned celebrities, serious writers and filmmakers. As we were arriving here in December close to midnight, the lights of the world below us still reflected in the waters of this fascinating lake and sparkled in a million different ways. Our late appearance did not seem to have any impact on the professional Front Office Manager checking us in, looking impeccable as if he had that very moment emerged from their hotel brochure.
We followed the bellman up to the precious 'Grand Staircase', lit with a magnificent glistening chandelier, which in turn led us to our 'royal' accommodations. A celebrated designer has truly accomplished his mission to set the mood on relax as one enters the suite. We found it welcoming, engaging, and ever pleasing as the eye focuses on the tasteful design and exquisite layout peppered with marvelously harmonized fabrics.
We opened a good bottle of wine, nibbled on some delicious chocolate covered fruits but decided to call in room service for something more substantial, since we had missed dinner. The room service menu was extensive and arrived after a short wait; not bad considering the late hour. Satisfied and tired we decided to stop for the day. I took a quick shower in spacious bath accommodations and then got to experience what they call a 'royal sleep'. This bed was indeed fit for a lord.
Waking up above the clouds conveys a feeling of serenity but waking up overlooking Lake Geneva is waking up in paradise. Le Mirador Kempinski is one of Switzerland's finest and most luxurious resorts, coming across as a sophisticated mansion. As I sipped on a superb cup of coffee, the clouds parted and displayed amazing rolling meadows, hibernating vineyards, pastures and the eternal lake, turquoise today - reflecting the colors of the silent sky.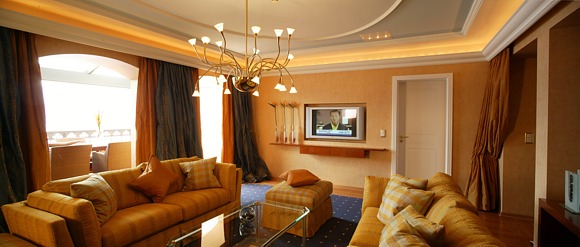 Royal Suite - Living Room
After a fabulous breakfast in a cozy dining nook adjoining my spacious living room with view-to-die-for, we met with General Manager Eric Favre. This highly qualified individual has worked all over the world in respected positions in Bangkok, Thailand, Riyadh, Saudi Arabia and several renowned resorts in Switzerland. Always on the go, he is now in the process of remodeling an attached wing with the intention of converting it into private apartments, thus allowing affluent tenants 5 to 30 year long-term leases.
Later that day one thousand three hundred and twelve feet above Lake Geneva, I connected with ease by WIFI with my office in New York. Then we were able to experience the brand-new, sparkling pool facilities located in a separate building under a glass-dome with flexible walls. Some guests were sunbathing and enjoying the tempting warm waters and breathtaking views. The adjoining Givenchy Spa can be considered one of the only health, beauty and medical spa facilities 'above the clouds'.
I felt inclined to partake in some spur-of-the-moment treatment, but my mind was set already on reviewing the uniquely creative cuisine of one of Switzerland's most gifted chefs: Peter Knogl.
"Waking up above the clouds conveys a feeling
of serenity but waking up overlooking
Lake Geneva is waking up in paradise." ~ TB
by Thorsten Buehrmann & Arno Goudschaal

Editor: Ingrid Lemme

Editor-in-Chief: John Lomitola

© 2006 ~ Seven Stars and Stripes, Inc.