Emirates Palace, Abu Dhabi - UAE
Djibouti Palace, Djibouti Africa
21 Club Restaurant, New York - USA
Etihad Airways - Pearl Zone
Sayad Restaurant, Abu Dhabi - UAE
Mezzaluna Restaurant, Abu Dhabi - UAE
LAC ASSAL Restaurant, Djibouti - Africa
NEXT: Garden City Hotel & Lufthansa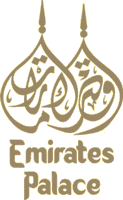 Abu Dhabi, United Arab Emirates

7 Stars and 7 Stripes
Just as easily they swung past the Palace for a quick tour of the Corniche to point out the newly built Arabian Heritage Center, founded for the purpose of preserving the bygone traditions of the locals for posterity. Finally our arrival at the Palace, entering just past the 'Royal Entrance' built entirely for the purpose of allowing dignitaries, powerful world leaders and of course the Royal Family of Abu Dhabi to arrive discreetly away from the eyes of the public. My entrance was no less spectacular as when we pulled up to the curb, several valets and doormen jostled for position to get to the Maybach door to greet me with a cacophony of voices all calling out "Welcome to the Emirates Palace" at the same time.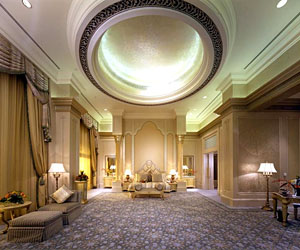 I remember seeing a laptop set-up next to the desk and get ready to open it for use. The doorbell rings and before I can jump up, it cracks open I hear my butler José ask, "May I come in Mr. John?" "May I unpack your clothes, or would you like some time to sleep before your partner Mr. Bührmann arrives from Dubai?" I remember wondering how well informed he seemed since he knew about Thorsten's immanent arrival. I asked José to go ahead and unpack for me while I worked on my own laptop to stay in contact with our New York office. I noticed right away that all the rooms and suites have wireless Internet (WIFI) connectivity simply by logging on your Internet provider and agreeing to the terms. "You are scheduled to have lunch in Anar, the Persian restaurant at noon, ...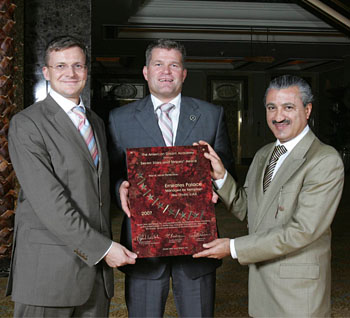 Congratulations to all, from your Guests and from Seven Stars and Stripes:
For your visible commitment to excellence.
For your willingness to be recognized for your latest innovations.
For your devotion to your staff and company.
For your ability to receive.
For your decision to raise the bar.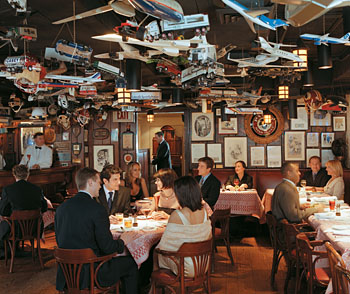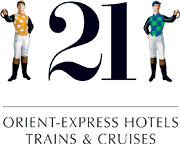 New York City - New York
Chef de Cuisine: John Greeley

6 Stars and 6 Stripes
"21" is more than a place to eat; its décor and ambiance always had the unique ability to make its guests feel that they were at a very exclusive place of their own, with all the trappings of wealth and elegance. There is something deliciously wicked about dining at the club with its infamous heritage of mobster and celebrity patronage. According to local legend, 21 was also famous for it's highly publicized "power seating". The dining room is setup in a "horse shoe" arrangement with 3 distinct sections; The First section (on the far left as you walked in) was reserved for "A" list socialites and celebrities, The Second section in the virtual center of the dining room with tables and banquets, faces the bar, and was reserved for politicians, lesser renowned celebrities, and 21 club regulars. The Third section (on the far right of the dining room) referred by some gossip columnists as "Siberia" was usually reserved for tourists and unknowns…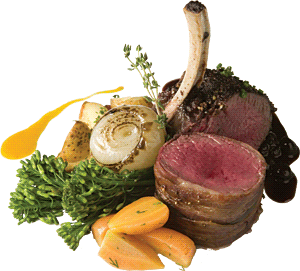 Executive chef John Greeley started out in Nantucket Island working in restaurants during the summer. He eventually moved to New York to attend New York's School of Visual arts and then transferred to Savannah College of Art and Design. During his college years John was already appointed to the sous-chef of the acclaimed 45 South restaurant in Savannah's historic district. John's artistic background gives him a perfect platform for his cuisine creations, using the freshest local ingredients in tasty and visually most exciting ways. John has received great attention in the press for his untraditional recipes for 'goose with dry rub and huckleberry sauce'. He has appeared on TV shows like CBS's Chef on a shoestring. John's painting and sculptures adorn the walls in both Savannah and New York City. ...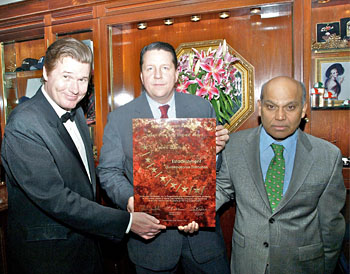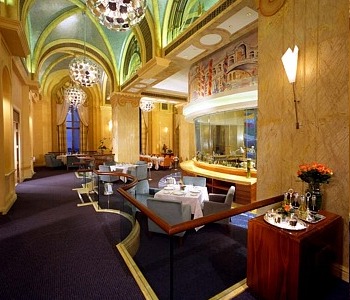 Mezzaluna Restaurant
Abu Dhabi, United Arab Emirates
Chef de Cuisine: Luigi Antinio Piu

5 Stars and 6 Stripes
We tore ourselves away from the penetrating vision in the heavens before us and took our places within the confines of the comfortable and well-designed restaurant. We immediately received an assortment of warm house-made breads, including crispy bread sticks, several types of baguettes, soft rolls and whole grain. Bona fide extra virgin Italian olive oils were offered along with shaved bits of Parmigiano-Reggiano cheese and thick and sweet aged Balsamico di Modena vinegar. We had previously had the pleasure of dining under the gifted creative artistry of Executive Sous Chef Luigi Antonio Piu and his talented team, overseen by Executive Chef Wolfgang Fischer.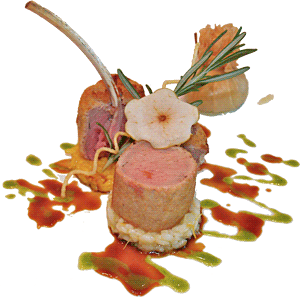 This was truly a perfect ending as we realized that the passion that lives in Chef Luigi Piu comes to life in his creative kitchen. We left Mezzaluna releshing the lingering sensation of just having dined with a fresh fun spin on traditional cuisine. It was as if Chef Luigi was in the process of re-mastering the art of Italian cooking and presentation deep within the gastronomic center of Abu Dhabi. Our experience was one of gracious service and spirited charm leading us to believe that the only ingredient that doesn't go out of style here is hospitality and passionate brave new cooking. ...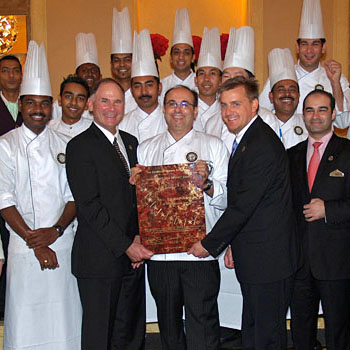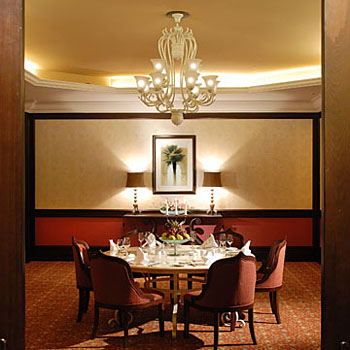 Lac Assal Restaurant
Djibouti Africa
Chef de Cuisine: Iain Joyce

5 Stars and 4 Stripes
Restaurant Manager Ingo Graf greeted us as we approached the podium, welcoming us with his warm, genuine smile. An offer of cool perfumed cloth towels is presented and we relish their irresistible feeling on the skin and seductive scent of the rosewater. Our table has been arranged in the upper dining room and we enter amidst the sounds of softly playing background music. It is now up to Executive Chef Iain Joyce to pull out all the stops and present a sampling from what influences he has garnered in 15 years of experience in the Middle East, New Zealand and England.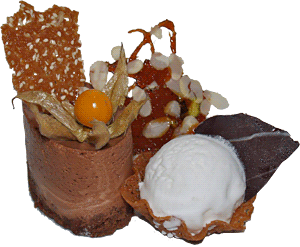 Our respect and admiration go out to Executive Chef Iain Joyce, of New Zeeland. He is a highly motivated professional, who received his Hotel Chef's Diploma in Great Britain from 'Bournemouth and Poole'. The creative young chef, who worked as Executive Sous Chef at the Madinat Jumeirah in Dubai, U.E.A. for several years, took over the leading man position at the Djibouti Palace Kempinski recently and his team is already receiving international recognition under his leadership. We are delighted with his creative style and believe in a promising future. ...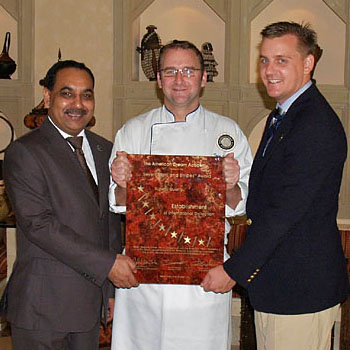 In The Press:
* Arrival at the Emirates Palace
| | | |
| --- | --- | --- |
| Dear Friends | | |
December it is, more and more families and their close friends are celebrating their special time of the year by traveling in groups to either, a winter wonderland scenery or to a warmer and maybe even exotic location. There's a definite connection between living well and healthfully and maintaining a cheerful outlook on traditions, traveling and presenting gifts. One thing to remember is, that often the most welcomed presents come on little boxes; let me point out that Turquoise is the birthstone for December. Native Americans ascribe spiritual power to the gem, which can be found in the American Southwest as well as in Australia, Iran, and Afghanistan and all over the Middle East. Discover Abu Dhabi in the United Arab Emirates on the Persian Gulf, and their exciting cuisine, prepared by world-class chefs. The place to be for superlative gastronomy is the Emirates Palace, which is now officially the first 'All Seven Stars and Stripes Award' - 'World Level Perfection' recipient resort-hotel in the Middle East! Another worthwhile new exotic travel destination is Djibouti, experience with us the recent addition to the celebrated global Kempinski group in Africa, and dive with the Whale Shark behemoths! Here we experienced a fabulous new adventure-luxury travel destination, a new star on the heavens of global hospitality! We have chosen Etihad Airways as our destination airline to the Middle East. The overall Etihad experience was one of comfort, relaxation, luxury, hi-tech diversion with a satisfying complete cuisine. In New York, USA we reviewed The 21 Club, a NYC institution, renowned world-wide, this historic restaurant is a must for the discriminating holiday shopper. Until next month -
I am yours truly
| | |
| --- | --- |
| | |
| | |
| | Thorsten Buehrmann |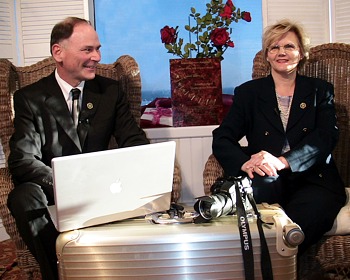 Watch the Seven Stars and Stripes
Award TV Show on
Hamptons Televisions WVVH World-Wide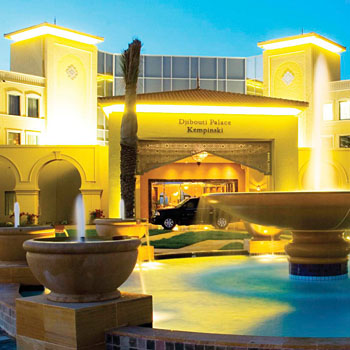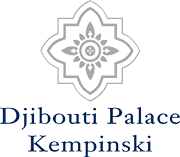 Djibouti, Africa

5 Stars and 5 Stripes
We passed the flagpole, proudly displaying the colors of its republic, and elaborate fountains and finally we arrived at the main entrance of this precious hotel. As we entered the expansive golden entrance and walked through the polished marble lobby we were fascinated by its formal, enticing modern design and the magnitude of display cases with traditional art. It all seemed indeed a unique fusion of African and Arabic style. A softly splashing, sleek fountain drew our attention and the perfume of fleshly cut exotic flowers dramatically arranged in huge vases, filled the air with an abundance of tropical fragrances. The elevator emerged within split seconds, no sound, and no time to spare. My suite turned out to be, by any means, presidential accommodations; my Rimowa luggage had magically already arrived ahead of me, still untouched, waiting for my permission to be unpacked.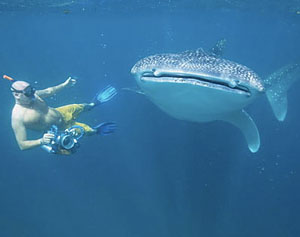 The Seven Stars and Stripes Award presentation and celebration at the grand ballroom was a spectacular soiree, covered by the international press. Diplomats, ambassadors and consuls, as well as Djibouti's high society, witnessed when his Excellency Mr. Mohamed Dileita Mohamed, Prime Minister of Djibouti accepted the Seven Stars and Stripes Award on behalf of the Djibouti Palace Kempinski and handed it to the Kempinski management, represented by Bugra Berberoglu and his staff. As Reuters, BBC and many regional and local TV station cameras were rolling, a huge applause supported this well-appreciated gesture. ...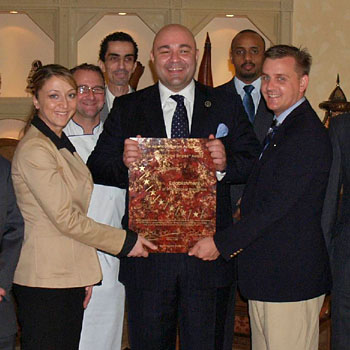 Seven Stars and Stripes Awards for: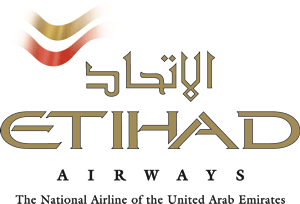 Pearl Zone / Business Class

6 Stars and 6 Stripes
As I entered the aircraft, I was sincerely greeted by the crew, wearing the most awesome looking outfits that I've seen in quite a while. They reminded me of the palace maidens for the great Sultans of '1001 Arabian Nights', almost as if a special requirement for working on the aircraft was, that you had to be knock-down gorgeous. Any kind of work with the public sector depends solely on a deep-rooted ability to try to satisfy your guest without letting anything adverse affect you personally. It seemed as though each one of the flight attendants had been handpicked for this intrinsic quality. Upon reaching my assigned seat I was presented with a choice of newspapers, and of course a cool towel, to refresh myself.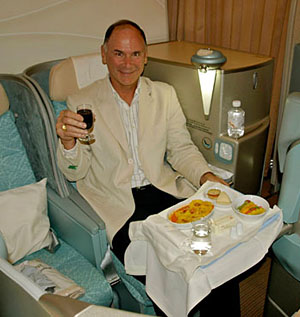 After a smooth take-off and with 14 hours of non-stop flight time ahead, it was time to check out all the special features in my space that would have an impact on my comfort level. Etihad prides itself on offering as many distractions as possible during the long flight to make it a relaxing experience. Directly ahead of me I discover an AVOD (audio-visual-on-demand) system just waiting for me to make a choice. It offers more than 350 hours of movies, television and audio programs and I sense that I won't even scratch the surface during this flight. Etihad installed the largest comparable LCD screens in the industry with 23" screens in the Diamond Zone, 15" screens in the Pearl Zone and 10.4" screens in the Coral Zone for incredibly lifelike viewing. ...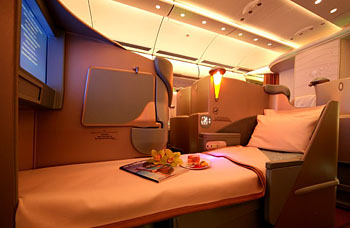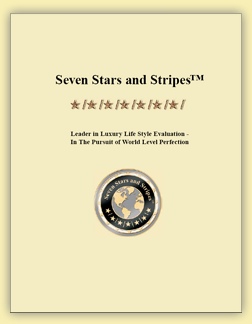 Our Seven Stars and Stripes™ book - 2003 to 2006 world-edition, is still available. Over 300 pages - featuring only the finest establishments and fascinating cuisine art images from around the world. All beautifully compiled in this full-color collector's edition. ISBN# 1-4259-4267-9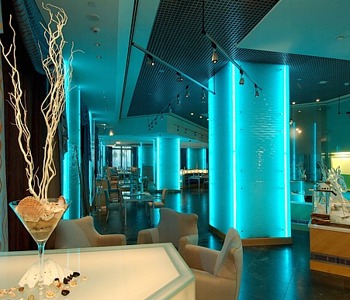 Mezzaluna Restaurant
Abu Dhabi, United Arab Emirates
Chef de Cuisine: Bryan Chan
New York - USA

6 Stars and 5 Stripes
Restaurant Manager Belinda greets us warmly with a firm handshake and as if long lost mariners at the end of an epic journey, we are shown to our table all the while gazing into every corner of the room, discovering peace and tranquility as we go. The subdued aqueous colors that abound convey the feeling of snorkeling through the restaurant while at the same time acts to power up our palate in quiet anticipation for dining on seafood. Rose scented cool cloth towels were presented as a way to freshen up before dining. Belinda began by serving us a Bellini, an aperitif that originated in another water world of Venice, Italy. Refreshing fresh white peach puree combined with Prosecco sparkling dry wine offered the right touch to share our special moment. Bread was brought out to the table along with a trio of spreads including sweet & spicy red pepper, delicate tuna and sweet cream butter. Four types of house made breads were made available including baguettes, soft rolls, brioche and large formations of Arabic flat bread.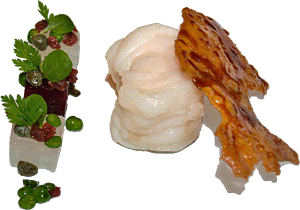 Finally our evening dining experience came to an end with the service of Pandan Leaf Crème Brulee and Caramel Custard Tofu Ice Cream. Is there any end to this madness? Chef Chan is continuing to raise the bar of excellence in his pursuit of perfection and creativity. Needless to say, a very special wine of extraordinary character was necessary at this point and proud Belinda brought us a breathtaking, marvelous Château d'Yquem Sur Saluces, 1998. It is a remarkably obvious, open and expressive wine showing plenty of character with an appreciable depth of botrytis. That is the ingredient that produces the great finesse and structure as well as allowing for eons of cellar time rather than mere years. We were honored and fortunate to have had an opportunity to taste this monumental wine. Chef Chan is a skillful and brilliant virtuoso, who masterfully compiles his thoughts into measurable endeavors for the pleasure of his grateful guests. Emirates Palace is thankful to have his expertise at their disposal as he represents the same professional 7* dream of striving for perfection. ...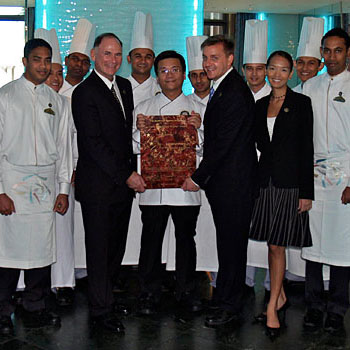 In Next Gazette:
* Garden City Hotel, NY - USA
* Lufthansa Business Class