The Ritz Carlton Moscow - Russia
Grand Hotel Europe, St. Peterburg - Russia
Jeroboam Restaurant, Moscow - Russia
L'Europe Restaurant, St. Petersburg - Russia
Caviar Bar & Restaurant, St. Petersburg
UNITED Airlines - Business Class
NEXT: Fairplay Golf Hotel & Spa - SPAIN
Thai Business CLass
NEXT: Tabacon Grand Spa - COSTA RICA
British Airways Business Class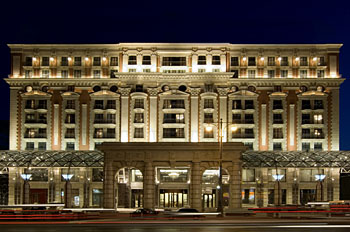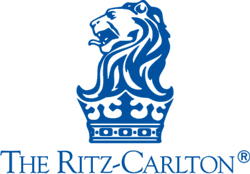 Moscow, Russia

6 Stars and 7 Stripes
Our arrival was a fabulous performance, a perfect play rehearsed a thousand times and once again now seamlessly presented to us. 'Welcome to the Ritz Carlton', Doorman Vyacheslav Burtsev said while he opened the door and raised his hat at the same time and he really seemed to mean it. Then Miss Paulina Sokolova, an attractive young lady, welcomed us and guided us from here through the buzzing arrival hall. We instantly felt at home when we followed her through this sparkling marble parlor towards the highly polished, traditional elevator, a one of a kind. The sound of live, southing piano music surrounded us as Miss Paulina explained that 'Club Level' guests are checking in on the 11th floor. ...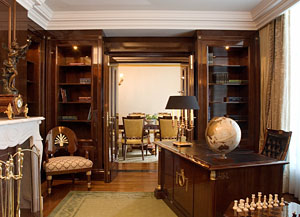 General Manager Oliver Eller is a 'veteran' in the world of hospitality and supervised the Ritz-Carlton's two-year renovation project, leading to the grand opening of Moscow's newest luxury hotel on July 1st, 2007. German born Eller, with a diploma from Cornell University in New York, left really nothing to chance. He orchestrated the entire project and hand picked over four hundred ladies and gentlemen that are now part of his perfect team. Formerly the General Manager of The Ritz-Carlton of Wolfsburg, Germany, this hands-on 'jack of all trades' has won numerous prestigious awards for his hotels. ...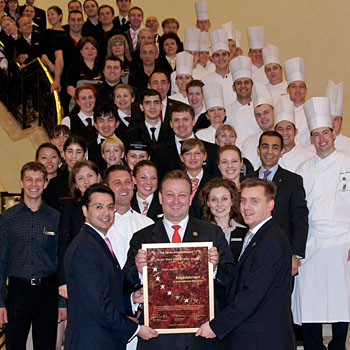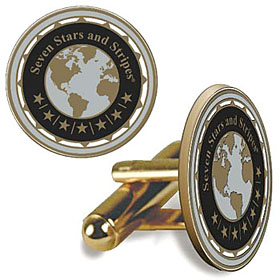 Seven Stars and Stripes Inc. now offers, for the first time, this extraordinary, custom designed 'His & Her Seven Stars Cufflink set. Limited Edition.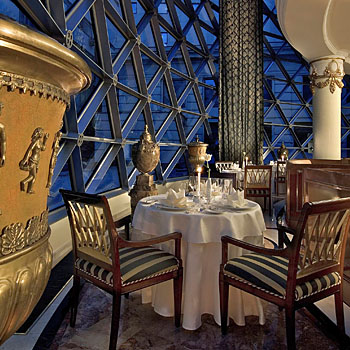 Moscow, Russia

7 Stars and 6 Stripes
The doors of the wine room suddenly swung open and we were escorted by Restaurant Manager Ralf Ruenger, to our table in the restaurant to take part in "cuisine vitale", the ultimate gastronomic spiritual journey of physical well being overseen by three-star Michelin Chef Heinz Winkler. It will be here that we will participate in the new fashionable movement that takes a holistic approach to nourishment and health. Chef Winkler reigns at Jeroboam as Capo-di-Capo, and he earned his reputation for being the youngest chef at 31 yrs, to get three Michelin stars and the first chef to be awarded Germany's Cross of Honor at his restaurant in Bavaria. Fame and fortune aside, Chef Winkler has bestowed his incredible knowledge and inspiration on Leonard Cernko, Chef de Cuisine at Jeroboam Restaurant. With Winkler by his side as culinary mentor, Chef Cernko has propelled Jeroboam into the forefront of the Moscow restaurant scene, orchestrating gastronomic perfection and pleasure in a sort Ballet Russe style. ...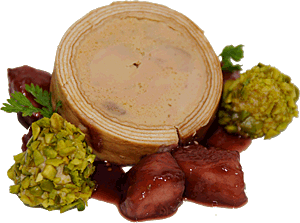 And finally, Goose Liver crème Gratinee with Beets and black root salad with just the right amount of truffle sauce. We were confident that this medley of different preparations and flavors could only be matched by certain wines especially chosen to highlight the lush tastes and so appropriately a 2003 Riesling, TBA Franz Pichler, from the Wachau on the Danube in Austria could possibly add the right amount of character to these miniature masterpieces. Pichler makes an exemplary Austrian Riesling style, finely structured wines with what is called "filigree" fruit, delicate lace-like clusters of grapes at the peak of readiness. Our next treat was to be Langoustine Terrine with Lobster Mousse marinated with Basil, Lemon and Sea Salt. ...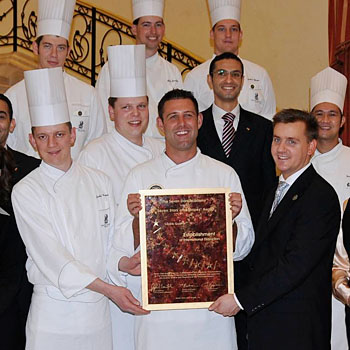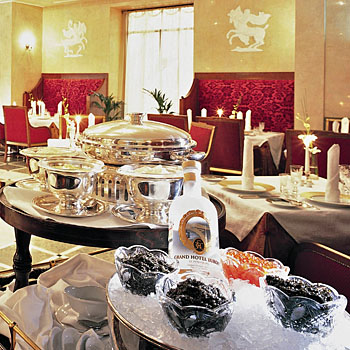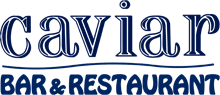 St. Petersburg, Russia

6 Stars and 7 Stripes
It is not easy to remain at the pinnacle of your game, especially in the rough and tumble field of cuisine. The Caviar Bar at the Grand Hotel Europe represents the haute couture of gastronomy in a city that is making its culinary mark on the rest of the world. In order to maintain the momentum of being the embodiment of true traditional Russian cuisine, this restaurant has undergone a tremendous renovation that ended recently and has catapulted it as the paragon of the St. Petersburg's nouveau restaurant scene. Russian laughter and enjoyment are part of the fabric in this luxurious edifice, presently under the protection of Historical Monuments because of its distinguished former times. The redo included ornamentation details that reflect the neo-classic style typical for the turn-of-the-century décor. At the helm is the preeminent Executive Sous-Chef Yoann Bernard, who has almost single handedly raised the Caviar Bar and L'Europe restaurants to St. Petersburg's best. ...

Chef Yoann also displayed a superior understanding of the preparation of Kamchatka Crab baked with Champagne Sabayon (St. Petersburg style), monster crabs from the far east of Russia with a superb taste reminiscent of Dungeness. Dmitry brought his recommended wine pairing of Puligny Montrachet Vincent Girardin, 2004, a vintage with a perfumed nose of vanilla bean and rose petals, well-balanced and compact. Sticking to the theme of Russian cuisine, Chef Yoann prepared the next course of Russian Bear Parmentier with Parmesan chips, Mesclun salad and Hazelnut Oil Dressing. ...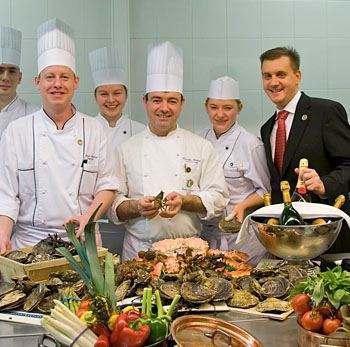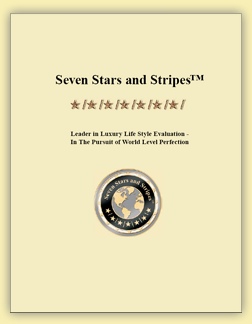 Our Seven Stars and Stripes™ book - 2003 to 2006 world-edition, is still available. Over 300 pages - featuring only the finest establishments and fascinating cuisine art images from around the world. All beautifully compiled in this full-color collector's edition. ISBN# 1-4259-4267-9
In Next Gazette:
* Fairplay Golf Hotel & Spa - SPAIN
* Tabacon Grand Spa - COSTA RICA
* Thai Airlines - Business Class
* British Airways - Business Class
In The Press:
* Social Life Magazine - Spring 2008 - USA
| | | |
| --- | --- | --- |
| Dear Friends, | | |
since the world is our playground, we invite you to re-discover Mother Russia with us this spring. To involve yourself in the history of this proud country is surely an inspiring and educating experience. Russia is home of the vibrant cities of Moscow and St. Petersburg with magnificent cathedrals, historic castles and squares, fabulous shopping and all the luxuries you deserve. And since The 7*Star Grand Hotel Europe in St. Petersburg is just a car ride away from the Ammende Villa in Estonia, why not start there and 'hop' countries? Dine with us at the GHE's Le Europe and the Caviar Bar in true Seven Star Style™. Meet 'The Scorpions', a famous rock band who resided at the GHE and gave a concert in St Petersburg during our visit. May we also invite you to attend the Seven Stars and Stripes Award celebration at the Ritz Carlton Hotel in Moscow and take you on a couple of amazing excursions of Moscow? Why not dine and brunch also with us at their fabulous Jeroboam Restaurant, a true tribute to the philosophy of the Ritz Carlton Company. We traveled to China and evaluated service and comfort on 'Business Class' with United Airlines. - Next month the 'Royal Silk Class' on Thai Airways. We will share our experience at the Fairplay Golf Hotel and Spa on the 'Costa del Sol' in Spain and the Tabacon Grand Spa in Costa Rica and are flying Business Class with British Airways.
I remain yours truly
| | |
| --- | --- |
| | |
| | |
| | Thorsten Buehrmann |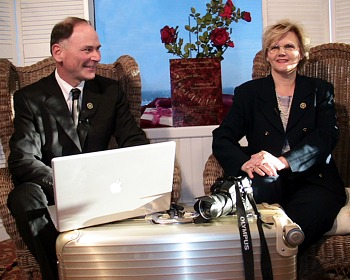 Watch the Seven Stars and Stripes
Award TV Show on
Hamptons Televisions WVVH World-Wide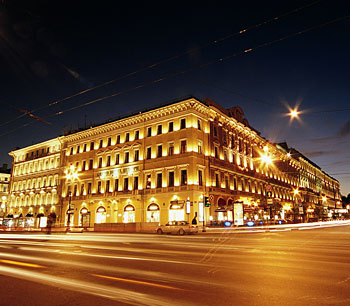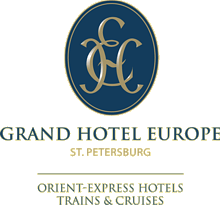 St. Petersburg, Russia

7 Stars and 6 Stripes
We arrived at the entrance of one of the three official Seven Stars™ award hotels of the world, a historical, cultural and culinary landmark hotel! The Grand Hotel Europe in St. Petersburg has played a major role in the life of St. Petersburg's high society for over 130 years. It's hard to imagine but the Grand Hotel Europe was an orphanage in 1917 during the Bolshevik Revolution and a hospital during the siege of Leningrad from 1941-1944. Today this Seven Star hotel is a national and cultural gem of a landmark and under preservation as a historical monument. Imagine George Bernard Shaw dining with Maxim Gorky and Tchaikovsky honeymooning here with his new bride? Or how about a little more modern? The celebrated and world-renowned heavy metal band The Scorpions gave a sold out concert in St Petersburg during our visit and resided at the Grand Hotel Europe. ...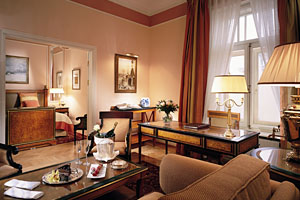 Our suites on the executive level turned out to be a spacious, tasteful, luxurious retreat with personal butler service. I was surprised to find a personalized laptop on the secretary with my welcome message on the screen, allowing me to enter at any time. Under the secretary was a small humidor allowing six nice bottles of wine to rest comfortably, in the right position, until they would be awaken for that right moment. Instead I reached for the caviar spoon, ignoring the Russian Blinis and trimmings, not to spoil the taste of the mouthwatering Beluga. I truly enjoyed the taste and texture of the succulent, tiny caviar pearls, while sipping on a well-chilled glass of Dom Perignon 1999. The butler had hung my personalized bathrobe (personalized for frequent visitors) already in the spacious closet and then had unpacked carefully my suitcases and placed my wardrobe into the appropriate drawers. ...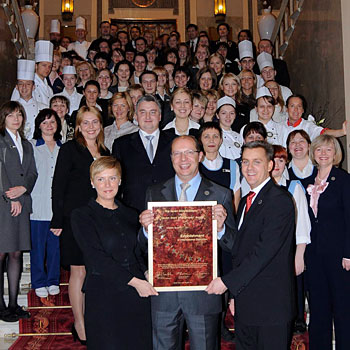 Seven Stars and Stripes Awards for: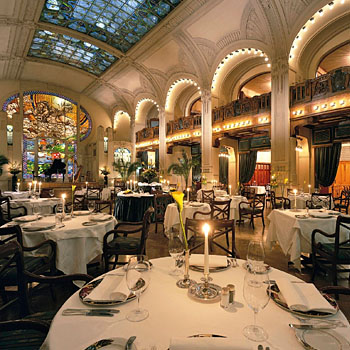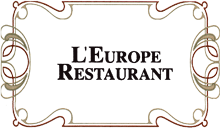 St. Petersburg, Russia

6 Stars and 7 Stripes
Stepping into the L'Europe Restaurant at the Grand Hotel Europe from the outside evokes a sort of throwback to the "Golden century in Russian Culture". A live music ensemble plays nearby on a stage with Mozart-like swiftness as if playing a concert at the Royal Court of Catherine the Great. But why should I be surprised? That is the way Russians are: never content with half-measures while sometimes given to the occasional excess. In gastronomy, for several centuries Russians led a sedate, measured lifestyle in a rhythm all their own. It was when they started experimenting with the things that make French cuisine so famous, that they began to pursue their own innovations with the additions of traditional Russian spices thereby enriching Russian cookery. The good thing about the L'Europe Restaurant is that you can depend on their blending of Russian and French cooking styles as well as their consistency, quality and originality. Their steadfast team of Executive Sous Chef Yoann Bernard and his mentor Executive Chef de Cuisine Dominique Ferchaud, provide the incredible ...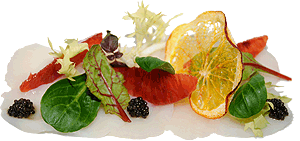 A bread wagon appeared just as soon as we were seated and a white-gloved server offered us a dizzying array of fresh baked grains. We looked all around us to see others who were seated nearby seemingly happy and relaxed listening to soothing sonatas while dining. Chef Yoann sent out a Scallop Ceviche with Blood Orange and Sevruga Caviar for the first course. The combination of a raw scallops and citrus acts to 'cook' the shellfish by the action of the orange's acid while offering a slightly salty nutty aftertaste from the rich Sevruga caviar. "What is needed here" began Dmitry as he brought us our wine pairing, "is a bone-dry, fruity Alsatian Riesling to compliment the subtle flavors of the scallop." With that he poured a Riesling Tradition Hugel, AOC 2002 Alsace, which we felt fit the bill. ...
Congratulations to all, from your Guests and from Seven Stars and Stripes:
For your visible commitment to excellence.
For your willingness to be recognized for your latest innovations.
For your devotion to your staff and company.
For your ability to receive.
For your decision to raise the bar.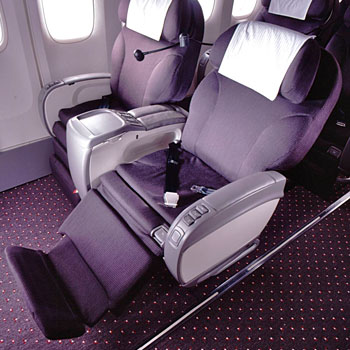 Business Class

4 Stars and 4 Stripes
Riding high in the upper deck of the jumbo jet is quite the experience. There are only about 30 seats arranged neatly in two rows of twin seats separated by a corridor leading from the galley to the flight deck. With plenty of room to sit it was like having your own private space separated by stairs from the rest of the plane. Dinner would start soon after take-off and was ample in portion size although mundane in the creativity department. Sweet Crab Salad on Fresh Bok Choy was somewhat of a standout and this was followed by a main course of Shrimp and Scallops with Ginger, Spring Onions and Garlic. Dessert of Eli's Crème Caramel Cheesecake took the prize for the most outstanding selection. Of course, what would dinner be without a good selection of wines? United offered eight wines, two champagnes and a number of aperitifs, cocktails, liqueurs and beers, including Tsing Tao on this flight, all of good solid quality. I particularly liked the Sandeman Founders Reserve Porto because of its powerful fruit and fire producing a brilliant and clean taste to the palate. On the ground just before we departed United offered ...