2009 Grand Hotel Europe, Russia
L'Europe Restaurant, St. Petersburg - Russia
Caviar Bar Restaurant, St. Petersburg - Russia
NEW: Seven Stars And Stripes - BOOKs
NEXT: Oheka Castle - New York, USA
NEXT: Swissotel Moscow, Russia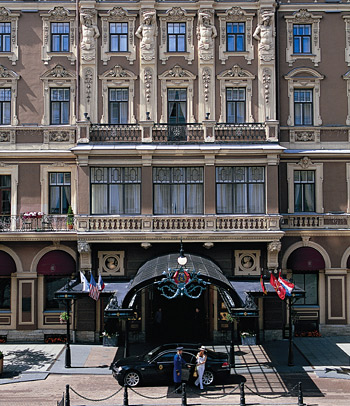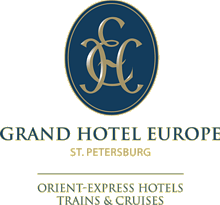 7 Stars and 6 Stripes
At the old gate, a Grand Hotel Europe courtesy van was expecting us and we were greeted once again with smiles. "Welcome to Russia" we toasted, after we had taken our seats, with a glass of nicely chilled Dom Pérignon 2000 instead of the traditional Russian vodka. A picnic basket full of delicacies with popping-fresh, chilled Russian caviar, fresh fruit and other international and traditional delicacies turned our two hour ride into a leisurely late lunch and time flew by. If you can choose between hopping cities by plane or train or hop borders by foot the way we experienced it, you've got to book this unusual road trip. ... (CLICK HERE for more)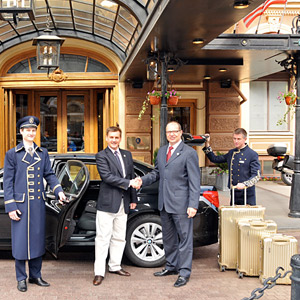 ... 301 sumptuously appointed Rooms and Suites - complete with all the 21st century conveniences - convey an elegance unseen since the days of the Tsars, when Dostoevsky and Strauss were frequent visitors. it says in the hotel brochure, and we entirely agree, these home away from home accommodations were designed for people who appreciate the ultimate in style and comfort. The private butler service has been greatly perfected and while the lady butler unpacked my luggage carefully I explored a laptop placed on the secretary ready to log on - and also GHEs embossed signature collection. ... (CLICK HERE for more)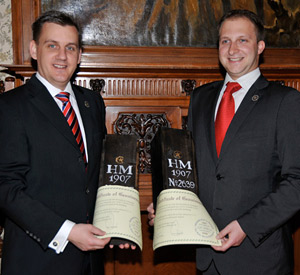 ... But back to our Russian wine tasting, this one was the most elite wine tasting experience we ever attended, unsurpassed so far, it went on for eight hours tasting eight flights and since it was by private invitation we may report only that it included a magnum bottle of Margaux from 1900, Chateau d'Yquem 1869 and a Heidsieck Monopole form 1907. Some of these particular bottles were salvaged from a ship that was sank by a German U-boat during World War One and laid 80 meter below sea level for decades. The wines that were presented that night were collectors wines, ... (CLICK HERE for more)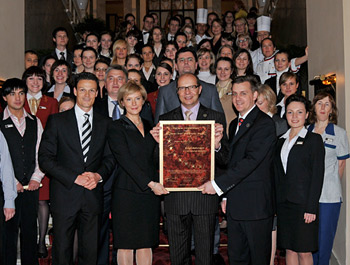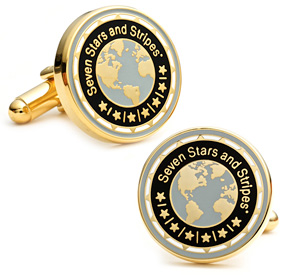 Seven Stars and Stripes Inc. now offers, for the first time, this extraordinary, custom designed 'His & Her Seven Stars Cufflink set. Limited Edition.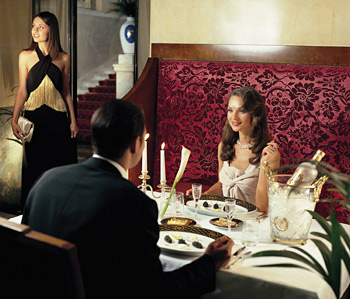 St. Petersburg, Russia

6 Stars and 7 Stripes
A visit to the Caviar Bar in the Hotel Europe, St. Petersburg will most likely conjure up visions of the former grandeur of Tsarist Russia reminding us that the spirit of the past often lends glamour and drama to the present. In grandiose fashion, the restaurant is bedecked with cameo reliefs on its walls depicting centaur-like creatures carrying bunches of grapes. Table settings include Imperial Russian Porcelain, from a tradition established by Empress Elizabeth in 1744 to produce wares exclusively for the Romanov family. ... (CLICK HERE for more)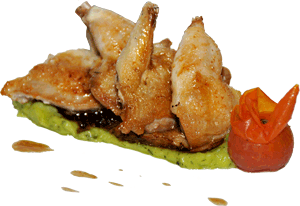 ... Another course of Roasted Half Quail with parsley, mashed potatoes, ceps and quail jus was served subsequently and was plump, juicy and full of flavor complimented by the earthy essence of the ceps (porcini mushrooms). Chassagne Montrachet, Louis Latour, 2001, a Premier Cru with a beautiful structure and acidity offered the right amount of seduction with its exciting cultured aromas festooned with orange blossom and jasmine. ... (CLICK HERE for more)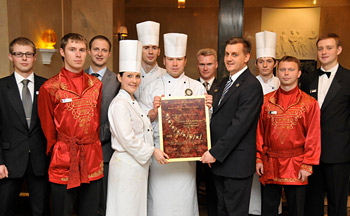 | | | |
| --- | --- | --- |
| Dear Friends, | | |
summer is here and the perfect time to consider vacationing in the northern hemispheres. Estonia and Russia are not only most pleasant this time of the year but also educating and fascinating with their wealth of history and grandeur, and very adept at welcoming visitors from all over the world. We highly suggest making the "Seven Star Grand Hotel Europe" your home when you are visiting St. Petersburg, joining Tchaikovsky, Dostoyevsky and former US President Bill Clinton, who have all spent quality time there over the years. Here we experienced one of the most elite wine tastings we ever attended, unsurpassed so far, over ten flights. As it was by private invitation we may report only that it included a magnum bottle of Margaux from 1900, Chateau d'Yquem 1869 and a Heidsieck Monopole form 1907. Missing the dining experience at the GHE's L'Europe Restaurant or the Caviar Bar could be considered a loss! Please witness in this issue the Seven Stars and Stripes Award-Hand-Out Ceremony 2009 at the GHE with Mr. Christian Kremer, General Director of BMW Russia who introduced the BMW 7 Series at this national press spectacular. Talk about a grand Seven Stars and Stripes, Award-Hand-Out at the small Schloessle Hotel in Tallinn, Estonia where the GM invited 100 VIPs, Diplomats and members of the national press to witness the presentation of the highest hospitality accolade! Well-deserved indeed, by both of these fabulous, historic establishments, their managements and their teams! Flip through Manhattan's newest luxury magazine The New York Hamptonite with Countess Luann de Lesseps of the hit show The Real Housewives of New York City on the cover and read the fabulous Seven Stars and Stripes 10-page feature of the finest resort and most famous spa in Costa Rica, the Tabacon Grand Spa Thermal Resort! Countess LuAnn de Lesseps and over 400 VIPs celebrated the first edition of The New York Hamptonite at the Four Seasons caterers in Southampton, NY last weekend.
I remain yours truly
| | |
| --- | --- |
| | |
| | |
| | Thorsten Buehrmann |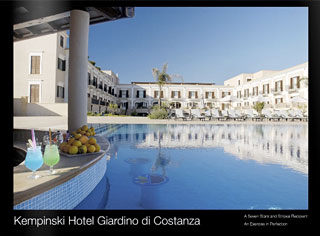 (CLICK HERE TO FLIP THE BOOK!)
Our exquisite hardcover coffee table books, custom designed for each resort, hotel, spa and restaurant, feature highlights and possible excursions of each establishment, along with the Seven Stars and Stripes review and award presentation. These impressive hard cover books, now available in three different styles, are luxuriously wrapped and make great holiday gifts and keepsakes, all the while showing the full potential of what guests may experience. Please 'CLICK and FLIP through the 2009 Seven Stars and Stripes review and award celebration at the Kempinski Hotel Giardino di Costanza on Sicily, Italy. Enjoy!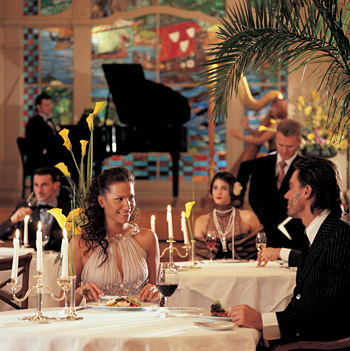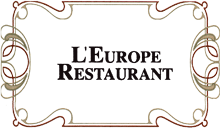 St. Petersburg, Russia

6 Stars and 7 Stripes
The grandeur that was once prevalent in Czarist Russia manifests itself in the decorative interior of the L'Europe Restaurant located in the Grand Hotel Europe. The restaurant is laid out as if one is dining in a theatrical or operatic venue, with tables located in what would be the 'audience' section leading up to a 'stage' of sorts sporting a classical ensemble offering a private concert while patrons dine. Along the side of the restaurant, as one would expect in a theatre, are private dining booths with curtains mimicking the ornate 'viewing' booths omnipresent at the Bolshoi or Mariinsky Theatres in St. Petersburg. To look up while dining at L'Europe, you get the feeling of ... ... (CLICK HERE for more)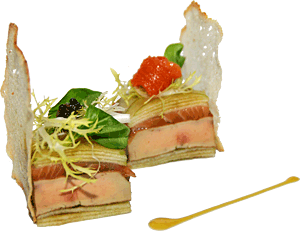 Duck Liver, richly marbled with truffles, smoked salmon and apple in a layered Napoleon style with Hazelnut jelly proved to be a little too much for the palate to appreciate. To the rescue came a bottle of Cadillac A.O.C., Chateau Memoires, 2005, a powerful reminder that this honeyed wine with tropical fruits could support and highlight such a sumptuous appetizer. We approached the next course with a familiar smile since we had tried it once before and recall the pleasurable feeling on the palate. ... (CLICK HERE for more)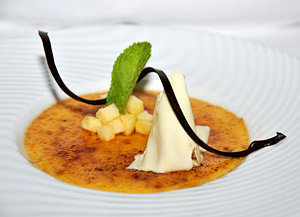 For dessert, a modern look at an old favorite became Crème Brûlée, this time with lime and pineapple salsa and coconut sorbet. Taylors 10 year old Tawny Port, a 300-year family tradition displayed a pale golden brown color with overtones of caramel and whole clove and exotic spice aromatics. After this delightful tasting menu giving further evidence of Chef Alexeys culinary prowess, the usual thing is to have a double espresso along with an assortment of fine cognacs and after-dinner drinks. Our server brought over an impressive cart filled to the brim with the finest choices available. My selection was Remy Martin XO, which was slowly poured into a magnificent crystal cordial glass etched with the logo of the Grand Hotel Europe. Chocolate bon bons were placed on the table stuffed into a realistic looking chocolate piano from which we nibbled with our coffee. ... (CLICK HERE for more)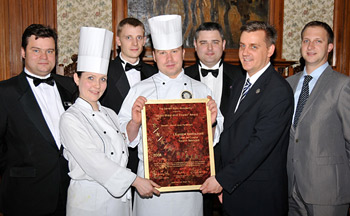 Congratulations to all, from your Guests and from Seven Stars and Stripes:
For your visible commitment to excellence.
For your willingness to be recognized for your latest innovations.
For your devotion to your staff and company.
For your ability to receive.
For your decision to raise the bar.
In Next Gazette:
* Swissotel Moscow - Russia
* Oheka Castle - NY - USA
In The Press:
* Our 'Tabcon' Review - see 10 pages within:
The New York Hamptonite - (CLICK HERE)