Kempinski Le Mirador, Lake Geneva
Singapore Airlines - Business Class
Le Trianon Restaurant, Lake Geneva
Adlon Hotel, Berlin - Germany
Walter Staib - Celebrity Chef
'Schlossle Hotel', FLIP Book
Seven Stars and Stripes > facebook®
NEXT: Leopolis Hotel, Lviv - Ukraine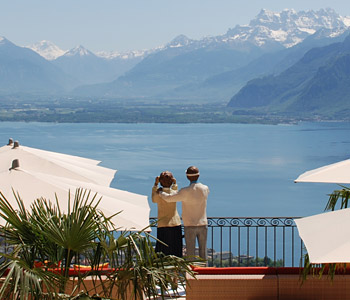 Lake Geneva, Switzerland

6 Stars and 6 Stripes
The sky bedecked in precious blue was reflected in the intense color of Lake Geneva, created through a glacier in the form of a crescent. 'Lake Geneva' or 'Lake Léman, bordered by Switzerland and France, is one of the largest and best-known lakes in Western Europe. The Le Mirador Kempinski Lake Geneva offers besides some of the most spectacular views in the world one of finest destination spas, the Givenchy Spa Le Mirador. Newly renovated, we knew we were in for a treat, but nothing prepared us for the breathtaking views through these new huge panoramic glass walls when we entered the arrival lobby ... (CLICK HERE for more)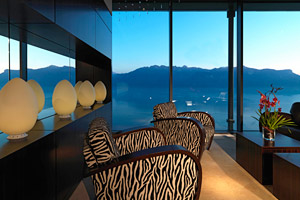 ... After ten months of renovation: All suites, including the new and spacious Junior Suites, are designed to pamper the most discerning travelers around the world, who are used to a luxurious lifestyle. Entering the suites, one is welcomed by the warm colors and the fine selected interior that perfectly reflects the regions nature and purity. The new Junior Suites new Junior Suites , feature a terrace of 20 square meters, for relaxation in total privacy, Full HD, LCD TV screens with integrated Entertainment and Information system, Logitech Dream FI, portable phone and the latest Nespresso coffee machine called CitiZ. ... (CLICK HERE for more)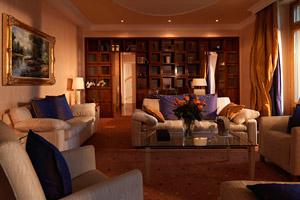 ... General Manager Paolo Sanavia has certainly put his signature on Le Mirador Kempinski Lake Geneva. Italian born Paolo Sanavia joined the Kempinski Group in 2006 as General Manager of the Hotel Giardino di Costanza in Sicily, another Seven Stars and Stripes award recipient. He has been working in the hospitality industry for over thirty-five years and was educated at the Hotel school in Abano Terme Italy, and in 1988 he earned a Masters degree in Hotel Enterprise with the Société Suisse des Hôteliers in Switzerland; le diplôme donne droit au titre dHôtelier-restaurateur diplomé SSH. Multi lingual Sanavia is a visionary who also studied at Cornell University in the US and recently earned an MBA in China. His appearance is flawless and so is his team, trained to please and working well together. Congratulations!... (CLICK HERE for more)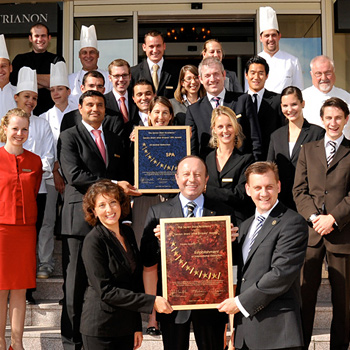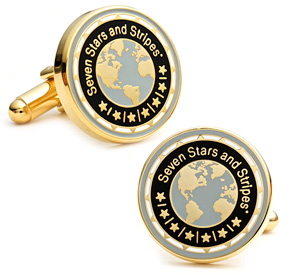 Seven Stars and Stripes Inc. now offers, for the first time, this extraordinary, custom designed 'His & Her Seven Stars Cufflink set. Limited Edition.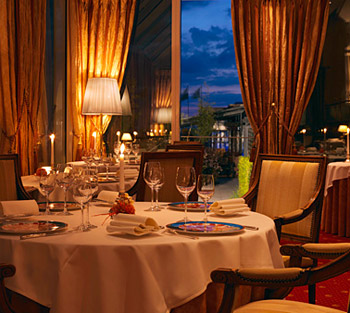 Lake Geneva, Switzerland

6 Stars and 6 Stripes
Chef Philippe Zemour's résumé exudes acclaim and competence with stints in several Michelin starred properties in France and Switzerland as well as a touch of the exotic doing time in Bora Bora, Tahiti. This valuable experience translated into personal inspiration and creativity in the kitchen using the classical products and preparations of the region to forge his way at Le Trianon. ... (CLICK HERE for more)

... To begin with Chef Philippe prepared an amuse bouche for us consisting of an artfully arranged platter of coconut chicken with sesame, foie gras mounds over rice crackers and crisp mousse rolls with caviar. A bottle of Domaine des Coccinelles Riesling-Sylvaner, an organically produced wine from Neuchatel, Switzerland supported all this. A first course of Landes Duck Foie Gras with preserved Chardonne wine-flavored spiced jelly and Valais apricot chutney with almonds appeared from the kitchen. ... (CLICK HERE for more)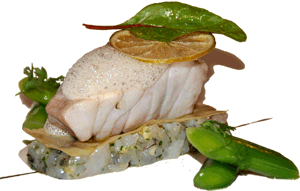 ... We moved on to Baked Sea Bass with Hot and Cold Gambas in Open Ravioli with grey shrimp foam and lemongrass. This combination couldnt help but excite the palate with a strong contrasting of flavors and temperatures not to mention the addition of a delicate ocean-like foam to smooth out the whole dish. A local wine made up of petite arvine and chardonnay grapes from the Valais became La Tremaille Assemblage de Cepages Nobles, capturing the essence of tropical fruits tempered by spicy almond and a fine long finish. ... (CLICK HERE for more)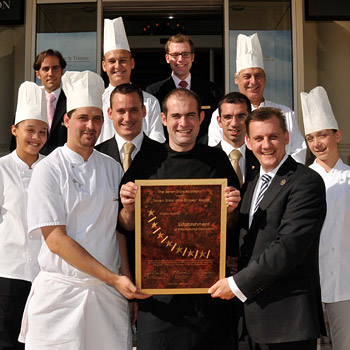 | | | |
| --- | --- | --- |
| Dear Friends, | | |
Fall in the traditional sense of harvest, turning leaves and pumpkins is soon coming to an end. But what could be more beautiful then celebrating the holidays overlooking the Mother of all European lakes and majestic Alpine mountains, covered by a blanket of snow? It is a beguiling sight; somewhat narcotic in the sublime effect it has on ones senses while standing above the clouds and looking 1,300 feet down from this special place to Lake Geneva or Lac Leman, if you wish. Finally, after almost a year of renovation, The Le Mirador Kempinski Lake Geneva besides some of the most spectacular views in the world, offers one of the finest destination spas and a new superb kitchen headed by Executive Chef Philippe Zemour, a relative newcomer at Le Trianon but accomplished nonetheless. Note that the Givenchy Spa Le Mirador is by no means just a beauty spa; this center of wellbeing also includes the Mirador Medical center and an in-house dentistry. Besides, its close proximity to Montreux and Vevey, the microclimate and the healing mountain air make this resort a favorite for anyone looking for a totally unique healing experience. Wherever in the world you might be flying from, if you are relying on commercial carriers, let it be Singapore Airlines, their service and onboard cuisine is unsurpassed. Until next month when we are talking 'business' with Lufthansa, and reporting from the Leopolis Hotel and Lev Restaurant in the historic, young city of Lviv in the Ukraine.
I remain yours truly
| | |
| --- | --- |
| | |
| | |
| | Thorsten Buehrmann |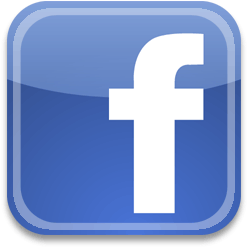 Please join us on 'facebook® (CLICK HERE), a brand new fan page where you get a chance the catch up or get the latest scoop on what might be of interest to todays distinguished global traveler.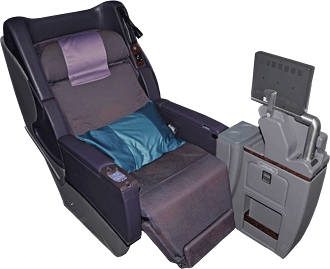 Business Class - Boeing 747

5 Stars and 6 Stripes
A little stressed, we boarded the Boeing 747. There is something unique about Asian hospitality and the way we were greeted and welcomed onboard, both in conversation and in body language. A member of the well-uniformed crew took our hand luggage over almost instantly and we followed him in silence to the stairs. Somehow the deep carpets swallowed up all noise and with the kind guidance of the steward we settled in quickly. ... (CLICK HERE for more)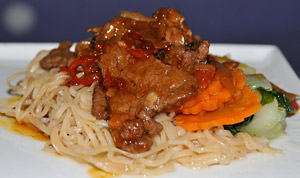 ... Singapore Airlines is famous for their service, onboard cuisine and their 'hot' breakfast. The menus for Singapore Airlines have been created by an international culinary panel of celebrated chefs from around the globe and feature in their menu booklets from, left to right, Gordon Ramsay from the UK, Zhu Jun from China, Nancy Oaks from the USA, Yoshihiro Murata from Japan, Georges Blanc from France and Sanjeev Kapoor from India. ... (CLICK HERE for more)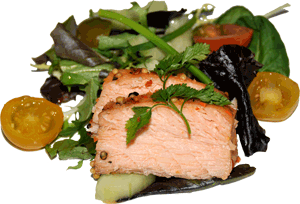 ... When I asked the lovely attendant if it would be possible to get my steak maybe just a nuance more on the rare to medium rare side, the answer was: I dont know if its possible, since the menu items are prix fixed, but I will certainly try To my surprise, the mission was successfully accomplished. My wine that was recommended during dinner was eloquently removed and another knowledgeably suggested. Each course was truly exceptional for onboard cuisine and the contemporary table settings by Givenchy completed the picture. Our overall dining above the clouds experience was delightful. ... (CLICK HERE for more)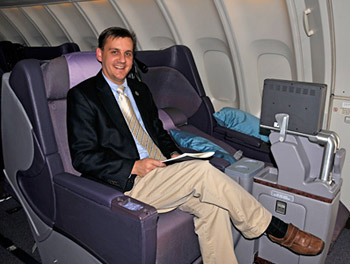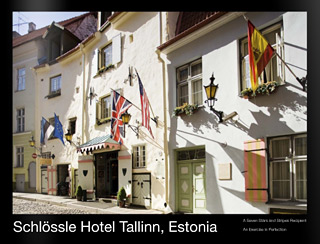 (CLICK HERE TO FLIP THE BOOK!)
Our exquisite hardcover coffee table books, custom designed for each resort, hotel, spa and restaurant, feature highlights and possible excursions of each establishment, along with the Seven Stars and Stripes review and award presentation. These impressive hard cover books, now available in three different styles, are luxuriously wrapped and make great holiday gifts and keepsakes, all the while showing the full potential of what guests may experience. Please 'CLICK and FLIP through the Seven Stars and Stripes review and award celebration at the Schloessle Hotel Tallinn, Estonia. Enjoy!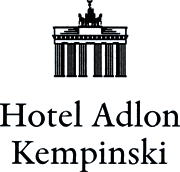 Congratulations to all, from your Guests and from Seven Stars and Stripes:
For your visible commitment to excellence.
For your willingness to be recognized for your latest innovations.
For your devotion to your staff and company.
For your ability to receive.
For your decision to raise the bar.
In Next Gazette:
* Leopolis Hotel, Lviv - Ukraine
In The Press:
* Seven Stars and Stripes Advisory Board Chef Walter Staib, an award-winning internationally known chef with over four decades of experience, is a master of open hearth cookery. He demonstrates a true mastery in the preparation of sophisticated 18th century cuisine, sure to inspire home-cooks