Business Class

Extraordinary - Merit
April - 2008
5 Stars & 4 Stripes
Overall - 'Service & Comfort'
The Ultimate Award:
Seven Stars and Stripes®
A small step into one of the many Royal Orchid lounges in Suvarnabhumi Airport in Bangkok, Thailand instantly puts you on a big step away from the rest of the world. Royal Silk (Business Class) passengers may treat themselves to a time-honored foot-massage and traditional Thai massage working the neck and shoulders. I can't think of a better way to wile away the hours between flights than getting this special kind of pampering. On a recent trip to China we were fortunate enough to have chosen to enjoy the Thai Royal Silk experience for the 16 hr flight back to the US.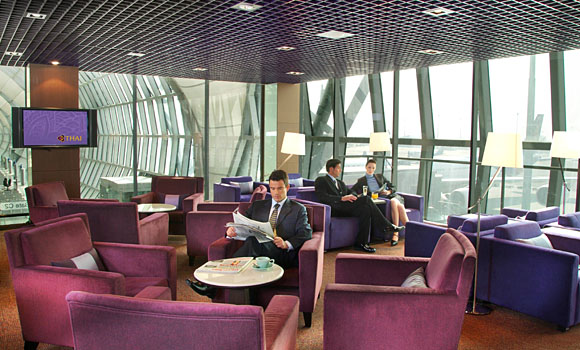 Thai Silk Lounge
The company's vision of being the First Choice Carrier with Touches of Thai is an effort to offer the elegance and warmth of the Thai personality while in flight. This feeling transcends the normal international carrier experience in that it begins with the Buddhist-like aura of the Royal Orchid lounges to the fashionable smartly dressed Thai flight attendants in traditional tube skirts known as pha sin and the highly recognizable Thai cuisine.
| | | |
| --- | --- | --- |
| During the flight itself, Thai flight attendants busied themselves with the chores of preparing for beverage and food service all the while greeting each Royal Silk passenger on our flight with the wai, which consists of a slight bow, with the palms pressed together in a prayer-like fashion. This compassionate display had a very calming effect on my consciousness as I worked my way through the intricacies of my Personal LCD Touch Screen featuring audio and video on-demand. There were 30 movie titles, 79 documentaries, 110 music albums with 600 titles, 30 games, world news and a camera aerial view through landscape. This came in very handy later as I watched us climb to a very high altitude while flying over the North Pole. | | Thai Business Class - John Lomitola |
Dinner on board left you with the feeling that just about any international cuisine could be heightened with a Thai accent of oyster sauce, lemon grass or bok-choy. The first course of Pan-fried Marinated Prawns with thyme over grilled vegetables was served perfectly bursting with juicy flavor along side Chinese sticky rice rolls topped with a few black sesame seeds. The wine offered with this course was Chateau Thieuley 2006, an intense Bordeaux Sauvignon Blanc that turned out to be rich and fruity showing an awesome complexity and creaminess.
| | | |
| --- | --- | --- |
| Thai Business Class - Cuisine | | Also worth mentioning was the main course selection of Braised HK E-FU Noodles with Sea Bass, sautéed baby shiitake mushroom, bok-choy with oyster sauce and carrot. The chewy texture and dark meaty taste of the shiitake mushrooms added the necessary earthiness to the otherwise lackluster overcooked sea bass. To save this entrée even further, a glass of crisp clean well-balanced Macon-Villages Albert Bichot, 2005 was the right antidote with its lively and tasty fruit. Thai Royal Silk Class offers a nice selection of Cognacs and liqueurs and together with an excellent double espresso I nursed a Grand Marnier Cordon Rouge until I fell asleep. |
After a restful 6hrs or so of sleep in the almost lie-flat seat I noted that there was adequate space to toss and turn and still feel that there was enough room to stretch out fully. I opted for fresh fruits to start followed by Omelet Stuffed with Herbs and Capsicum, roasted tomatoes, veal cheese sausage and sautéed panache of mushroom. We soon landed at New York's JFK airport after a 16hr flight and great freshly brewed coffee, which turned out to be the perfect ending to an elegant and very restful flight.

Thai A340 - 500
TripAdvisor: Thai Airways
by John Lomitola

Editor: John Lomitola

Editor-in-Chief: Ingrid Lemme
© 2008 ~ Seven Stars and Stripes, Inc.