American Dream Cuisine™
City Tavern
Philadelphia, USA

Extraordinary - Merit
September - 2006
5 Stars & 4 Stripes
Cuisine & Service
The Ultimate Award:
Seven Stars and Stripes®
It seemed very much like what an 18th century 'movie opening' must have been like if there were such a thing. Arriving at the City Tavern Restaurant with the 21st century mode of transportation instead of horse and buggy provided the necessary perspective that allowed us to fully experience the transition into the historical past. People were milling around in 'period' costumes elaborately festooned with frilled ascots and ornate coattails as well as tri-angular hats. An eighteenth century harp player provided the soothing background music while costumed servers busied themselves with fabulous pass-a-round treats. This was an event like no other but at the same time it carried the distinctive imaginative signature of proprietor Sir Walter Staib and his Director of Marketing & Projects Mr. Paul Bauer working hard to carry on the remarkable tradition of such a celebrated place.
Chef/Proprietor Walter Staib received his formal training in a Black Forest hotel in Germany that was frequented by many very high profile clientele including the infamous Napoleon Bonaparte in the 1800's. This experience was probably where the foundation was laid for his incredible love of his recreations at the long-standing City Tavern. Like in his native Germany, Staib uses only the freshest ingredients on the menu, grown and purchased locally from the surrounding orchards, gardens and farms. Through the years Staib has established himself and his restaurant as a sort of city icon through which it seems he has accumulated one award and accolade after another. Among the most prestigious is the Chevalier de l'Ordre du Mérite Agricole de la République Français and his appointment as Culinary Ambassador to the City of Philadelphia.
| | | |
| --- | --- | --- |
| Simone and I were thrilled to be in the company of such an electrifying personality but more importantly we were seriously prepared to sample Chef Staib's legendary cuisine. We were informed that Chef Staib had recorded all his favorite recipes in a series of 'Old World' cookbooks referring to his family's concoctions that have been held in place for years as closely guarded secretes. Now for the first time they have become available to the cuisine-loving public and sales have been phenomenal, confirming Chef Staib's place in a sort of 'gastronomic hall of fame'. | | |
As we prepared now to begin our dinner marathon, it was now time to go to work and at the behest of Chef Staib we were to be seated at the Chef's own table. To start with, a delightful flute of Mumm Cordon Rouge, Cuvée Limitée, Brut Millésimé, Reims 1990 was presented to go with the amuse bouche of Smoked Salmon Frittata with Osetra Caviar Garni. The delicate tulip-shaped glass reflected a fabulous Champagne with a fine tight structure and lots of rich, nutty flavor, which in fact added support to the restrained smoky salmon and the unique clean crisp delicate nut-like flavor of the rarest of caviars.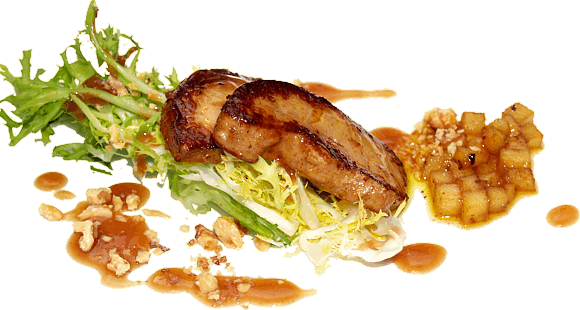 Our first appetizer came as Chicken Wrapped Prawns with Saffron-Herb Cream and this in turn was paired with a gorgeous herbal Gewurztraminer, Château St. Jean, Sonoma 2004, which also served as the accompaniment for the second appetizer of Pan Seared Foie Gras with Calvados-Apple Gastrique. Our impression and anticipation of greatness rose with every morsel, as the lead-up to the main event seemed quite unique and on-course. I recall thinking how much work must go into the fine preparations and plate presentations in order to put all this together for a successful culinary demonstration. Next up was the Carrot & Tapioca Soup, Champagne Garni followed by an intermezzo of Madeira Granité.
"Simone and I were thrilled to be in the company of such an electrifying personality but more
importantly we were seriously prepared to sample Chef Staib's legendary cuisine" ~ TB
| | | |
| --- | --- | --- |
| | | Our first entrée of Paupiette of Brook Trout, Crabmeat Farci and Salmon Roe arrived with a glass of Puligny-Montrachet, Dom Gérard Chavy et Fils, Côte d'Or, 1998 featuring good acidity and spicy, peppery fruit. Simone was presented with an entrée of Sweet Breads of Veal with Sautéed Fennel along with a glass of Pinot Noir, Beringer, Napa Valley 2002. Although not a fan of sweet breads, Simone informed me that their mild flavor and velvety texture were pleasantly tasty especially along with a sip of the seductive medium-bodied oaky California Pinot Noir. |
Our evening was almost complete as Chef Staib sent out a plate of Triple Crème & Roquefort Cheese with Raisin Date Bread paired with Zinfandel, Grigich Hills, Napa 2002. Chef Staib followed suit with a dessert of Chocolate Soufflé Crème Anglaise and Vanilla Ice Cream this time served with a wonderful bottle of Barton & Guestier Sauternes, Bordeaux 1996. Under the careful guidance of Chef Walter Staib, his team of Chef De Cuisine William Sederman and Chef Pâtissier John Burkart proved their worth during this incredible 'Dégustation Menu' featuring the best that City Tavern has to offer.
Our Seven Stars and Stripes 'hats are off' in recognition of the skill and originality with which Chef Staib has once again guided us through this fabulous dining experience.
American Dream Man, Sir Walter Staib:

Culinary Ambassador of the City of Philadelphia and the Commonwealth of Pennsylvania
Advisory Board of Seven Stars and Stripes®
Ambassador of the Culinary Institute of America
Trustee of the Culinary Institute of America
Board Member of the Caribbean Culinary Federation
Vice President of North America, International Food & Beverage Forum
International Advisory Board, Hotels Magazine
Les Amis d`Escoffier Society, Inc.
National Board Advisors, lÒrdre Mondial de Gourmet
American Express Restaurant Advisory Board
Founding President, Society for the Advancement of Gastronomic Excellence
Founding Member, The Society for American Cuisine
l`Union Interprofessionnelle des Vins du Beaujolais
International Gold & Silver Plate Society
Professional Member, Foodservice Consultants Society International
by Thorsten & Simone Buehrmann

Editor: John Lomitola

Editor-in-Chief: Ingrid Lemme
© 2006 ~ Seven Stars and Stripes, Inc.