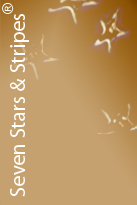 at the Kempinski Hotel
Giardino di Costanza
Sicily - Italy

Extraordinary
March - 2007
5 Stars & 5 Stripes
Overall - 'Cuisine & Service'
The Ultimate Award:
Seven Stars and Stripes®

Opening the doors of the Dubbesi Restaurant, our first impression was that of a cozy bright room overlooking a sparkling pool. White linens and shiny polished silverware by Sambonet precisely positioned on the tables gave us a feeling of gracious hospitality in the making. We were caringly guided to our 'table for two' and realized from the beginning that our servers Giuseppe and Grazia were quite knowledgeable and had the training of anticipating everything we needed even before we knew we needed it. Looking around, the almost sold out dining room was now dimly lit in spite of the early evening hour and a quiet symphony of sound filled the elegant walls. The menu was loaded with dishes based on Sicilian heritage; the wines offered were southern European and sublime.
"Italy produces beautiful flatware of highest quality, three pieces of the `Sambonet'
collection are on permanent display at the Museum of Modern Art in New York" ~ TB

| | | |
| --- | --- | --- |
| I started my meal off with Sardine fish balls on a bed of mixed greens with cherry tomatoes and a fine, aromatic balsamic vinaigrette. I'm a lover of fishcakes, and this was the first time a had one made entirely of Sardines, with very little bread and egg to hold, it was delicious. I focused my attention now on a pretty plate of homemade Ricotta Ravioli with a most aromatic Trapanese Pesto sauce. This dish, a little on the heavier side, was selected as a second appetizer and each bite was melting with a creamy, delicate flavor as I added little pieces of the fresh Basil. | | |

"Executive Chef Salvatore Barbara's subtle color presentations
were as appealing to our palates as they were to our eyes." ~ TB
The first part of the main course was a fabulous Sicilian-style 'lightly grilled fillet of tuna with pine nuts, shaved fennel, and a warm caponata'. This was probably the most carefully prepared tuna I have had in a long time and I was still thinking about it after we left the restaurant. The atmosphere at the Debbesi made it perfect for a romantic dinner with someone special. A little intermezzo followed to clear the palate in form of a citrus sorbet, creatively presented on fresh lemon slices. Then the second part of the main course came as a perfect Palermo style rack of lamb with a potato soufflé and minted zucchini. Fabulous from the first to the last bite, this was a home-run! Executive Chef Salvatore Barbara, who after traveling the world for over a decade, returned to his native Sicily, works with fresh, local, organic produce. Barbera studied with Paul Bocuse in Lyon, France, and has worked in Abu Dhabi and Asia, an influence that is felt in his style. By now, dessert was an almost daunting task, with a little too much of the butter biscuits; the Pistachio ice cream was everything what you should expect and more in flavor.
2007 Award-Hand-Out: Dubbesi Restaurant Hotel Giardino di Costanza, Sicily - Italy
by Thorsten Buehrmann & Arno Goudschaal

Editor: John Lomitola

Editor-in-Chief: Ingrid Lemme
© 2007 ~ Seven Stars and Stripes, Inc.