Kurt Scheller Restaurant
Warsaw, Poland

Extraordinary
August - 2006
5 Stars & 5 Stripes
Cuisine & Service
The Ultimate Award:
Seven Stars and Stripes™
I glanced around the darkened room looking for my host that evening as I entered the restaurant. I stood momentarily soaking up the atmosphere produced by theatrical contrasts of highly polished wood and I visualized an intimate encounter with the likes of Greta Garbo or Marlene Dietrich. It became clear that the stylized geometric and angular shapes of the furniture, tableware and lighting took their inspirations from the early 20th century European design styles such as Art Deco, Bauhaus and Expressionism and the Vienna Secession. The subdued atmosphere produced by stepped profile chrome lighting fixtures over the bar area was in keeping with the overall mysterious motif and I could have sworn that I heard the sultry jazz voice of Josephine Baker playing in the background. My peripheral vision now focused on a tiny corner of the room framed by two walls adorned with nostalgia photos and award plaques of the persona sitting at the table. It was my host Kurt Scheller, the namesake and Executive Chef of this intimate and hauntingly evocative restaurant in the Rialto Hotel. You can't miss the likes of Chef Kurt with his distinctive handlebar mustache flowing downward several inches below his chin. Add to that the thick wire-rimmed glasses precariously hinged on his nose and his characteristic black beret on top of his head all the while allowing the wispy strands of his white hair to flow along the side of his face. His face is an inspiration, an expression of aesthetic sensibility somewhere between sculpture and fashion. My host motioned me towards the table with a subtle head gesture while raising his heavy eyebrows.
| | | |
| --- | --- | --- |
| I was impressed with Chef Kurt's divine confidence as he greeted me and he proceeded to inform me as to what covert pleasures were in store for my dining experience. "Bring on the Potocki!" Chef Kurt shouted at the barman Minostaw Wigehowski who dutifully mixed up a potion called "Skowronek" or Skylark named after the conquering stallions of the fearsome Polish cavalry. It was vodka in its purest form mixed with 5-6 grape tomatoes, pinch of salt, 3-4 basil leaves and a dash of balsamic vinegar. I was awed and anxious but Chef Kurt assured me that all would be fine if consumed with great haste. | | Thorsten Bührmann & Kurt Scheller |
"...compliment my host Chef Kurt for his creative license and daring to think 'out of the box' ..." ~ TB
'Never mind' I thought although I wondered if I would make it to the first course. Under the watchful eye of Chef Kurt I was escorted through the Variation of Polish Style Goose Liver as a 'Greeting from the Kitchen' followed by Suwalki Style Chanterelle Risotto paired with a glass of Chef Kurt Scheller's own wine from the Lake Garda region of Italy bottled by Pasqua. Our diligent server Daviusz Wojciechowski served up the next course of Trio of Polish Soups including Cream of Crayfish from the Masurien area with Caviar Toast, Horseradish Soup with Veal Tongue and Porcini Mushroom Soup followed by Baltic Monkfish filet Marinated with Gingerbread Spices from Toruñ.
| | | |
| --- | --- | --- |
| | | This special delicate fish filet has all the hallmarks of a unique style of cooking utilized by Chef Kurt as he uses only the most distinctive ingredients of the local areas from around Poland, in this case the most famous product of Toruñ, gingerbread. I was about to compliment my host Chef Kurt for his creative license and daring to think 'out of the box' when suddenly the table was cleared and a fanciful preparation of Fallow Deer Venison Cutlet from the Bialowiestok Region was presented together with a glass of Kurt Scheller's own Primitivo. I was struck by the incredible complex flavors of fresh venison loin right out of the forests of eastern Poland roasted in a mushroom coat preparation, with blackberry sauce on soft potato pancakes. |
I needed a few minutes respite at this point and Chef Kurt obliged with a call for a bottle of Soplica Vodka, a popular dry distillate produced from select rectified spirits with the addition of infusions of dried fruits. Now I was in real trouble I mused as I was urged to quickly slurp, not sip the rich, smooth and incredibly pure liquid. My only saving grace was the quick response of the server as he placed our dessert course of Chocolate Pudding with Raspberry Sorbet in front of us and asked us for the coffee order. The coffee in Poland is full bodied in keeping with the ironclad European coffeehouse taste preferences resulting in a powerful aroma followed by creamy rich flavor. It was a great way to segue into my most precious desire at the moment and that was to aspire to sleep… I had a long day ahead of me and my thoughts were at their peak now. I bid farewell to my hallowed host and thanked him for the innovative culinary tour de force through the provinces of Poland. DO MILEGO ZOBACZENIA!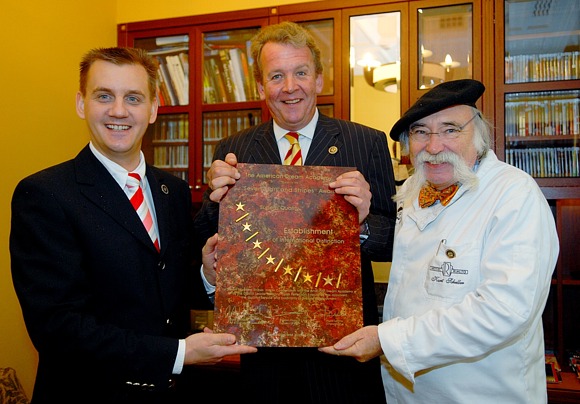 Thorsten Bührmann & Karl Braun & Kurt Scheller
by Thorsten Buehrmann

Editor: John Lomitola

Editor-in-Chief: Ingrid Lemme
© 2006 ~ Seven Stars and Stripes, Inc.