American Dream Cuisine™
The Lacroix
at the Rittenhouse, Philadelphia - USA

Society - Extraordinary
September - 2004
6 Stars & 5 Stripes
Cuisine & Service
The Ultimate Award:
Seven Stars and Stripes™
We walked on stone pathways, through candle lit hallways and arched doorways and entered a majestic 10-foot art altar. It blew my mind, a new dimension in the way I thought about cuisine. The master is food royalty.
| | | | | |
| --- | --- | --- | --- | --- |
| | | Connie Cnockaert the assistant restaurant manager, charming if I may say so, welcomed us and lead us to a pretty table at the windows overlooking the Rittenhouse Square. All my culinary taste buds were on high alert in the 110-seat dining room. Executive chef Jean-Marie Lacroix, a leader of the Philadelphia culinary scene for two decades, was expecting us. | | |
He is a member of the prestigious Maitres Cuisiniers de France and was the first Philadelphia chef to win the Robert Mondavi Award for Culinary Excellence in 1998.

Lacroix refined contemporary Franco-American cuisine by refusing anything else then the freshest regional and seasonal ingredients, prepared in his one-in-a -million style. The new state-of-the-art bakery is where Executive Pastry Chef Fredric Ortega creates Chocolate Lacroix - available exclusively through The Rittenhouse - by combining the finest imported ingredients using classic French confectionery methods.
The gifted Lacroix worships food by using the freshest local ingredients from the rich fields and eastern seaboard. His style of creating cuisine is unparalleled in Philadelphia. The Rittenhouse displays a fabulous view of Rittenhouse Square from every table; the basic attire is casual elegance. Simone looked radiant. The Chef has priced the menu invitingly, with a prix-fix four course meal for $65.

Here with Chef de Cuisine Matthew Ridgway

Simone & Matthew & Thortsten
The wine cellar includes supposedly more then 4000 bottles, and the wine list features about five hundred labels. Half of Lacroix's wine list is French, of which three quarters is Burgundy; confidently emphasizing smaller vine yards, with about 2 dozen different champagne labels, a nice number of sparkling wines, and dessert wines, an eclectic display.
Alexander Tran & Shaun Moore were our servers for another unforgettable dining experience. Fresh baked, warm breads and rolls with a very nice dark crust where on the table in no time.
Amuse:

Cherrystone Clam: Summer Truffle and Champagne Mignonette, dill.
Nicely presented on a salt-bed.
Tender morsels of chopped clams laced with the pungent aroma of truffles and topped with fresh dill, subtly inspiring.


Gosset, Brut Excellence, Aÿ, Champagne, NV
an elegant, dry, delicate effervescence, a suitable complement
Appetizer:

Smoked Uni Soup
considered an aphrodisiac by many, balanced by a modicum of
Marinated Spicy Tuna and Lime, Cucumber, Osetra Caviar,(a favorite of James Bond) - with a warm uzura tomago (quail egg) ~ Served chilled - what a delightfully refreshing, precursor to the dinner


Riverside Chardonnay, By Foppiano, Sonoma Russian River, California 2002
a young, fresh, lightly oaked compliment with wispy straw color
Jeff Stanfield served us, a very pleasant and knowledgeable gentleman with a lot of background information about history, food and wine. Our complements. At first we were surprised by the home made bread in three variations: flavored sweet bread (coriander & Zimt), white bread, and crusty salt bread.
Main Course I:

Durade Royal and Hudson Valley Foie Gras Terrine. Eggplant and Onion Chutney, Petit Herb Salad


Gewurztraminer, Droppf et Irion, Alsace, 2001
full-bodied and well-structured, intense bouquet displays rich aromas of fruit, flowers and spices
Main Course II:
Oil and Sicilian Ovive Poached Hailbut, Toasted Cumin and Fennel Nage


Chardonny, Rémy Pannier, Loir Valley, 2001 ~ pineapple, citrus and flowers ~
Main Course III:

Fresh Mediterranean Anchovy Sautéed with House Cut Pasta
Periwinkle, Bacon and Bell Pepper Ragoût with Cos Lettuce
strengthened with the rich and smoky ragout


Pinot Noir, Firesteed, Oregon, 2001
medium body, orange red in color with blackberry and plum flavors and aromas
Intermezzo I:

Campari and Grapefruit Sorbet
a wonderfully astringent palate refresher

During the intermezzo we were asked to follow MaÎtre d´ Bobby Boribong into the ultra brand-new kitchen with a professional chefs table. What an honor witnessing the chef creating his unbelievable creations live.
Main Course IV:
Sous Vide of Rabbit Tenderloin and Anise Hyssop /*/*/*/*/*/*/
Eggplant Mousseline, Potato Pancakes and Scallions
A Masterpiece, the aromatic, though slightly bitter Hyssop adds intrigue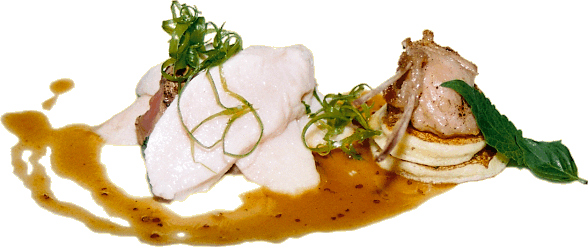 Riesling, Graff, Kabinett Halbtrocken, Germany 2001
This most delicate and elegant of Germany's Rieslings, offers flavors of apricot, peach and citrus. Victory of taste, this creation - combined with the Graff Riesling, no question
Main Course V:

Crisped Veal Sweetbreads
Eight-ball Zucchini, Chanterelles, Toasted Walnuts and Maple Syrup
Applause


Juliénas, Bernard Santé, 1998
Juliénas wines have been made since the Roman times and have good structure and a deep ruby-red color, with intense berry-fruit flavors (blackcurrants, raspberries), and aromas of peach, red-berry fruit, peony, violet and cinnamon.
Main Course VI:

Roasted Virginia Squab Breast
Blck Mission Figs in Maderia, Savory Steel Cut Oats
Thorsten's second choice, squab to perfection


Château Pont de la Tonnelle, Côtes de Bourg, 1999
The color olor is deep dark garnet with a spicy nose and liquorice scents. Supple, elegant and mellow tannins coming from French oak barrels. Very well balanced and generous. Prolonged taste. Grapes: 70% Merlot, 15% Sauvignon, 15% Cabernet Franc.
Intermezzo II:
Cheese Selection From Around the World
Selected by their "Maître Fromager", Jack Morgan
What an impressive selection of finest cheese from around the globe, we insist you try this exquisite experience as our American Dream Tip; we leave the details to be discovered.
Dessert I:

Honeycot Apricot Tart
with Blackberry Sorbet,
Honeycot Apricot Tower and
Caramelized Puff Pastry
Lacroix ~ De Kooning ~ Outmost


Monbazillac, Domaine de la Malette, 1999
This is an extremely elegant wine with dominant overtones of honey, acacia and peaches and hints of citrus fruits and crystallized 'Mirabelle' plums
Dessert II:
Strawberry Consommé with Chocolate Pithiviers and Champagne Sorbet
~ A must for lovers! ~


Marquis de Perlade, Pierre Sparr, A lsace, NV
Methode traditionnelle using Chenin Blanc, Chardonnay and Pinot Blanc; ideal for aperitif or as a cocktail wine, no question - Perfect match
| | | |
| --- | --- | --- |
| Nuts about chocolate? So are we! The latest Rittenhouse addition features a brand new confiserie and patisserie which are part of its several million dollar addition. We tried chocolate petite fours to die for and, of course, Simone had to take one of those creatively wrapped chocolate boxes home. Just to get you inspired, too: Think Roasted Hazelnut, Pistachio, Dark Rum, Honey Almond, Tahitian Vanilla or Orange Cinnamon; with a nice double espresso! | | |
by Thorsten Piosczyk & Simone Buehrmann

Editor: John Lomitola

Editor-in-Chief: Ingrid Lemme
© 2004 ~ Seven Stars and Stripes, Inc.