Prague - Czech Republic
Society
January - 2011
6 Stars & 6 Stripes
Overall - 'Hotel & Service'
The Ultimate Award:
Seven Stars and Stripes®
The lights were ablaze over a wide area above the Alchymist Grand Hotel and Spa, making it a striking sight of Prague Castle bathed in a phosphorus fueled fire of nighttime fantasy. The castle stands noble and rich, white hot above the medieval city as if on guard while the streets sleep silently, tucked in by a thick heavy snowy quilt. We arrived just hours before by way of Lufthansa from Germany, greatly anticipating a familiar return to our royal comfort zone in Prague. After several visits to this remarkable hotel in the past, we have come to recognize its impressive strengths as a boutique-style Renaissance bastion of gracious, responsive and kindhearted people that have the ability to make you feel truly welcomed.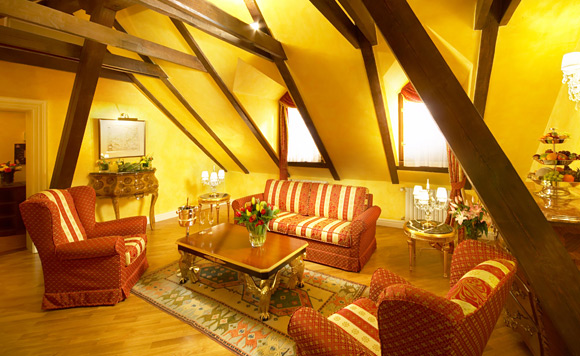 Alchymist Grand Hotel & SPA: Suite
Our driver, a remarkably pleasant fellow who remembered us from our previous visits, fetched us from the airport in a Mercedes Benz S-Class sedan, one of a small fleet of courtesy cars of the hotel. All through the city streets and finally the UNESCO designated Mala Strana (Lesser Town) and the moment of arrival, the driver kept us fully informed as to important sights while tweaking our ambient temperature and listening preferences. Checking into the Alchymist Grand Hotel and Spa is like taking a step back to a time when Europe was at its finest, in art, theatre and architecture. All around the immediate area are well preserved and restored buildings reflecting the golden age of the Baroque and Renaissance periods. The Alchymist itself is a series of four buildings dating from the 16th century, carefully and thoughtfully restored to their former glory while paying serious attention to every minor detail.
| | | |
| --- | --- | --- |
| The smiles you see all around you are genuine; you can feel it in the way they seamlessly check you in; in the way they describe your surroundings as they escort you to your room; in the way the sensuous house-made chocolate pralines and exotic fruit plate is placed in your room. It is a comfortable, intimate and hospitable setting to be sure, not unlike that of some of the best boutique hotels, Spanish posadas or country manors, and this one with a themed historical twist. | | |
Our room of choice was a third floor suite with windows carved out of a mansard roof, which allows great lighting and spectacular vistas. The first thing you notice is the richly grained wood floor topped with a couple of high quality geometrically designed wool rugs. There is a comfortable living room settee with an ornate gilded coffee table adjacent to a replica of a 16th century gilded desk topped with a very sleek modern flat screen LCD TV. European coffee is rich, robust and full-bodied so what better to wake you up in the morning but with a hot brew made by your own individual coffee/espresso maker. One more thing to note is at the foot of the bed, within the reach of a short leap, is a rather comfortable looking Jacuzzi, situated close enough to the window to catch enough sun or moonlight whichever suits the mood.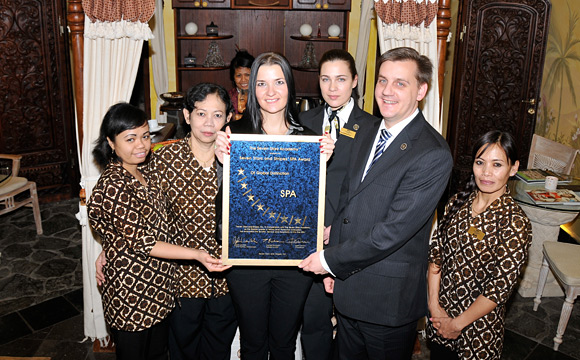 2011 Alchymist - SPA - Award
After a quick freshen up, it's essential that one leaves plenty of time to indulge in the Indonesian themed Ecsotica Spa with its qualified team of Balinese therapists waiting to treat you to any number of unique signature treatments. My preference was to try out the Alchymist massage combining the best of Hawaiian, Swedish and Balinese techniques, resulting in one of the most relaxing, therapeutic treatments I have ever had. Body treatments flourish with more choices than one can imagine, and if you are in the mood for the ultimate in pampering, then you came to the right place. A good nights sleep is a guarantee that Ecsotica Spa can promise without compromise!
A dinner at the famed Aquarius Restaurant with renowned Chef TomᚠSysel was planned for the evening with a complete review of the Degustation Menu and service to follow. The next morning after a sumptuous breakfast at the Café Barocco Veneziano, the very source of the seductive plate of chocolate pralines left on my coffee table last night, we booked a tour with the concierge, one that came highly recommended by General Manager Ms. Veronika Choteborska. It was a delightful sojourn taking in the Strahov Monastery (PHOTO TOUR - CLICK HERE) in operation since 1143 with a library complex featuring ceiling frescoes seemingly rivaling those of the Sistine Chapel; it was simply mind-boggling. En route we sought out the Basilica of Our Lady, where Mozart improvised on the organ in 1787 and the Picture Gallery, with one of the greatest private collections in Central Europe. After a brief visit to the Saint Nicholas Cathedral, a magnificent Bohemian Baroque structure where Mozart also played the organ, our final stop was at the Stirin Castle for a history lesson of the period after the Thirty Years War.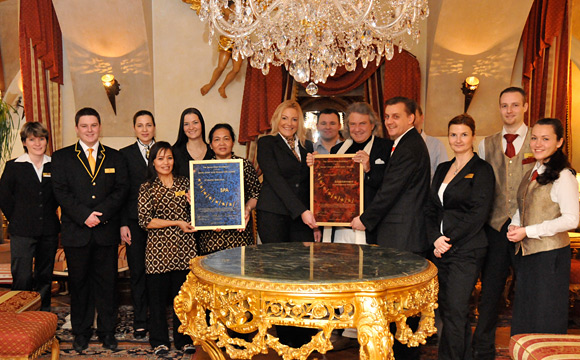 2011 Seven Stars and Stripers® Award-Hand-Out at the Alchymist Grand Hotel & Spa
The Alchymist Grand Hotel and Spa is an eclectic, free-spirited, consummate establishment committed to the complete satisfaction of every guest on all occasions as laid forth by owner and operator Georgio Bonelli. 'Unforgettable experience" in our opinion!
by Edmund & Thorsten Buehrmann

Editor: Ingrid Lemme

Editor-in-Chief: John Lomitola
© 2011 ~ Seven Stars and Stripes, Inc.