Hotel Eden Roc
Ascona - Switzerland

Society
August - 2003
6 Stars & 6 Stripes
Overall - 'Hotel & Service'
The Ultimate Award:
Seven Stars and Stripes®
It was a totally incredible feeling, the kind of feeling you get only when something
really good unexpectedly happens to you, the feeling of freedom,
of suspended animation of space and time,
the feeling of flying without wings.
John Lomitola
This kind of thing that only happens in ones dreams; here we were literally flying over the German autobahn just inches above a smooth surface in astonishing luxury and comfort. The vehicle, a road worthy VW Phaeton V-10 TDI; the destination, the city of Ascona on Lago Maggiore at the southern edge of the Swiss Alps; the purpose, to spend several days of pampered indulgence at the Hotel Eden Roc. The team: Thorsten, Stefan and myself, abundantly equipped with overwhelming enthusiasm and anticipation of a special review at the "Il piacere del Sud" – "The pleasures of the South". Anxiously looking at the GPS display to judge how much further our automotive pleasure will continue before we are reaching our destination Hotel Eden Roc Ascona, in Ticino canton. After finding our way easily to Ascona through some of the most picturesque mountainous scenery one can imagine, with Lago Maggiore as an inspiring backdrop, our first impression of the resort is promising. The driveway to the entrance is lined with harmonious sculptures woven together as sort of flowing fountains of 'feng shui'.
A manicured doorman opens our car door with quiet elegance and after a warm greeting makes a soft enquirey about the VW Phaeton, which continues to draw attention. We silently enter into a shining marble hall of an Italian palazzo through the discreet glass doors of what is called an entry but more closely resembles a costly glass cabinet.
Our host Mr. Daniel Ziegler is waiting and welcomes us with a friendly smile and introduced us to Vice-Director Marco Bürlimann. Realizing our need to freshen up and unwind, we are shown to our rooms with the promise to meet back in the lobby shortly for a glass of wine followed by a personalized tour of the premises.

GM Daniel J. Ziegler and Thorsten Piosczyk
We reached our suites by walking through what seemed like someone's private residence in silent luxury, reflecting a refined fusion of glamour, futurism and tradition. As the door to our suite swung open, what awaited us was simply awe inspiring and precious. There in front of us a panorama of Lago Maggiore framed by mountains rising steeply from the shore, a soft mist hovering above the ancient lake leading to the Brissago islands and the frontier of Italy on the horizon. Could this be the Mediterranean I asked myself while knowing full well the accuracy of the GPS system of the VW Phaeton was beyond reproach.

Apparently a microclimate prevails over the lake with the Alps protecting it from the cold northern air resulting in a surprising diversity of plant life including many palms and other sub-tropical flora. This is great I thought: 'Come to Switzerland to lay under a palm tree!'
Although mesmerized by the staggering views, I realized that Marco was waiting for us in the lobby and I tried to push us all to move in that direction. As we hurried through the halls on our way down to the lobby to keep our appointment with Marco for a personalized tour of the premises, we each seemed somewhat out of sorts. The view from our suites had already begun to work its magic, our perception of our surroundings intensified and the short walk to the lobby promised to reveal an underlying feeling of colorful harmony, peace and relaxation.

Thorsten & Vice-Director Marco Bürlimann
Marco took us deep within the bowels of the resort and showed us his treasure chest – the house wine cellar with his favourite wine: Vinattieri Ticinesi 94, which we were told resembles a fine Merlot and is produced locally. I recognized the wide selection of world–class wines stored here for the pleasure of the guests of the hotel, over 300 vintages, but Marco insisted that we taste his favorite local wine this evening at dinner at La Brezza; ok – we think we can handle that.

We stopped at the laundry; Marco showed us 'a wonder-machine you just throw a wet sheet in and it comes out in seconds ironed, dried and folded!' - please don't send all your cleaning to Marco.
Our tour now wound its way into the public areas of the resort and Thorsten noted the presence of fresh flowers all over the place. It seems that Eden Roc employs the talents of a full time florist on premise. Led through the magnificent hallways towards the guest rooms and conference areas, the route took us past original designer furniture that could have been works of art on display in a museum. Legs of chairs, tables and couches seemed to come alive with tropical plants and lighting fixtures sprouting from their tops. We didn't know whether to sit down and relax or stand in awe and admire the distinctiveness of the shapes. Marco told us that after taking over the neighboring Hotel Europa, the management hired a design team led by the top Swiss architect, Carlo Rampazzi to handle a complete renovation. It couldn't have come at a better time since a disasterous flood in 2000 raised the level of Lago Maggiore enough to cause extensive damage to the resorts.
The management had asked Rampazzi to 'blend the characteristic features of the two hotels, while maintaining the romantic Mediterranean atmosphere as the centerpiece.' In our humble opinion, the objective has been successfully accomplished with style and elegance and
a new 6 Stars & Stripes luxury hotel was born with 3 different restaurants in an unsurpassed location.

After a period of closure due to reconstruction, the combined efforts emerged resulting in 82 air-conditioned deluxe rooms and deluxe suites that present a breathtaking view of the lake, a wellness area with indoor and outdoor pools, sauna, fitness and massage while hairdressing, facials and nail care are offered at the Clarins Beauty Center.
The magnificent hotel garden ends directly on the shore of Lake Maggiore where a private marina and water-ski school are also available for the guests. It seems as though absolutely nothing was missed that could make ones visit here more pleasurable and all this reflects the well thought out planning that ensued prior to the renovation.

Marco suggested that we proceed to the lobby to relax while he prepared some literature and CD Rom information on the hotel for us to take back for future reference. I think it was Thorsten who came up with the idea to challenge Marco upon his return, to develop a special outing for us to make use of the following day so that we could take the VW Phaeton into the surrounding area to view some of the highlights of the Ticino region.

I guess that what we got in return was beyond our expectation and within minutes of our request, Marco had mapped out a most fantastic voyage into the valleys surrounding Ascona for a full day's excursion including several surprises of unsurpassed spontaneity. Best of all, it was his pleasure to lead us through it himself, to give us a personal, up front and sincere insight into adventures seldom experienced by outsiders like us. All this was being scheduled for the next day, which turned out to be his only day off. What glorious expectations awaited us! (And surprises too, thanks to Marco's ingenuity)
| | | |
| --- | --- | --- |
| | | We now had an entire night to think about the next day's activities and there was still a lot more about the resort that was yet to be discovered. Tonight, our reservations were to be in the flagship gourmet restaurant of Eden Roc called 'La Brezza' which offers first-rate Mediterranean cuisine and is supported by the superb wine cellars, which we had visited earlier, but more on that later in our separate cuisine review. |
Eden Roc also offers two other eateries including 'La Casetta', the Italian restaurant located directly on the shores of Lake Maggiore. This is not only a great restaurant for al fresco dining on the patio within reach of the gorgeous lake; it is also an historical building with an intriguing past. It seems that just before the official end to WWII, a truce was negotiated secretly between Allied and German military commanders in Italy, which led to their unconditional surrender to help shorten the war and save many lives.

The other choice is Restaurant Eden Roc, which offers classical French gastronomy coupled with a calm and relaxing setting to compliment the daily changing menus.

Slowly its all making sense to us, Eden Roc has something for everyone including a Mini-Club for kids; a place where they can hang out while the parents can act like children in another part of the hotel. Now the question came up: 'Is it a hotel or is it a resort?' and we debated it with each other for a few minutes. We all agreed conclusively that a resort offers its guests the diversity needed to keep one challenged and engaged while achieving a state of relaxation and stress reduction. This pretty much defines the Eden Roc from inside out, combined with the fact that even though the average stay for a guest is 5 days, often it can be several months. What a sublime thought…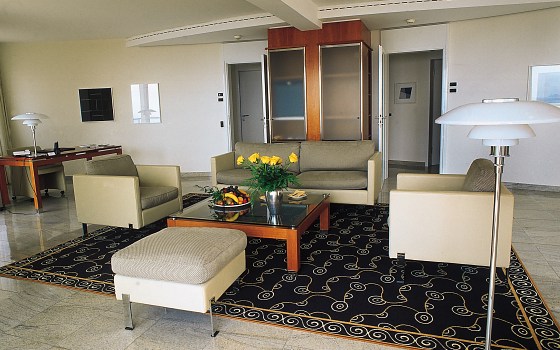 I think when I alluded to the possibility of staying for something like a month or more, I could have forgotten to mention that it all comes together with style and grace and ends in your room when you turn in after a busy day for a refreshing rest. Furnishings have been well thought out as if inspired by the 'Masters' of canvas and sculpture and reflect the style from minimalist through purist to ornate. All rooms are equipped with the state of the art technical refinements (even the electrical chords were bundled together neatly), including remote control communications systems for lighting, TV, games, internet, ISDN telephone and automated wake up. Did I mention that there is a 'terrace couch' on the balcony comfortable enough to sleep on with a major view of the lake and dazzling sunsets?
American Dream Cuisine™
La Brezza Restaurant
Hotel Eden Roc
In Ascona, Switzerland receives

Society
6 Stars & 6 Stripes
Cuisine & Service

The Ultimate Award:
Seven Stars and Stripes™
There's great news coming out of Ascona on the banks of the beautiful azure Lago Maggiore in southern Switzerland. Hotel Eden Roc has done it again and proven that its stature as luxury playground for those who insist on nothing but the best in service, hospitality and cuisine is justified. The Eden Roc, led by General Manager Daniel Ziegler and his highly trained staff, has moved into the rarefied position of earning another stripe for its already proven track record. It now means that with 6 Stars and 6 Stripes, the Eden Roc Hotel is only within one star of "World Class Perfection".

The Seven Stars and Stripes Global Award team recently had the privilege to return to the premises for update review of this fabulous all-encompassing resort and at the behest of Mr. Ziegler, literally "to look into every corner and around every turn". The original visit in 2003 resulted in awarding a very high level of perfection on this grandiose and stately establishment.
| | | |
| --- | --- | --- |
| In particular, the La Brezza Restaurant at the Hotel Eden Roc has set new standards by raising the bar to lead by example on the cutting edge of the Nouveau European Cuisine. Under the tutelage of Executive Chef Rolf Krapf La Brezza has managed to produce the same consistent satisfying experience for all who are lucky enough to discover, experience and to dine. Chef Krapf also takes a personal interest in the service and presentation of his unique creations, thereby guaranteeing a true reflection of his committed passion for his cuisine. | | Thorsten Piosczyk & Rolf Krapf |
"La Brezza is an oasis at the Lago Maggiore. Artistry is evidenced
in the kitchen of Krapf, he'll keep us writing." ~ TP
At the behest of GM Mr. Zeigler, Our Global Awards team discovered, experienced and ate their way through umpteen courses of delectable superbly concocted original creations produced by the La Brezza dream team. After all, Chef Krapf is also approaching the equally prestigious "16 Chef Hats" award from Gault Millau and this gastronomic marathon only reaffirmed the Chef's adherence to our own unique set of rigorous criteria.
| | | |
| --- | --- | --- |
| | | We began our evening with heightened anticipation as to the 'new order' of surprises in store for us on this memorable occasion. After being seated, my normally pragmatic spirit at once focused with ease on the tranquil effect of the panoramic views through to the mesmerizing Lago Maggiore. Two glasses of Laurent Perrier Champagne were thrust in front of my dream-like apparition and I eagerly savored their fine golden straw colored mousse. Knowing full well that only the finest grapes from the best vintages are utilized, I was pleased with the broad spectrum of citrus scents and delicate nose that characterize this consistently pleasing champagne. |
"Two glasses of Laurent Perrier Champagne were thrust in front of my dream-like
apparition and I eagerly savored their fine golden straw colored mousse." ~ TP
Our attention now shifted as the beautiful first course arrived for us to sample. Beef Carpaccio with Provencal Vegetables was the opening salvo and we took special note of the wafer-thin, lightly marbled ruby colored slices of beef. It became immediately obvious to us that Chef Krapf indulges in only the finest products available to him at any given time and works his magic through the artful attention given to each preparation. This was also true of the Smoked Salmon with Fresh Garden Salad and Eggplant Salsa.
| | | |
| --- | --- | --- |
| I was further amazed by the melt-in-your mouth quality of the salmon coupled with the tantalizing hint of apple wood smoke. My level of satisfaction seemed to elevate with every moment spent savoring each bite. Our good fortune of coinciding this visit to La Brezza with the beginning of spring provided us with powerful tasting examples of this early harvest including fresh locally grown asparagus. Poached St. Peter's Fish Rouladen over Fresh Glazed Green Asparagus offered flavors bursting with spring's freshness by careful steaming and co-mingling with the delicate, subtleness of the fish. | | |
For the moment it was appropriate to dive into the attractive arrangement of fresh house made breads sitting at the center of the table. Chef Krapf's team produces its own bread from scratch specializing in whole grain varieties of wheat, barley and oatmeal. It was the 'laugen brot' (barley bread) that caught my eye covered with 'mohn' or poppy seeds. It seemed to go well with the soft subtle lemony flavor of the terrific Greek olive oil placed on the table by the server as soon as he saw me reaching for the 'staff of life'. As we dug deeper into the pile of bread, our photographer Arno shouted "Speck Brot!" (Smoked bacon bread) and quickly stuffed a sizeable piece into mouth with paprika butter before I could react.
| | | |
| --- | --- | --- |
| | | Our dutiful server placed a fine bottle of Bianco D'Oro Kerner Terreni alla Maggia, Ascona directly in front of us and announced that this local gem of a wine would serve as our mainstay beverage to get us through the next course. We tipped the glass to our nose and noticed the intense bouquet of apple blossoms while observing its light green and yellow hue. This event brought forth the main courses of Roasted Sea Bream over Braised Artichokes and Spring Vegetables for Arno and for me Roasted Brazilian Beef on Eggplant and Zucchini Picatta. |
To make sure that the pronounced flavors of the Brazilian beef were dutifully accommodated, a bottle of Quattromani Merlot Brivio, Delea, Gialdi, Tamborini was suggested as the accompaniment to this extroverted creation. This wine was literally born out of the 'hands' of four individuals of noteworthy winemaking distinction named on the label. While taking two years to develop and by using only the best grapes from each of the four vineyards, the results added up to a well structured deep red wine with dried fruit permeating throughout showing notes of dark chocolate and smoke. Seven Stars & Stripes Tip: Don't miss this wine; it is truly an outstanding innovation.

It is evident that Chef Krapf and his team have taken great pains to focus on the well-crafted but little known wines of Ticino and have designed their original recipes to pair exceptionally well with them. With our main courses having been cleared from the table, Chef Krapf was now positioned to present the grand finale with the opening salvo being the rather large cheese wagon slowly approaching the table. Certainly in keeping with the tradition of emphasizing local products, La Brezza offers an astonishing selection of regional fresh and aged cheeses combined with an assortment of fresh and dried fruits. Our personal favorite was an ash covered fresh goat cheese laced with black truffles and a particularly sharp hunk of 3-year-old local Parmigiano.

All in all, our return this year to La Brezza and encountering the talents of its innovative Executive Chef proved to us once again that creativity, consistency and elegance reign while providing a solid foundation for a great culinary experience in a unique environment.
"Hotel Eden Roc has done it again and proven that its stature as luxury playground for
those who insist on nothing but the best in service, hospitality and cuisine is justified." ~ TP
It has now come time for a fitting end to an absolutely marvelous evening drifting through culinary paradise in La Brezza Restaurant. We decided to 'retire' to the famous Eden Bar for an after dinner cocktail or what Stefan calls "Absacker". What makes it famous is the fact that the personable bartender Maurizio Cassaro was awarded the runner-up prize for 'Bartender of the Year' in all of Switzerland.

It was easy to see how he could have been selected out of thousands of candidates in this competition since his professional demeanor was surpassed only by his infectious smile and gracious hospitality. From what we have observed during our brief stay here, this is the common thread that is woven by the management at Eden Roc Hotel throughout the entire staff and results in a cohesive, well coordinated and accommodating team.
Maurizio was proud of his accomplishment in the nationwide bartender's competition and decided to share with us the special drink he created that helped him score so high in the contest.
The Eden Dream
11/2 oz Cachaca (Brazilian Rum)
1 oz St James Rum
5 oz Pinapple Juice
3 oz Grapefruit Juice
Splash Passionfruit Juice
Maurizio's EDEN DREAM cocktail was presented to us at precisely the right moment when the evening was winding down and the prospect of sleeping under the stars drew me like a powerful magnet towards the terrace of my suite.
The special effect of the 'microclimate', fresh air, mountains and lake produced one of the best restful nights for all of us. In case you're wondering, I did lay out on the patio for a few hours, sightseeing the constellations and myriad of stars that illuminated the hills surrounding Lago Maggiore with a sort of mystical glow.

Upon wakening, we were treated to a most unbelievable panoramic view of calmness and tranquility produced by the ancient gifts of nature; jagged mountains, deep green valleys and decidedly cool blue waters. Breakfast is available in-room upon request, if you simply hang your order on the latch of the door prior to 3am. Your order will be delivered according to your wishes at precise 15-minute intervals beginning at 7am.

Our desire was to leisurely stroll on down and enjoy a fantastic breakfast buffet in the Eden Roc restaurant prior to the beginning of our surprise tour of the surrounding area with Marco. This promises to be a very special day for us all.
Just before indulging in the sumptuous breakfast buffet, a little exercise regimen was in order and Stefan and Thorsten decided to swim a few laps. Upon entering the pool they discovered the most remarkable thing, one is able to swim from the inside to the outside part of the pool.

Once outside, it is as if you are surrounded by all kinds of tropical foliage including date palms and banana trees. It is also suffice to say that the view presents itself all encompassing and dares you to connect with the ever-present Lago Maggiore at eye level. After the swim, a quick dip in the whirlpool and then the steam room was called for.
It wasn't long before the rumble of tummies led the boys to dry off before going up to the breakfast buffet in the Eden Roc Restaurant.

With the smell of freshly brewed coffee drifting through the marbled hallways, the urgency to get settled into the breakfast buffet propelled us even faster to make it all happen. Thorsten and Stefan had the inclination to start with the wide selection of locally produced meats and cheeses, the kind your most gourmet shop would have available back home. Yogurts abound with at least four choices along with various muesli, granola, nuts, raisins, fresh figs and dates to place on top. Juice is just as difficult a decision for us since the selection includes fresh orange, grapefruit, red or black currant, papaya, carrot or tomato.

More importantly, we all agreed that the appropriate thing at this moment was to satisfy the coffee urge! It seems amazing to me that coffee tastes so much better when served in elegant silver pots and poured into fine bone china cups by expert servers using the underliner to guard you from any unintentional splashes. That is stylish, well trained service at its best and we all agreed to the feeling of gratified pampering.

As we continued with breakfast, our view of the lake produced the magnificent effect of tranquility and peace as if 'angles had sent us here' according to Thorsten. When Marco arrived to join us for breakfast, he came equipped with our itinerary for the special outing.
We were lulled by the casualness of him telling us "I have prepared a little something for us to do today." We were about to find out what 'a little something' really meant in the vocabulary of Eden Roc's high level of standards. "Are you sure you have a few hours to spare?" Marco asked testing us to see if we may have had a change of heart.

Personally, I very much looked forward to checking out the surrounding valleys and villages, which I had read so much about in the run-up to this trip. I wanted to see for myself if the area supported our exceptional experience, which Eden Roc had supplied for us up to now. With breakfast fading fast as a priority, Stefan made his way to the lobby to fire up the chariot while Thorsten and I prepared the camera equipment to record our special outing.
As we left the driveway of the hotel we literally had no idea of what was in store for us on that bright, balmy morning. Marco told us to punch in some coordinates into the GPS of the Phaeton and we took off riding softly on a cloudless day up and up along well maintained Swiss serpentine highways into what seemed like 'seventh heaven'. Riding alongside sheer cliffs that hover above distant rivers down below, constantly negotiating switch back turns while steadily ascending in altitude made for an exhilarating climb. Somehow it felt like we were in one of the James Bond movies being pursued by some thugs with shoulder fired missiles… but not that fast … Our first stop was the "Verzasca Dam" … 220 m (722 feet) high

We were almost totally surrounded by mountains with an enormous amount of concrete at one end holding back a serene sea of slate colored water. As we perched ourselves at the top of the dam, looking down was dizzying to the point of a serious vertigo attack. Stefan mumbled something in German to the effect of "What an outstanding view!" Macro told us, that this was the dam used in the James Bond movie - Goldeneye where they filmed the 'bungy jump' scene… At this point, we were truly ready to feel the original James Bond bungy jump without actually attempting it... please take a closer look..., Thorsten may have been tempted when he saw the platform, but so said, it was not open for business at this time . ;-)

Not a bad start for a lite morning excursion into the 'hills'; what could possible follow? Marco indicated that it was time to move into another valley 'just around the corner' so to speak in Swiss terms, which could mean a half-day's journey over treacherous terreine. "Not to worry", he said as we dodged another oncoming vehicle along the impossibly narrow roadways.
Though our destination was still a mystery, the promise of things to come repeated itself often with every picture postcard village we passed through clinging precipitously to the lush green mountain slopes.

As we rounded another turn, Marco casually asked if anyone was a little hungry yet, to which we couldn't help but wonder if all they do around here is eat, especially after our sumptuous breakfast. Not realizing that the time was now after noon and the altitude was elevated enough to qualify for a short rest stop, Marco pointed to place to pull the Phaeton off the road near a ancient looking stone bridge in the village of Lavertezzo.
A quick look down revealed enormous boulders haphazardly strewn along the bed of an ice green colored glacially fed river over which the old stone bridge was built. Closer examination brings to light that we are about to cross an ancient Roman bridge toward which Marco is now leading us. Macro told us that the local young men make it a sport of jumping from the bridge in the summer when the snow melt swollen waters are 14°C "warm" – he did it too. "Once when you are on – there is no return." Marco said somewhat sheepishly! "That is why it is called 'Ponte dei Salti' (bridge of the jumps)."

Marco walked us over the 'Roman' bridge towards the densely forested opposite side which looked to us very much like a grotto. He led us safely across while preparing us for our second 'surprise'. Please come with us over the bridge, and explore a treasured secret... A very special little restaurant Motto tucked deep into the side of the mountain awaited us and the hospitable owners shared some of their homemade wine with us. It is traditionally sipped from ceramic cups for good luck and we settled in and had an "original" lunch with homemade cheeses, sausage and locally produced crusty bread. "Who could asked for more?" queried Thosten in a moment of sincere satisfaction. The proprietors of restaurant Motto, Ms. & Mr. Celio & Fiorella Togni joined us briefly to tell us of many of their relatives and neighbors that have emigrated to the United States and now have a small Ticinese community growing there. We all posed for pictures together and promised each other to meet again some day to reminisce our special time together.
Marco pushed on, eventhough he had succeeded in lulling us into a full sense of contentment and finality. Stefan asked quietly 'What could possibly be next?' and Thorsten agreed that this must be the moment when we will return to the Resort. Surely after spending several hours under the expert supervision of our genuine tour guide, the outing must be coming to an end. "Lets return to the Eden Roc" Marco said which only confirmed our intuitive feelings.
Driving back was a pleasurable challenge again and the movement down the mountain only accentuated the sensation of winding down to a fitting end. "Let's have the car parked and we'll take a quick walk to the resort's dock to see if anyone is fishing there" Marco said casually.

Upon arrival at the dock, we didn't see anyone fishing but what we did see only strengthened our impression of this well run establishment. There, alone on the dock was the incredible sight of the sommelier Mr. Sergio Bassi from 'La Brezza', standing next to a tall table upon which was placed an elegant silver ice bucket with a bottle of Veuve Clicquot and several glasses.

Please take a closer look
We were focused on the picture of this well dressed manicured sommelier polishing glasses all by himself and we failed to notice the super sleek Chris Craft model Tony Giugliano tied up nearby.

The plan began to reveal itself to us. Marco had arranged for this magnificent vessel to be placed at our disposal for a leasurely cruise on the yacht through the lake. Well, needless to say we were speechless at this point and only the steady powerful rumble of the idling engines worked to put us back in reality. The captain, Mr. Jean-Claude Meier, beckoned us to remove our shoes and step aboard. He had been waiting to take us on a special excursion on Lago Maggiore to be able to view and experience what others seldom get to do.

We pulled away from the dock to the sound of engines purring and the sight of a wake of foam building. Picking up speed, we passed by villa after villa perched precipitously on the sides of sheer cliffs. The engines began to roar louder as we picked up speed and started to level off as if skimming a few inches over the lake surface. We felt elated, trying to talk to each other over the din of the twin 360 hp Ischia engines without much luck. Stefan stood up to get a better look at the beautifully foliated island approaching fast, but shouted that it was the 'symphony of scents' that peaked his interest. No one heard him until we noticed that wafting through the air were the delicate fragrances of eucalyptus, lavender, lemon and curry, which could 'seen' even with our eyes closed.

As we passed close to the Brissago Islands we slowed quickly, conversation picked up, and we could hear each other again. "The Alps to the north protect the islands from the cold northern air" captain Jean-Claude informed us, "This is the most northerly place that these sub-tropical plants can grow".
| | | |
| --- | --- | --- |
| Marco as an official Champagne Knight | | We now slowed to a crawl and prepared to anchor near the idyllic island. Marco recovered an icy cold bottle of Veuve Clicquot Ponsardin Brut NV Champagne and several fluted glasses. The intense curiosity of what was about to occur was noticeable even behind Stefan's aviator shades. Marco now reached for something under a cushion and without hesitation drew out a ceremonial sword to which we all unconsciously took a small step back. |
What we were about to find out was that Marco is an official 'Champagne Knight' or 'Ritter' in German, one of only 4 such qualified knights in all of Switzerland. Marco explained that he would now attempt to open the bottle of Veuve Cliquot with his sword. "Why?" would you ask, does someone need to open a perfectly good bottle of champagne with a sword when all you have to do is pull on the cork. I never really understood that.

Tradition has it that 'Sabrage' (the art of opening a bottle with a sabre), started when Madame Clicquot of the aforementioned champagne family, gave some bottles of her exquisite juice to some of Napoleon's soldiers. As they rode off on horseback, they were only able to keep control of their horses and open the bottles simultaneously by drawing their sabers and beheading the bottle with a single strke of the blade. Hence the art that is still practiced today in some traditional societies.

It was reassuring to note that the amount of champagne lost overboard during this procedure was negligible even considering the number of back-up bottles brought along in case of an unfourtunate misguided stroke.
| | | |
| --- | --- | --- |
| Marco's accuracy proved unwavering and we were delightfully coasting along on 'tiny bubbles'. As our pilot Jean-Claude nudged the polished craft along, he reminded us that Ascona has become the new 'Fischer's Island' referring to the elite Florida island stronghold of celebrities and stars. "It has evolved into a place where people can feel safe and secure without worrying about locking cars or homes" he whispers. | | Please take a closer look |
We should proceed now to the village of Ascona our pilot says, to disembark at the town square. While approaching the village dock, it was as if we were entering our own private paradise aboard a luxury yacht, a sort of 'sub-tropical pearl of Switzerland'. More surprises awaited us behind closed doors!

A quick off load and we were thrust into another world of strolling villagers and we stood there waving good bye to our experienced and personable pilot Jean-Claude. It was a gorgeous Sunday afternoon and town was bathed in vivid multicolored sunlight filtering through the treelined lakefront walk. As we started to follow Marco to our next 'who knows what' destination, we noticed that Thorsten was missing from our team. We all knew that Thorsten had a tendency to just run into total strangers and strike up animated conversations that could sometimes last for quite a while. Although this in itself was not alarming, what we saw when we found him had all the makings of a Felliniesque scene. Thorsten was standing in front of a lifelike robed statue by the lake trying to determine if it were alive or not. But as soon as he heard us call him, he turned away; suddenly the statue reached out and placed its hand on his head thereby spawning a trifling 'cat that ate the mouse' grin.

Please take a closer look
Once reunited with us, Thorsten fell in line as Marco led us up a narrow cobble stone street to a small quaint shop. He knocked. No one answered. He knocked again. This time a faint voice in a local dialect responded and a young man let us in. His name was Urs Mäder and Marco had arranged for a special private wine tasting at this wonderful little wine boutique.

American Dream Hot Tip:

" Cantina dell'Orso Sagl "
Urs led us to a room behind the store area where he had set up for a tasting of Ticinese wines specializing in local producers in and around Ascona. With fireplace roaring and glasses set, I think by the look on our faces we were indeed ready! Urs told us that eventhough he was born in Alpenzellerland (farm country to the north), he moved to Ticino to persue his passion in wine.
His formula for the tasting was simple, start with the basics and step up to the next level until you reach the seventh group, which is the least produced but highest quality, kind of like the shape of a pyramid. We were even introduced to a special 'white merlot', the description of which seemed like an oxymoron; merlots are supposed to be red aren't they?

Urs proved to be extremely knowledgeable and enthusiastic about the local wines, most of which have yet to be discovered by the US market. What we learned that day could fill volumes, but we came out with a new appreciation for these high quality, hand crafted works of art. Some of our favorites include: Quattromani 2000, Ticino (4 producers together in one bottle) Culdree Barrique 2000, Ticinio (only 1,800 bottles produced)

As we began to gather our things to leave, Urs couldn't help but stuff several bottles of his and our favorites into our bags. One bottle of Culdree Barrique 2000 actually made it all the way home to Montauk where I shared it with friends and family on a special evening.

What would you expect now that we had just finished an enjoyable afternoon tucked away who knows where, under the expert care and guidance of our wine connaiseur Urs Mäder discovering and sampling the precious secrets of Ticino? Well, just outside the door to the wine boutique Cantina Dell'Orso Sagl, Marco had arranged an Eden Roc limo to be waiting at precisely the right moment we were ready to leave. I sort of thought of myself as a leaf in a fall breeze somehow being guided safely and happily from place to place around the greatest countryside, only to land softly each time.
American Dream Cuisine™
Ristorante Stazione
In Intragna, Switzerland receives

Extraordinaire - Society
5 Stars and 6 Stripes for
Extaordinaire - Society Cuisine & Service
The Ultimate Award:
Seven Stars and Stripes™
Our driver smiled and exchanged Swiss Ticinese dialect with Marco, they laughed and we were off to another surprise somewhere over the next mountain. Laughing is universal, I thought as we passed through another beautifully quaint village and crossed some railroad tracks finally stopping in front of the RR station. But what's this? Upon closer inspection what we were about to enter was a restaurant built into a former RR station of the Swiss National Railway system. Hense the name Ristorante Stazione.

We had suddenly entered the special domaine of Agnese and Fabrizio Broggine, owners of this unique Ristorante. It is a special oasis of warmth and love, genuine to the core. Our entrance produced a flurry of activity punctuated by laughter and embraces for each of us. Even Blackie the big dog got into the act with his own version of a Ticinese kiss. It were as if the 'prodigal sons' had finally returned to a family reunion of decidedly grand proportions.
Off on the side stood a distinguished young man to whom we were most certainly introduced, who now stepped forward to announce a spur of the moment (so we thought) plan before sitting down to dinner.

The man, Stefan Früh asked us to prepare for a 'little' tour of the central part of the village Intragna, with a brief stop to San Gottardo church to visit the 100 year old pneumatic organ and Ticino's highest church TOWER.
Stefan Früh is a wise and highly educated resident of Intragna, and accordingly his family roots can be traced back centuries to the time of the Middle Ages. Our new friend Stefan took us over narrow cobbled stone streets, all the while filling us in on the local history. We were fascinated by his acute knowledge of historical events, but also his energetic pace up and down the undulating streets brought more than a few unintentional whimpers from beneath our breath.
He stopped us in front of a magnificent colossal door that had hinges the size of 'godzilla's fists' fastened to it, the kind only a Home Depot-junkie like me would notice. He whipped out an ancient looking 'jailor's key' and inserted it into the lock.

"We will now climb the tower," he said in a whisper. We looked at each other and agreed, but the question that remained unasked was of course 'How high is the tower'. "It is only 65 meters high", he continued before we could ask it and up we went….and up….and up…I paused to look up; no end in sight….up and up…we went. I began to feel like I was caught in some kind of 'M.C.Escher' graphic work, where endless stairs are the main motif and I became a recalcitrant individual neither going up nor going down both at the same time. I could feel everyone's thoughts clamoring in protest, begging for a rest and then it appeared. The belfry was within reach now and we all fell forward as gracefully as we could into the small area, above which hung several tons of cast iron bells. Not being able to see too well in the darkness, we now watched as our guide Stefan lite a small flashlight into the corner to reveal that a bottle of Ticinese sparkling wine had been chilling since the afternoon and we were now about to celebrate our new found friendship! Moments like these are never lost and will be repeated many times in order to share the experience with the same eagerness and pleasure with as many as possible. We began our descent with a newfound spirit of fondness and respect for our guide Stefan Früh and his passion for his cultural heritage and birthright.

It was almost pitch dark when we landed at the bottom of the tower and Stefan guided us back to the Ristorante Stazione. Our lavish dinner was about to begin and in the moments before the first couses were served many curious questions were asked about our impressions of what we just saw. It is fulfilling to witness such interest and sincerity on the part of such decidedly proud people. Once again, menus meant nothing, as it was time for a spontaneous demonstration of Executive Chef Adriana Gamma's terrific talent. We urged her to pull out all the stops and she started with the first course of:
APPETIZER:

Pheasant terrine with Merlot reduction on Tatsoy greens topped with a mustard fig sauce.

WINE:
Sinfonia in bianco Chiericati Bellinzona 2001 - A 'white' merlot with warm gold tones, peach and apricot bouquet, light roasted notes and mild tartness. A modern wine with an exotic touch.
Next we were presented with the SECOND COURSE of:
Homemade fresh pasta with fresh Centovalli porcini mushrooms. Fresh picked local valley mushrooms provided an earthy accent sufficient enough to propel the pasta into the limelight.

WINE: Vinattieri Merlot 1994 - Nice aromas of berries, spice and herbs. Ripe fruit with rich balance and focus, spectacular finish.
For our MAIN COURSE we were served:
Tender veal filet with braised veal ragout and truffled potatoes. Locally raised milk-fed veal provided a tender 'cut with your fork' filet, expertly cooked in its own juices.

WINE: Tenimento dell'Or, Sottobosco - The blending of merlot, cabernet sauvignon and petit verdot produced a pofound expressive wine of top quality. Deep color, fine nose with blueberry fruit, vanilla and toasted accents. Good acid balance with hints of forestberries.
Next came the THIRD COURSE of:
Assorted cheeses both aged and soft, produced with cow, sheep, goat and buffalo milk from the local Centovalli with fresh fig bread (also a local specialty) accompanied by the WINE: Dolce oro Terreni alla Maggia Ascona - gorgeous, exquisite, sweet and beautiful fruit notes.
Our grand finale was presented to us at just the right moment to bring this lovely evening to a fitting close.

DESSERT:

White and dark chocolate terrine with wild forest berries. At this point just a double espresso or my favorite 'Café Melange' would have sufficed if it wasn't for the great enthusiasm of our congenial hostess Frau Agnese Broggine
Across the room was an innocuous unobtrusive table stacked with about half a dozen very tall bottles. We should have become suspicious at the rather large size of the weights attached to the bottoms of the bottles since they were placed there to prevent the tall bottles from falling over.
| | | |
| --- | --- | --- |
| Each bottle held a serious looking opaque liquid and Ms Broggini reached over and started to pour it into several aperitif glasses. It was as if she was holding some kind of 'medieval' weapon in her arms and with extreme dexterity she was able to complete the job and pour us an 'after dinner' drink from a distance of about six feet. It reminded us of a cross between Jaegermeister and Sambuca Romana and was precisely the right medicine and the right moment. | | |
It was a fitting end to an absolutely marvelous evening and fabulous day in which we had made an enormous amount of special discoveries that could only have happened under the guidance of well-informed sincere people who are passionate about their lives and want to share it with others of different cultures.

Hats off to the wonderful people of Ascona and the surrounding villages and valleys of Ticino, an idyllic, magical place of quiet fulfillment. Special thanks to JT.
by John Lomitola, Stefan Deyerler and Thorsten Piosczyk

Editor-in-Chief: Ingrid Lemme
© 2008 ~ Seven Stars and Stripes, Inc.