"There is nothing more satisfying than seeing the name of our hotel being held prominently in an unfamiliar place"
Simone said as she caught a glimpse of our limo driver waving a sign while he waited hopefully for our arrival.
We landed at Gran Canaria's international airport (also known as 'Aeropuerto de Gando') located about a dozen miles south of Las Palmas. Contrary to other tourist hot spots this airport accommodates also 1st and private jet lines; the business traveler even finds conference facilities here. Our chauffeur identified himself through the arriving masses by holding up his sign 'Grand Hotel Residencia', shielding our privacy. A Luxury Mercedes Limousine equipped with all the essentials including an entertainment center and a bottle of perfectly chilled Moet Chandon Brut Imperial was a nice welcome. But our attention was drawn to the world outside, the tourist hotels and happy people of all nationalities in shorts and sandals, mingling and laughing under a radiant blue Eastern Atlantic morning sky.

It is interesting to know that the average age of the culturally diverse population is rather young in comparison to the rest of the country. Acceding to three quarter of a million in population Gran Canaria is very likely the most cosmopolitan of the Canary Islands, (Fuerteventura, Lanzarote and Tenerife with its Volcano Teide). More then 42 percent of the island of Gran Canaria is environmentally protected. But Maspalomas is our destination; also called 'Maspalomas Costa Canaria', as it comprises the beach resorts of Águila, Las Burras, San Agustín and Playa del Inglés all of which belong to the municipality of San Bartolomé de Tirajana. Here we should find the most amazing coastline with white sand dunes and beaches. They are also most desired for their wonderfully mild year-round climate, a true paradise and an oasis. As we were getting closer to our destination, we passed luxury estates and golf courses with perfectly manicured lawns and we arrived after a short twenty-five minute pleasant and safe ride. Golfers are pleased to find several fine courses, one of which is right in Maspalomas, and all within easy reach of the Gran Hotel Residencia. The famous sand dunes and beaches of Maspalomas are located within a short walking distance from the resort and all so close to the discerning seaside community.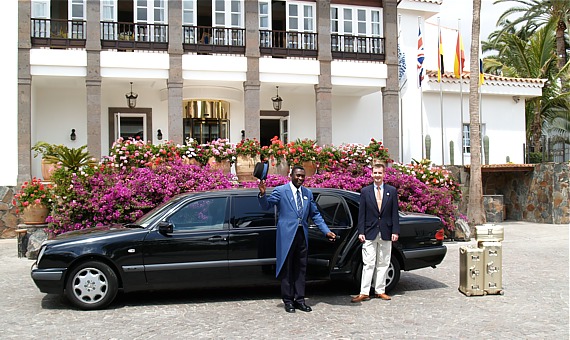 "One's destination is never a place but rather a new way of looking at things." Henry Miller (1891 - 1980)
The magical scent of citrus captivated our dour senses as the limo doors opened out into the mid-day sun and we were immediately infatuated by the clean immodest Moorish style of this luxury resort. Opened just a few years ago, the Gran Hotel Residencia is sited in a thousand year old palm grove and with its swish two-story villas, the resort is the utmost in 'Royalty' on this vacation island. The Grand~e dame is frequently visited by the Spanish President and Hollywood stars like Ursula Andress, just to name a couple. "Naturally there are many more whose privacy must be protected", assured GM Martin Schneck.

Simone whispered: "Breathe, honey, breathe in this wondrous air", while she smiled. Now it was the sound of exotic birds dictating the rhythm of our hearts; inviting us to stay. Check-in was ultimately pleasant and we noted that most of the staff was fluent in English, Spanish and German. The welcome reception area in the lower part of the two story main building and most of the other buildings were designed and decorated by internationally renowned architect Alberto Pinto. Pinto's elegant and abundantly luxurious style is always easily recognizable, again he chose to dominate with natural colors that underline the emblematic Mediterranean atmosphere. As we stepped out onto the sprawling sun terrace overlooking a sparkling free-form pool, a Seahorse logo in cobalt blue tiles reflected the colors of the mesmerizing sky. "I didn't think they make those skies anymore" Simone joked (we both are coming from northern parts of the world). Here we were welcomed with a wonderful glass of 'Cava' a local, sparkling fruity champagne, quite refreshing.
"The Gran Hotel Residencia belongs to the Seaside Hotel group, a well recognized name
in the family of highly successful international hotel firms." ~ Thorsten Piosczyk
| | | |
| --- | --- | --- |
| Our accommodations were luminous throughout. The floors were tiled with wonderful Mediterranean stone. The comfortable poster bed was dressed with fine-spun linens, large European pillows and a-light-as-a-feather duvet cover. The blues on white were just precious and Simone freaked over the 'adorable' bath amenities by Bulgari forcing her to buy them all later on at Rosenthal's. I was happy with my 'E'-menities, since I always travel with my lap-top and when I looked I found a power outlet feature conveniently located inside the in-room safe. Well designed lavatory and bidet were tucked away in a 'private' room, where they belong. | | Please take a closer look |
The make-up mirror made all the difference in Simone's life. Our balcony (and all pool sites and terraces) was furnished with elegant, solid teak patio lounges and accessories. The sun / rain umbrellas were of natural fibers and wood and presented a nice flow of outdoor-harmony besides a cool oasis.

We both took a quick shower, while we were trying to ignore the bathtub, after all we were hungry and good for lunch. Simone looked really appealing in her bathing suit with a matching sarong draped around her hips as we sat down at the pool bar for a casual lunch. Paco Francisco, our "Most Accommodating Waiter" approached us in the language of our origin with a true and caring smile and inquired after our whishes. It was obvious that he had no expectations other then to please the guest.

Please take a closer look

I had a perfectly grilled to-the-minute medium rare filet mignon and Simone a delicious grilled Salmon with organic greens and a local sparkling water that should be bottled for the international market. The extraordinary quality of this steak reminded me immediately of Michael Jordan's Steakhouse in Grand Central Station in NYC. The authentic Canary Islands taste was present throughout all dishes, though never consuming. The cozy pool bar created a great feeling from the second we entered this outdoor dining room and we nurtured a fabulous meal.
"The secret of hospitality is caring, if you do
that honestly, the rest takes care of itself."
~ Thorsten Piosczyk
After a refreshing siesta and a quick shower we were on our way to the near-by helicopter landing facilities for a truly exclusive excursion arranged by Martin Schneck, the GM of the resort.

Alexander Neumann, our private pilot, a broad & handsome navy seal type, welcomed us in perfect English. Even Simone felt safe by the way he handled himself and his helicopter, which was made in Germany. As we flew through the canyons and over the peaks we spotted a glowing turquoise water reservoir in the midst of the mountains. I couldn't help but think how lucky I was at this very minute. I have traveled around the world on business and pleasure and have always dreamed of such an adventure with Simone. The experience itself was unbelievable and we got more excited with every turn only to discover an even more picturesque view. An experience such as this is just too inconceivable to portray in simple words! As we were circling the spot that we would eventually land on, we discovered to our true surprise that the plateau had been somehow magically set up with a table and chairs and a uniformed waiter was expecting us. Nobody said much for the first few seconds after the chopper got silent. The breathtaking beauty, the complete silence, the surprise and the anticipation of what was to come, held Simone and me in awe. We felt almost like slapping high-fives and celebrating; it was inspiring.
| | | |
| --- | --- | --- |
| Indeed, the plateau had somehow been prepared with a picnic set on a yellow table cloth resembling the colors of the resort. And a perfectly chilled magnum bottle of 'Tattinger' and an equally nice chilled bottle of wine in silver coolers were placed next to the table. A platter of most delicious, local cold cuts and fresh fruits was beautifully arranged on pretty stoneware. There was no sign that the display was longer on the table then just about to-the-minute. Soon the natural cork of the Tattinger popped to reveal the smallest of all Bacchus' pearl strings ever, eagerly running for their aim, demanding us to toast. | | Please take a closer look |
We could barely recognize the line where the blue of the sky met the blue of the ocean. Life was sure worth living. After clearing our palates with some cheese, Martin insited on uncorking another magnum, this time a Chardonney 2002 from the Julian Civite Bodega collection that was ripened in French oak barrels. This master wine, relatively high in alcohol, has true personality. Did I taste a hint of lemon and mango, or was if just the aroma of the land? An exceptional drop, a precious and unforgettable afternoon it was. The innovative general manager Martin Schneck comes from a managing directors position at the Metropolitan Palace Hotel in Dubai. He is an elegant and sophisticated pro with a real heart and a great winning smile like the product that he is representing. Martin explained the habitat for a number of rare plant and animal species that have managed to survive in this arid environment. The unspoiled scenery left us all breathless although the GM reassured we that all this is gratefully "ALSO AVAILABLE FOR EACH GUEST!"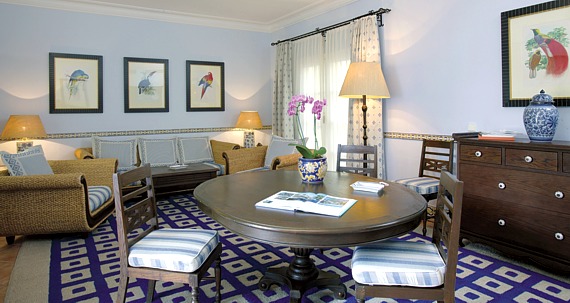 "The essence of this cozy-chic resort in regards to decorations is a series of captivating unique and
precious materials with an instinctive taste of combining earthy with bold colors." ~ Thorsten Piosczyk
Back 'home' at the hotel, in our very private accommodations, my mind was after - love, lust and leisure that is. How can one not feel romantic at a place that is packed with romance? But Simone just couldn't wait to get into her new evening summer dress and that gave me some time to taste from a nicely chilled stone carafe of a local red wine, which was already expecting us as we opened the door. How in heaven the wine was exactly chilled to the right temperature at that very moment, I could never figure out. But what I did get to witness was the six-star-service when I came back from my jog in the dunes the next morning. A perfectly cooled bottle of water and a fresh jogging towel with my name on it, was already expecting me upon my return. By the way, joggers have a special service entrance, so one doesn't have to walk soaked through the main entrance.

Finally we (she was) were ready for dinner. Simone looked breathtaking, and off we went for a real romantic dinner …
American Dream Cuisine™
Restaurant at:
Canary Islands, Spain receives

Extraordinary
5 Stars & 5 Stripes
Cuisine & Service

The Ultimate Award:
Seven Stars and Stripes™
From the second we stepped into the Grand Hotel Residencia's flagship restaurant, we felt the warmth of its colonial Spanish architecture and décor. Moments later we were led to our table under an aura of a million luminous points of light hanging above us. A romantic opening to a much anticipated gourmet dining experience led by the capable talents of Chef de Cuisine Herbert Eineichner, a veteran of 5 years with the Seaside Hotel group. Our panoramic vision was enhanced by the delightful smells wafting from the nearby kitchen and the pleasant chatter softly audible amongst the obviously satisfied guests.

Our servers arrived quickly to introduce themselves in charmingly accentuated English as Alexander and Enrique followed by Christina and Andrea. It became obvious to us that the level of service would be more than sufficient to be able to match Chef Eineichner's creative license. Before we could thoroughly consider the menu one of our servers arrived with "greetings from the kitchen" in the form of a most delicious Chilled Paprika Soup with a Gooseliver Pate to die for.
| | | |
| --- | --- | --- |
| The cuisine selection was appropriately paired with Conde de la Salceda Rioja Reserva 1998 offering a complex nose, which is perfumed, rich and appealing. The encore was served next and I relished my taste of Scallops Tartare with Celery on sauce of Parsley and Potatoes. Simone raved about her delicious Asparagus mousse with Ratatouille Vinaigrette and together we sampled the Faustino V Rioja bringing our experience full circle. | | |
We were fully prepared for the next course as our expectations were being surpassed with each course and we were not to be disappointed. The intensely delicious Rabbit and Thyme essence with Dumpling of Cottage Cheese made me appreciate the inspired creativity of Chef Eineichner's talents. For Simone it was Bouillabaisse with Garlic Crostini that caused her to smile and our server poured two glasses of Chivite Coleccion 125 Chardonnay, Navarra 2002 made by the #1 producer in Navarra who have been making wines since 1647. After 10 months in French oak this noble wine offers an elegantly complex structure with harmony and power.
| | | |
| --- | --- | --- |
| | | Our culinary experience has so far been of the highest quality and value. Our main course arrived shortly thereafter, which was Fillet of Beef in Chard Jacket with Red Wine sauce and Dauphine Potatoes (pictured left). I purposely ordered it to be cooked between medium and medium rare and upon inspection I found it to be precisely so. I remarked to Simone that it was "out of this world" and compared to some of the best steak houses in New York City. |
Simone couldn't believe my 'obsession with perfection' but then she agreed that my challenge was successfully met. Her selection of Fillet of Sole on Puree of Sun Dried Tomatoes with Sweet Potatoes and Artichoke Sauce was astoundingly delicate and savory. Our servers immediately poured us the Chivite Coleccion 125 Reserva Red, an intense, expressive wine made from Tempranillo, Merlot and a touch of Cabernet Sauvignon paring well with the Fillet of Beef. It was velvety and persistent with hints of fruits and spices.
| | | |
| --- | --- | --- |
| Chef Eineichner and his team must have the same 'obsession with perfection' said Simone as the dessert courses arrived. Mine was Trifle of Currant with Bailey's parfait in Brandy Snap Basket, delicate and visually appealing. (pictured right) For Simone it was Toblerone Mousse with Kumquat Ragout and Tartlet of Marc Ice Cream served in Sherry with notes of bitter orange. These desserts were downright heavenly. | | |
We were now fully satisfied as we got up and strolled towards the sounds of gentle piano music heard through a soft, slight summer breeze off the Atlantic. The bartender welcomed us with a well-groomed smile and made a comfortable place for us to unwind after our delightful dining experience.

The next morning we woke up early as we had planned to watch the sunrise over the sand dunes, a sunrise that was going to be different from any other Sunrise we had experienced before. As a kid, when I thought of the desert, I'd pictured mountains of pale, beige sand. That was the desert of my dreams. The colors of these dunes were of saturated gold (ever changing in the light) with a few shrubs here and there, and we were unprepared for the healing effect it had on us. Simone leaned in my arms on our spacious but intimate balcony, both eagerly trying not to miss the most captivating sunrise over these high dunes. But nothing could have prepared us for the moment when the sun finally rose over the peak; this place is a painters or photographer's dream. Imagine an oasis where all-around the only things one can see are dunes. Sand that is, golden sand. See for yourself…

Please take a closer look
Breakfast was an international feast, an insane medley of colors and taste. Despite its rise as an elegant and exclusive resort, the Residencia is a casual place, after all this is a vacation resort for the discriminating guest. Shorts and sandals are accepted for breakfast and lunch. We didn't know what to choose from first and boredom was not an option. There were wonderful displays of local exotic fruits such as apricot baskets (don't forget it was winter in the northern parts of the world). There was a hot waffle & omelet station and even a station that prepared freshly grilled smoked bacon to one's liking.
I was very happy with the variety of fish salads, especially refreshing after the elaborate dinner with all the diverse wines and liqueurs from the night before. Simone couldn't get over the variety of homemade jams, marmalades and jellies - combined with a great selection of international teas, which started her day off just right; ever encouraging me to inhale the enchanting aroma of citrus all around us.
Set in a tropical paradise, this resort would not be complete without a revitalizing heath and beauty spa; the Residencia's is not only a holistic & but also an excellent medical spa. Do not miss the invigorating 'Rasul' and 'Cleopatra' baths. In the 'Rasul' treatment room we got to sit in one of these chairs, covered all-over in healing muds, while pleasantly warm sweet water was dripping from the ceiling and deeply penetrated our skin.
| | | |
| --- | --- | --- |
| We found at the Seaside Spa a wide range of highly acclaimed European spa treatments and entire programs meant to relax and heal. The spa is managed by a doctor's vision allowing the practice of many medical treatments including gastrointestinal and traditional Chinese medicine. Special beauty, fitness and health programs are available for couples and singles alike in luxurious indoor and outdoor gym facilities supported by one of the world's most healing climatic zones. | | Please take a closer look |
We stayed forever in the sparkling, heated freeform fresh-water pool covered by a fairytale teak-wood bridge. There is also a Spa pool with salt water and awesome massage jets, an authentic sauna and steam bath. The latest innovation in the world of spas, I have seen so far, are stainless steel bikes in the salt water pool. It is known that a workout in water prevents high impact, that is why some people prefer an aqua jog over a land jog. The pool is refilled daily with an additional 65lbs of organic sea salt which guarantees always a certain level of healing minerals in the water. I personally adored the pool side snack bar, all surrounded by well-groomed lawns dotted with palm trees, colorful flowers and cacti.
"If a man insisted always on being serious, and never allowed himself a bit of fun
and relaxation, he would go mad." - Herodotus (484 BC - 430 BC)
After a most relaxing, mind defusing morning at the super-spa Simone had to push me to go shopping. We left the resort and went for a short walk (ca.650 feet) to the beach. Here on top of the dunes we found a little table on a beach blanket, overlooking the ocean.
| | | |
| --- | --- | --- |
| Please take a closer look | | This is a wonderful service any guest may order as a little surprise for a special person or to celebrate a special moment. The dunes are also a special place for nudists. It really reminded us a lot of the 'walking dunes' in Montauk, the home of Seven Stars and Stripes Company in the Hamptons on Long island. The exceptional champagne of the house of Krypta that was presented to us that afternoon in these miracle dunes is a rare fine. |
Every year only 40 cases make it into the auction houses for Europe of which 20 are designated for Spain. Each bottle is numbered. We were most surprised
| | | | | |
| --- | --- | --- | --- | --- |
| Cava is a wine produced by time honored traditional methods utilizing underground cellars, benefiting from the constant temperature thereby reducing sedimentation. Macabeo, Xarel-Lo and Parellada varietals grown on very old vines are used to make Krypta and it is sold in 'amorpha'-like bottles further extending the mystique and adding to its marketability. We were impressed with the elegant and silky smooth taste reflecting aromas of ripe fruit, vanilla and toast. | | | | We were offered a plate of deliriously delicious petite fours, a bowl of fresh strawberries, hot coffee and freshly pressed orange juice. I will never forgive Simone for mixing this abysmal champagne with the juice; vitamins or not, Simone - that was faux pas ;) |
But the nearby boardwalk was all that she'd ever dreamed of, I heard Simone whisper excitedly. I held on to my Amex. Upscale boutiques galore, Hugo Boss, Cartier - well you know. I found a lovely little street café right next to Simone's favorite shop and pretended that I was desperate for some rest, while she could continue shopping. I could have dropped dead and she would not have noticed. I ordered a double espresso and to my surprise the owner was German and so was his entire staff. Several of the guests sitting at other tables spoke also German.
"When (some) women go for vacation, they have to shop. They shop in the same name brand boutiques like
at home and then they believe that they shop only to support the local economy." ~ Thorsten Piosczyk
Later on when I checked on the demographics for the island I found out that about 80 000 Germans a living and working on Gran Canary. Mr. Gerlach, the proprietor of the Seaside Company is also of German decent, a man of great taste. He'd mentioned that Gran Hotel Residencia is closing in June 2005 for 3 1/2 weeks to expand this property by an additional 20,000 square feet. Plans of escalating the Spa are already approved and include a soundproof salon, since Mr. Gerlach deems that the sounds of the hair dryers may interfere with the feeling of peace and tranquility that the resort conveys.
A German dream man: Theo Gerlach.

The Seaside Corporation is a relatively small but highly successful international hotel group founded by President Theo Gerlach. The entrepreneur's favorite child is the Redencia, without a doubt. Mr. Gerlach, hands-on in all aspects, jumps in wherever help is needed; he is known for hiring only crème de la crème employees in hotel service and management.
Theo Gerlach's background is building, he founded his real estate development company in Hamburg, Germany in the early 60's; a man who fell in love with hospitality in his later years. He could be easily afford to retire, but seems to enjoy the daily operation of his 6 star oasis and his enterprise very much.
"We then shall return, since we feel that the Gran Hotel Residencia has Seven Stars and Stripes potential."
by Thorsten Piosczyk & Simone Buehrmann

Editor-in-Chief: Ingrid Lemme

© 2005 ~ Seven Stars and Stripes, Inc.