Extraordinary - Society
September - 2011
5 Stars & 6 Stripes
Overall - 'Hotel & Service'
The Ultimate Award:
Seven Stars and Stripes®
It was a beautiful late summer day and we were looking forward to attend Riga's inaugural national beer festival with the 'Grand Palace' hotel as our base. It truly is the place to be, when one is in Latvia. We landed within a couple of hours at Riga's International Airport. Riga International today has that metropolitan feel, hard to imagine that it was relatively unknown to the world until September '91 when Riga finally became the capital of the independent country Latvia that it is today. Considering Latvia's recent history, this country is on the rise, with particular interest focused on historic Riga. At the airport a driver with a nicely polished sign featuring our name, guided us to an equally shiny black Mercedes S320 4Matic. Within twenty minutes we stepped out of the town car and onto authentic cobblestone streets dating back to the 15th century and right into Riga's fascinating, Hanseatic history.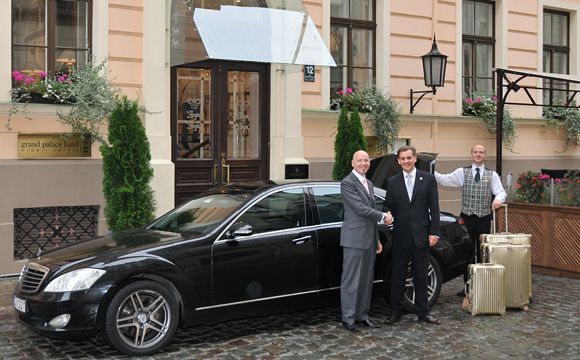 Grand Palace Hotel - Arrival: Bernhard Loew & Thorsten Buehrmann
The 'Grand Palace', voted as Latvia's Leading Hotel for 8 years, is located in the Old Town of Riga. Flags from all over the world greet the international traveler appropriately, as does the doorman. We stepped onto elegant sound-absorbing carpets and were instantly surrounded by the inviting smell of creative fresh flower bouquets. Check-in was a short formality at a couple of solid desks (CLICK HERE) with hidden computers and comfortable chairs that were casually placed off the arrival lounge. The friendly front desk personnel adapted quickly to the language of the county of our departure, but offered to converse in English as well. - We walked through honey and vanilla wallpapered hallways while sinking into plush red wall-to-wall carpets. Our suite was tastefully exquisite and appropriately decorated, with a spacious walk-in closet and an equally spacious bathroom; and our Rimowa luggage had already been delivered before we arrived.
To our surprise we noticed an inconspicuous touchscreen device located on the desk. Upon closer inspection we discovered the 'Virtual Concierge', a user-friendly device dedicated to making your life in the hotel a lot easier. With Virtual Concierge, you can schedule reservations in the restaurant or a spa massage appointment. Ordering room service for a quick cappuccino and a nightcap of Sambuca Nero or Aquavit is a no-brainer even into the wee hours. It also allows you to print photos from your USB device or memory card as well as check weather and temperature before venturing out on the street. We found it particularly helpful after a full day of photo shooting on excursions after which we were able to get a few great shots printed upon returning to the room. The 'Grand Palace' is located in the quiet and peaceful part of Old Riga that is the historical and geographical center of the city, which sits on the right bank of the Daugava River. Old Riga comprises of a fairly small interior fortification system (built during 13th-18th centuries), and this area is where unique architectural monuments from the Middle Ages are located.
Bernard Loew, a native of Austria who is fluent in English, German and Russian, and studied at discriminating intuitions like Cornell University, manages the Grand Palace hotel. The hospitality professional worked in upper management positions all over the world and is also the regional director of the distinctive Schlössle Group, representing a few selected, luxurious hotels in the Baltic region. "The Schlössle Hotels are small but sumptuous and each hotel is a "Grand Hotel" in miniature, tucked away amidst the cobblestone streets of the romantic cities of Eastern Europe. Elegance, comfort, sophistication and taste are the hallmarks of each individually designed hotel. The hotels offer an environment of peace and tranquility; a haven away from everyday cares and busy work schedules. Schlössle Hotels are the perfect destination for those who appreciate the good things in life: fine dining, luxurious accommodation and impeccable service.
In our pursuit of 'fine dining', we discovered and loved the new exclusive 'SUITE' restaurant and lounge (PHOTO TOUR - CLICK HERE). Serving a fusion of contemporary European dishes, SUITE, which is decorated in an inspiring art deco style, switches at 11pm from an intimate dining experience "to the most exclusive lounge in the Baltics" offering its guests a seductive venue for music far into the wee hours. Another interesting meeting place for diplomats, business people and hotel guests is undoubtedly the 'Pils' bar just off the lobby of the hotel. Beautifully furnished and decorated with interesting artwork and hunting trophies, the comfortable bar with unobtrusive friendly service and live entertainment creates a very special atmosphere from 10 in the morning until midnight."
My freshly drawn glass of 'Pils' most certainly set the tone for Latvia's annual beer festival. This inaugural beer fest (PHOTO TOUR - CLICK HERE) presented over thirty different fabulous and interesting Latvian beers as well as an assortment of delicious national dishes for the public to try. We enjoyed all events, music performances and even arm wrestling during this spectacular beautiful weekend that was blessed with blue skies and summer like temperatures. We would like to take a moment and thank the dedicated team at the Grand Palace Hotel each individually for their tremendous dedication to the well-being of their guests and the scrupulous attention to detail that has been instilled in them by their devoted mentor Bernard Loew.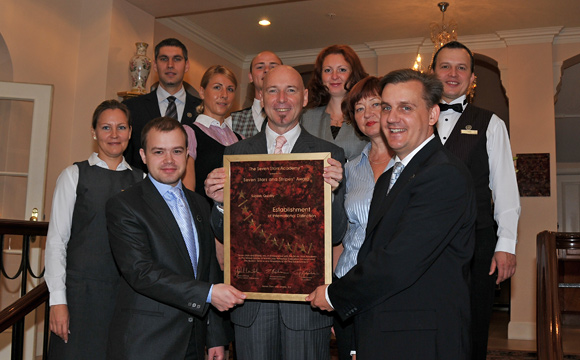 Grand Palace Hotel - 2011 - Seven Stars And Stripes - Award
by Thorsten Buehrmann

Editor: Ingrid Lemme

Editor-in-Chief: John Lomitola
© 2011 ~ Seven Stars and Stripes, Inc.