Avignon, France receives

Extraordinary - Merit
November - 2005
5 Stars & 4 Stripes
Hotel & Service

The Ultimate Award:
Seven Stars and Stripes™
A great time to visit the south of France is November. The weather was strikingly mild, with almost spring-like temperatures and the 'Mediterranean feeling' set in as soon as we opened the doors of 'Aeroport Montpellier Mediterranee'. Our driver expected us. It took us a good forty minutes to ride from AMM to the heart of Avignon, one of the most beautiful cities in Europe and home to about ninety thousand people. Due to its well-preserved architectural heritage the ancient city features a remarkable Gothic open-air spectacle. Avignon belongs definitely on the list of 'most ancient cities in Europe', dating back to 3000 BC. Besides, Avignon is today not only culturally but also economically and administratively the capital of the Provence.
"In short, Avignon is a historic treasure chest of great magnitude." ~ TBP
| | | |
| --- | --- | --- |
| We arrived at the front steps of an elaborate town house dating back to the 14th century. A grande dame is the La Mirande hotel at first sight. As our driver opened the automobile doors we stepped rather humbly out on the quiet cobble stoned square, then looked up at the awe-inspiring, historical façade that was created sometime in the 17th century. This excellent period restored former cardinal's home is today a hotel of great distinction, which we decidedly recommend as base for the most discriminating traveler while visiting Avignon. It is a distinctive, small hotel, located within the historic stone walls of Avignon. It made us think that this was going to be an unforgettable adventure for us. Until 1987, when the three year conversion project began, this house was home to leading families of the obsolete city. In the second half of the 19th century a mayor of Avignon lived in this very town house and it is said that he was an intimate friend of Napoleon Bonaparte. | | Thorsten Buehrmann & GM Martin Stein |
"Bienvenue" ~ Welcome! Check-inn was quick and accommodating. As we looked around in the small, but welcoming reception area, we were breathing in the profound importance of 18th century wall coverings, held in warm earth tones, combined with the scent of freshly-cut flowers. Carefully chosen, authentic oil paintings and tapestries matched the sparkling chandeliers in colors and style! The spotless public areas and halls were decorated in time period, with great attention to the smallest detail.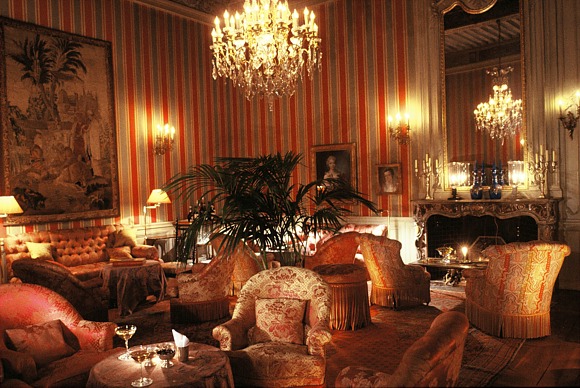 Please take a closer look
As the bellman opened the door to my accommodations, I felt at home. A lovely dressed sleeping loft and an adjoining living room with a secretary, harmoniously matched window and wall hangings and complemented historically accuracy of floor coverings and hand-blocked wallpapers. In the bathroom I found a tub and a shower stall with a enhanced rainforest showerhead, a classy double vanity sink with the private areas separated by a wall and all that on natural polished marble floors. My wife is infatuated with antique marble floors. I needed one desperately, a rain forest shower, that is. As I unpacked my Rimowa suitcase I realized that there was no television in my suite; at least that is what I thought. While my eyes were wondering around the bedroom, I couldn't help but admire the eloquent time appropriate décor, ever reminding myself that the suite was serving the affluent guest just about a decade. I dialed '0'! Only to find out that the Plasma HD (high definition) TV was part of an antique, golden, oversized, framed mirror. As I touched the remote control the mirror turned into a TV screen, awesome. Strangely enough, one of my favorite movies, 'Planet of the Apes' by the late French novelist Pierre Boulle was running. Boulle is also the author of the internationally acclaimed book 'The Bridge on the River Kwai'; he used to live in Avignon until he passed in '94. There are no coincides, they say.
| | | |
| --- | --- | --- |
| Please take a closer look | | But, let me tell you about the unique TV screen solution. Owner and GM Martin Stein is the man who thought of this. There are plenty of antique, or antique looking hotel rooms to be slept in all over the world, but nobody ever solved the 'modern TV dilemma' as time appropriate as Mr. Stein did. Martin replaced the HD TV frames with an antique picture and / or old mirror frames. Each of these intricate details were either restored or created and then covered with gold-leaf, a trade that only about a dozen experts in France are capable of doing today to this extent. Martin is dedicated to supporting the old crafts. As I looked out of the windows on the square I discovered that the windows were of antique glass, again, created in the traditional 'new' methods of window pane making; with modern technologies displaying the right elements of color, texture and variation that are found normally only in truly old glass. |
Martin explained that this window glass is made entirely by hand and subject to the skill of the master glassblowers of France. The French developed their improved plate glass method in the latter 18th century. First a glass plate is poured out in a mold, and then the glass receives extensive grinding and polishing. The depth of color and clearness of the windows blew my mind. I believe that this 'true' time period project was expensive. The designer of these delightful rooms was most imaginative and deserves an award for his detailed craftsmanship. Each one of the twenty-seven rooms is a work of art, unique, and individually decorated.

On the way downstairs for dinner we took a peak at the La Mirande's cozy bar, stuck our heads into the well dressed restaurant with a small, intimate cooking school, the delightful tea room, passed the little boutique and opened the door to the a most charming house garden. Unfortunately the cooking school had to wait until the next day, for tonight we were going to dine in town.
| | | |
| --- | --- | --- |
| Leaving the La Mirande was almost impossible, we met nice people on the way out and chatted for awhile then finally proceeded as directed to a restaurant downtown. The air was mild, the birds were still 'conversing' ;) ~ and a jacket was enough. Avignon is all together a medium-sized city with an affluent well-dressed population, students, children, seniors, bicycles - and an appealing, pedestrian-friendly downtown feeling. For tonight we had reservations at the L ?Isle Sonnante restaurant, close to the La Mirande and inside these romantic walls of Avignon. We passed lots of nicely decorated shop windows and a few more or less other busy restaurants; finally we were going to dine. | | Boris Chevtchenko & Thorsten Buehrmann |
As we entered the door to the L´Isle Sonnante, a restaurant with a most charming old-fashioned dining room that was serving authentic French cuisine, we became suddenly aware how hungry we actually were. The small restaurant reminded me of the French word 'bouchon' which describes a particular style of cafe that exists in the Province of Lyon for centuries. The L´Isle Sonnante lives up to the term 'bouchon' - bistro fare with a great value in price and quality. The exquisite décor was the perfect setting for Boris Chevtchenko's culinary delights. Chevtchenko brings many years of experience to the table, serving delicious old-fashioned French cuisine. The meals were flawlessly executed in every aspect, a delight to both the palate and the eye, creating a particular local dining experience of global scope in a small bistro.

Please take a closer look
I woke up after an undisturbed night's sleep in my luxurious bed to an annoying sound. "Oui"? Arno, my photographer, had the audacity to knock at the door ;), he insisted to download his photos on the new Samsung laptop, since he had problems with the older Apple system. So we discussed the 'delicious' dinner photos from the night before, hung out in our comfy bathrobes, sipped a hot cup of French roast coffee and witnessed the little city waking up on the cobble stoned square. This was going to be a fine day. After I finally got rid of Arno, I soaked in the luxurious tub for a while with a bath foam that my wife would have found irresistible on me ~ oh well.

A sumptuous formal breakfast was served in the Salon Jardin. A smiling, friendly face inquired after our wishes. As I glanced over this lavish breakfast buffet I thought that there was really nothing missing. The appealingly decorated breakfast room with wallpaper in various shades of soft pink and off-white was accentuated by the tiny, pink roses and the fine porcelain on the tables.
Smaller paintings and framed photography were carefully placed, romantic-like in the room and pleasing to the eye. We admired the old fashioned polished wood floors with the whole room bathing in light pink. Arno got up and out on the balcony to take pictures of the wondrous, whimsy little garden nicely protected from the Mistral - a cold, dry wind that blows in the fall from the northwest over the coast of the Mediterranean Sea. It sometimes comes in intervals and can last from between three to nine days.
| | | |
| --- | --- | --- |
| The breakfast alone is worth a visit here as most dishes were home-made and cooked with freshly harvested country produce and farm fresh dairy. The coffee, French roast to die for was strong and merciless; I was awake! The freshly baked traditional baguettes, and all home-made recipes that represented the authentic, oh so celebrated French county kitchens are here for a sheer morning delight! I must mention the yogurt, served in an earthy pot and to be had with fresh fruit syrup, the best I have ever tasted. Arno indulged in 'Les Fromages' - French Cheeses. He especially liked the Comte - one of the most popular cheeses in France. He tried a piece of Camembert; a lovely village in the Normandy is the country home of this world- famous cheese. To test the breakfast chef I ordered a typical American breakfast, ham, bacon, home fries and the trimmings; let me report that it was most delicious and for sure American style. | | Please take a closer look |
After breakfast we went downstairs into the basement. At the historic 'Cooking School' we experienced the highest level of personalized culinary teachings. One of the world's richest food milieus, where everything from the freshest seafood from the Mediterranean coast, produce from organic gardens, fresh seasonal fruit to fresh yoghurt, butter, eggs and cheeses lies at their doorsteps. The world deserves a school like this. The 'Cooking School' offers hands-on culinary classes for groups up to fourteen people, and yes - we got to eat it all. The 'morning cooking class' is a well-designed program for the novice to the expert and they allowed us to leisurely dine for lunch.
| | | |
| --- | --- | --- |
| Please take a closer look | | School Chef-de-Cuisine Eric Sapet taught in the tradition of the French' new world cuisine, with an emphasis on morning caught shell fish. "POM, POM, POM, POMMES" was the name of his class and included Scallops marinated in an apple juice vinaigrette (here we learned how to chuck scallops) - Curry mayonnaise, green apples and cider jelly - Canadian Lobster in its shell, apple purée and parsnip chips, apple mustard (we learned to clean out the lobster the traditional way) and as the grand finale - a soft cake of caramelized apples with cinnamon ice cream. We had the time of our lives and do believe that the class should not be missed. |
The old kitchen featured a fabulous open- hearth fire and charming brick walls; raw wood distressed ceiling beams and timbers, decorated in the French Country style. Rustic furniture supported the ambiance of the curved panels, wooden open shelves stored pots and pans and tableware. A large, rectangle dining table with low-shine finish was used as additional cooking space for the food preparations and would later on become our dining table.
| | | |
| --- | --- | --- |
| Eric had us cook fresh sea scallops (plactopecten magellanicus) in his class, which are the largest of the scallop family. The raw meat was creamy white in color, but it is sometimes slightly orange due to the food algae they consume. Scallops have a distinct, sweet odor when they are fresh and these were just right. Eric showed all of us in the group how to insert a sharp thin knife into the scallop and glide the blade across the inside of the shell with the intention of cutting the abductor muscle. To Arno's big surprise the shell opened up immediately. Then he forced it open the remainder of the way with his hands, and cleared the viscera away from the meat 'button' in the middle. A 'button' is to be found on both sides of shell. After a good rinse we were ready to cook them. We learned that there are many ways to prepare scallops and that they overcook and toughen easily. As soon as they lose their translucence color and turn opaque, they are done. | | Eric Sapet & Arno Goudschaal |
At dinner we tasted a wonderful white wine ~ A DOMAINE St Nicolas Le Haut des Clous 2002 ~ Fiefs Vendeens (south of the Muscadet zone near the mouth of the Loire). An excellent choice. The legacy of French wine began with the Middle Ages, and has lead to France being the # 1 wine exporter in the world.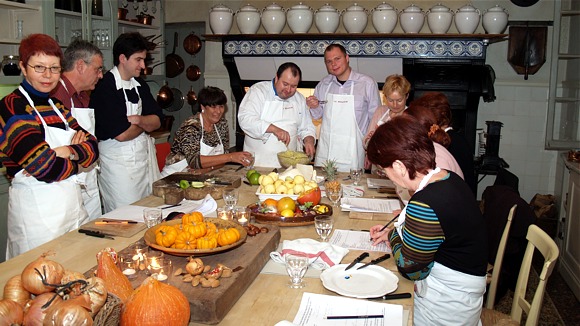 After our visit at the famous Cooking School we went on a little sightseeing tour just across the street to the Palace Villeneuve-lez-Avignon, the residence for Popes and Cardinals of the Papal's Court, until today remarkably preserved. The La Mirande Hotel is located across the street from the Pope's Palace, and was formerly a cardinal's residence. "When I look at the buildings of which some are already 700 years old and I see how well they are holding up to the challenges of the environment, then I wonder if we might want to adapt back to the building style of the old masters…" said Martin, referring to a ten year warranty one gets on a new house these days ;)~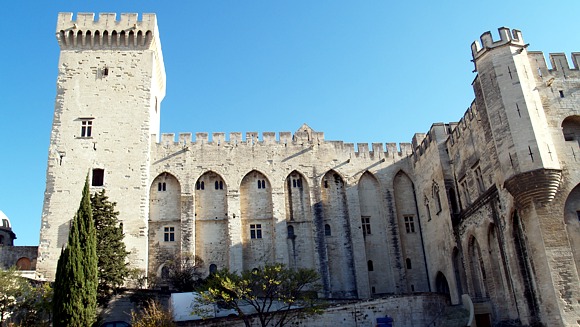 Avignon's history weaves effortlessly into that of prevailing France. Besides todays culture we may not forget the most famous bridge in its long history: Saint Bénezet. You might have heard the song 'Sur le pont d'Avignon, l'on y danse, l'on y danse...'? 'Pont d'Avignon' is the bridge 'Saint Bénezet'. Legend insists it was built by a shepherd, 'Bénezet', after a numinous vision. Then, it was the only bridge allowing crossing the Rhone River. After the bridge was completed in 1185, it had to be re-constructed several times over the years although only four arches kept on, one cannot resist walking over it.
"The future is made of the same stuff as the present." ~ Simone Weil (1909-1943) French Philosopher
| | | |
| --- | --- | --- |
| Please take a closer look | | The Pont d'Avignon, more properly the Pont St-Bénezet, is a famous medieval bridge. The bridge originally spanned the Rhône River between Avignon and Villeneuve-lès-Avignon on the left bank. It was built between 1171 and 1185, with an original length of 2950 ft, but it suffered frequent collapses during floods and had to be reconstructed several times. Over the centuries, it became increasingly perilous as arches collapsed and were replaced by rickety wooden sections. The bridge was finally put out of use by a catastrophic flood in 1668, which swept away much of the structure. |
It was subsequently abandoned and no more attempts were made to repair it. Since then, its surviving arches have successively collapsed or been demolished, with only four of the initial 22 arches remaining intact today. The bridge has achieved worldwide fame through its commemoration by the song "Sur le pont d'Avignon" ("On the bridge of Avignon") although nobody really knows who wrote it.
"Bénezet, take your shepherd's staff and go down to Avignon, the capital of the river.
You shall talk to the inhabitants, and you shall tell them that a bridge has to be built"
| | | |
| --- | --- | --- |
| The legend of St. Bénezet has it that a young shepherd by the name of Bénezet came to Avignon from his native Ardèche, in 1177. He said that he was sent by God to build a bridge in Avignon. At first, he was considered to be crazy, stating that he had heard a voice from heaven say to him: " Bénezet, take your shepherd's staff and go down to Avignon, the capital of the river. You shall talk to the inhabitants, and you shall tell them that a bridge has to be built" | | Please take a closer look |
Leaving the bridge, we climbed on a winding staircase to the top of the Rocher des Doms, the rise that overlooks the Rhone River with views of Villeneuve and the 'old city' of Avignon. It was here where the initial populace of Avignon lived some five thousand years ago. In 1830 it was cultivated with gardens and terraces, a favorite spot for visitors today. With so many impressions of the fascinating city and Arno's Olympus E-Volt (E-300) giving him problems since the software update, we finally decided to wrap up and discover one of those veiled secrets that culinary lovers usually speak of only in subdued voices.
American Dream Cuisine™
La Mirande Restaurant
Avignon, France receives

Society - Extraordinary
November - 2005
6 Stars & 5 Stripes
Cuisine & Service

The Ultimate Award:
Seven Stars and Stripes ™
"Quel bon accueil!" Arno our photographer was standing next to the entrance to La Mirande restaurant with his nose buried in his French phrase book. "What a nice welcome!" he translated smiling as we were being led into the restaurant by Chef Sommelier David Ripetti. By simple proximity to the Papal Residence, La Mirande restaurant is in a hallowed location well endowed with the virtues of the classical cuisine of Provence while seemingly safeguarded by the divine power next door. Its strategic position on a tranquil cobbled square at the foot of the 17th century Papal Palace is both central and yet off the beaten path. It wasn't long ago that the Stein family fell in love with the property and followed their dream to re-invent the definition of luxury based on consideration of the comfort of guests and not to the cost of achieving that goal.
| | | |
| --- | --- | --- |
| Sommelier David Ripetti wondered out loud "How was your day in Avignon?" in keeping with the genuine heart felt concern the entire staff had shown us throughout our stay. He led us slowly to our table, past the priceless Aubusson tapestry draping the wall, all the while Arno and I were straining our necks to take in the absolutely stunning 15th century French ceiling. I began to recall our day, filled with the clean crisp air of Provence, narrow cobbled streets slowly revealing their hidden antiquarian treasures at every turn, monumental Roman ruins some of which rival even those in Rome and especially the flowers, their perfume and their colors. Sommelier David Ripetti sat us right next to a Renaissance Belgian tapestry that seemed to cascade behind us on the wall. We were indeed ready for the culinary event to come. Our day was filled with excitement and pleasure, the kind of enjoyment that quietly ends with a celebration of cuisine. | | David Ripetti & Thorsten Buehrmann |
The staff of La Mirande worked hard to make us feel invited, to feel that our presence was requested even appreciated. A list of 6 types of bottled water found its way to our table making it more difficult to decide on the Chateldon 1650 'gas' sparkling mineral water. We were told that at one time only King Louis IV was allowed to drink it because of its reputed healing properties. We dared to challenge its affect on a whopper of a hangover should the need arise. A special bottle of Castelas Huile d'Olive, a superb olive oil from Provence was poured on small plates and it proved to be peppery on the palette with a decidedly subtle taste of artichokes and sweet almonds. We relished it by dipping bits of homemade bread baked with walnuts and figs in this fragrant pool. We marveled at the hand-blown Riedel wine glasses that so gracefully dressed the place settings on the formally adorned table. We decided to check out the menu and as we focused you could distinctly hear the soft soothing harmonic melodies of a harpsichord playing a Napoleonic march.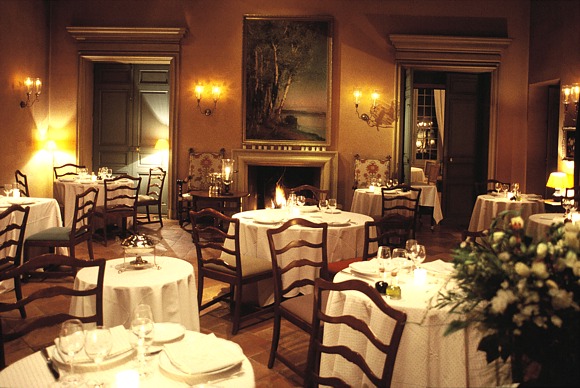 Please take a closer look
An irresistible archetypical rosè sparkler from Laurent Perrier was now being poured into slender delicate fluted glasses while we thoroughly scoped out the menu. With a flavor profile dominated by red fruits particularly strawberries, it beckoned recognition of its 100% pinot noir roots. Things began to move rather quickly from here on in since Executive Chef Sébastien Aminot instructed our servers to pull the menus so that he could begin to demonstrate his creative cuisine in full force.
| | | |
| --- | --- | --- |
| | | There was a bustle of activity as our four servers coordinated their movements around our table remembering even to refold Arno's napkin before he returned from the restroom. We were presented with a Tuna Carpaccio with Blini topped with Sevruga Caviar and a Tri-layered Patè with Sliced Black Truffles and Edible Flowers. We were awed by the painstaking detail endowed upon these works of art noting that even the smallest speck was a carefully carved bit of food. I saw Arno scrutinizing the table for something and realized he was looking for salt. It was only after moving things around in searching that he actually picked up the very thing he was looking for. There in his hand was a crucible filled with coarse salt and equipped with cute pocket-sized ladle for portioning. By the look on Arno's face I could tell that he was quietly wishing that nobody saw his obvious discovery. |
Plates were cleared with white gloves on and we were prepared for the next course with fresh silverware. An alert server quickly crumbed our table, since there were remnants of the scrumptious bread leading to the plate of oil like a Hansel and Gretel fairytale. Next up was Pan Seared Day Boat Scallops with Porcini Mushrooms as another appetizer and of course it was all I could do to refrain from asking for more. These scallops were so very tender in the center while the caramelization of the outer surface produced a sensation of flavor bursting in your mouth. But there were entrées yet to come.
| | | |
| --- | --- | --- |
| The focus now became the main courses, which were being placed in position on the table. For Arno there was Venison Filet with Braised Vegetables ala Provence in Bordelaise Sauce and for me it was Roasted Sea Bass with Fleurettes of Calamari in a Rougaille Sauce. As I savored the first bite of this artistic arrangement I was reminded at once as to the firepower of the Capsicum. This classic French tomato sauce comes from the Mascarene Islands and is typically spiced up in with the addition of Carri chiles. I concluded that it was time to sample another sip of the Chateldon 1650 mineral water to see if I could somehow benefit from its purported healing powers. Arno was busy dissecting his entrée to the sounds of muted pleasure together with gestures of raised eyebrows and satisfied nods. 'I think he liked it' was the thought that flowed through my mind as the table was once again being prepared for the next course. | | |
Oddly enough the wine selection for both entrees was a very drinkable bottle of CNP Clos du Caillou Les Quartz 2001. It was decidedly a Chateauneuf du Pape of the finest quality with the unmistakable signature of the Grenache varietal. It consistently earns scores of 90 or above each year and the grapes come from vines of at least 75 to 100 years old in fields exhibiting large chunks of quartz in the soil. It is harmonious and silky smooth with red currents and violets coming to mind supported by red and black forest berries, adding focus to the extremely smooth oak-free finish.

Arno and I sat for a moment in reflection of what we had just experienced at the hands of Executive Chef Sébastien Aminot. No doubt to us the cuisine was resplendent with originality, artistry, and resourcefulness combined with outstanding flavor profiles as well as good timing and pace. We noted preparations being made for the dessert course and our server approached with a bottle of Ron Zacapa Centenario 23 Year Old Rum from Guatemala. As I gazed at the bottle I wondered what this had to do with the entire evening. I watched as our server carefully poured its full bodied amber liquid into two brandy snifters exactly half an inch each, all the while gently caressing the bottle like a new born. I lifted the snifter to my nose and immediately realized that I was in the presence of something great.
"Visiting France, it was impossible to imagine passing up the cheese cart, which presented
an exceptional selection. The cheeses are usually arranged from left to right in the order
of type of milk, from front to back in order of increasing firmness." ~ TB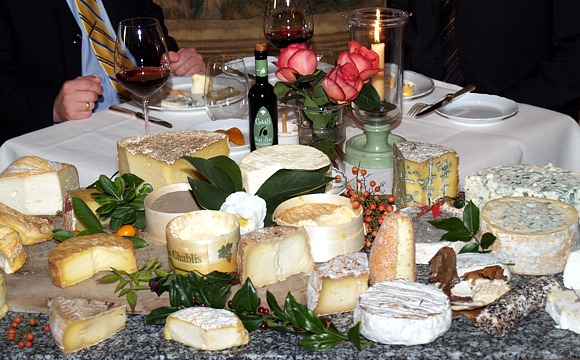 Cheese-Cart, please take a closer look
"The French... have surrounded food with so much commentary, learning and connoisseurship as to clothe it in the
vestments of civilization itself... Cooking is viewed as a major art form: innovations are celebrated and
talked about as though they were phrases in the development of a style of painting or poetry...
A meal at a truly great restaurant is a sort of theatre you can eat." ~ Richard Bernstein, The Fragile Glory
The first sip spelled Caribbean spices and vanilla with a type of complexity that would make it a crime to use it for a Mojito; it demands to be savored unadulterated and unaided. Just as the cuisine endorphins started to kick in there arrived a sort of pre-dessert or little creative treat of Tiny Shot Glasses filled with Coffee Gelee. Oddly enough this only added to the sublime pleasure of winding down after a great dining event and prepared us for a sort of dessert 'grande finale'.
| | | |
| --- | --- | --- |
| | | A super looking Granny Smith Apple over Torte with Ice Cream and Caramel Sauce was placed in from of me and for Arno it was Crème au Chocolat et Vanille covered with Chocolate Ganache and Caramel Filigree. Our evening was one of high cuisine and expert, caring service and it was on that note that we decided to take our double espressos to the well stocked ornate bar for a change of scenery. I must conclude that our experience was one of fine French dining owing much to the extreme attention to detail at every turn as well as the intrinsic desire for perfection; the same all the time. |
Sébastien Aminot is the Master Chef de Cuisine at the La Mirande. He previously worked with Alain Ducasse at the Plaza-Athénée in Paris, which is located on the prestigious Avenue Montaigne. In 2000 King de Cuisine Alain Ducasse joined their team and Sébastien Aminot's style though completely unique, was eloquently formed by his world renown teacher.
| | | |
| --- | --- | --- |
| "Aminot focuses on ingredients that come from the country, his technique is subtle and most appealing, his essence inspires ecstasy. Aminot has a unique talent for color concertos; his plate presentations don't get much art-zier than this. This young chef found a balance between the old and the new. His success is his passion; he can't loose with his focused energy and will leave a legacy if he keeps it simple. We had a wonderful meal, with fondest wishes." ~ TB | | Sebastien Aminot & Thorsten Buehrmann |
"A chef's kitchen is his church, he doesn't cook, he worships." ~ TB
Executive Chef Sebastian Aminot, a native to the Poitou Charente region, acquired an apprenticeship under Monsignor Ripauli until got his breakthrough under high caliber world renowned Alain Ducasse. It was with Ducasse that he got acquainted with a more contemporary cuisine, which leads to an explicit harmonious style of his own. Still relatively young at age, this chef has outstanding imaginative skills and must be watched.
| | | |
| --- | --- | --- |
| Please take a closer look | | A true gourmet meal deserves a grand finale and that shall be a cognac and a cigar in France. In our case - it was a Long Island Ice Tea and for Arno a Mojito. The Long Island Ice Tea was made with freshly brewed black tea, just the way it should be. I was served a Long Island Ice Tea in the Hamptons where the tea was unfortunately substituted with coke, I didn't like that. The cozy, definitely 'not anonymous' bar lounge pulled us in. Besides a decor that would put some museums into shame, there was a selection of interesting coffee table books and conversation pieces, nonetheless worthwhile amenities. |
Back up in my suite the maid had turned down the bed and as I looked at the fine-spun French linens I thought about the term 'duvet' and decided to look it up on my Samsung laptop. I took me while to figure out how to get online due to the fact that the little cards created by the phone company displayed numbers that were arranged in a rater irrational manner. Finally I connected, got a call in on Skype to my office in New York and then on Google I found the exact definition of what was covering my bed. A Duvet (pronounced /du:ve/, from the French duvet meaning "down") is a soft flat bag filled with down or feathers, or a combination of both, and is used on a bed in lieu of the traditional set of sheets and a blanket. Duvets were originally used in Europe but have become popular throughout the world in the late twentieth century. The original duvets came out of rural Europe and were made of Eider, a type of duck's down, which is well known for its usefulness as an insulator. A duvet cover is a large sort of pillowcase that is used to encase the duvet and protect it from getting dirty. However, these luxury covers no longer had to wait. I sucked on the little chocolate from my nightstand, looked up at the stars trough the charming windowpanes ... and was gone.
| | | |
| --- | --- | --- |
| I woke up to a clear sky the next morning, the Mistral was still blowing, but the sun already warm and bright, and the blue sky exhibited an extraordinary depth and softness. I was reminded of Rome. After a wonderful, mood altering breakfast at the 'Salon Jardin' (Arno was hysterical over the problems with his Olympus E-Volt software) a sense of indescribable contentment came over both of us (See the view from the window during summer season). We met with Martin Stein for our final excursions. As we stepped out on the square, we nodded back at villagers who were greeting us with the friendliest demeanors, unfortunately we didn't understand their language and so a chat was impossible. Some laughed, nodded, and went on their merry way. The mistral blew intensely, I was glad that I had my overcoat. | | View from the breakfast room |
We met up with our guide, Bernadette M. a Travel & Events Consultant. Bernadette suggested a visit at the Musée de l'Arles Antique first, to better understand the complexity of the history of the fascinating city and its surrounding area. It seems that France, which is about the size of the state of Texas, seamlessly combines a rather mind-boggling number of important epochs.
| | | |
| --- | --- | --- |
| | | The modern museum 'Musée de l'Arles Antique' in Avignon, is a triangular structure (designed by Henri Ciriani) which celebrates its 10th anniversary this year, is found on the site of an enormous Roman racing stadium. It retains one of the world's most famous collections of Roman Christian sarcophagi as well as a splendid collection of sculptures, mosaics, and inscriptions from the Augustinian period to the 6th century A.D. About a dozen detailed models show ancient monuments of the region as they existed in their own times. The permanent collection includes jewelry, mosaics, town maps, and 4th-century carved sarcophagi from Les Alyscamps. We got to understand the day-to day-life in Roman times and found most exhibitions easy to comprehend for us foreign language visitors. The exhibition halls were light-filled and spacious, school kids were visiting the same day. This museum is significant and a must to comprehend Roman culture and understand the cultural development of the region. |
On the way to Van Gogh's café in Arles through the countryside we discovered inspiring valleys and fields that are home to precious vineyards and traditional small villages. The heart of Provence are the hills that tie the sea to the Alps. These are the cultivated lands of slanting vineyards owing to the colorful scenery that charmed Van Gogh (Arles), Chagall or Giono. In the Provence (or the Midi) the local people have an almost 'sing-song' accent that in my opinion evokes their whole relaxed lifestyle.
| | | |
| --- | --- | --- |
| One the way Bernadette insisted that we'd stop and look at a well-known sculpture commonly known as the 'La Tarasque'. The saga has it that a few thousand years ago when the Roman Empire reached out to Egypt, (we all know about the story of Cleopatra and Cesar) wild animals were shown, used, and / or fought in the arenas to the gruesome entertainment of the people. An Alligator might have escaped and supposedly came in through the river and killed someone. The 'monster' that was not recognized by anyone in the area obviously has claws and a hard shell. Actually here it looks a little but like a turtle. Bernadette's theory is that it escaped from a coliseum. | | Please take a closer look |
Van Gogh, who lived in Arles for a good portion of his life, tagged along with us all the way to the Musée de l'Arles Antique. We learned of the many sites where the celebrated, infamous artist left his marks, including La Maison Jaune, Le Café la Nuit, Le Jardin de l'hotel Dieu and St Paul de Mausole at St Rémy de Provence. It was there that he checked himself into an asylum after he cut off a piece of his ear. Van Gogh left Paris and moved to Arles in February of 1888, when city life and living with his brother became unbearable for him.
| | | |
| --- | --- | --- |
| Please take a closer look | | He was so impressed with the local landscape that he wanted to build a 'colony of the arts'. He created a celebrated series of yellow sunflower paintings for this very purpose. Only Paul Gauguin, whose simplified color schemes and forms (recognized in today's arts world as synthetism) followed Van Gogh's invitation. The admiration was mutual, and Gauguin painted 'Van Gogh painting sunflowers'. However their encounter ended soon. On December 23, 1888, Van Gogh cut off the lower part of his own left ear, which he then took to a brothel. He asked for a prostitute named Rachel, known to him, and handed the ear to her, asking her to 'keep this object carefully'. Gaugin left the 'art colony' that month. |
Just off the Rue du Forum is the Place du Forum and the 'Café Van Gogh' or 'Café De La Nuit'. The very Café that is forever vivacious in his 'Café la Nuit' painting. Vincent van Gogh is venerated as one of the greatest and most famous artists in history. His life and work has inspired and influenced a great deal of art history since his tragic death in 1890. In fact, what many people today consider to be the exemplary 'artist personna' is fundamentally a result of his weight. "A painting in a museum hears more ridiculous opinions than anything else in the world." ~ Edmond de Goncourt (1822 - 1896)
| | | |
| --- | --- | --- |
| We stopped for a little bite to eat at the Le ©ilantro - great name for a neat little, chic restaurant, I thought. This Asian inspired elegant place was an absolute surprise. Le ©ilantro's atmosphere hit us as soon as we entered, objets d'art on the walls everywhere. But people don't go to this little restaurant to look at the art, they come for the 'Haute Cuisine Couture' - Jerome Laurent's food wasn't 'merely delicious', he creates serious food. Consider pan-seared tuna , sushi style. | | Jerome Laurent & Thorsten Buehrmann |
Arles is the home of the more or less intact outer shell of a baffling Roman arena, an amphitheatre. I had to remind myself that taste is relative and that preservations cost a lot of money, which the community might not have. In the viewer's arena we saw steel pipes anchored into these precious ruins, unmistakably to use the sites for concerts and bull fights. The outcome was bizarre, I felt. Later in the airplane I thought about my feelings in respect to historic preservation and wondered how I would feel if I would live surrounded by historic walls and buildings 24/7? Would I take history dating back to 3000 BC less serious? Wasn't it Napoleon Bonaparte who said: "History is the version of past events that people have decided to agree upon."
| | | |
| --- | --- | --- |
| Please take a closer look | | The ancient 20,000-seat Roman amphitheater where gladiators once fought to their death is today the contemporary home to the famous Arles bullfights. In the arena where the gladiators shattered each other and Christians were fed to the lions, blood still flows, the blood of the bulls that is. Bull fights in Arles are done the Spanish way, to the bitter end. If the bull looses an ear, the matador get it ...' |
'When in Rome do as the Romans do...' is actually no longer true, in Arles we'll do just fine. It is actually mind-boggling when I think how the population of the European countries and ergo the world are all connected somehow. The acoustic that supports this circular outdoor theater was created by the great builders of the ancient times and still works today for a perfect performance. I feel humbled.
On the way back we stopped in St. Remy-De-Provence at a famous cookie factory 'Le Petit Duc' on 7 Blvrd. Victor Hugo. - A man of the name Hermann Van Leeck is here creating the cookies that high-carb-dreams are made of ;)! We witnessed how the talented patissier created the dough that supports a way of life in France and makes people line up in the street for more. The little exclusive village of St. Remy-De-Provence, where Van Gough tried to recover after his breakdown, reminded us very much of East Hampton. NY, and the affluent clientele that is trying hard to stay anonymous.
Back at the hotel we followed a private dinner invitation of Achim Stein ( Martin's father) and the guest chef de cuisine for a private 'Dinner with Friends' at the cooking school Le Marmiton, which means simply 'kitchen boy'. Jean-Claude Altmayer was the much applauded chef-de-cuisine of the evening. The Chef's 'Haute Cuisine' 19th century ~ 8 pm ~ dinner table is a hot commodity and reservations must be made long in advance. We were greeted with an aperitif, seated at the 19th century dinner - kitchen table to watch the maestero a true palate pleaser 'soup to nuts' dinner right before our eyes on the old wood-fired stove. During the meal exquisite specially selected wines were presented. This was an extraordinarily well-executed concerto de cuisine, superbly composed and admired.

During dinner Achim Stein reminisced about his remarkable life. The true gentleman of the old school is a man-of-many-trades. He and his charming wife Hannelore have lived all over the world. Achim, who I would consider a true pioneer and adventurer is a trained engineer, multilingual and even speaks Arabic. The family searched for a long time for the ideal house and location to create a perfect time period hotel. Their love of detail and passion for the arts served as an asset to accept the challenge they took on so willingly as a family.


A family project that was finally accomplished with the Grand Opening of the hotel after a three year ordeal of striving for perfection. "And here we were sitting on the front steps of our beautiful dream that had finally come true and where were the guest?" chuckled Achim "Over all our passionate attention to detail we had completely forgotten that it takes some marketing to get the message out to the right people." Today the La Mirande has a relatively high occupancy rate year round and is no longer a secret to the affluent traveling world.
"Today the La Mirande has a relatively high occupancy rate year round and is
no longer a secret to the affluent traveling world " ~ TB
Avignon is also about the arts and art festivals galore , and renowned worldwide for its theatrical significance. Avignon features some of the most celebrated staged events of world. And that goes well with good fare. Consumption is a way of life in France and in Avignon we found people lining up in patisseries and chocolate shops down the streets.
There's plenty of shopping in Avignon, and there are so many wonderful and unique shops that I was almost glad that my wife could join me on this time. I got her a great souvenir to take home; France's other sphere: perfume. In many of the little boutiques one may design ones very own perfume, blended from the scents of the flowers of the country and then some.
by Thorsten Buehrmann (Piosczyk) & Arno Goudschaal

Editor: Ingrid Lemme

Editor-in-Chief: John Lomitola

© 2005 ~ Seven Stars and Stripes, Inc.