Grand Hotel Parco dei Principi
Rome, Italy receives

Society
January - 2006
6 Stars & 6 Stripes
Hotel & Service

The Ultimate Award:
Seven Stars and Stripes™
"When you are at Rome live in the Roman style; when you are elsewhere live as they live elsewhere."
It was this quote by Saint Ambrose, the sincere Italian saint who lived 339 AD - 397 AD, that cautioned and advised what to do in this situation and we took his advice. New Years Eve in 'THE City of All'! It is said that Rome was not built in a day and it cannot be seen in a day or a weekend. It is said that people who live in the Eternal City for years are still discovering 'her', so please be gentle and try not to judge our humble excursions. Our destination was the Grand Hotel Parco dei Principi, which is ideally positioned in the heart of Rome, minutes from the Via Veneto and seconds from the famous Borghese gallery and gardens. But first of all we landed at Rome's CIA, an airport that connects most of Europe's major cities. We took early morning flights: Duesseldorf to Rome; it was a clear day. CIA is one of three (two are international) airports connecting the lavish city with the rest of the world and is located about ten miles southeast of central Rome on the Via Appia Nuova. Our driver, dressed in a crisp uniform was easy recognizable - besides he was holding up a nicely designed sign meant for those with vacation on their minds. He approached the ladies who were accompanying us this time and immediately took hold of their luggage. We drove through Rome to our final destination in a JAG town car with little monitors build into the headrests - like we would have eyes for any other form of entertainment. I, for instance loved it to get stuck in traffic in a long line of cars including Ferraris, Lamborghinis and Alfas; it couldn't have been a lovelier ride for me.
We passed forever-ancient buildings, monuments, sparkling fountains and well-dressed people in overcoats obviously on their merry way. 'I found Rome a city of bricks and left it a city of marble.' Caesar had declared. We arrived at the Grand Hotel Parco dei Principi within half an hour; excitement was in the air as the New Year should be arriving soon. A green park oasis of old-growth palms and pines surrounds the hotel, a resort in the ancient city of greatness and splendor. The scent of freshly cut, exotic flowers lingered in the precious welcome halls reminding me of a dignified residence. Cozy flames while trying to compete with rays of sunshine that were flooding in through the window, were trapped by the amazing antique mantel of an oversized fireplace, while authentic oil paintings by old masters were luring our eyes for attention.
| | | |
| --- | --- | --- |
| Italians are the most hospitable and gracious people on earth if you ask my wife as her hands were kissed by an older gentlemen who was also checking-in. Our check-in was most efficient, friendly and courteous; my photographer Arno and I had stayed here on another occasion and to our surprise we were immediately recognized and appropriately addressed by our last names. The ladies were asked for their passports, since it was a first for them. I must say that this conveyed a good and secure feeling. As our valet opened the door to our corner suite, my wife held her breath; the Eternal City of Rome was here on display with spectacular views over the Botanical Gardens right through to the Vatican. | | |
That was the moment when the bells of hundreds of churches announced the full hour. "We could not have asked for a lovelier suite" commented Simone while she disappeared in the elegant dressing room and I dismissed the bellman, a well trained professional conveying an extraordinary level of personnel service. I uncorked an well chilled bottle of Veuve Cliquot that must have been placed there just minutes before our arrival, otherwise I cannot explain the perfect temperature.
"I found Rome a city of bricks and left it a city of marble." ~
Caesar Augustus (63 BC - 14 AD), from Suetonius, Augustus
I had just about finished checking my e-mails when the phone rang and Arno and Stephanie reminded us that we were actually pretty hungry. New Year's Eve cocktails were not until 9PM and dinner thereafter and so we had plenty of time for a small snack to still our appetite. We decided to order in and invited our friends to join us for a glass of one of the finest champagnes France is producing these days.
| | | |
| --- | --- | --- |
| | | We discussed the room service menu ~ written in several languages but ordered in English: Prosciutto de Parma with honeydew melon, smoked salmon and a couple of salads. As we spent time together and waited for our light supper to arrive we admired the splendor of the superb suite. Our charming suites were carefully restored by the architects Massimo and Maurizio Papiri who have been using highly trained theme painting techniques for the walls and ornate moldings to match the window treatments. These architects and their interior design teams have created a showcase of versatility and beauty in the entire hotel including the rooms and as we should later on find out also in restoring and decorating the banquet and conference facilities. Our room service order was announced by a careful knocking at the door and within minutes we were able to enjoy our delicious snack. As the sun was setting, it turned the City of the Popes and the Dome of St. Peters into a golden painting, which I am certain is captivating dreams every evening in these great rooms. |
I had read an article somewhere that Rome is the #1 New Year's Eve destination of the world for couples who want to celebrate in grand style. This really didn't come as much of a surprise to us. Rome will let you walk down the Via Veneto in any fancy, low-cut world-renowned designer ball gown and no one will even turn a head, just like in N.Y.C. - The New Year's Eve celebration is a special time in Rome, it's one of their biggest holidays. The city goes totally insane for a few days while everyone who is flying in is trying to book a room or a party where they can see the Vatican lit by the million colors of their spectacular fireworks. We did!
The ladies looked like queens when we entered the New Year's Eve celebration banquet facilities for cocktails and to mingle with other guests. The cocktail hour, or champagne hour in our case, was an important part of the party while exquisitely delicious, little hors d'euvres were served by white-gloved staff. Some of the casual conversations initiated during the cocktail hour just begged to be continued later at the sit-down dinner. The guests were here entertained by the tunes of a good band while we all were welcomed by the elegant promoter Carla Milos, who has a long history of hosting successful parties and fine events. She announced eventually that dinner was served in the banquet room that turned out to be the most romantic spot. The room was lit with scented candles and there were fresh flowers everywhere with music playing softly in the background. We walked over to the balcony where we would watch the fireworks later on, passing huge silver buckets of chilled champagne, the wine of celebration.
"Come quickly, I'm drinking stars" ~ Dom Perignon
The banquet setting accommodates smaller or larger parties with adequate room to dance, dine, and celebrate - and we did. Nothing that evening was left to chance, it was an extraordinarily well-executed event and I must applaud the management and staff as they started off the New Year by placing their best foot forward.
| | | | | |
| --- | --- | --- | --- | --- |
| Across Italy and around the world, New Year's Eve means getting together with friends and family to share wishes for happiness and prosperity in the coming year, often celebrated with an elegant, late sit-down dinner like the one we had the pleasure of attending. The traditional approach by offering an irresistible appetizer, followed by a delightful intermezzo before the main course was well received and perfectly timed as we finished the dessert just before midnight. I shall not recite the entire New Year's Eve menu because I don't want to take the attention away from our cuisine review later on, but, I must mention the Gnocchetti Dumplings with Duck Ragout that changed my views of 'How to prepare a Duck Ragout' forever. | | | | The Duck meat was superb, the color exquisite and unaltered. The Chef used a recipe from the Abruzzo region of Italy using a rich pumpkin purée with roasted chestnuts. Simply divine! Another superb entrée leaving a lasting impression was the Smoked Veal Filet with Chestnut Flan and Braised Vegetables. In keeping with the tradition of using chestnuts around the holidays, Chef Gianfranco worked his magic by creating a chestnut flavored flan to pair with the veal. The service, food, presentation, and atmosphere were impeccable, congenial and attentive. It was a delightful New Year's Eve dinner and since the music in the background never became overpowering, we were actually able to carry on quite a lively conversation. |
"I get no kick from champagne. Mere alcohol doesn't thrill me at all, So tell me why should it be tru.
That I get a kick out of you." ~ Cole Albert Porter (1891 – 1964)
It was a spectacular celebration as at the stroke of midnight a billion stars lit the Roman sky and the Vatican was bedecked by at least half of the billion and we all understood why.
| | | |
| --- | --- | --- |
| | | And then suddenly all the church bells were ringing, the hair on my neck stood up straight while I pulled my wife closer. I wrapped my arms around her waist and she entwined her fingers with mine. "Happy?" I asked, Simone giggled. "Oh, just a little. I'd say this night ranks up there pretty high..." It is fairly universal to hear church bells ringing, people shouting, making lots of noise and throwing confetti to welcome the New Year. This actually dates back to ancient practices of driving evil spirits away from Baby New Year. |
I firmly believe that the stroke of midnight on New Year's Eve is the one time when loud pops of champagne bottle are allowed, since it is actually a sign of champagne bottles being opened improperly. There is an old saying "The ear's gain - is the palate's loss," meaning that loss of carbonation at this stage affects the taste. For the fullest flavor you want the bubbles in the wine, not on the wall. The night had just begun.
At 2 AM it was announced that two Jag limos were conveniently parked at the main entrance and were driving VIP guests over to the sister hotel Splendide Royal bar for a little change of scenery. We hopped on board and arrived just five minutes later, everyone was still celebrating the New Year. I love meeting people. We even met people from the Hamptons of Long Island, New York where one of our offices is located; the world is so small!
| | | | | |
| --- | --- | --- | --- | --- |
| When we finally said good-bye to Arno and Stephanie sometime in the wee-hours of January 1st, 2006 and as I closed the door of our suite behind us my wife reminded me that there was another New Year's Eve tradition we had missed so far. The practice of exchanging gifts on New Year's Eve that actually started in ancient Rome. | | | | In the beginning, symbols of good luck were presented. This developed later into coins featuring Janus, the God of New Beginnings. A friend or husband would possibly receive a glass jar filled with dates and dried figs soaking in honey and a bay leaf branch so their year would be sweet and full with good fortune. Happy New Year, Roma! |
"So what's my gift? " I asked Simone. She took the key out of my hand and locked the door. "I am going to give you a massage", she smiled. "It's the least I can do after everything you've done for me today." I lifted her up and rubbed my nose against hers. Happy New Year, Roma!
| | | |
| --- | --- | --- |
| New Year's Day morning. I fought with myself to wake up, wanted to inhale the views of ancient Rome, instead I got to immerse myself into a book about Asia, since my wife was still sound asleep. I figured that reading a book would be the quietest activity possible not to wake Simone. Finally when my wife would just be waking up, I couldn't stand it and turned on Euro News and flipped to BBC World and CNN (it seems the majority of English-language TV is NEWS). | | |
We ordered breakfast in bed, nothing big, just enough hot strong coffee and some English tea to get back to reality. Room service was announced within 15 minutes after we'd ordered by a careful knocking at the door. I slipped into a thick, fluffy Italian Frotte robe and opened the door to our suite. A friendly, smiling face presented us with the latest edition of a daily newspaper on a silver tray decorated with a red rose. We were thoroughly enchanted by the exquisite service and the freshly baked crisp rolls on New Year's Day. We really just had a bite, which for me meant also a couple of slices of grilled bacon ;) and we sipped on our freshly pressed orange juice while we watched the server pour the wonderful hot coffee and tea (with white gloves) into pre-heated fine porcelain cups.
We had a couple of wonderful hours alone, admiring the indescribable views over the ancient city, Skype-ing New Year's greeting to all we love and loving life. We were supposed to meet wit Arno and Stephanie for New Year's Day Brunch at 1 pm and we were on time. We walked through precious halls, admired an abundance of original oil paintings while the ladies were actually more attracted to the luminous glass cases displaying the latest of Cartier, Rolex and Faberge. As we entered the gracious antique Grand Hall with its magnificent Italian marble tile floors covered with deep pile carpets and mahogany arches, we felt like royalty. Adjoining parlors were filled with valuable antiques, a cozy fireplace beckoning in the winter and tall windows bringing in cheerful southern light. We gentlemen marveled at the unique architecture of the house, while the ladies were delightedly discussing its vintage appeal.
| | | |
| --- | --- | --- |
| | | I've always looked forward to New Year's Day. It's a day of new beginnings, a return to normalcy after the craziness of the holidays. This New Year's Day brunch, complete with all the hangover remedies, I shall never forget. It was a casual but comfortable brunch, filled with elegant, luxury touches and astonishing, delicious food creations. Many guests who overindulged the previous night were grateful for the many delectable cuisine arrangements, carefully placed in strategic locations throughout the room and easy accessible. Colorful, cheerful, fresh flowers created the positive mood everyone likes to set for the year ahead. |
These Italians know how to prepare and serve a big 'breakfast', toss in some champagne and make the whole event look like a great family affair. It was hard to find anything missing at this brunch, and it was good. And so people put off their New Year's resolutions for another day or so, and came back often to the 'displays' on this buffet for just about everything one might desire: omelets, pastas, meats, tarts, smoked salmons, soups and so much more. I indulged in the ultimate hangover cure; one of their killer Bloody Mary's followed by some smoked fish. After some hesitation we joined the other group of people who put off their New Year's Resolutions for just another day…just like us!
| | | |
| --- | --- | --- |
| Finally it was time for us to experience the fascination of the Eternal City first hand with its ancient Roman ruins, the delightful Baroque fountains, the Coliseum, St. Peter's Dome and the Vatican with its Renaissance masterpieces. The three-hour tour began by taking us up the Via Veneto, famously portrayed in Fellini's La Dolce Vita. Then we got to stop at the Fountains of the Naiads and Trevi at the Piazza della Republica. | | |
After passing the Piazza Colonna and the site of the Column of Marcus Aurelius came the Montecitorio which is the location of the Chamber of Deputies; then the Pantheon, intended by Emperor Hadrian to carry the largest dome in the world. Next Piazza Navona, located at the site of the ancient Stadium of Domitian which is also the location of Gian Lorenzo Bernini's masterpiece: the Fountain of the Four Rivers that we absolutely adored and admired. From Piazza Navona, we took the Castel Sant'Angelo en route to St. Peter's Square with Michelangelo's Pieta. Crossing the Piazza della Republica we got to see the Monument of Victor Emanuel II, the Vittoriano.
| | | |
| --- | --- | --- |
| | | Then we went off to the Colosseum and the Arches of Constantine and Titus before it was time for the mind-boggling Roman Forum. We traveled to the Capitoline Hill where we were presented with an extraordinary view over the Roman Forum and the Palatine Hill. Crossing the Porta Pinciana, the Aurelian Wall, and the Villa Borghese, we arrived at the Vatican Museums. Among the many attractions of the Museums are the Hall of the Greek Cross, the Gallery of Statues, the Tapestry Gallery, and the beautiful antique maps in the Gallery of Maps. |
The Raphael Rooms, entirely frescoed by the Master, serve as a precursor to the Sistine Chapel, where the Popes are elected. Michelangelo's 'Last Judgment and Creation of the World' have been here recently restored, and are now displayed in their original incandescent splendor. After passing through Piazza Barberini, home of Bernini's 'Triton Fountain', we got to St. Mary Major, the beautiful basilica dedicated to Mary, the mother of Christ, with gorgeous mosaics and the relics of Jesus's crib. St. John of Lateran, the cathedral of Rome, was the next stop. The first Papal residence, St. John's is filled with masterpieces from the Middle Ages to the Baroque as well as the Scala Sancta (the Holy Stairs).
| | | |
| --- | --- | --- |
| Following the old Appian Way past the Church of Domine Quo Vadis, we finally got to the Catacombs of St. Domitilla, St. Calixtus, and St. Sebastian. These ancient underground tunnels were once the burial places for Jews and Christians. A most panoramic view over the Baths of Caracalla should then much too soon end our sightseeing tour. As I said at the very beginning, there is no way to see Rome in a day or three hours. But if you have a weekend, please take a tour to make the most of it. | | |
Yes, the ladies were delighted to have a cup of afternoon tea together. 'High Tea' and 'Afternoon Tea' are not the same social occasion where one drinks tea, eats sweets and little sandwiches. My wife enjoys an occasional 'Afternoon Tea' which occurs usually between 3 and 4 PM and where she gets her sweets. I care for 'High Tea' which is served early evenings around 6 PM and includes of a full dinner meal. 'Tea for Two' was served for our ladies in the tea room at a crackling fire on a delightful silver tray with all the appropriate utensils that inspire a true lady to lift her little pinky while she is sipping carefully. English what else?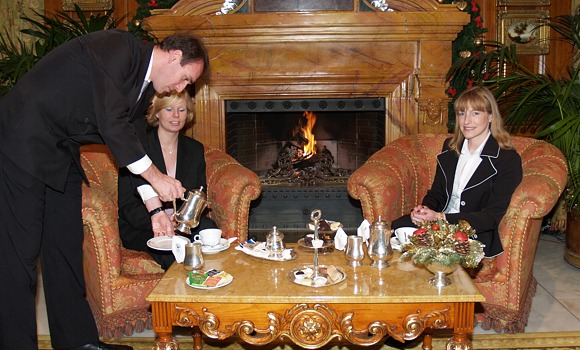 "Etiquette means behaving yourself a little better than is absolutely essential."
~ Will Cuppy (1884-1949) American Writer, Critic
We had spent a wonderful time at the cozy fireplace, counting the hours that we were still allowed to discover in the 2000-year-old city. But for now the ladies insisted that we should freshen up before our upcoming dinner. We again passed walls covered with carefully chosen, fascinating authentic art and parted as we arrived on our floor. The suite was not set to 'turn-down' as it was only 6 PM and while Simone vanished in the bathroom, I poured myself a Pellegrino and walked with my glass over to the terrace door. I stepped outside and just couldn't get over the spectacular sunset over St Peter's Basilica. Rome's beauty is timeless. Today with a population of about 3 million it will forever remind me of its glorious past as the city that 'built the greatest empire the world had ever known'.
Restaurant Pauline Borghese
Parco dei Principi, Rome, Italy

Extraordinary - Society
January - 2006
5 Stars & 6 Stripes
Cuisine & Service

The Ultimate Award:
Seven Stars and Stripes™
Simone looked radiant as she dressed in preparation for our cuisine review event later this evening in the Restaurant Pauline Borghese located in the venerable Parco dei Principi Hotel in Rome. The Romans were masters in the art of statuary portraiture and I remember thinking how much my wife Simone resembled some of the finer profiles I had seen earlier in the day during our city tour. Dinner was scheduled for eight and we were on target to meet up with our other team members Arno and Stephanie at the bar for an aperitif to kick off the evening. The whole experience so far was one of supreme relaxation punctuated by magnificent vistas of superbly manicured gardens flowing literally from your doorstep all the way to the Vatican. It is an oasis of peace and tranquility directly in the heart of a major European city.
| | | |
| --- | --- | --- |
| Our table was strategically chosen by the Maitre D' Marco Andronico for its characteristics of suggesting privacy yet conveying a feeling of unlimited freedom coming from the view adjacent to our location near the window. Before we could be seated, bartender Luigi called us over to his immaculately maintained and festooned bar for a brief interlude of champagne and canapés. A perfectly chilled bottle of 1998 Dom Perignon, an exceptional champagne from Möet et Chandon, a fine winery that has been in business since 1747 was the focus of our attention. | | Simone - Thorsten - Arno - Stephanie |
Its youthfulness attempted to belie the aromatic citrus fruits wrapped by a blanket of soft spice with visual nuances of straw yellow gold and fine mousse. The bite-sized canapés were delicate and tasty offering the ideal introduction to the creative cuisine of Executive Chef Gianfranco Calidonna. Together with the subtle ambiance of dark brown paneled wood accents and nearby tiffany stained-glass windows, we felt as though we had been invited into the elegant home of an Italian Renaissance prince.
| | | |
| --- | --- | --- |
| | | We could hear the soft sounds of classical piano music from the restaurant, which drew us away from the bar and into the arms of Maitre D' Marco who announced that our table was waiting. We entered the intimate setting of subdued lighting, rich cherry wood elements, tapestry-like curtains and festive seasonal decorations, which added to the relaxed, secure atmosphere. |
Our location was directly next to a rather large window framed by lush fabric-covered walls, which provided a cozy warmth that radiated throughout the entire room of about eight other tables. Our server Giuseppe was quick to point out that we should put our menus aside and allow Executive Chef Gianfranco work his magic with his innovative cuisine. Candles strategically placed on all the tables seemed to reflect softly the highlighted brilliance of the real silver utensils.
| | | |
| --- | --- | --- |
| Our server produced the Amuse Bouche from the kitchen consisting of Smoked Salmon and Mozzarella on Tender Field Greens with Olive Crostini over which was poured a strongly scented fruity extra-virgin olive oil, obviously cold-pressed. A chilled bottle of Villa Russiz 2002 Pinot Grigio the perfect partner for starters, appeared and was dutifully poured for us. It displayed an intense bouquet of toasted almonds and sun-dried hay and together with its straw yellow color proved to be an elegant pairing for this course. | | |
Next came Polpo al Vapore on Green Cauliflower with Polenta and Broccoli Purée, a decidedly unusual rendition of steamed whole octopus, which incidentally tasted tender and held up to the influences of the broccoli purée over polenta. With this course we began to chat it up a bit as we were impressed with the originality of Chef Gianfranco's take on the oddities of provincial Italian cuisine. A quick glance around and we were reminded of the splendid views emanating from the windows adjacent to our table. The sun was setting over the Borghese Gardens and provided contrasting hues of soft reds, pinks and blues in the sky while the landscaping was backlit by indirect garden lights from below.
| | | |
| --- | --- | --- |
| | | Our server Giuseppe returned to clear the dishes and simultaneously change our napkins as well; a nice touch that we discovered is often a staple of some finer restaurants in our reviews. After clearing we were presented with Veal Stuffed with Goat Cheese in Zabaglione Marsala Sauce, a superb cut of meat that can hold up to the richness of the marsala fortified zabaglione sauce. A rather powerful bottle of Verdicchio dei Castelli di Jesi Classico Superiore Gaiospino 2002 was offered as a pairing to the elegant veal. |
It presented a medium lemon yellow body with excellent structure and complex nose of honeysuckle, citrus and toast. Just the right amount of oak worked to contain its powerful nose thus tempering it enough to work well with the delicate veal. Next up was the Sautéed Lobster with Dill Sauce and Spinach Pappardelle for Simone and Rosette of Roasted Salmon with Exotic Spices for me, both paired with a bottle of Antinoo Chardonnay 2000, Casale del Giglio. This beautiful wine is produced near Rome and displays transparent straw yellow and green tints wrapped in an elegant intense nose of refined vanilla. It finished with persistent good flavors of litchi, peach and pineapple that offered a great match for the ocean fresh lobster as well as the salmon.
| | | |
| --- | --- | --- |
| It was time to exhale a bit as plates were cleared while taking in all that we had experienced so far with regard to this superb culinary experience. We were in the artful hands of an accomplished chef and his team, creating one masterpiece after another. Within minutes of our respite came our final course of Filet Mignon Crustade, baked in Polenta Crust, a delightfully different take on the usual pastry crust that is seen so often enveloping this tender cut of meat. The polenta was laced with finely grated parmigiano reggiano cheese, which lent just the right amount of sharpness to the otherwise neutral tasting polenta. | | |
A successful wine paring of Montepulciano d'Abruzzo Marina Cvetic 2000, a stellar wine with a blossoming nose of sweet oak and dark fruits. Add to that mild tannins on the palate together with its big, rich not to astringent and not too ripeness in the fruit for a very fine wine drinking experience. We slowly continued to savor the wine while espresso was being offered and the table was being prepared for dessert.
| | | |
| --- | --- | --- |
| | | I ordered latte macchiato and this was dutifully delivered piping hot along with petite fours and a very special Cioccolato Lava Timbale with fresh berries made to resemble the volcano Vesuvius, complete with flowing chocolate 'lava' upon slicing open the cone. |
We decided to retire to the very comfortable bar to visit Luigi again, and were impressed with his suggestion for a nightcap of Picolit Nonino Grappa to wile away the waning hours of our remarkable evening in this special place. Luigi's choice of the Nonino grappa showed his intense and deep knowledge of some of the best kept secretes of Italian specialties. Nonino is produced as the first ever single-vineyard, single-grape distillate successfully using the picolit grape varietal. Furthermore, it revolutionized the industry with its uniquely intense aroma and flavor components.
| | | |
| --- | --- | --- |
| It was late now and we bid goodnight to Luigi the bartender as Marco the Maitre d' allowed us to poke our heads into the kitchen just as Executive Chef Gianfranco and his team were cleaning up and preparing to leave. "Even though we are finished for the evening, the work is never done" said Chef Gianfranco, "I must prepare my team for the challenges of tomorrow and plan the menus that will satisfy our guests." We were delighted to hear this from an executive chef as it shows the leadership and planning skills necessary to operate successful business of such high caliber. | | Massimo Canzian & Thorsten Buehrmann & Gianfranco Calidonna |
"Executive Chef Gianfranco works magic with his innovative cuisine." ~ TB
How can one top a dinner like the one we just experienced? Rome is for lovers, remember? When in Rome do as the Roman prescribes! As we opened the door to our elegant suit we realized that the spacious bathroom was light with candles and the stimulating fragrance of fresh flower peddles lingered in the air. We were in awe.
| | | |
| --- | --- | --- |
| | | A silver bucket with a perfectly chilled bottle of 'Riesling Italico by Martini' was placed right in front of the jet-tub filled with scented bath water and bubbles at just the right temperature. How in heaven the staff got to set this up catching the perfect moment is beyond me and besides not for me to know. My wife looked like an angel with wings in the white foam and when we toasted with our champagne glasses it sounded like a little bell was ringing. The broad windows featured the lit dome of the Church of God. |
We were hungry, usually we wake up and cuddle, but for some reason that morning we both were just too hungry. Besides, we really could afford after the soak from the night before to slip right into our plush bathrobes and 'run' for breakfast. We opened the breakfast room doors to the enticing aroma of a homemade breakfast buffet that featured an exuberant selection of Italian favorites and an abundance of fleshly baked pastries and breads, tasty jams, tropical fruits, creamy yogurts and cereals.
| | | |
| --- | --- | --- |
| There was an omelet station where the chef prepared made-to-order crepes, eggs and omelets any way possible. There were little pancakes with powdered sugar and syrup and bacon, everyone found something they liked. The cakes and tarts here were wonderful, delicious and creative as well and there were a huge variety of all sorts of to-die-for desserts. | | |
My wife Simone who has a soft spot for shoes, never stopped reminding me that Rome's Via Appia is the street we should not miss under any circumstances. But shoes, especially Italian shoes I insisted, could be purchased in New York or Berlin just as well. So we did what should be a must when one resides at the Grand Hotel Parco dei Principi and that is to visit the Villa Borghese and their famous parks, which are only a one-minute walk away from the hotel. Besides I had meet with Prince Marco Borghese and his wife Ann Marie on the North Fork of Long Island, NY a few years ago, where they now own and manage Long Island's oldest winery renamed the Castello di Borghese.
| | | |
| --- | --- | --- |
| | | The grounds of the Villa Borghese, which were once a playground for the rich and powerful family and their friends, is today an inviting public place to relax. A green oasis that is surrounding the precious park-like property could be considered Rome's version of Central Park complete with an abundance of arbitrary arches, cherished antique statues and ever-present wonderful ruins. Villa Borghese and the Galleria Borghese may also be reached through a superbly maintained maze and that's a lot of fun. |
Just after we returned from our excursion to the Borghese grounds we conducted an e-meeting, which included a quick review of the data we had colleted over the last days. Our teams are required to prove their recommendations and must include supporting data in form of text and pictures. The analysis of the data was scheduled for that afternoon, and in order to allow the board to approve my recommendations, they needed some time…
| | | |
| --- | --- | --- |
| Dr. Roberto Naldi is the proprietor of four highly successful, upscale hotels: the Grand Hotel Eden and Splendide Royal in Lugano, the Parco dei Principi and the Splendide Royal in Rome. Now in his early fifties, he is an entrepreneur of Neapolitan origin who earned a degree in economics and is married with two children. Mr. Naldi practically grew up in hotels and has followed in his father and grandparent's footsteps as the heir of a family hospitality tradition. The charming, elegant hotelier has a talent for choosing great, and loyal employees. The tourism luxury market is without a doubt a challenging task that does not allow any flaws. | | |
"Naldi's standards are high, even for a city like Rome. He will always succeed." ~ TB
The Parco dei Principi Hotel is an independent, privately held hotel that provides personal, gracious hospitality and world-class service. Dr. Naldi addresses environmentally sensitive concerns such as preserving history and sustaining and adding cultural aspects that we feel are very important in a city that is 2000 years old. The Parco dei Principi Hotel has succeeded in reaching for the ultimate service level as Dr. Naldi has a great feel for hiring top hands-on staff and GMs like Carla Milos; together they were able to raise the bar.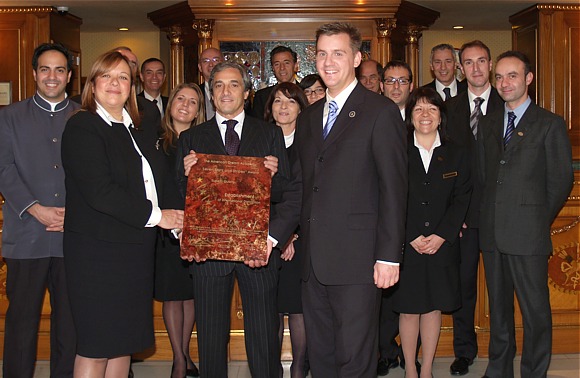 Front row left to right: GM Carla Milos, Owner Dr. Roberto Naldi & Thorsten Buehrmann
"The modern age has been characterized by quick fix taste.
Modern travelers find themselves increasingly attracted to time period hotels, whatever period that might be." ~ TB
by Thorsten Buehrmann & Arno Goudschaal

Editor: Ingrid Lemme

Editor-in-Chief: John Lomitola
© 2005 ~ Seven Stars and Stripes, Inc.