An American Dream Hotel
Tschuggen Grand Hotel

In Arosa, Switzerland
Receives

Extraordinaire - Society
5 Stars and 6 Stripes for
An Outstanding World-Class Hotel

The Ultimate Award:
Seven Stars and Stripes ™
A rather frightful scene began to develop in front of us as we were being waved through the clogged intersection in Chur by the neatly dressed Swiss 'polizei'. The ancient city is the starting point for the only road that leads up the mountain to the picturesque village of Arosa. The 'polizei' kept his cool despite the chaos of the mid afternoon traffic and my over-cautious crawl on top of what appeared to be railroad tracks running directly in the middle of our lane. "I think we're wrong!" The words I didn't want to hear came from my wife Phyllis my personal navigator. I tried desperately not to show the fear I was feeling that she was right as I proceeded with vigilance and apprehension further down the tracks. 'Traffic was moving in the other direction so why worry' I reasoned, 'they must do things differently here in Switzerland.'

Suddenly, the car in front of ours swerved left into the oncoming traffic and stopped. A quick glance in the rear view mirror confirmed that in fact all the cars behind me had pulled over as well. Phyllis screamed something unintelligible and pointed forward to the huge diesel locomotive looming ever larger and heading directly for us. As I jerked the steering wheel left in a desperate attempt to avoid a collision, I happened to glance up to see the train engineer leaning out of his window waving at us and laughing hysterically at my misfortune. I tried to look dignified as he passed slowly within inches to my right over the exact spot where our car was standing just a moment before, and returned a somewhat timid wave back.

Exactly 31 passenger and freight cars later I was able to return to our lane and continue in the direction of Arosa. "Next left!" Phyllis shouted as we were about to pass a steep narrow two lane road that wound sharply up and to the right. It was 3:30pm and the road we entered seemed way too small for all the heavy traffic upon it and the speed at which they were traveling. Desperately I accelerated in an effort to keep up with the others but even at 40 mph we found the switchback turns too sharp and the road too narrow to maintain that speed. Oncoming traffic raced downward seemingly inches from our side pressuring me to overcompensate towards the thin wooden guardrail that looked like it couldn't hold back a stack of books.

Over 300 heart-pounding sheer mountain turns later we reached the "End of the Street" as the local residents affectionately call their village, Arosa. Finding the Tschuggen Grand Hotel was not too difficult since all you have to do is follow the road through the middle of town until you see a rather large mountain barrier where you can't go any further and the Tschuggen Grand is on the right slope facing south. This turns out to be probably the most desirable location right up against the ski slopes surrounded by thick snow and bathed in life giving warmth from the ever-present sun. It seemed an almost perfect setting for a chance encounter with 'Big Foot' or 'Yeti'.
| | | |
| --- | --- | --- |
| The Tschuggen Grand staff fanned out as our car approached the entrance to the lobby. A well-dressed valet greeted us and ushered us into the check-in desk as if it were his proud home. When asked how the trip was to the "End of the Street" all I could muster was a demonstration using a wobbling sign with my hands together slithering like a snake. The next few days were to be a memorable experience as we nestled into the capable arms of the world-renown Tschuggen Grand Hotel under the guidance of General Manager Urs Bircher. | | Andrea & Urs Bircher |
As Mr. Bircher greeted us, he correctly judged that we were in need of a calm moment after our up-hill experience and shepherded us to a tranquil corner of the lobby for a little briefing. Over a few glasses of Swiss sparkling wine 'Moscato d'Asti "Cascinetta", Vietti-Lieblich, we listened as Mr. Bircher orientated us to the ample amenities of this well established top-notch resort and confidently set up our cuisine review with Executive Chef Ulf Wein.

The Tschuggen Grand we were told, is a member of 'The Leading Hotels of the World' and the association of 'Swiss Deluxe Hotels' two organizations that require members to subscribe to only the highest standards of excellence. The rigors of belonging require that those standards be maintained throughout the entire hotel in every department regardless of functionality. The American Dream Team will also explore and experience the resort with the goal of testing our own high set of values for the benefit of our readership. Tschuggen Grand VIP-Tour
American Dream Cuisine™
Grand Restaurant

In Arosa, Switzerland
Receives

Extraordinaire - Society
5 Stars & 6 Stripes for
Extraordinaire - Society Cuisine & Service
The Ultimate Award:
Seven Stars & Stripes™
At the end of our private meeting with Mr. Bircher, we were introduced to the Food and Beverage Director Mr. Jorge Andre Ferril who hails from Lima, Peru in South America. He was eager to bring us to the kitchen for an on-the-job meeting with Executive Chef de Cuisine Ulf Wein. The Tschuggen Grand has always been known for good cuisine but with the advent of Chef Wein the level of artistic quality and originality has multiplied tenfold.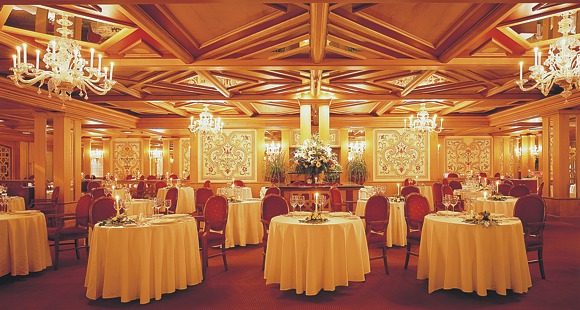 Our get-together was congenial even though 'live-fire' conditions prevailed and many busy team members were hard at work in their single-minded pursuit of 'total guest satisfaction'. This is perhaps the most important mission of any great successful food service operation, I mean after all it is the happy guest that contributes to your paycheck. That understood I was warmly greeted by Chef Wein even though a somewhat large group of Russian Chefs were in the process of taking a kitchen tour in the hopes of gleaning some specialized information from the Master of his domain.
Chef Wein's demeanor is low-keyed and respectful to his support staff as was demonstrated throughout his interactions with his fellow team members. After all, he is an extremely experienced professional who worked his way through the ranks in some of the best restaurants in Europe gaining honor and praise and Executive Chef status at Swissotel, Victoria Park Plaza Hotel both in London and then finally Tschuggen Grand. Here he is responsible for 4 restaurants and a brigade of 25 chefs and 10 stewards with his goal to 'supply the guests with an outstanding dining experience in all outlets'.
Things were starting to heat up in the kitchen now with orders flying out of the printer like confetti at 'Carnival'. Still Chef Wein had the state of mind to be able to carry on an engaging conversation with us while keeping his hand on the pulse through his peripheral vision.

We offered to leave him to his duties at hand but his gentlemanly instincts overruled us and he invited us to share a glass of one of his favorite aperitifs, Franciacorta "Ca' del Bosco" Brut 1994. His choice of this exciting 'new wave' Italian sparkler proves that his incredible depth of knowledge dosen't stop with cooking.
Hugh Johnson of the 'World Atlas of Wines' said "The finest wines both sparkling and still are from the Zanella family estate of Ca' del Bosco".
It starts in the gentle hills of Brescia south of Lake Iseo in the noble province of Lombardy where the growing conditions are carefully nurtured and respected to yeald the precious sparkler known as Fraciacorta.
The color was a light and delicate yellow with hues of green pea. A floral scent of lime and apple blossom gave way to dried fruit, highlighted by vanilla and oak. On the palate it is balanced and refined presenting notes of ripe furit.
The award winning Franciacorta worked wonders in setting the stage for the serious business of the impending cuisine review that Chef Wein and his staff were organizing for us now. Let us start with one of the specialties of the kitchen,
Appetizer I:

Thin Sliced Smoked Salmon with Dill and Fresh Greens Primavera.
This simple preparation can be taken for granted without knowing the tremendous care in effect to insure that it starts with freshly caught wild salmon, filleted and gently smoked for hours over specially primed beechwood.

Chef Wein personally supervises the whole operation to insure that the finished product is delicate, moist, tender and flavorfull. It was!
Next came somewhat of a surprise in the form of Appetizer II: House made Sauerkraut Soup with Caraway. This selection proved to be a hearty redition of an old staple that you might find amoung your grandma's recipes. This soup is fortified with a slightly smokey ham bone, peppercorns and thickened with potatoes for an appealing mid-winter, top of the mountain recharger.
Appetizer III:

Aspagus Salad with Minced Egg and Chives
- This is a culinary delicacy featuring white asparagus, which is an absolute favorite in the early spring in Europe. White asparagus are more tender, milder and nuttier in flavor than their green brothers are. This combination includes the two types of asparagus both whole and sliced together with minced hard cooked eggs and tangy fresh chives.
Main Course I:
Savory Herb Crusted Pan Seared Sea Bass with Dill Nage -
The purpose of encrusting allows the fillet of Sea Bass to retain its vital, flavorful juices while being cooked. Using his own mixture of fine herbs, Chef Wein applied just the right amount of cooking time to present the fillet in perfect form atop a feathery light aromatic broth. On the side rested a 'timbale' of roasted potatoes, a must when eating anywhere in Switzerland.


2000 Malanser Pinot Gris, Ruth & Georg Fromm, Malans -
I really loved this wine for its honesty and refinement. "Our wines reflect the quality and character of the Earth, the Culture and the People" is the way these winemakers see themselves through their commitment. The Pinot Gris's full bodied structure revealed hues of light yellow with aromas of yellow rose and honey.
Main Course II:
Risotto with Prawns -
Risotto is an Italian cooking technique used for Arborio rice that involves stirring hot liquid little by little into the rice, which creates a very creamy sauce naturally. Chef Wein uses his own laboriously made stocks to strengthen the rice while embellishing the 'al dente' texture with juicy prawns.


Grain Blanc, Maria Therese Chappaz, La Liaudisaz, Fully Valais -
An elegant dry wine from the French part of Switzerland, offering hues of green lemon, with aromas of pineapple laced throughout. The rather subtle flavors of rhubarb and grapefruit are evident leading to a soft finish.
Main Course III:

Grilled Veal Chop Sauce Demi, with Courgette Ramekin stuffed with sautéed garden vegetables -
A carefully prepared delightfull rendition of a menu standard. Each chef prides himself on his timing and technique and Chef Wein's delivery was flawless. The concentrated demi-glace showed perfection as its making from scratch takes about 25 hours and it provided rich, velvety meaty flavor to augment the delicate veal.
2000 Castello di Cantone, Rosso del Mago Merlot del Ticino, Angelo Delea, Mendrisio -
Aged for 22 months in new French oak resulting in a purplish red color delivering a spicy perfume with a taste reminiscent of mature berries.
It was time to congratulate Chef Wein on his magnificent cuisine preparation although I think he considers it just another day in the office. His skill and personal dedication is evedent with every item that comes out of his well run kitchen. We saw the door to the kitchen open slightly and someone grabbed a quick peak outside. Suddenly Chef Wein appeared followed by his Head Pastry Chef Stephan Heldrich carrying our dessert which resembled a firework displayed frozen in time
Dessert:

Strawberries and Rhubarb with House- Made Tahitian Vanilla Ice Cream decorated with Spun Sugar Swirls


2002 Gantenbein Pinot Blanc, Daniel Gantenbein, Flaesch-Graubuenden -
This wine is the product of the careful pressing of above average "Weissburgunder" grape clusters and the lowering of the alcohol content to create a sensational result. The aroma is similar to a reisling suggesting mature berries, tropical fruits and lime blossoms. On the palate it is soft and silky while melting like butter with a long finish.


Please take a closer look
Our exceptional dining experience at The Grand Restaurant under the nurturing care of Executive Chef Ulf Wein left us in a somewhat unfettered state of mind. We decided to have a quick nightcap at the subdued and romantic Grand Bar. We walked in to the soft sounds of live music being preformed by a lovely Italian group. Patrons were gathered in little groups around comfortable banquets and low tables sipping cordials while enjoying small talk in a myriad of languages. We continued toward the becon created by the welcoming smile of the head bartender and ordered two glasses of 'Cuore di Noce' Angelo Delea, a liquor made from the hulls of green walnuts, spices and aromas, macerated for a long time in brandy, making it a pleasant digestive liquor.
| | | |
| --- | --- | --- |
| A few dances later and it was time to retire to our suite where it was not too difficult to hide under the oversized goose down comforters in total warmth. The following morning proved to be quite an eyeopener as the bright morning sun reflected on the snowcovering and the view overlooking the 'cul de sac' at the "End of the Road" was heartwarming as I peaked from behind the curtains to have a look. | | |
Soon after we awoke, we received a call from our friend Jorge Ferril, Food and Beverage Manager for the Tschuggen Grand. It was important for him to follow up on the previous evening's dinner in the Grand Restaurant under the care of Executive Chef Ulf Wein and his team.

We spoke at great length of our super experience and satisfaction with the quality, creativity and presentation of the food as well as the dedicated, responsive and quick thinking service.

John Lomitola & Jorge Andre Ferril, F&B Manager
Jorge suggested that we meet with him in the lobby in a few minutes, so that he could show us some of the newer suites and renovated rooms that were now available at the Tschuggen.

Jorge Ferril is an amiable man who's profession it is to be the leasion between the "Front of the House" and the food service segment. Anyone charged with running a Hotel and Resort the size of The Tschuggen Grand, knows that it is important to have extremely qualified personnel responsible for key positions such as this. "My duty is to make sure that our valued guests have a genuinely satisfying experience while they are in my care", says Ferril when asked about his mission. We proceeded on our way to tour the facilities and get a first hand view of this special place.
The Tschuggen Grand, we are told is under private ownership and since 1980 belongs to Karl-Heinz Kipp who purchased it and formed an alliance with the Hotel Eden Roc in Ascona, the Carlton Hotel in St. Moritz and the Sport Hotel Valsana, also in Arosa. Since we were there, plans had been underway for the opening in April 2004 of the "Mountain Oasis" health and fitness centre, and in upgraded infrastructure under the guidance of Swiss architects Mario Botta and Carlo Rampazzi.
| | | |
| --- | --- | --- |
| ART It wasn't easy for the Tschuggen to embark on a reconstruction effort in such a pristine location without working closely with the architects to make sure that the rugged mountain surroundings would be affected as little as possible. The emphasis on preserving open space was placed above all so that as Mario Botta put it, "Our plan has been to build, without over-building. While the large spaces of the functional rooms disappear into the mountain, recurrent elements (leaves, trees and skylights with specific geometry) bear witness to the presence of the new." | | Please take a closer look |
The new "Mountain Oasis" health spa features an indoor swimming pool and a 'panorama sauna' that allows users to experience a spectacular view of the surrounding mountain peaks through a built-in window, while resting comfortably in the heat of the dry sauna.

Also at their disposal, guests may use the facilities of the "Clarins Beauty Center, Massage and Coiffeur", which include facials, body treatments, make-up consultation, manicure and cosmetic pedicure, combined facial and body care, hairstyling, massages, water gym and nutritional coaching.
| | | |
| --- | --- | --- |
| Tschuggen Grand Suite | | Suite We were now guided to the front desk to pick up several keys for a first hand look at the rooms. As we walked through the lobby, it had very comfortable upholstered furniture laid out in a fashion that just asked, "please be seated and stay awhile". Original works of art lined the walls in the form of paintings and sculptures while lighting fixtures and other appointments reflected the secure ambiance that left you with a feeling of unhurried relaxation. |
Rooms and suites are laid out carefully to take advantage of the wrap-a-round views of the ring of mountain peaks that overlook the location. Specific attention to detail was paid to the comfort factor of the rooms as upholstered chairs and couches along with workspace desks dominate the living areas of the suites and sumptuous bedroom furniture with functional closet spaces provide much needed space in the private areas.

We were told by F&B Manager Jorge Ferril that a guest can also shop at one of three different stores at the Tschuggen including:
Tschuggen Boutique - featuring stylish gifts and confections for those special recipients back home.
Clarins Beauty Boutique - which offers all the components necessary for a complete beauty make-over or maintanence.
Gisler Sport Shop - offering all the essentials to have a great time on the slopes.
When booking your reservation, we were told to be sure to check out the various packages that are being offered from time to time such as:
Beauty Days - combining beauty treatments and goumet dining
Tschuggen Winter Classic - gourmet dining and a gala evening
Bridge Days - dining and bridge playing
Dance Week - dining and dancing with lessons
Tschuggen Snow Sport Break -combining skiing and wellness
Golden Sport Week - Easter Skiing and wellness
To keep abreast of all the latest events being offered at any time, consider subscribing to the Tschuggen Grand Newsletter by e-mail. Simply sign up at: http://www.tschuggen.ch/en/newsletter/ , You can unsubscribe at any time.

At the end of our tour of the rooms, Jorge suggested that Phyllis and I take a little walk to the village of Arosa to see for ourselves the type of ambiance that keeps the people coming back to this oasis of sun and snow.
It doesn't take much to motivate us to take a little 'Spaziergang' or stroll to get some exercise. It is always our pleasure to see things at a little slower pace by walking, so that the benefit of the crisp clean air and delightful sunshine add to the experience.

The road leading to the village of Arosa was as picturesque as you could imagine with pointed roofed churches with spires reminiscent of 'Holloween' hats could be seen. All along the route, local residents would go out of their way to greet you with their local dialect "Gruetzi woll" which translated means something like "healthy greetings".

Please take a closer look
The surrounding mountain peaks covered with thick snow were a constant reminder that the only road up to Arosa, was in fact the only road down too.

We walked for a good twenty minutes in awe as we were constantly either gazing up or looking from side to side at the wonderous scenery all around. At one point we were sure that we saw a 'Swiss cow' sitting on top of a roof covered in snow and began to marvel at the notion that it might be where they stay when the snow gets too thick on the ground.

Please take a closer look
AROSA VIP Tour Our walk continued another 10 minutes until we reached the center of the village where the train station was located. Surrounding the train station where you might expect hoards of taxis standing by to collect passengers, there were rows of horse-drawn carriages in a quaint line the horses patiently feeding on oats until their next fare was procured.

Upon entering the station itself, the train was parked, quietly awaiting its departure. It was curiously painted blue with images of alpine flowers on the sides with the words "AROSA" written large so that it would be hard to miss at the beginning of the trip from Zurich or Chur.
We turned and headed back so that we could get ready for our last evening at the Tschuggen Grand and dinner in the Buendner Stube Restaurant with its focus on local Swiss specialties.
| | | |
| --- | --- | --- |
| AROSA VIP Tour On the way back Phyllis stopped to window shop a little and found the 'perfect gift' for that special someone back home. As I approached the window I found what she was looking at and remarked that I couldn't for the life of me figure out whom she had in mind for those large bells hanging in the window. "Wouldn't it be nice to hang around our children's necks, so we know where they are?" was the practical response from my wife. Ahhh, the Swiss are so recourceful! | | |
We came back in the midst of lots of skiers returning from a fabulous day on the 'piste' (slopes). Most of them could just simply ski down on their last run to the doorstep of the Tschuggen Grand before taking off their equipment. Storage is available for anyone with lots of ski paraphernalia and we walked past all the happy folks still high on the endorphin rush of world-class skiing, to get to our suite and freshen up before our scheduled cuisine review at the Buendner Stube later that evening.
American Dream Cuisine™
Buendner Stube

In Arosa, Switzerland
Receives

Merit - Extraordinaire
4 Stars & 5 Stripes for
Extraordinaire - Society Cuisine & Service
The Ultimate Award:
Seven Stars & Stripes™
Buendner Stube is located in a very quaint part of the Tschuggen Grand Hotel and is known for its friendly atmosphere and comfortable, casual Swiss style dining. We entered the restaurant and immediately noticed the country décor remenicent of a mountain-side Swiss chalet. It didn't take long to see two beautiful smiles approaching to greet us in the traditional Swiss fashion with "Grütsie" (Hi) followed by three kisses on the cheek. "Welcome to the Buendner Stube"! The words spoken in perfect English came from Restaurant Manager Doris Huber. Along with her on the greeting committee was server Jirapon from Thailand who spoke flawless Switzerdeutsch.

The stage was set and we were escorted to our table tucked away in a private corner next to a fabulous wine rack displaying at least 40 or so wines from all over with the emphasis put on Swiss selections. Jirapon, who was quite knowledgeable about Swiss tradition, offered us a warm-up aperitif of Veurve Cliquot, Ponsardin Champagne to set the mood while we examined the menu. A powerful dry Champagne with generous flavors, it is a blend of 2/3 Pinot Noir and Pinot Meunier with 1/3 Chardonnay offering alomond, honey and ginger essence.

To start, Jirapon suggested that we step up to the extravagant salad bar that was stocked with locally grown produce of every variety just bursting with fresh clean taste. Of course the addition of freshly baked brown whole grain farm bread decidedly pushed us to a completely new level of decision making. This was followed by Buendner Gerstensuppe - Traditional Barley soup from the Buendner Region - a hearty soup for a mountain region fortified with Swiss air-dried beef (Buendnerfleisch) and cream with the addition of celery root gives it the flavors that every skier craves after a day on the slopes.
Main Course I:

Roasted Pike-Perch Fillet over Savoy Cabbage
- was my selection of locally caught river fish, pan-seared to lock in the flavorful juices and then finished in the oven. This is a very popular fish on Swiss and Austrian menus since it can be prepared many different ways while still offering a clean wild taste.
2000 Malanser Blauburgunder, Thomas Studach, Malans-Graubuenden
- only the warm southern Föhn wind allows Pinot Noir grapes to flourish in the area known as the Bündner Herrschaft in Graubünden where this versatile wine is made. I found it to be dry with not much wood, presenting red fruit notes of cherry and strawberry in a light body. Totally suitable for this type of fish.
Main Course II:
Capons with 'Speck', Landjager and Rohschinken
- Small very tender chicken breasts combined with three types of pork specialties of the region. Speck is cured pork flank; Landjager is a type of smoked jerky with a hint caraway; Rohschinken is a typical air-dried smoked ham.


2001 Ambassadeur Fume, Adrian Mathier, Salquenen-Wallis
is produced using a Gros Rhin grape from the community of Chamoson, in western Switzerland. It is complex with sharp tannins and a vanilla touch, which works well for the contrasting flavors of aged meats and juicy capon.
Dessert I:

Plum Fritters with Vinilla Sauce -
Little pockets of dough filled with plum butter and served with a delightfully light Crème Anglese.


Dessert II:

Moscato d'Asti Sorbet Rose with Fried Strawberries and caramel sauce -
A sweet sorbet with citrus overtones working well with donut -like fried dough stuffed with fresh strawberries with caramel sauce for dipping.
2002 Moscato d'Asti "Cascinetta" - Schaumwein Vietti, Castiglione Falletto -
From just over the Italian border in Piemonte, this ideal dessert wine has a slight sparkle and deliveres flavors of honey and wild-flowers in a medium bodied structure with light to golden straw hues.
We were truly impressed with the quality and ambiance of the Buendnerstube Restaurant and worked our way past some of the Swiss decorations to pause briefly for a picture of my wife Phyllis next to a pair of ancient looking skis. I doubt if she would ever attempt to use them under any circumstances since her idea of a vacation is somewhere warm. The warmth in this locale was undeniable and started with the traditional greeting and lasted until the last bite. This will be a place of comfort and sanctuary for many years to come!

Doris Huber, John Lomitola and Jirapon
As a final farwell, Doris suggested a couple of glasses of Etter Himbergeist, Paul Etter, Zug - which reminded me of a firey grappa when if fact it is the distilled fruit and pulp of fermented raspberries, thus producing a pronounced berry aroma.

We toasted to our new friendship and the hospitality of the Swiss with their long tradition of proud self-reliance and friendliness towards travelers.
We retired to our suite and slept like two puppies under a blanket until the early morning wake-up call at 5am. It was time to return to Zurich and our flight on Swiss back to the US. Our wonderful mid-winter escape had ended on a fine note with promises to revisit the classical experiences provided by the Tschuggen Grand Hotel and their well-trained, warm and friendly team members.

Check-out at this early hour was a breeze as our Passat Kombi was fetched from the underground, under-snowcover garage where it had been for the last few days. Our trip was over but our journey has just begun…..and we had just "300 heart-pounding sheer mountain turns" to look forward to before we reach the bottom of "The End of the Road"!
by Phillys & John Lomitola

Editor-in-Chief: Ingrid Lemme