Kempinski Emirates Palace - UAE
Sayad Restaurant, Abu Dhabi - UAE
Mezzaluna Restaurant, Abu Dhabi - UAE
Etihad Airways, Abu Dhabi - UAE
InterContinental Harbor Court, Baltimore - USA
Hampton's Restaurant, Baltimore - USA
In Next Gazette: Rickshaw, Prague - CZ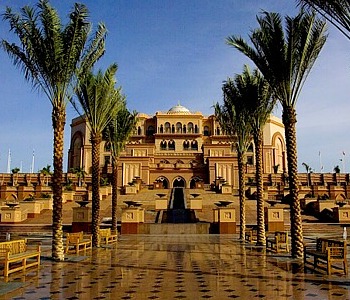 Kempinski Emirates Palace
Abu Dhabi, U.A.E.

7 Stars and 6 Stripes
This three billion dollar resort-hotel has a reputation for being the most expensive hotel ever built to date, considering that it features close to four hundred luxury accommodations. It will take your breath away, as it did take ours. We were welcomed with awe-inspiring affection while we were accompanied to a dedicated elevator that brought us directly to our Palace suites on the 7th floor. We are delighted to have met with GM Noel Massoud who directs a team of highly trained professionals with great ease; a well-balanced cultural union of excellent staff, indeed.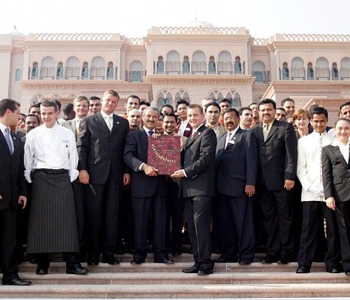 Congratulations to you Emirates Palace, from your Guests and from Seven Stars and Stripes:
For your visible commitment to excellence.
For your willingness to be recognized for your latest innovations.
For your devotion to your staff and company.
For your ability to receive.
For your decision to raise the bar.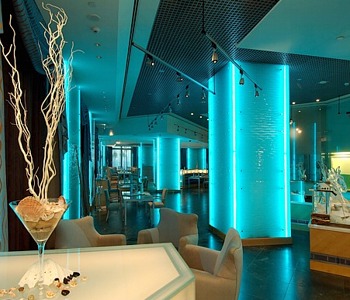 Sayad Restaurant
Emirates Palace, Abu Dhabi - UAE
Chef de Cuisine: Shaine O'Neill

5 Stars and 5 Stripes
We are informed that Chef de Cuisine Shaine O'Neill has instructed his team to 'make every effort to impress'. Our confidence is that Chef O'Neill's stated philosophy of ". . . bringing my passion on food from Europe to Abu Dhabi treating all diners to a magical experience . . . " will come to fruition.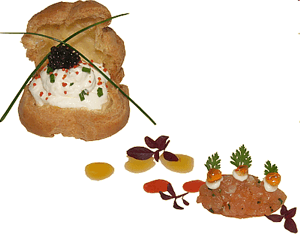 Our next course arrives it is Timbale of Citrus flavored Salmon Tatar, Beluga Caviar with Saffron Dressing. The delicate flavor and texture of the salmon seems to be supported by the addition of citrus contrasting with the slightly salty black caviar in a gorgeous assemblage of colors and textures.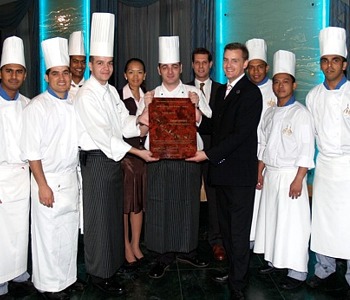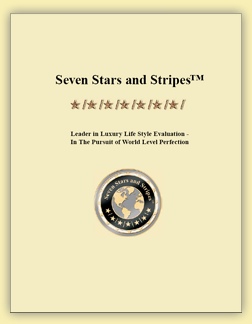 Our long-awaited book Seven Stars and Stripes™ - 2003 to 2006 world-edition, is now available. Over 300 pages - featuring only the finest establishments and fascinating cuisine art images from around the world. All beautifully compiled in this full-color collector's edition. ISBN# 1-4259-4267-9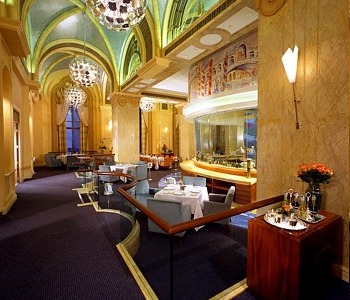 Mezzaluna
Emirates Palace, Abu Dhabi - UAE
Chef de Cuisine: Luigi Antinio Piu

6 Stars and 5 Stripes
We are told that the Executive Sous Chef of Mezzaluna, Luigi Antonio Piu had come to Emirates Palace via his humble origins from the village of Sassari, in Sardinia, Italy and brought with him all the earthy recipes from his life growing up with his parents. 'It doesn't get any better than that" I mused as the thought of a dine-around Italy featuring Chef Luigi's innovations seemed like the perfect way to go.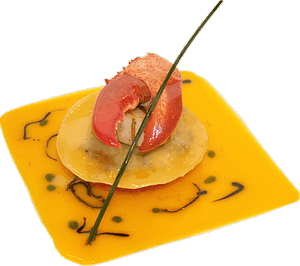 Luxury Product:
"Rimowa - Luggage for the World Traveler."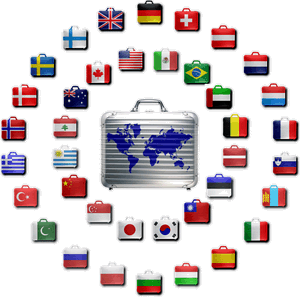 In Next Gazette: All New
* Restaurant: Le Siècle, Vienna - Austria
* Restaurant: The Rickshaw, Prague - CZ
| | | |
| --- | --- | --- |
| Dear Friends, | | |
For many people from all over the world November is a month of reflection and celebration. More and more affluent Americans are preparing for their traditional Thanksgiving holiday by reuniting their family members at a centrally located, traditional hotel or resort and have this important feast catered. We have reviewed the Intercontinental Harbor Court Hotel Baltimore, USA for you recently and find it a fabulous place for such an occasion. What if your family members are scattered all over the world, you might consider Abu Dhabi, U.A.E. as a perfectly placed family reunion destination. Whatever personal holidays you might celebrate this month or if you simply feel the need to escape some dreary fall days we have discovered for you 'the land of perpetual sunshine'. Abu Dhabi with virtually a full year of blue skies is well on the way to becoming one of the most searched-for travel destinations of the world. As for the next edition I am looking forward already to sharing a visit with you in the 'Ever so Charming City of Vienna" and the 'Golden City of Prague'. Have a wonderful month and until next time, I am yours truly:

Thorsten Buehrmann
Watch the Seven Stars and Stripes
Award TV Show on
Hamptons Televisions WVVH World-Wide

Featured here on the set of the Seven Stars and Stripes Award TV Show are co-hosts Ingrid Lemme and John Lomitola, VP of Seven Stars and Stripes, Inc. WVVH Hamptons TV is a commercial cable and broadcast TV station airing NOW also in New Jersey, New York City, Westchester, Long Island (in the midst are the affluent Hamptons) and on TIME WARNER `On-Demand´. The station may be viewed world-wide in real-time via Live-Web-Stream on our website: http://www.WADTV.com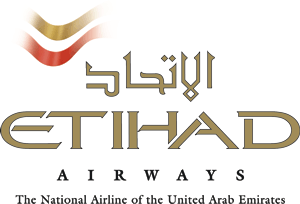 PEARL ZONE

6 Stars and 6 Stripes
On board we experienced the 'warmest welcome in the sky' presented by an international crew as indeed it's the small touches that make a world of difference. Captain Stefan Dudda welcomed his guests in English and German and depending on the type of aircraft you fly, Etihad offers three Guest Zones: Diamond, Pearl and Coral. I should begin by saying that as Business Class goes, it was the best six and a half hours I have so far spend in an aircraft and a 'Pearl Experience' it was. The new 180° flat bed is a totally awesome chair-sleeper with a massage function that can only have been designed by back specialists.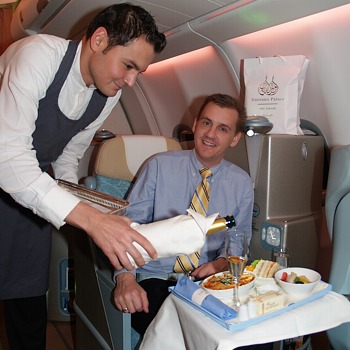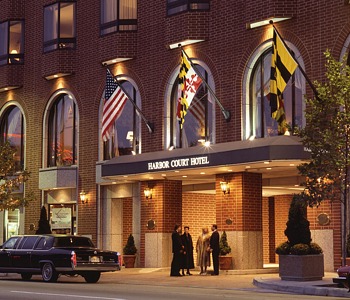 InterContinental Harbor Court
Baltimore, USA

5 Stars and 6 Stripes
The 'Gone with the Wind' breathtaking, antique staircase was expertly reworked recently and the marble floors were all new and shiny – flawlessly combining old world charm with today's modern facilities. Although completely refurbished in early 2006, the InterContinental Harbor Court Baltimore has retained most of its original features which have been carefully restored to its earliest splendor and charm.
"Unique, intimate, ideally located." ~ TB
The 180 degree, spectacular blue-sky, sparkling 'duck pond' water view from our window over Baltimore's Inner Harbor world was alone worth the trip. This harbor is one of America's oldest seaports in the habit of welcoming ships, their crews and goods from all over the world since the 1600s.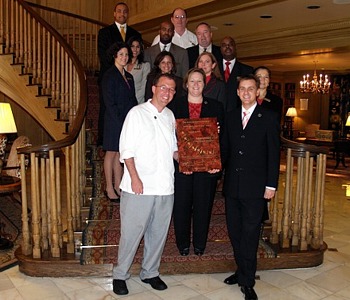 Seven Stars and Stripes Awards for:
Hampton's Restaurant
at the Harbor Court in Baltimore, USA
Chef de Cuisine: Joshua Young

5 Stars and 4 Stripes
A vision of sailboats, a tall-ship, a submarine and a myriad of other vessels all vying for position appeared in front of us as we gazed out the window of our table at the Hampton's Restaurant of the Intercontinental Harbor Court. We sat amid the quiet elegance of thickly upholstered furniture, light pink wallpaper, warm ceiling to floor window treatments and fine linen tablecloths. A soft tone was set by the indirect lighting as well as the elaborate candelabras set squarely on some of the larger tables.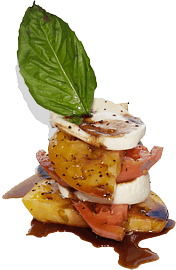 The very distinguished Director of Food & Beverage Edwin Mendez introduced himself and then his team led by Head Waiter Paul Morales and Sommelier David Kelly. It was Kelly that suggested the deliciously floral, light-bodied champagne from France, Nicholas Feuillatte Brut, NV as a way to initiate the Amuse Bouche or "Greetings from the Kitchen" as arranged by Executive Chef Joshua Young.