Hotel Atlantic, Hamburg - Germany
Hotel Le Palais, Prague - CZ
Restaurant Atlantic, Hamburg - DE
Restaurant Le Papillon, Prague - CZ
Next: Town House Galleria, Milan & Air France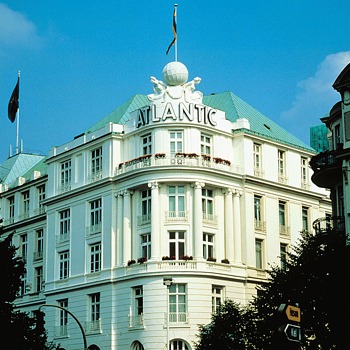 Hotel Atlantic Kempinski

5 Stars and 6 Stripes
My accommodations were in the clouds, the Sea Cloud suite, that is. High-ceilinged bedrooms and suites, charmingly furnished, well designed and comfortable with high speed WiFi, Internet access available. With the Kempinski Hotel Atlantic Hamburg ideally located on Lake Alster, my view was simply to die for. Little sailboats came into sight dangling on the bluer-than-blue lake Alster, it was hard to believe that we were here actually right in the heart of Hamburg. As a European, I was delighted to find a bidet in the bath facilities and charmed with the maritime touches even here.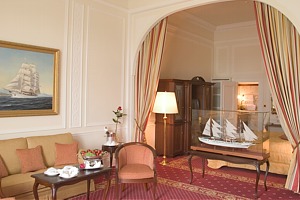 The Hotel Atlantic Kempinski Hamburg attracts leaders of society and celebrities for almost a century. And sure enough I ran in Udo Lindenberg, an internally renowned and adored rock musician, author and painter. Mr. Linderberg resides here year-round and considers the hotel his home. It is said that the Hotel Atlantic Kempinski Hamburg has been a culinary institution ever since the day it opened its doors, 'feeding' the success of the meeting, wedding and banquet business. Fabulously designed and meticulously decorated event halls mesmerize attendees, playing an important role in the success of national and international gatherings and corporate affairs. The Hotel Atlantic Kempinski is boasting one of the most elegant ballrooms in Hamburg's history, the ornate banquet room could easily be considered as the showpiece of the hotel, combining awe-inspiring 'cathedral ceilings' with old-world splendor. Parts of the Grande Dame are presently receiving a major face-lift, culminating in larger accommodations and upgraded ...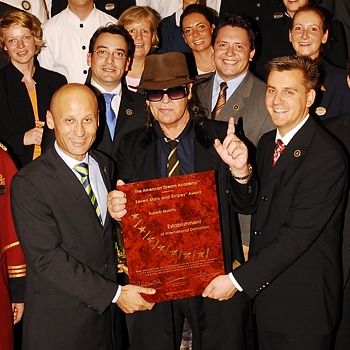 Congratulations to all, from your Guests and from Seven Stars and Stripes:
For your visible commitment to excellence.
For your willingness to be recognized for your latest innovations.
For your devotion to your staff and company.
For your ability to receive.
For your decision to raise the bar.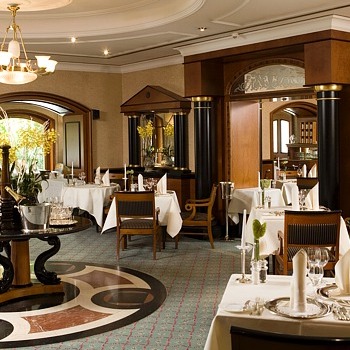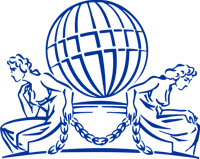 Restaurant Atlantic
Hamburg, Germany
Chef de Cuisine: Sven Buettner

5 Stars and 6 Stripes
During our degustación menu tasting we were impressed with the finesse, classical ambiance and feeling of historical charm that we derived from the layout and décor of the Atlantic Restaurant. Our sommelier Lars Hentschel was not only a wine connoisseur but also a water expert since he had to support an extensive bottled water menu complete with suggested food and wine parings. With over 40 bottles of water to choose from, sommelier Hentschel led us to understand the philosophy of water's interaction with food. Plans were in place now to support each course of the degustación menu with the appropriate wine and water paring. Chef Sven Buettner started us off with a very manageable Fried Lobster with Mango Avocado Salad, going head to head with a 2000 Im Sonnenschein Riesling Late Harvest Ökonomie Rebholz Siebeldingen; a perfect start for a bright summer evening.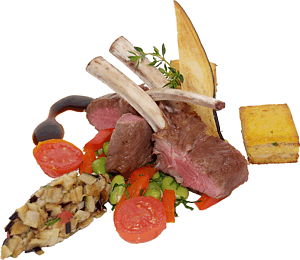 Also worth mentioning was the Turbot with Caviar and Truffled Mashed Potatoes, a delightfully addictive creation featuring the 'king of fish' topped with the 'jewels of the Caspian' and finished with 'black gold from the earth'. Our main course consisted of Roasted Salt-Grass Fed Lamb with Eggplant Puree and Sage Jus, introducing us to a local specialty of Lamb fed exclusively on salt grass, which grows on top of the many dykes in the area. The taste of the chops is unique in that it imparts a somewhat salty, ocean-like flavor that spices up the delicate lamb. We finished off our plates while savoring each explosive morsel. Our night was almost complete except for the final touch of Preserve Jar filled with Lukewarm Chocolate Cake decidedly an 'out of the box' approach to presenting dessert. ...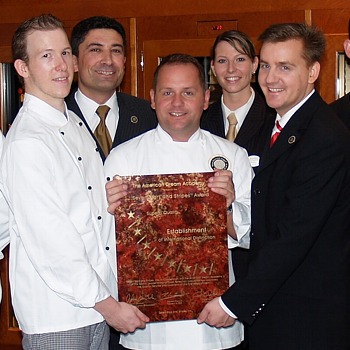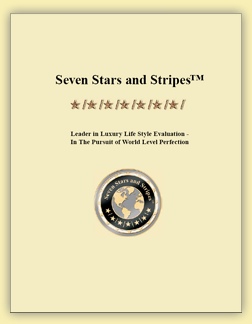 Our Seven Stars and Stripes™ book - 2003 to 2006 world-edition, is still available. Over 300 pages - featuring only the finest establishments and fascinating cuisine art images from around the world. All beautifully compiled in this full-color collector's edition. ISBN# 1-4259-4267-9
In Next Gazette:
* Town House Galleria, Milan - Italy
* Air France - Business Class
In The Press:
* Atlantic Hotel Hamburg
| | | |
| --- | --- | --- |
| Dear Friends | | |
Finally! A glorious September! Morning Glory is the flower of the month and its birthstone is the sapphire. For many parents all over the world it is a long awaited time, the kids are back in school ;). In history - 1752, the British Empire adopted the Gregorian calendar and counter-intuitively the German Oktoberfest and the Chinese August Moon festival both occur in September. Actually, it is a fabulous time to get away. Let us re-introduce you to the infamous city of Hamburg in northern Germany and reside with us at the famous Grand Dame, the Hotel Atlantic Kempinski and entice you to fall in love with the romantic Le Palais in historic Prague, CZ - certainly not without a visit to their amazing gourmet restaurants and to meet their world-class chefs. We are flying this month with Air France to New York, where we are intending to welcome our newly appointed advisory board member Mr. Nasser Samman, General Manager of the Garden City Hotel, and we are tasting the cuisine of Executive Chef Michael Rozzi at the Hamptons' celebrity restaurant Della Femina, both on Long Island. Reviews of Air France and Della Femina will appear in a future newsletter. Then we are visiting Mexico, coincidentally celebrating its Independence Day on September 16th. Next month we are reporting from fashionably famous Milan, Italy - Europe's first Seven Star award hotel! Until then,
I am yours truly
| | |
| --- | --- |
| | |
| | |
| | Thorsten Buehrmann |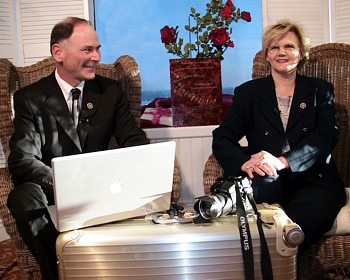 Watch the Seven Stars and Stripes
Award TV Show on
Hamptons Televisions WVVH World-Wide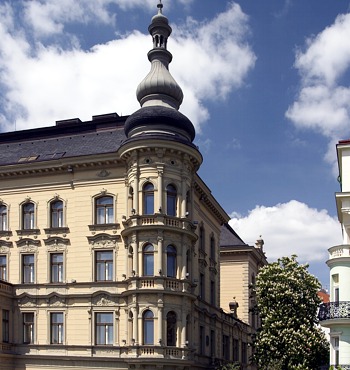 Prague, Czech Republic

6 Stars and 5 Stripes
After landing at the newly renovated airport, our casual-elegantly dressed chauffeur welcomed us in the main lobby and guided us quickly to his shiny polished Mercedes Limo, which was conveniently parked at the main entrance. From here we arrived at the Hotel Le Palais within less than half an hour, located in an exclusive, quiet residential area and within walking distance of the famous Wenceslas Square and the National Museum. The Hotel Le Palais, which opened in 2002, may still be considered as a newcomer in the world of the global luxury hotel market, though the hotel building is dating back to 1897 and was originally created in the distinct architecture style of Belle Époque. Our check-inn was flawlessly executed and equally unspoiled appeared the four buildings from the outside with their interior architecture and decorations providing an exquisite combination of stunning sophistication, combined with the fine points of modern technology.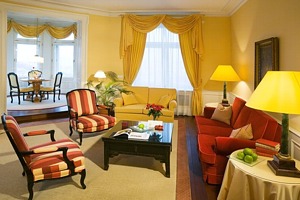 My accommodations turned out to be the Presidential Suite, one of a dozen splendidly decorated elegant suites of which two have open fireplaces. All rooms and suites were luxuriously designed and furnished in 19th century style with every modern amenity one could possibly think of and fabulous, precious marble bathrooms. With a total of 72 rooms, the Hotel Le Palais is able to maintain its personal touch, but still appears as a boutique hotel with contemporary necessities, of which none is interfering with its charming old world style. General Manager Jirí Gajdoík came across relaxed hands-on and experienced, though young in years, already a pro through and through. The Le Palais is part of 'Vienna International' - a group founded in 1989 that owns and operates several exclusive hotels in Europe....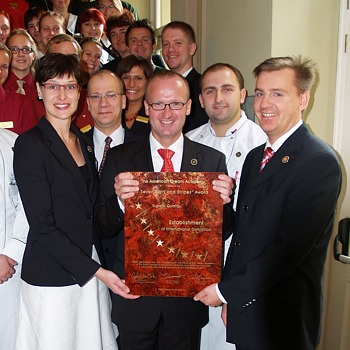 Seven Stars and Stripes Awards for: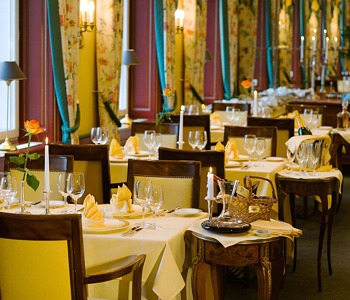 Hamburg, Germany
Chef de Cuisine: Radek Šubrt

5 Stars and 4 Stripes
As my colleague Rolf and I took in all the visual stimulation of dining al fresco out on the terrace, Restaurant Manager Karel Helštýn stopped by with our menus and two fluted glasses of Veuve Clicquot Ponsardin. We eagerly sipped the soft fine mousse while we perused the menu. Our desired choices did not seem to have any bearing as the next person to arrive brought us an amuse bouche of Lobster Bisque and three types of crusty Czech bread including an irresistible dark whole grain. We were certainly on our way to being guided through our culinary experience while in the capable hands of Chef Radek Šubrt, recently acknowledged as one of the ten finest chefs in the Czech Republic. It was a great feeling, kind of like being driven to a concert in a limousine by chauffeur...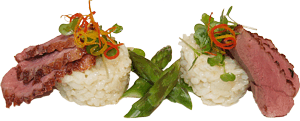 Both Rolf and I agreed that not only was Chef Radek's cuisine of the highest quality, flavorful and fresh but also presented in multi-layered three-dimensional fashion as to excite the palate long before the food was tasted. ... Next, the Sea Bass Fillet with Fava Beans, radish salad and soya-orange glaze provided us with a glimpse of what Chef Radek can do with this delicate fillet. His deft pan searing of the Sea Bass sealed in its elusive flavor while rendering the skin delightfully crisp. Along with the Sea Bass entrée for me, my colleague Rolf was offered a rendition of Seared Duck Breast over Risotto with Asparagus and Sweet Garlic, cooked to a perfect medium rose pink. The whole duck breast was finished with a delicate garlic foam gently caressing the risotto, illustrating how Chef Radek deftly adds flavor and substance to a finicky entrée.