Alfons Schuhbeck - Munich, Germany
NEW 2008 Gold-Framed Award-Plaque
NEW Spa - Award
Elite Seven Stars Black Card™
In the Press: The Oberoi Mauritius
NEXT: Mirabelle - USA &
Kilimanjaro Hotel Kempinski - Africa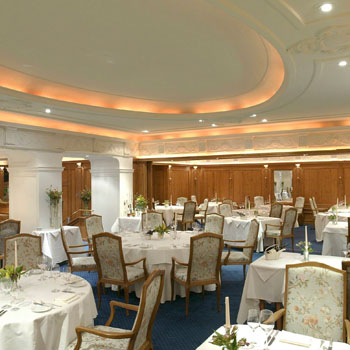 Munich -Germany

6 Stars and 5 Stripes
With a king-sized persona, Alfons Schuhbeck is literally a household word in Germany as he appears in cooking shows frequently on national Television and has written over 20 books. It was under Alfons's tutelage that Executive Chef Patrick Raass came into his own to take over the reigns in the kitchen, working hard to emulate his mentor, all the while keeping his own creative streak intact. Stepping into the restaurant off the busy Platzl is like entering an entertainment zone. Crafty photos of Alfons are shown in every conceivable situation working his magic, even in the restrooms. Restaurant manager Wolfgang Hirn welcomed us with true southern hospitality and guided us to our reserved table for the evening.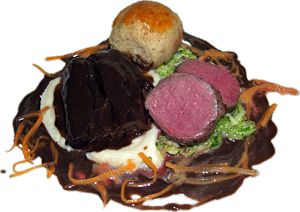 There was room for a main course of Saddle and Shank of Bavarian Venison with Nut-Filled Yeasted Dumpling, which came as a surprise suggesting, that Alfons Schuhbeck was reaching back to his roots. All the right traditional ingredients were there pointing to dishes that Bavarian hunters would bring to the table, but in terms of arrangement the selection was skillful art. An excellent bottle of Cantina La Fiorita Brunello di Montalcino 2002 made for an interesting match as it offered a bright ruby color with violet highlights and an intense, persistent bouquet of berries and aromatic herbs. The menu was easy to follow and well laid out, with wines paired to ultimacy. Sommelier Patrick Eglauer, well-versed and passionate, was outstanding in his role. We finished the evening with a Frozen Cappuccino with Exotic Arabian Spices, ...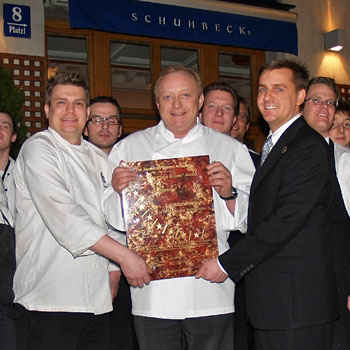 Congratulations to all, from your Guests and from Seven Stars and Stripes:
For your visible commitment to excellence.
For your willingness to be recognized for your latest innovations.
For your devotion to your staff and company.
For your ability to receive.
For your decision to raise the bar.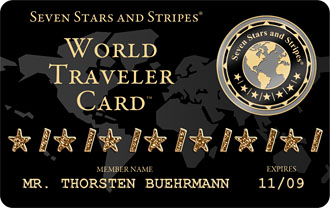 Soon, you will be able apply for our Seven Stars™ Global Elite Travel and Dining program. As the carrier of our global Seven Stars Black Card™ you will receive extraordinary benefits, all over the world, at participating Seven Stars and Stripes Award winning establishments. Granted to Elite Seven Stars Black Card™ 'Members– Only'.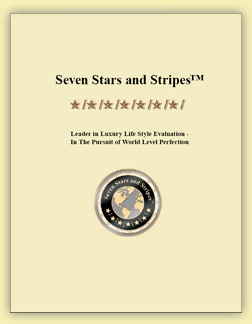 Our Seven Stars and Stripes™ book - 2003 to 2006 world-edition, is still available. Over 300 pages - featuring only the finest establishments and fascinating cuisine art images from around the world. All beautifully compiled in this full-color collector's edition. ISBN# 1-4259-4267-9
In Next Gazette:
* Mirabelle Restaurant, NY - USA
* Kilimanjaro Hotel Kempinski -
Dar es Salaam, Tanzania - Africa
| | | |
| --- | --- | --- |
| Dear Friends | | |
Hello again my traveling friends and happy Valentines. February is the month of love; almost the end of winter and 2008 is a leap year, which gives us an extra travel day! I can feel that spring is right around the corner! Woo hoo! Shaking of the winter blues is important, and the best way to do this is to hide away in a world-renowned, recognized luxurious spa for at least a week. We are introducing the Seven Stars and Stripes Global Spa Award for the first time next month at the ITB (International Travel Show Berlin) and are delighted to welcome distinguished spa expert Ming W. Teh to our advisory board. We are also saluting Celebrity Chef & Restaurateur Heinz Winkler of Germany, GM Martin Schneck of Fairplay Golf Hotel & Spa Spain, Marketing & Asia Expert Albert Stienissen of Africa, GM Sjefke Jansen of The Oberoi Mauritius, GM and Regional Director Bernhard Loew of the Schlossle Group and Executive Chef Wolfgang Fischer of the Emirates Palace, U.A.E. Oh, and if you are flying over Munich, be sure to reserve a table in advance at Schuhbeck's in den Südtiroler Stuben, and you can unmistakably expect the cutting edge of culinary greatness. …
I am yours truly
| | |
| --- | --- |
| | |
| | |
| | Thorsten Buehrmann |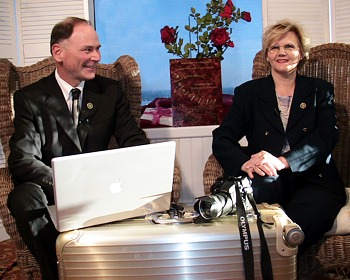 Watch the Seven Stars and Stripes
Award TV Show on
Hamptons Televisions WVVH World-Wide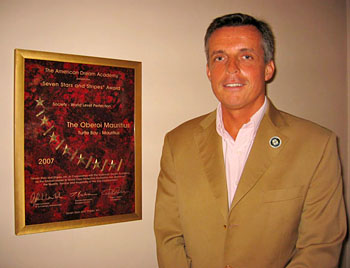 The Seven Stars and Stripes' research and development department, inspired by Advisory Board Member David Benton, created a new face for the world's highest hospitality award plaque. A matching golden frame, produced by a German manufacturer, enhances the golden stars and stripes. Featuring General Manager Siefke Jansen with the new award frame design at The Oberoi Mauritius and below GM David Benton at The Rittenhouse in Philadelphia, USA.
Seven Stars and Stripes Awards for: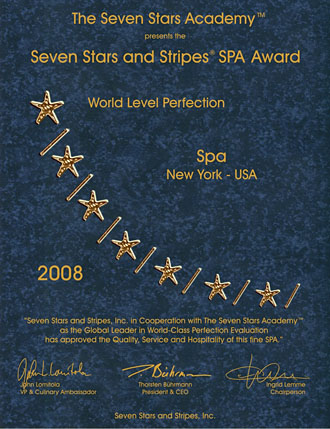 The global Seven Stars and Stripes Destination Spa Award team reviews and recognizes the world's leading full service spa facilities annually. Only desination spas will be considered for the highest, international spa recognition.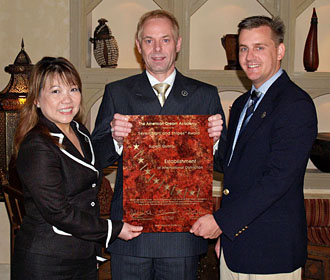 In The Press:
* Arrival at The Oberoi Mauritius