Philadelphia, USA

Society
March - 2007
6 Stars & 6 Stripes
Overall - 'Hotel & Service'
The Ultimate Award:
Seven Stars and Stripes®
A seductive and alluring symbol stands in the courtyard of The Rittenhouse Hotel in the form of an Evangelos Frudakis bronze statue of an enchantress, gesturing as if to say 'Welcome to all who seek comfort!' But unlike the Sirens of Greek mythology, this one offers to make good on her promise of comfort, indulgence and pleasure in an environment of magnificent cuisine and skilled service. At first glance after driving through the historical city of Philadelphia, The Rittenhouse emerges as an oasis of tranquility directly adjacent to a laid-back city park that could have been lifted directly out of a Woody Allen movie. As if on cue from a symphony conductor, I witnessed several individuals converging on the pristine park from all directions. In musical sync the walkers seem to provide a strolling concerto of sorts to myself and anyone else looking on from The Rittenhouse. As my partner Thorsten and I pulled into the driveway and approached the overhanging portico protecting the entrance to the hotel, we were set upon by a flurry of uniformed attendants greeting us warmly and opening our doors.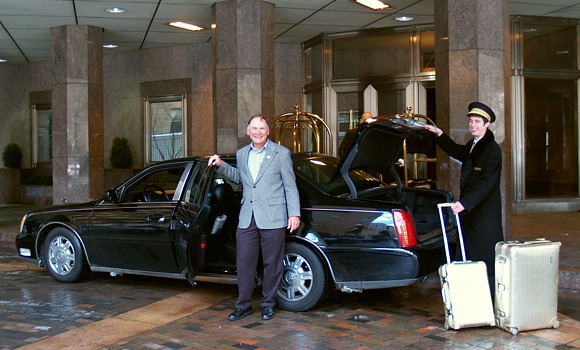 A handsome valet in a fur collared overcoat and leather gloves ushered us through the main entrance, past smiling bellmen each nodding their personal greeting to us. We were ushered onto an exquisite Italian marble floor and guided gently until we reached the front desk. After a rather long ride from the Newark airport in which Thorsten and I chatted our way past the correct exit on the NJ Turnpike, we backtracked and finally made it to our destination at The Rittenhouse. There, the front desk staff saluted us with a hospitable and warm buzzwords "Welcome to our home". A quick glance around the lobby produced a cozy feeling of actually standing in the vestibule of a large stately mansion, which is punctuated with delicate hand blown glass vases sinuously reaching for the ceiling with their thin elongated necks. In a comfortable alcove just off the front lobby, indirect rays of light emanate from the large French etched-glass patio doors and further highlight the splashes of bright color that radiate from the unique floral arrangements. "Flowers are an important feature in making this Hotel feel more like you're in someone's home," says David Benton, the Vice President and General Manager of The Rittenhouse Hotel. "It goes according to my master plan of providing a gracious, comfortable setting for our guests as if they were part of our family", he continues.
| | | |
| --- | --- | --- |
| David Benton has made his work at The Rittenhouse his true passion and he lives and works sincerely by those well-spoken words. He is often seen adjacent to the front desk during particularly heavy check-in days, staffing his 'champagne' station and greeting the incoming guests with a fluted glass of bubbly and a cheerful "Welcome to our home." It doesn't surprise the staff to see the great lengths he would go to in order to satisfy any special requests and Mr. Benton empowers his team members to do the same while leading by example. | | |
On a recent Friday night, a sudden snow and sleet storm took Philadelphia by surprise and even the people at The Rittenhouse seemed worried about the outcome of that day's planned events. On the agenda was an annual fundraiser planned for the Boathouse Row Bar in which they expected three hundred guests and additionally a wedding party for another two hundred. Of course, with the reality of the weather conditions looming, the staff hurriedly prepared with every contingency imaginable but even so, there is always the unforeseen. As evening approached, a phone call from a panicky bride brought Mr. Benton to the rescue by actually driving over to her house in his SUV to securely and safely deliver this precious cargo to the hotel for her extra special event. Special solutions to issues that arise infrequently like this lie imbedded deep within the fabric of each team member. This is what makes The Rittenhouse shine above the average service oriented hotel; the ability to think clearly and feel empowered to act on the issue at hand.
Upon checking in, the concierge informed us that the time of our evening's cuisine review in the Lacroix Restaurant, the premier food venue at The Rittenhouse, was to be 8pm. That gave us exactly thirty minutes to get into our room, unpack and . . . oops!, get my suit pressed. It seemed that after spending three weeks traveling in Argentina followed by a weekend at The Rittenhouse, my Hugo Boss suit was in desperate need of some serious TLC. A panicky phone call to the concierge produced an immediate response and the smartly pressed suit returned in precisely 22 minutes in the hands of smiling John, the Assistant Housekeeper. While I was getting ready for dinner, I couldn't help but notice some of the great improvements that had been made at The Rittenhouse since the last time our Seven Stars and Stripes reviewing team, led by our CEO Thorsten Buehrmann, came here.
The clock radio next to the bed was anything but the mundane standard issue that most hotels are supplying as an amenity. In fact, it was turned on when I walked into the room as someone had positioned it to a jazz station, one of the eight pre-set music enhancers. I looked carefully to see that it also had a convenient dock that could accommodate any size iPod music player and be able to play it through its own ample speakers. My room, I was told, was a standard room except for the fact that when I entered it resembled something more like a Jr. Suite. It was spacious and well appointed with a comfortable couch and coffee table, elegant writer's table with ample drawer space and Hi-speed Internet cable network ready for complimentary use. There was also the option of using the Wi-Fi enabled network in the room or anywhere in the hotel as the entire Rittenhouse is now one giant hot-spot. Lighting was subtle but designed with the hotel guest in mind, as it seemed to be in exactly the spot you needed no matter where in the room you decided to move.
| | | |
| --- | --- | --- |
| | | The walls were adorned with wall paper in subtle earth tones and decorated with lovely framed works of art, including notable pieces commissioned from local Philadelphia artists. I must have walked past the bed several times exploring my room before I realized its especially large size. It occurred to me that perhaps the rather ample size of the 'Jr. Suite' that was my standard room, did a good job playing down the awesome size of this very inviting sleeping platform. I couldn't resist and threw myself in a perfect '10' frontal flop position onto the plush duvet covered bed and thought I fell onto a pile of feathery light clouds. Later I discovered that Mr. Benton himself, at a premium price no doubt, specifically chose these mattresses to be the most comfortable 'pillow-top' variety. |
A quick look at the clock radio woke me up to the reality that I had to hurry along just to be on time for our dinner reservation at Lacroix. I rushed into the bathroom to shave and turned on the neat little flat screen TV next to the sink to catch a glimpse of the latest news on CNN. The marble top sink basin bristled with amenities from Aromatherapy Associates with intriguing names like 'balance', 'revive' and 'relax' for the conditioner, body wash and shampoo. I reached for the bath towel and it unfurled as if I were hoisting a ceremonial flag and looked around for a place to hang it while I showered. A convenient hook somewhere near the spacious glass shower stall is in order here as I couldn't hang the towel near enough without getting it wet by draping it across the top of the shower door. Terry slippers and a plush monogrammed robe awaited me for the briefest of moments as I hurried to shave and get down to the Lacroix on time.
"The management had thought of everything ..." ~ JL
The management had thought of everything, I thought as I ran down the hall towards the bank of four elevators that would take me to the restaurant level. I remembered that there was only about 98 rooms at The Rittenhouse and with several elevators operating at all times there was never a need to wait during the entire three days that we stayed there. On the way down, a photo of Executive Chef Matthew Levin seemed to look my way in an expression of welcome invoking a delightful anticipation of the culinary demonstration to come. After exiting, I started in the direction of the Lacroix, or so I thought. Apparently, I got off the elevator at the wrong floor and an ever-alert concierge noticed my bobbing head passing one too many times in front of him, kicking him into proactive gear to offer help. "I guess I'm lost", I said after which he pointed me in the right direction to my destination. "I knew that!" I said humbly.
Philadelphia - USA

Society
March - 2007
6 Stars & 6 Stripes
Overall - 'Cuisine & Service'
The Ultimate Award:
Seven Stars and Stripes®
At first glance, it appeared that many of the patrons of the Lacroix Restaurant the evening we dined were business types, chatting away while sipping on oversized vodka martinis topped with olive triplets. The conversation seemed lively and intimate at the same time, as Brodie the Maitre 'd led us past several tables to our predetermined spot next to the large picture window. Just beyond our table, we caught a glimpse of Executive Chef Matthew Levin, dressed in his spotless kitchen regalia, greeting some of the guests as he strolled through the dining room. I could hear him sharing one of his fine recipes with some diners as he passionately described in detail the important nuances that would make this particular dish come out right if they tried it at home. We remarked how approachable this culinary wizard of The Rittenhouse seemed to be and noted the wonderful reaction of the guests to his personal approach to the homespun dining experience.
Our table at the Lacroix Restaurant overlooked the magnificent Rittenhouse Square, this time of year resembling a scene out of a Currier & Ives calendar. Overall, the interior scene set the mood through impressive use of indirect overhead lighting, soft tablecloth tones, large candles on each table and lots of friendly smiles. Ed Wildman, Restaurant General Manager, introduced himself and welcomed us to 'our house', the underlying theme repeated often throughout our comfortable stay at The Rittenhouse. He dutifully noted that Executive Chef Levin was in the process of preparing an 'Amuse Bouche' for us and proceeded to describe the options to the tasting menu that were available.
| | | |
| --- | --- | --- |
| There are possibilities of choosing three to six courses when dining on the Lacroix tasting menu with the appropriate wines that the Sommelier selects to accompany each course. There is also the possibility to dine at the Chef's Table directly under the lights in the magnificent show-kitchen. Be sure to reserve in advance as this feature puts you right in the midst of things and has all the spin of a reality show in the making. | | John Lomitola & Matthew Levin |
Our comfort level now was impeccable after the swift delivery of an apéritif of sparkling Cuvee Lacroix Blanc de Blancs, Premier Cru by Paul Goerg for Thorsten and a Campari and orange juice for me. Apéritifs are the traditional alcoholic drinks taken before a meal to stimulate a person's appetite and the Blanc de Blancs displayed a lemony, slightly developed, well-structured character that accomplishes that goal. The Lacroix Blanc de Blancs was re-poured, perfectly timed to the arrival of our Amuse Bouche of Oysters Three-Way, Hamachi Sashimi, Edamame and Soy Yuzu Souce. The marriage of shellfish and soy definitely allowed our taste buds to really focus on the subtle, bone-dry flavor and hints of citrus of the Blanc de Blancs. A very knowledgeable sommelier Eric Simonis, who hails from the Alsace region of France, filled us in on the subtleties and appreciation of wine tasting as related to food parings. "The basic concept of pairing wine and food is to complement and enhance the aroma and flavors of both the food and wine without either one overpowering the other", said Eric.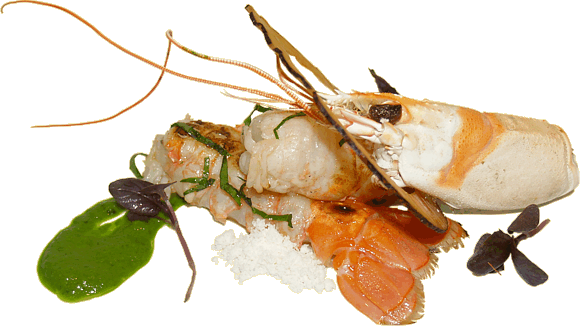 That said, Sommelier Eric slipped quietly away to retrieve the next wine to pair with our second course of Frog Legs with Green Curry Mango Soup. This interesting assemblage of ingredients promised fusing the prevailing standard component in classical French cuisine with a South East Asian staple. Typically, green curry paste is made by pounding in a mortar ingredients including shallots, green chilies, garlic, galangal, fresh turmeric, shrimp paste and salt, producing a unique color and spicy taste.
| | | |
| --- | --- | --- |
| | | Sommelier Eric returned with his personal recommendation for wine to be Châteauneuf-du-Pape Blanc, Domaine du Pere Caboche, Jean-Pierre Boisson, 2005. The wine does everything it is meant to do in that it challenges the exotic spices of the green curry with honey-laced aromatics typical of white Rhône. The palate becomes the proving ground for exploring the luscious fruit, which is sufficiently laced with tropical notes of pineapple and kiwi thus further harmonizing it with the entrée. |
We stayed with the white Rhône hoping to savor the velvet, soft acidity as the next course was presented as Wild Stripped Bass with Uni. I was impressed with the texture of the pan-seared skin of the bass as well as the juicy tender meat of the thick filet. This, combined with the light yellow color of the uni (sea urchin roe) indicated a freshness factor that produces a creamy consistent sweet taste. Some say eating raw sea urchin uni can garner aphrodisiac qualities for that person. We savored this possibility as long as we could before the arrival of the intermezzo of a fluted glass of house made sorbetto, to cleanse our palates and get us ready for the next course.
| | | |
| --- | --- | --- |
| Roasted Foie Gras with Rhubarb Jam and Passion Fruit arrived at the table just in time for a new wine from France, the Sauternes, Château Lafon, 2003. This wine will stand up to the rich foie gras as it has a big, flamboyant, over the top style displaying creamy honeysuckle and crème brulee notes. It has a personality that is full-bodied and fat, low in acid with great residual sugar and botrytis (noble rot). I felt like indulging and went sip for sip with every bite of the foie gras followed by the rhubarb compote and powerful acidic passion fruit. I couldn't conceal my guilt! | | |
We couldn't help but notice that upon returning from the bathroom, Brodie the Maitre d' had refolded Thorsten's napkin and placed it on the table. The time was right for Eric the Sommelier to present the Taja, Gran Reserva, Jumilla, Spain 1998 in time for the next course of Whole Roasted Squab with Wild Blueberries. Along with that a special order of Zubaton of Kobe Beef, Garlic Mousse in Merlot Wine Sauce was presented for scrutiny. The intense climate of the Jumilla region results in wines that are intensely ripe and fruity. Gran Reserva indicates that this is a wine of very good quality, which is aged for at least two years in oak cask followed by a minimum of three years in bottle. It is very smooth, with dark fruits, a jammy taste and it has a decently long finish. The wine went well with the ultra-tender massage pampered beef.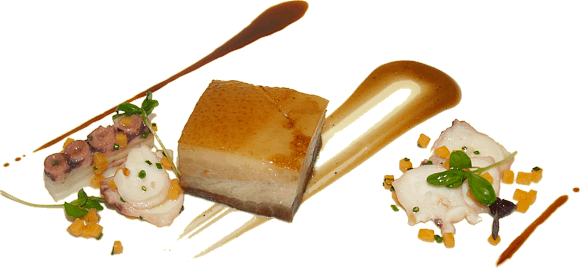 A long night was about to come to an end with the trio of desserts ascending to the table paired with a Banyuls, Grenache Noir, Clos de Paulilles, Languedoc-Roussillon, 2003. These handcrafted desserts included Cherry Vanilla Soda with Coconut Ice Cream, Lime Gelee and Verbena Rocks as well as La Tarte au Chocolat with Sweet & Sour Cherries, Triple Caramel Cream and Apricot, my personal favorite.
| | | |
| --- | --- | --- |
| | | The wine was sherry-like and had flavors reminiscent of tawny port with orange and grapefruit. Just when we thought it was time to retire to the bar, coffee and petits fours appeared in the form of the ever present French press-pot and the wonderful chocolate delights that we were told are available for sale in gift boxes branded with the Lacroix logo. Another classic touch in this wonderful place! |
"We were fortunate to have gotten to know 34-year-old Chef Matthew Levin, a graduate from
the CIA who was chosen to carry on Jean Marie Lacroix's legacy after his retirement." JL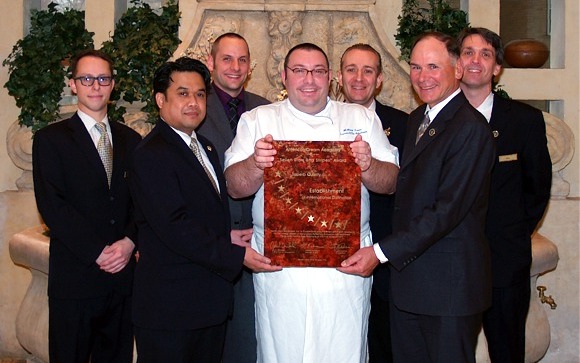 2007 Seven Stars and Stripers® - Award-Hand-Out Lacroix Restaurant - Philadelphia, USA
It was quite late now and the experience of dining at Lacroix was still fresh in my thoughts. Sleep meant more to me now than anything and tomorrow promised to be another action packed day. We had scheduled a chocolate making session with Executive Pastry Chef Fred Ortega after breakfast. Later in the day a tour of the renowned Adolf Biecker Spa and Salon after which Mr. Benton offered to escort us on a whirlwind tour of the 'ethnic food markets' of Philadelphia for a taste of its distinct neighborhoods, each offering a unique blend of culture and attractions.
| | | | | |
| --- | --- | --- | --- | --- |
| With all that circulating in my mind I decided to head for the 'pillow-top' bed awaiting me in my room expecting to sink into oblivion. I quietly stepped into the room and discovered that once again someone had set the clock radio to a low volume music station, this time mellifluous and gentle. It seemed very conducive to a good night's sleep and so I left it playing as I got into bed. | | | | The bed was turned down and a tiny little bag with rope handles and Restaurant Lacroix logo was sitting on the night table next to the bed. I opened the bag to discover a hand-wrapped square of chocolate in it and quickly made short work of it. It was rich and sensuous and made me think immediately of the quote from an unknown author, "I have this theory that chocolate slows down the aging process.... It may not be true, but do I dare take the chance?" And so it was, I slept like a child. |
Morning came quickly with lingering thoughts of the fine cuisine display that Executive Chef Matthew Levin put on last night and yes, the delicate, sublime morsel of chocolate that prepared me for my deep and restful sleep. My recollection upon check-in was that my favorite newspaper would be waiting for me on the handle of my door. Sure enough, the New York Times as well as the USA Today was delivered and while leafing through the Times I dressed and got ready to meet my partner Thorsten in the restaurant for breakfast. The Lacroix has a different look for breakfast. Daylight filtered in through large windows adding depth and character to the feeling of dining in a royal household. A buffet was set up near the window although it was thoughtfully broken up into additional sections that further enhanced the feeling of sampling food at an elegant social event. Thorsten was fascinated by the fact that there were two variations of the bacon and sausage offering both regular and turkey varieties. "It's all about choices", I uttered as I helped myself to smoked salmon with all the trimmings. Breads and Danishes abounded and of course, there were plenty of scrambled eggs, offered in small batches and replenished often in a successful effort to keep them warm and fresh. Upon returning to our table, our server poured hot coffee prepared in a French Press Pot. This was by far one of the best ways to serve coffee as it displays the delicate flavor profile of the coffee without allowing the aroma to degrade over time by sitting on a hot plate. "Fresh squeezed juice, gentlemen?" was the offer from the server and we accepted OJ for me, while Thorsten of course, had to have his mixed half and half with Grapefruit. "It's all about choices, Jonny," he countered.
| | | |
| --- | --- | --- |
| We had to hurry now as our 10:15am 'chocolate making' demonstration with Pastry Chef Fred Ortega was looming closer and we were still on coffee. When we met Chef Fred briefly the day before, he spoke to us kindly about taking us step by step through the chocolate making process. Under the direct encouragement of Executive Chef Jean-Marie Lacroix, the leader of the Philadelphia culinary scene for over two decades, Chef Fred cut loose with his imagination and began to develop the unique style of his chocolate making empire. | | |
An illustration of his exceptional abilities came to us in the form of a welcoming display in our rooms of white and dark chocolate covered tuxedo-clad strawberries on a tray made to resemble our coveted Seven Stars and Stripes Award plaque that had been presented to The Rittenhouse the previous year. We entered Chef Fred's chocolate making domain and couldn't help but notice his high-tech chocolate conveyor belt, the mechanical centerpiece unit that makes all his fanciful ideas a reality. Chef Fred surrounds himself with hundreds of foil bags of various chocolates from all over the world each of which contains different percentages of cocoa butter and unique flavor profiles indigenous to the countries where it was grown.
| | | |
| --- | --- | --- |
| | | "These are my raw materials", he started "that give me the flexibility to make just about any chocolate creation that I can dream about". I asked him if the government had any plans to make chocolate a new food group in the official 'nutrition pyramid', hoping that my deepest desire would come true. "There is no evidence of that, but milk chocolate may as well be considered a dairy product" he answered with a wink and handed me an apron and overcoat to prepare me in becoming his assistant for while. Enough said! |
Chef Fred cranked up the conveyor belt now and melted chocolate began pouring over it as it spun round and round. The liquid chocolate cascaded continuously like a waterfall and I had the most awful time resisting the urge to stick my finger under it for a little instant gratification. Chef Fred positioned me at the end of the conveyor belt with the instructions that I should "Pull the wax paper at the exact speed of the belt as the chocolate squares come off of it". I tried it in a practice run before any of the square pieces of chocolate could potentially be wasted by my uncoordinated awkwardness.
"OK, here goes!" was the battle cry as Chef Fred began to quickly place chocolate squares on the conveyor belt one by one. In reality, the conveyor belt seemed to be moving much faster with the chocolate squares than before during the dry run. As they approached the waterfall of liquid chocolate, I imagined lying there myself in the supine position, smiling in glorious anticipation of entering chocolate nirvana. Back to reality! The first of the chocolates now exited the waterfall and they were moving really fast, so it was time to put on my 'game face' and not let my coach down.
| | | |
| --- | --- | --- |
| As I pulled the paper up to speed in order to catch the chocolates, they began piling up too close to each other. I glanced up to see if Chef Fred was watching me as I considered the Lucy solution during her scene in the episode " The Candy Factory" and eat all the chocolates to hide my mistakes. Chef to the rescue; he quickly slid over to separate the piled-up chocolate with a knife thereby saving them for the final step of applying the decorative covering. All of Chef Fred Ortega's chocolate creations are available for sale in gift boxes at The Rittenhouse and many of his desserts and pastries appear on the Lacroix daily menus. | | |
GM Benton popped into the pastry shop to remind us that we were scheduled for a walk through the Adolf Biecker Spa and Salon with the charming spa manager Monique Bertsch. As we gathered our thoughts in an effort to shift from luscious chocolate to luscious body treatments, we couldn't help but see the obvious connection between 'body and mind wellness' at The Rittenhouse. Mr. Benton escorted us to the multifaceted spa by way of the incredibly popular Adolf Biecker Salon. There in front of our eyes was a salon filled to the brim with ladies in every conceivable form of treatment happily chatting away while undergoing hair, nail and facial beauty treatments.
| | | |
| --- | --- | --- |
| | | It seems that much of the business in the salon comes not only from the hotel itself but also from the Philadelphia community of faithful customers that would probably travel to another state because of their loyalty to the Biecker Salon. The salon uses Aveda all-natural products, which are plant-based using only organic components focusing on 'soil to bottle' ethical and traceable ingredients. I could see how happy GM Benton was in seeing the flurry of activity in his flagship wellness and beauty center. |
We were shown to the treatment and fitness areas by Ms. Monique who explained that the tradition of exceptional customer service in the spa spans a period of more than 60 years. The continuous upgrading of the facilities and improvements made to the list of therapies is foremost in the minds of management. "We have to stay ahead of the curve in this business without the loss of the sensitive personal touch", she said as she led us through to the pool. How poignant, I thought and asked to be able to sample one of the body treatments for Thorsten and I the next day. And so it was that Thorsten and I were booked for one hour Swedish massages on the following day. We finished our little tour with a brief stop in the 'siesta' room for some fresh brewed Ayurvedic tea.
| | | |
| --- | --- | --- |
| Mr. Benton had planned the afternoon for us to see the major cultural and ethnic centers and markets around the city and offered to take us on the excursion with The Rittenhouse limo and driver. We left for our whirlwind tour in the midst of a light rain but pushed on to experience the unique character that contributed to building the city of Philadelphia. The Rittenhouse is centrally located so that most of the major historical attractions including the Merriam Theater, The Academy of Vocal Arts and the Liberty Bell are with easy taxi access. The Battleship New Jersey lies moored nearby on the Delaware River and is conveniently located adjacent to an aquarium while the Academy of Music, the Pennsylvania Ballet and the Center for the Performing Arts are all within walking distance of six or seven blocks. | | |
We were now approaching the famous area where the origin of Philadelphia's most famous culinary treat is still a hotly debated topic, the Philly Cheese Steak sandwich! (A sandwich made with thin slices of beef topped with cheese and other condiments and served on a crisp Italian-style roll.) Most agree the birth of Philly's cheese steak took place at Pat's King of Steaks with his famous rival Gino's across the street in the Italian immigrant section of South Philadelphia in 1930. From there it escalated into full fledged war of words as to who could claim the title of the best version in all of Philadelphia. We set out to determine this exact distinction with our own un-scientific battle of the taste buds. Mr. Benton asked his driver to head down to the Reading Terminal Market for the our ultimate cultural cuisine experience.
| | | |
| --- | --- | --- |
| | | The Reading Terminal Market has a plethora of merchants hawking every conceivable food item from hundreds of exotic corners of the world. In one corner a shop with a thousand different teas; another, cheeses; still another sells artisan style comfitures from the Amish country; next a multi-hued flower market and on and on. Our determined guide Mr. Benton, led us past all those interesting kiosks, my mind begging to pause at each for a while, as he single-mindedly sought out the very place that he had envisioned as the right place for our Philly Cheese Steak tasting event, Rick's Philly Steaks. |
Their premier location at the entrance to the market supports its popularity amongst the population of market goers. However, the sandwich has to be awesome too as the crowd in Philadelphia has been known to be a very critical lot. Led by Mr. Benton, we fought our way into the line of hungry pilgrims all waiting to pay homage to Rick's. After muscling our way forward, we retreated with two incredibly long open Italian style hoagies, loaded with thinly sliced roast beef, folded serviette-like and topped with more than a days worth of gooey melted cheese.
| | | |
| --- | --- | --- |
| Thorsten (the German) watched as Mr. Benton demonstrated the proper etiquette for a first attempt at taking a suitable bite out of this 'Rocky-fisted' sandwich. The results after the first taste proved positive and the two sandwich kings made quick work of their fine creation. | | |
We headed back to The Rittenhouse now to prepare for an evening dining experience at the Chef's Table with Mr. and Mrs. David Benton and Thorsten and I in the kitchen of Lacroix under the watchful eye of Executive Chef Matthew Levin and his team. This will prove to be the utmost in 'reality shows' with a seat center stage in a busy, creative and efficient working kitchen, watching them perform on-the-fly and unrehearsed. As we passed through the lobby on our way back to our rooms, a quick glance off to the left of the elevators offered a vision of dignified elegance in the form of an area near some rather large French doors. This space had been prepared for 'Afternoon Tea in the Cassatt Tea Room & Garden´ for any guest that happens to be wandering through and in need of a little pick-me-up, Rittenhouse-style!
We were drawn over to a server from Senegal with a genuine smile named Fara and his sincere partner from France, Nicole. They implored us to sit down and allow them to prepare 'high tea' for us. We objected due to the recent Philly Cheese Steak belly whopper that was still on its way to the bottom but to no avail. Fara and Nicole proceeded to bring out 'The Rittenhouse Signature Tea', which includes tiny little tea sandwiches, freshly baked currant scones with strawberry preserves, lemon curd, Devonshire cream and a savory selection of tarts, pastries and of course tea.
| | | |
| --- | --- | --- |
| | | I was afraid to ask the obvious question, but I did anyway. "What kind of tea do you have?" I asked Fara, to which he answered by dutifully presenting a detailed list of the twelve Rittenhouse Specialty Blends and their descriptive flavor profiles. "It's all about choice" he said when I asked why there were so many selections. I saw that Thorsten was drawing the same parallel as I was about the similarities of tea tasting to wine tasting as he lifted his teacup and quaffed his tea in a long deep sip. "Tea is getting to be big business in this country" he finally shared with me. |
It was 7pm and time to meet at the Chef's Table to have dinner with our host Mr. David Benton and his wife Ilyce Benton. Our special table is located next to the very organized 'line' that serves as a staging area for plate decoration and presentation right before a dish goes out to the restaurant guest. All dishes are scrutinized by many of the kitchen crew before Executive Chef Levin makes the final determination or adjustments. "Nothing leaves this kitchen unless it is certifiably perfect" we could hear Chef Levin uttering as he mentored one of his interns from the Culinary Institute of America.
GM Benton informed us that guests of The Rittenhouse or Lacroix Restaurant can actually reserve the Chef's Table for their own dining experience with parties of two to seven. I found it to be exhilarating to dine on such creative cuisine while watching a true master of his art at work with his dedicated team of professionals. All our menu items were uniquely selected by Executive Chef Levin and then artfully paired with some of the finest wines available in the wine cellars of The Rittenhouse, by sommelier Eric Simonis.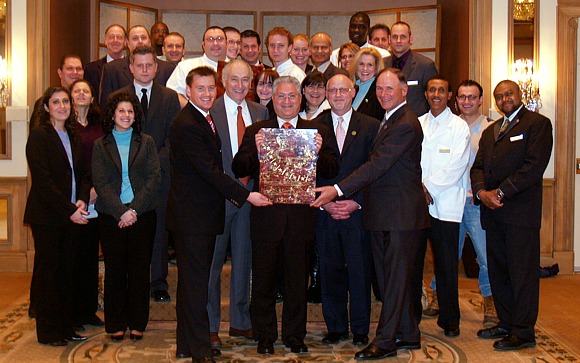 2007 Seven Stars and Stripers® - Award-Hand-Out at The Rittenhouse - Philadelphia, USA
We are truly grateful to our host GM David Benton and his team of specialists in the business of pleasing the public, that have banded together to provide the utmost in luxury, exquisite service and hospitality for an indisputable world-class experience at The Rittenhouse.
by John Lomitola & Thorsten Buehrmann

Editor: John Lomitola

Editor-in-Chief: Ingrid Lemme
© 2007 ~ Seven Stars and Stripes, Inc.