Philadelphia - USA

Society
March - 2007
6 Stars & 6 Stripes
Overall - 'Cuisine & Service'
The Ultimate Award:
Seven Stars and Stripes®
At first glance, it appeared that many of the patrons of the Lacroix Restaurant the evening we dined were business types, chatting away while sipping on oversized vodka martinis topped with olive triplets. The conversation seemed lively and intimate at the same time, as Brodie the Maitre 'd led us past several tables to our predetermined spot next to the large picture window. Just beyond our table, we caught a glimpse of Executive Chef Matthew Levin, dressed in his spotless kitchen regalia, greeting some of the guests as he strolled through the dining room. I could hear him sharing one of his fine recipes with some diners as he passionately described in detail the important nuances that would make this particular dish come out right if they tried it at home. We remarked how approachable this culinary wizard of The Rittenhouse seemed to be and noted the wonderful reaction of the guests to his personal approach to the homespun dining experience.
Our table at the Lacroix Restaurant overlooked the magnificent Rittenhouse Square, this time of year resembling a scene out of a Currier & Ives calendar. Overall, the interior scene set the mood through impressive use of indirect overhead lighting, soft tablecloth tones, large candles on each table and lots of friendly smiles. Ed Wildman, Restaurant General Manager, introduced himself and welcomed us to 'our house', the underlying theme repeated often throughout our comfortable stay at The Rittenhouse. He dutifully noted that Executive Chef Levin was in the process of preparing an 'Amuse Bouche' for us and proceeded to describe the options to the tasting menu that were available.
| | | |
| --- | --- | --- |
| There are possibilities of choosing three to six courses when dining on the Lacroix tasting menu with the appropriate wines that the Sommelier selects to accompany each course. There is also the possibility to dine at the Chef's Table directly under the lights in the magnificent show-kitchen. Be sure to reserve in advance as this feature puts you right in the midst of things and has all the spin of a reality show in the making. | | John Lomitola & Matthew Levin |
Our comfort level now was impeccable after the swift delivery of an apéritif of sparkling Cuvee Lacroix Blanc de Blancs, Premier Cru by Paul Goerg for Thorsten and a Campari and orange juice for me. Apéritifs are the traditional alcoholic drinks taken before a meal to stimulate a person's appetite and the Blanc de Blancs displayed a lemony, slightly developed, well-structured character that accomplishes that goal. The Lacroix Blanc de Blancs was re-poured, perfectly timed to the arrival of our Amuse Bouche of Oysters Three-Way, Hamachi Sashimi, Edamame and Soy Yuzu Souce. The marriage of shellfish and soy definitely allowed our taste buds to really focus on the subtle, bone-dry flavor and hints of citrus of the Blanc de Blancs. A very knowledgeable sommelier Eric Simonis, who hails from the Alsace region of France, filled us in on the subtleties and appreciation of wine tasting as related to food parings. "The basic concept of pairing wine and food is to complement and enhance the aroma and flavors of both the food and wine without either one overpowering the other", said Eric.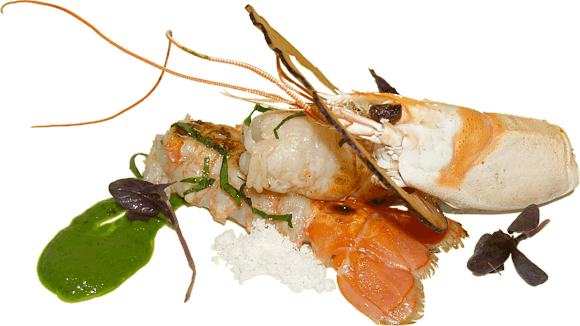 That said, Sommelier Eric slipped quietly away to retrieve the next wine to pair with our second course of Frog Legs with Green Curry Mango Soup. This interesting assemblage of ingredients promised fusing the prevailing standard component in classical French cuisine with a South East Asian staple. Typically, green curry paste is made by pounding in a mortar ingredients including shallots, green chilies, garlic, galangal, fresh turmeric, shrimp paste and salt, producing a unique color and spicy taste.
| | | |
| --- | --- | --- |
| | | Sommelier Eric returned with his personal recommendation for wine to be Châteauneuf-du-Pape Blanc, Domaine du Pere Caboche, Jean-Pierre Boisson, 2005. The wine does everything it is meant to do in that it challenges the exotic spices of the green curry with honey-laced aromatics typical of white Rhône. The palate becomes the proving ground for exploring the luscious fruit, which is sufficiently laced with tropical notes of pineapple and kiwi thus further harmonizing it with the entrée. |
We stayed with the white Rhône hoping to savor the velvet, soft acidity as the next course was presented as Wild Stripped Bass with Uni. I was impressed with the texture of the pan-seared skin of the bass as well as the juicy tender meat of the thick filet. This, combined with the light yellow color of the uni (sea urchin roe) indicated a freshness factor that produces a creamy consistent sweet taste. Some say eating raw sea urchin uni can garner aphrodisiac qualities for that person. We savored this possibility as long as we could before the arrival of the intermezzo of a fluted glass of house made sorbetto, to cleanse our palates and get us ready for the next course.
| | | |
| --- | --- | --- |
| Roasted Foie Gras with Rhubarb Jam and Passion Fruit arrived at the table just in time for a new wine from France, the Sauternes, Château Lafon, 2003. This wine will stand up to the rich foie gras as it has a big, flamboyant, over the top style displaying creamy honeysuckle and crème brulee notes. It has a personality that is full-bodied and fat, low in acid with great residual sugar and botrytis (noble rot). I felt like indulging and went sip for sip with every bite of the foie gras followed by the rhubarb compote and powerful acidic passion fruit. I couldn't conceal my guilt! | | |
We couldn't help but notice that upon returning from the bathroom, Brodie the Maitre d' had refolded Thorsten's napkin and placed it on the table. The time was right for Eric the Sommelier to present the Taja, Gran Reserva, Jumilla, Spain 1998 in time for the next course of Whole Roasted Squab with Wild Blueberries. Along with that a special order of Zubaton of Kobe Beef, Garlic Mousse in Merlot Wine Sauce was presented for scrutiny. The intense climate of the Jumilla region results in wines that are intensely ripe and fruity. Gran Reserva indicates that this is a wine of very good quality, which is aged for at least two years in oak cask followed by a minimum of three years in bottle. It is very smooth, with dark fruits, a jammy taste and it has a decently long finish. The wine went well with the ultra-tender massage pampered beef.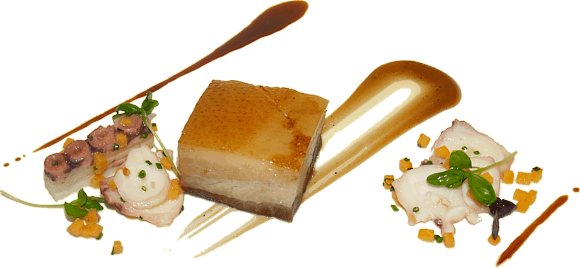 A long night was about to come to an end with the trio of desserts ascending to the table paired with a Banyuls, Grenache Noir, Clos de Paulilles, Languedoc-Roussillon, 2003. These handcrafted desserts included Cherry Vanilla Soda with Coconut Ice Cream, Lime Gelee and Verbena Rocks as well as La Tarte au Chocolat with Sweet & Sour Cherries, Triple Caramel Cream and Apricot, my personal favorite.
| | | |
| --- | --- | --- |
| | | The wine was sherry-like and had flavors reminiscent of tawny port with orange and grapefruit. Just when we thought it was time to retire to the bar, coffee and petits fours appeared in the form of the ever present French press-pot and the wonderful chocolate delights that we were told are available for sale in gift boxes branded with the Lacroix logo. Another classic touch in this wonderful place! |
"We were fortunate to have gotten to know 34-year-old Chef Matthew Levin, a graduate from
the CIA who was chosen to carry on Jean Marie Lacroix's legacy after his retirement." JL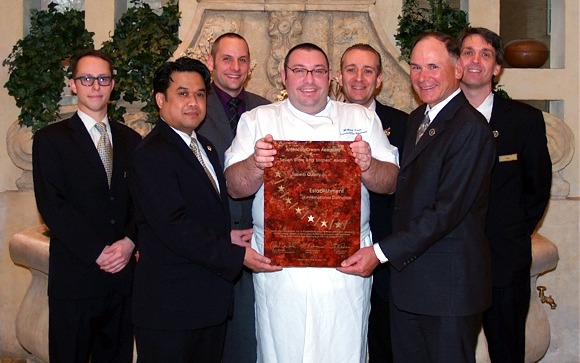 2007 Seven Stars and Stripers® - Award-Hand-Out Lacroix Restaurant - Philadelphia, USA
by John Lomitola & Thorsten Buehrmann

Editor: John Lomitola

Editor-in-Chief: Ingrid Lemme
© 2007 ~ Seven Stars and Stripes, Inc.