Kempinski Corvinus, Budapest - Hungary
Giardino Restaurat, Budapest - Hungary
City Tavern, Philadelphia - USA
British Airways - Business Class
NEXT: Tabacon Grand Spa - COSTA RICA
British Airways FIRST Class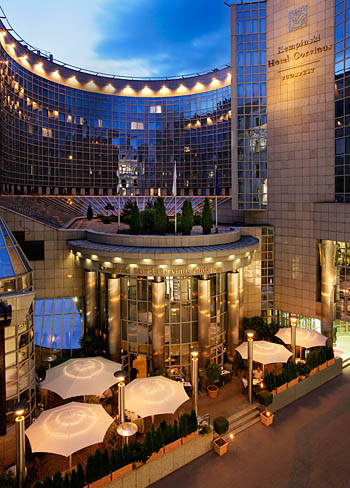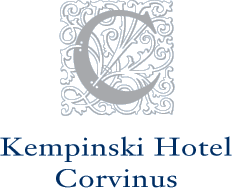 Budapest - Hungary

6 Stars and 5 Stripes
The Kempinski Corvinus Budapest Hotel is ideally located in the heart of all and in close walking distance to the particularly beautiful Danube river. As we were driving through tree-lined streets up to the hotel, I thought that 'dashing' might be the word that best explains my first impression of the curved facade set atop square stone columns of this luxurious hotel. With its contemporary edifice, the Kempinski Budapest Hotel Corvinus resembles the face of modern Budapest. Our accommodations were spacious, elegant and stylish and superbly decorated. The designers choose all color-coordinated, natural fabrics, framing the fine furniture of our residence quite eloquently. The bed was dressed with exquisite linens; a luxurious marble bathroom, ...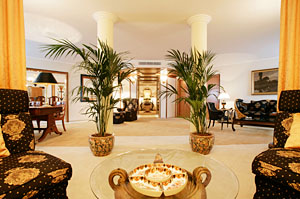 Budapest is a city made up of three towns, Buda, Pest and Óbuda and is known for its old world charm and cosmopolitan way of living since it is became evident that the historic part of the charming city blends easily with its modern, vibrant, hip younger sister. But Budapest's most breathtaking views, especially arranged by our Kempinski concierge from a helicopter, are also to be experienced from the viewing platform of St Stephen's Basilica, in close proximity to the hotel. Also close by is the Kunsthalle. GM Marcus van der Wal had chosen the Budapest Museum of Fine Arts, the largest of its kind in Hungary, as the place for the official Seven Star and Stripes Award presentation and gala dinner. ...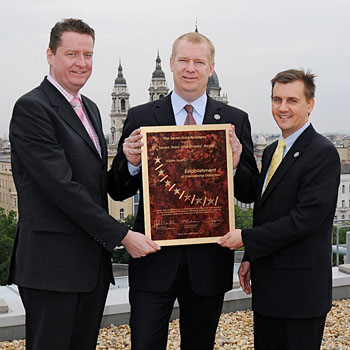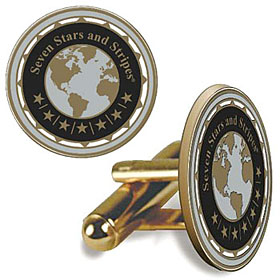 Seven Stars and Stripes Inc. now offers, for the first time, this extraordinary, custom designed 'His & Her Seven Stars Cufflink set. Limited Edition.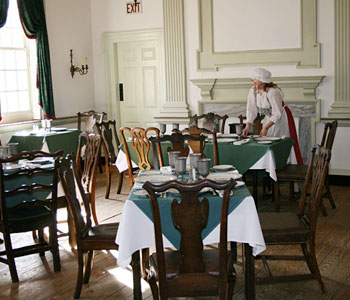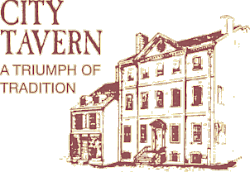 Philadelphia - USA

5 Stars and 5 Stripes
In a setting that served as the unofficial meeting place of the First Continental Congress in 1774 and subsequently the location of the celebration of the first anniversary of independence in 1777, City Tavern in the heart of the historical district of Philadelphia has seen its fair share of significant moments. Austrian born Executive Chef and owner Walter Staib, the indubitable master of culinary wizardry and PR, continues to carry on the tradition of 18th century Americana in a way fitting for a National Geographic documentary. Our cuisine experience at City Tavern included a resplendent display of period costumes worn by just about everyone in contact with the public including the entrepreneur himself Walter Staib. It is even rumored that the sweet potato biscuits being served on premise were derived from an original recipe used by Thomas Jefferson ...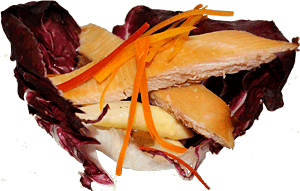 It is fitting that as a leader in the field of hospitality and cuisine, Staib has been the recipient of some of the most prestigious awards that exist in the culinary arena, including the most sought after recognition in Germany, the esteemed Knight's Cross of the Order of Merit of the Federal Republic of Germany. With all the accolades aside, we still had to test their mettle, inner strength, spirit and courage in the domain of culinary ingenuity while totally absorbing the whole dining experience as a special event. We started with a Smoked Trout with White Asparagus and Truffles, which we were told is produced in small artisanal batches by a local fisherman ...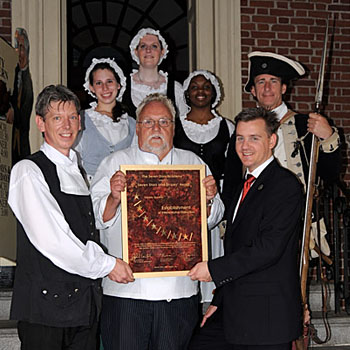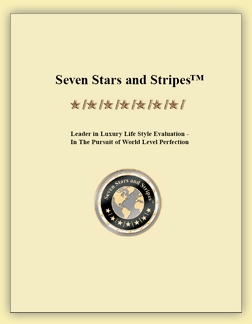 Our Seven Stars and Stripes™ book - 2003 to 2006 world-edition, is still available. Over 300 pages - featuring only the finest establishments and fascinating cuisine art images from around the world. All beautifully compiled in this full-color collector's edition. ISBN# 1-4259-4267-9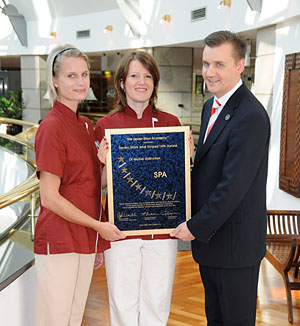 Congratulations: Kempi SPA - Budapest
In Next Gazette:
* Tabacon Grand Spa - COSTA RICA
* British Airways - FIRST Class
In The Press:
* VIP-Event: Budapest Museum of Fine Arts
| | | |
| --- | --- | --- |
| Dear Friends, | | |
I am delighted and honored to welcome three new members to our distinguished Advisory Board. First off is Seven Stars Lifetime Achievement Award 2008 recipient Chef Mr. Eckart Witzigmann. We also welcome hospitality experts Mr. Thomas Noll and Mr. Uwe Wagner. Last month we re-discovered Budapest, one of the most romantic, historic cities on earth. There we reviewed the gracious Kempinski Corvinus Hotel, its fabulous spa and its superb Il Giardino Restaurant. Congratulations to GM Marcus Van Der Wall and Residents Manager Peter Knoll for the well-deserved Seven Star Award event coverage in the Budapest Business Journal. Please save a week this fall or winter for the time of your life; Budapest is said to be the only 'real' Danube capital as the river flows right through the middle of this fairytale city. Then we reviewed British Airways Business Class (from London Heathrow to Philadelphia) and dined in old world style at Chef Walter Staib's City Tavern in the heart of the historical district of Philadelphia. Next we are reporting back from an exhilarating visit at the famous Tabacón Grand Spa Thermal Resort in Costa Rica, and will give you all the details in the next issue and then some.
I remain yours truly
| | |
| --- | --- |
| | |
| | |
| | Thorsten Buehrmann |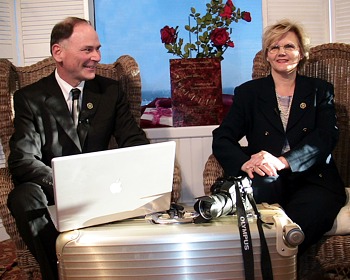 Watch the Seven Stars and Stripes
Award TV Show on
Hamptons Televisions WVVH World-Wide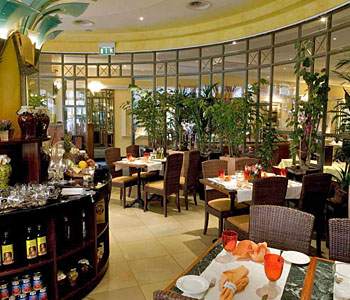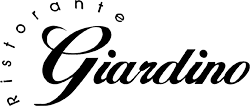 Budapest - Hungary

5 Stars and 6 Stripes
The Giardino Restaurant at the Kempinski Hotel Corvinus in Budapest is directed by Executive Chef Roland Holzer, an Austrian national with an impressive history as head of many of the top restaurant venues in world-class hotels around the world. It is through his inspired leadership that he has brought Giardino to the edge of imaginative culinary achievement and beyond. The Food & Beverage Manager Simon Zaglmann greeted us graciously and led us to our table all the while filling us in on some highlights of Hungarian history in Budapest. With the beautiful Danube River nearby, our view to the street in this upper-class neighborhood included the adjacent high-end shops like Hugo Boss and Cream fronted by a relaxed pedestrian walkway. Executive Chef Holzer reminded us that the right ambiance is only the beginning of our culinary journey and that he intends to satisfy our gastronomic wanderlust with his special talents. ...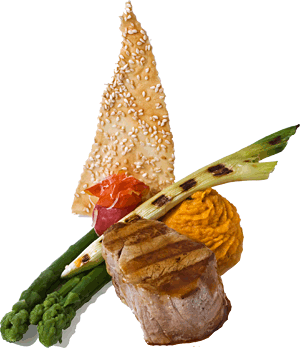 We began by observing the way Giardino presents wafer thin slices of Prociutto di Parma to its guests by slicing directly in front of them with an ornate machine located on a cart. This delectable treat was accompanied by beautiful cocktail of campari, gin and pink grapefruit, which worked to sooth the palate while allowing the prociutto to practically melt in your mouth. Next came the sublime flavor of Gooseliver Terrine with Tokaji Gelee, a decidedly sensual sensation producing perfect harmony with the addition of botrytised Tokaji essence, the national grape varietal of Hungary. A delightful bottle of Tokaji Aszu 1993 Six Puttonyos fit like a puzzle piece offering a supporting role of fresh berries and crème brulee. Next came the Chilled Baby Leek Soup with Balik Lachs, an unusually skillful fusion of subtle flavors and textures further heightened by the chilling process. A suitable bottle of Sauvignon Blanc Figula 2007, accentuated the restrained ...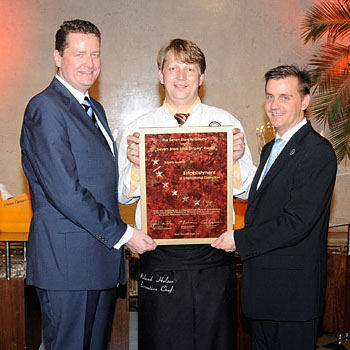 Seven Stars and Stripes Awards for: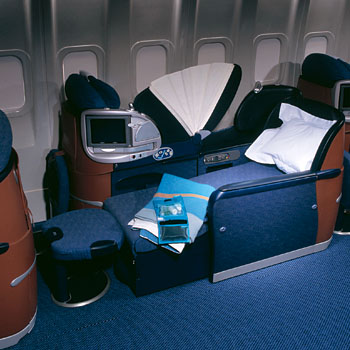 Business Class

5 Stars and 4 Stripes
Upon arrival at Heathrow's chic new terminal 5, all passengers (Economy, Business & First) were directed into one single shuttle. An eighteen-minute uncomfortable overfilled bus ride without a seat, really took its toll, especially on the older passengers. By now we were pleasantly surprised to find the comfortable business lounge in the old terminal four building in prefect shape and well equipped. So we are starting the review in London at the British Airways Business Class lounge, which looked fabulous, modern and clean and featured a well stocked bar. Here the food was not up to par, but getting online with our laptops was an easy task and the service overall sufficient. A business class should include a pleasant lounge in which one may relax and await his flight and expect a certain level of customer service. When we informed the customer representative at the counter about our most uncomfortable bus ride, his answer was short and more or less annoyed: "That's what it is…" ...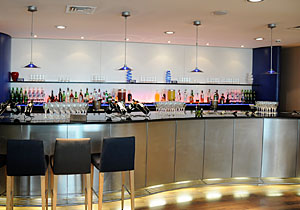 When we arrived on board flight BA 67, it became evident that we had missed one of the new jets. We were instantly offered a newspaper and a magazine; our jackets were hung up nicely while we waited for a drink. Then BA's gender friendly amenity kits were offered, and the crew prepared for takeoff. Though the seats were outdated, they could be configured as a full flat bed; unfortunately the cabin layout demanded every second chair to face backwards, not necessarily a comfortable direction or position. But privacy screens could be unfolded between the sleepers, and after supper we got a couple of hours of sound sleep under our belts and that made all the difference. The onboard cuisine menu was created after favorites of renowned chefs such as Liam Tomlin. Shaun Hill and Vineet Bhatia. I still can't get over the breadbasket fax-pas. Don't get me wrong, there were several nice looking rolls and breads to choose from. In most countries the heath department demands appropriate serving tools for 'public' breadbaskets. ...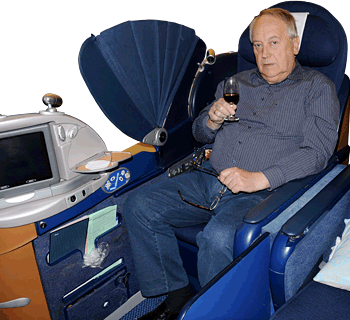 Congratulations to all, from your Guests and from Seven Stars and Stripes:
For your visible commitment to excellence.
For your willingness to be recognized for your latest innovations.
For your devotion to your staff and company.
For your ability to receive.
For your decision to raise the bar.