American Dream Cuisine™
Grand Restaurant

In Arosa, Switzerland
Receives

Extraordinaire - Society
5 Stars & 6 Stripes for
Extraordinaire - Society Cuisine & Service

The Ultimate Award:
Seven Stars and Stripes ™
At the end of our private meeting with Mr. Bircher, we were introduced to the Food and Beverage Director Mr. Jorge Andre Ferril who hails from Lima, Peru in South America. He was eager to bring us to the kitchen for an on-the-job meeting with Executive Chef de Cuisine Ulf Wein. The Tschuggen Grand has always been known for good cuisine but with the advent of Chef Wein the level of artistic quality and originality has multiplied tenfold.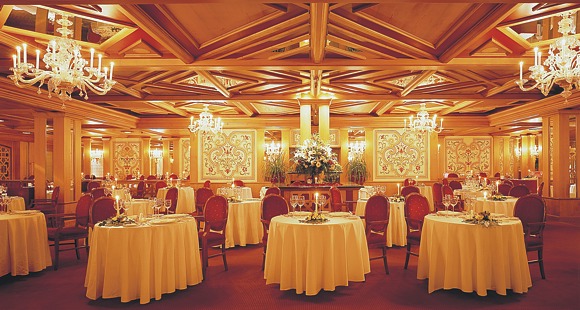 Our get-together was congenial even though 'live-fire' conditions prevailed and many busy team members were hard at work in their single-minded pursuit of 'total guest satisfaction'. This is perhaps the most important mission of any great successful food service operation, I mean after all it is the happy guest that contributes to your paycheck. That understood I was warmly greeted by Chef Wein even though a somewhat large group of Russian Chefs were in the process of taking a kitchen tour in the hopes of gleaning some specialized information from the Master of his domain.
Chef Wein's demeanor is low-keyed and respectful to his support staff as was demonstrated throughout his interactions with his fellow team members. After all, he is an extremely experienced professional who worked his way through the ranks in some of the best restaurants in Europe gaining honor and praise and Executive Chef status at Swissotel, Victoria Park Plaza Hotel both in London and then finally Tschuggen Grand. Here he is responsible for 4 restaurants and a brigade of 25 chefs and 10 stewards with his goal to 'supply the guests with an outstanding dining experience in all outlets'.
Things were starting to heat up in the kitchen now with orders flying out of the printer like confetti at 'Carnival'. Still Chef Wein had the state of mind to be able to carry on an engaging conversation with us while keeping his hand on the pulse through his peripheral vision.

We offered to leave him to his duties at hand but his gentlemanly instincts overruled us and he invited us to share a glass of one of his favorite aperitifs, Franciacorta "Ca' del Bosco" Brut 1994. His choice of this exciting 'new wave' Italian sparkler proves that his incredible depth of knowledge dosen't stop with cooking.
Hugh Johnson of the 'World Atlas of Wines' said "The finest wines both sparkling and still are from the Zanella family estate of Ca' del Bosco".
It starts in the gentle hills of Brescia south of Lake Iseo in the noble province of Lombardy where the growing conditions are carefully nurtured and respected to yeald the precious sparkler known as Fraciacorta.
The color was a light and delicate yellow with hues of green pea. A floral scent of lime and apple blossom gave way to dried fruit, highlighted by vanilla and oak. On the palate it is balanced and refined presenting notes of ripe furit.
The award winning Franciacorta worked wonders in setting the stage for the serious business of the impending cuisine review that Chef Wein and his staff were organizing for us now. Let us start with one of the specialties of the kitchen,
Appetizer I:

Thin Sliced Smoked Salmon with Dill and Fresh Greens Primavera.
This simple preparation can be taken for granted without knowing the tremendous care in effect to insure that it starts with freshly caught wild salmon, filleted and gently smoked for hours over specially primed beechwood.

Chef Wein personally supervises the whole operation to insure that the finished product is delicate, moist, tender and flavorfull. It was!
Next came somewhat of a surprise in the form of Appetizer II: House made Sauerkraut Soup with Caraway. This selection proved to be a hearty redition of an old staple that you might find amoung your grandma's recipes. This soup is fortified with a slightly smokey ham bone, peppercorns and thickened with potatoes for an appealing mid-winter, top of the mountain recharger.
Appetizer III:

Aspagus Salad with Minced Egg and Chives
- This is a culinary delicacy featuring white asparagus, which is an absolute favorite in the early spring in Europe. White asparagus are more tender, milder and nuttier in flavor than their green brothers are. This combination includes the two types of asparagus both whole and sliced together with minced hard cooked eggs and tangy fresh chives.
Main Course I:
Savory Herb Crusted Pan Seared Sea Bass with Dill Nage -
The purpose of encrusting allows the fillet of Sea Bass to retain its vital, flavorful juices while being cooked. Using his own mixture of fine herbs, Chef Wein applied just the right amount of cooking time to present the fillet in perfect form atop a feathery light aromatic broth. On the side rested a 'timbale' of roasted potatoes, a must when eating anywhere in Switzerland.


2000 Malanser Pinot Gris, Ruth & Georg Fromm, Malans -
I really loved this wine for its honesty and refinement. "Our wines reflect the quality and character of the Earth, the Culture and the People" is the way these winemakers see themselves through their commitment. The Pinot Gris's full bodied structure revealed hues of light yellow with aromas of yellow rose and honey.
Main Course II:
Risotto with Prawns -
Risotto is an Italian cooking technique used for Arborio rice that involves stirring hot liquid little by little into the rice, which creates a very creamy sauce naturally. Chef Wein uses his own laboriously made stocks to strengthen the rice while embellishing the 'al dente' texture with juicy prawns.


Grain Blanc, Maria Therese Chappaz, La Liaudisaz, Fully Valais -
An elegant dry wine from the French part of Switzerland, offering hues of green lemon, with aromas of pineapple laced throughout. The rather subtle flavors of rhubarb and grapefruit are evident leading to a soft finish.
Main Course III:

Grilled Veal Chop Sauce Demi, with Courgette Ramekin stuffed with sautéed garden vegetables -
A carefully prepared delightfull rendition of a menu standard. Each chef prides himself on his timing and technique and Chef Wein's delivery was flawless. The concentrated demi-glace showed perfection as its making from scratch takes about 25 hours and it provided rich, velvety meaty flavor to augment the delicate veal.
2000 Castello di Cantone, Rosso del Mago Merlot del Ticino, Angelo Delea, Mendrisio -
Aged for 22 months in new French oak resulting in a purplish red color delivering a spicy perfume with a taste reminiscent of mature berries.
It was time to congratulate Chef Wein on his magnificent cuisine preparation although I think he considers it just another day in the office. His skill and personal dedication is evedent with every item that comes out of his well run kitchen. We saw the door to the kitchen open slightly and someone grabbed a quick peak outside. Suddenly Chef Wein appeared followed by his Head Pastry Chef Stephan Heldrich carrying our dessert which resembled a firework displayed frozen in time

Please take a closer look
Dessert:

Strawberries and Rhubarb with House- Made Tahitian Vanilla Ice Cream decorated with Spun Sugar Swirls


2002 Gantenbein Pinot Blanc, Daniel Gantenbein, Flaesch-Graubuenden -
This wine is the product of the careful pressing of above average "Weissburgunder" grape clusters and the lowering of the alcohol content to create a sensational result. The aroma is similar to a reisling suggesting mature berries, tropical fruits and lime blossoms. On the palate it is soft and silky while melting like butter with a long finish.
Our exceptional dining experience at The Grand Restaurant under the nurturing care of Executive Chef Ulf Wein left us in a somewhat unfettered state of mind. We decided to have a quick nightcap at the subdued and romantic Grand Bar. We walked in to the soft sounds of live music being preformed by a lovely Italian group. Patrons were gathered in little groups around comfortable banquets and low tables sipping cordials while enjoying small talk in a myriad of languages. We continued toward the becon created by the welcoming smile of the head bartender and ordered two glasses of 'Cuore di Noce' Angelo Delea, a liquor made from the hulls of green walnuts, spices and aromas, macerated for a long time in brandy, making it a pleasant digestive liquor.
by Phillys & John Lomitola

Editor-in-Chief: Ingrid Lemme