Abu Dhabi, U.A.E
Society - Extraordinary
May - 2011
6 Stars & 5 Stripes
Cuisine & Service
The Ultimate Award:
Seven Stars and Stripes®
It's a customary offering of Abu Maan dates and fragrant spiced coffee that greets all who come to eat at Mezlai Restaurant (CLICK HERE) at the Emirates Palace. It is evident that this being the first restaurant in the world featuring Emirati Heritage cuisine, all persons who enter are considered guests and welcomed in this traditional way. Standing while enjoying this welcome treat is not an option and you are encouraged to sit and relax in a comfortable nook of cushy Bedouin style sofas and pillows. You'll notice the walls (CLICK HERE) adorned with Bedouin Kunjah knives with their peculiar angular shape as well as palm fiber baskets, mats and typical pyramid shaped covers that desert people used to protect food from flies.
| | | |
| --- | --- | --- |
| Other objects such as a timeworn millstone and a fresco depicting desert life from the beginning are proudly on display, as it seems there is a resurgence of Emirati pride in their almost forgotten roots. After all, it is not easy to call to mind visions of dromedaries drinking at oases when looking at the Emirates Palace from the beachfront or the skyline of the cities of Abu Dhabi or Dubai. | | |
The tradition continues after a brief pause for the welcome refreshments (CLICK HERE) and as you walk into the restaurant past window treatments resembling desert tents you are seated on furniture with design elements that evoke a sense of Arabic geometric patterns and shapes. It is obvious that Kempinski management had spent a lot of time considering every last detail of Emirati pride of their history, which although unique is often overshadowed by their larger neighbor Saudi Arabia. An open kitchen, spotless and modern is the focal point for all to see and a team of 12 chefs is under the leadership of Executive Chef Ali Salem Ebdowa, a man with extensive experience in the cuisine of the Arabian Peninsula and the Middle East.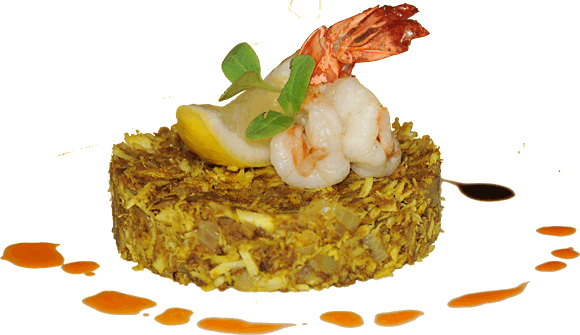 Mezlai Restaurant - Cuisine
Upon being seated we are presented with a typical refreshing Emirati beverage of pineapple-passion fruit juice with pomegranate seeds along with some dipping sauces made of mashed eggplant, onions, garlic, lemon and tahini (sometimes called Baba ghanoush) and Hummus, a puree made with chickpeas, garlic, lemon and tahini. We relished this lite snack with artisanal breads, including Emirati Rgag bread wonderfully produced by Executive Pastry Chef / Master Baker Josef Teuschler who handles the baking for all the restaurants at the Emirates Palace.
| | | |
| --- | --- | --- |
| | | Emirati cuisine features seafood as a mainstay and being surrounded by the waters of the Arabian Gulf, it is easy to see why. Shark Velute with Garlic, Saffron and Cream (CLICK HERE) didn't quite tell the whole story from the menu description until the dish was presented at the table. A rather large plump mussel garnished with delicate strands of garlic chives, arrived sitting atop tender white morsels of shark meat. |
The server then began to pour a silky smooth stream of velouté sauce, golden yellow and one of the four 'mother sauces' of international cuisine. The velvety stream continued until the shark meat was covered and the mussel was left above the liquid as if it were an Emirati Shasha, a traditional fishing vessel floating atop a golden sea (CLICK HERE). More local cuisine including Grilled Lobster with Calamari and Shrimp proved to be juicy and plump with delicious caramelized grille marks decorating all exposed meaty sections evenly.
| | | |
| --- | --- | --- |
| This was followed by the Bedouin specialty of Lamb Shoulder 'Medfoun' consisting of marinated and roasted milk-fed lamb, topped with a thick compote of chickpeas, garlic and tomatoes and seasoned with aromatic spices | | Mezlai Restaurant - Cuisine |
Next came two of my absolute favorite sweets for dessert; a crepe-style pancake of saffron, cinnamon and cream cheese honey orange sauce called Shebab, and Betidha, made as a sort of date, saffron and cinnamon cookie sandwich filled with fresh cream. With awesome treats like that it would make it a lot easier to live out in the desert for a while. We compliment Chef Ali for his adherence to the traditional cooking techniques and recipes of the historical peoples of the Emirates as modern times tend to overshadow the past before these special rituals can be saved.
by Edmund & Thorsten Buehrmann

Editor: John Lomitola

Editor-in-Chief: Ingrid Lemme
© 2011 ~ Seven Stars and Stripes, Inc.