Berlin - Germany

World Level Perfection
Februar - 2012
7 Stars & 7 Stripes
Overall - 'Hotel & Service'
The Ultimate Award:
Seven Stars and Stripes®
We are on the way to the capital of Germany to review its most famous hotel, the legendary 'Hotel Adlon Kempinski Berlin' located at the boulevard 'Unter den Linden' at the famous Brandenburg gate. We took the ICE train, which connects all major German cities and offers table dining service. Miss Joanna Dziersk a young lady well-dressed in red from the Hotel Adlon, met us at the train, and the bellman that accompanied her took our Rimowa luggage over from the door. The timing was perfect, as if they knew where our first class cabin would come to a stop.
A BMW 750 IL was parked at Berlin's 'Hauptbahnhof', the main entrance and here under a blue, spring like sky we were officially welcomed with a glass of Dom Perignon by the attractive ladies in red. The luxurious BMW town car was equipped with built-in massage functions and arrived within a few minutes at the Brandenburg Gate, which is situated next to the Hotel Adlon's main entrance. The sight of the Hotel Adlon Kempinski Berlin is breath-taking and will send a shiver up the spine of even the most discerning traveller.
As the story goes, a wealthy wine merchant and restaurateur Mr. Lorenz Adlon was determined to build a fine hotel on the Pariser Platz at the Brandenburg Gate and asked German Emperor Kaiser Wilhelm II for help to intervene with the owners of the Palais Redern, a landmark designed by Karl Friedrich Schinkel, a Prussian architect and city planner. The Emperor, who a great supporter of progress, cleared the way for Adlon's purchase of the Palais, and its subsequent demolition. The Adlon, first opened on October 24th 1907 and was quickly acknowledged as one of the most beautiful hotels in the world with specific praise for its architecture, artistic design and technical advances.
It was one of the most famous hotels in Europe between the two World Wars offering unheard-of modern amenities to high paying guests and celebrities like Greta Garbo, Charlie Chaplin, Herbert Hoover, Josephine Baker, Marlene Dietrich, Thomas Mann, Enrico Caruso and numerous Heads of State - located only blocks from the Chancellery and other government ministries. Hotel Adlon historical view (CLICK HERE to take a closer look). The Adlon hotel continued to operate throughout World War II, although parts were converted to a military field hospital during the final days of the Battle for Berlin. Miraculously the hotel survived the war without any major damage until May 2nd, 1945 when a fire broke out in the wine cellar ignited by carousing soldiers, which left the main building in ruins.
| | | |
| --- | --- | --- |
| The President of the Federal Republic of Germany, Dr. Roman Herzog re-opened the Hotel Adlon in 1997. After more than 50 years, the Adlon was restored and inaugurated once again at its original location in Berlin's most historic center. This hotel has had its ups and downs and has gone through different stages and finally reached its true potential, of a Seven Stars rating through the tireless and innovative efforts of its managing director Oliver Eller, his hotel manager Franck Droin and their ambitious teams. Mr. Eller, a Cornell graduate, took over the management of the Adlon in August of 2010 and hired as his hotel manger a graduate of Les Roches, Switzerland, Mr. Franck Droin (CLICK HERE) shortly thereafter. | | |
The Hotel Adlon Kempinski Berlin is the only hotel in Germany that has its own rose (yes, the flower). The dedication of the unique Adlon Rose occurred in July 2011 in the presence of managing director Oliver Eller and Felix Adlon, the great grand son of hotel founder Lorenz Adlon, rose expert Leif to Baben, Rosenkönigin (rose queen) Franziska Maiwald and florist Mario Weidner as well as Felix Adlon's wife Nina and their six children. Five girls and a baby boy who is named after his famous great-great-great-grandfather Lorenz Adlon. Ms. Nina Adlon, a soprano, sang during the dedication the Rose overture of Richard Strauss' 'Der Rosenkavalier', 'The Knight of the Rose'.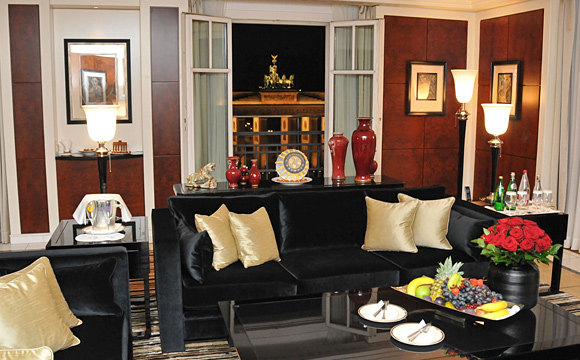 Hotel Adlon Kempinski Berlin - Presidential Suite
Entering the main lobby of the Adlon foyer on an early afternoon is a feeling that one must truly experience. The lobby has been decorated with gold plated ceilings, French windows and a stained glass dome based on a painted ceiling design by Carl Friedrich Schinkel. Eloquence and comfort is sipping tea or enjoying a cool cocktail from the bar; history repeats itself. High Tea is a well respected ceremony at the Adlon which one should try with some Petite Fours or a piece of these incredibly delicious torts with freshly whipped cream on the side. Guest who are checking in at the main counters are all offered a glass of champagne with a splash of the Adlon Rose Water, which is really unique and helps to set the mood. It is delicious and allows one to relax while listening to the splashing of the elephant fountain or the hidden piano music player from the Bel Etage above.
| | | |
| --- | --- | --- |
| The Adlon was buzzing; 'The Grand Dame' is the place to be. We were guided to one of the three elevators and then up to a stunning presidential suite. In addition to the three presidential suites the Adlon features close to four hundred rooms and suites, several banquet and ballrooms and restaurants. | | |
The decor within the suites as well as the rooms that we get to see were impeccable, part of the walls and doors were covered in mahogany and the classy furnishings were made of mahogany or cherry wood and decorated in eloquent style. One of the interesting technical highlights is the electronic key card system, which simultaneously turns on the lights and air-conditioning and opens the door. The Adlon is also famous for its "Welcome" chocolate and sugar art, which is not just delicious but also most creative and delightful. Designed by Sous-chef de Patisserie Ms. Tina Herzog, these magnificent sweet creations never failed to impress us or anyone else, as a matter of fact. Ms. Tina learned her sweet trade in Dresden and keeps the guests of the Adlon in sweet delight since several years already. Adlon - Pastry Art (CLICK HERE to take a closer look)
| | | |
| --- | --- | --- |
| | | Private butler service comes with the rental of any of the Presidential suites, which are located in a state of the art high-security wing; all other suites offer butler service upon request. We understand why stars, celebrities and heads of state reside at the Hotel Adlon Kempinski Berlin; the hotel offers guests discreet access to private parking and most venues. Practically all reservations and arrangement may be made through a personal butler who converses with the concierge directly. A great butler works instinctively and suggests discretely and is practically non-present, however he / she is missed when he /she is not present. |
Mr. Ricardo suggested to open the welcome bottle of Dom Perignon, which was placed on the living room table, a 2002 Andy Warhol edition with Warhol designed champagne glasses …. "since it was already so nicely chilled" …. and maybe just a little plate of lobster bisque or maybe the stone-mushroom soup on the side?" As it turned out Mr. Ricardo was a mind reader and had instructed the kitchen to prepare a delicate 'soup to nuts' 'Mittagessen' for us. The entire meal was delivered to the suite after which Mr. Ricardo took over. Soon, this master of personal service invited us into the traditional dining room where he served his most delicious and well-paired lunch, prepared by Executive Chef Leonard Cernko and his team. (Please CLICK HERE to take a closer look).
In another example of the butler service at the Adlon, our shirts were professionally laundered and suits and ties dry-cleaned and neatly folded during our entire stay. Our Rimowa suitcases were expertly packed with clean shirts that were neatly paper wrapped for the trip home. It's the little things that make all the difference, just like the herb sachets in the wrapping and the shoes that were expertly shined. His service was authentic, kind of like flying a private jet, once tried one hardly wants to settle for standard 1st class. Mr. Ricardo's level of service was truly exceeding all our expectations.
| | | |
| --- | --- | --- |
| Instead of normal switches, the rooms are equipped with easy-to-handle control panels (all nicely disguised in the upper drawer of the night stands) with which the circulation and humidity of the air and the room temperature can be regulated, and the nightlight for room and bathroom can be switched on and off - A gadget one really finds likeable, essential and easy to use. We found the bath facilities most luxurious and functional, with heated towel bars, a separate shower and steam and a separate room with toilet and bidet coupled with bath amenities by 'Wunderkind'. | | |
Since many of the attractive historic sites are within walking distance from the Adlon, you may enjoy a do-it-yourself sightseeing tour equipped with a camera and maybe even the Black Card. There are plenty of elegant shops, boutiques and jewelry stores that you may pass on the way. After a day of sightseeing, a visit at the Adlon Spa seems almost essential either for a relaxing massage or a manicure or chic Aveda hairstyle for an elegant dinner at the Lorenz Adlon Esszimmer (CLICK HERE). The Adlon Spa was clearly designed with the five elements of Chinese medicine in mind: wood, fire, earth, metal and water, which are the basics for wellbeing and inspire ones emotional response and promote tranquility and relaxation.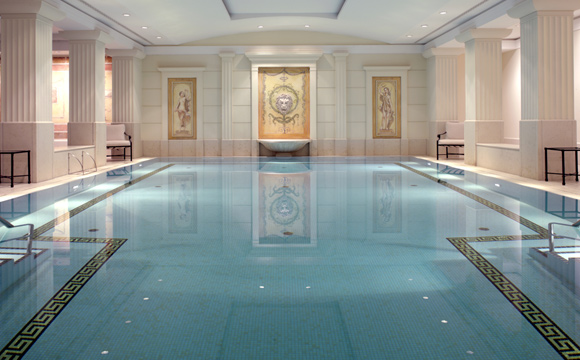 Hotel Adlon Kempinski Berlin - Pool
The Adlon Spa team offers with most gracious smiles a multitude of facial and signature spa treatments that are practiced in the privacy of spa suites; Yoga with Indian Yoga trainer Vijay, as well as a Watsu pool. They have a couple of very talented hair stylists and a cutting edge make-up artist! – The Hotel Adlon has a state-of the-art gym facility and sauna as well as a an attractive heated indoor swimming pool, Jacuzzi and lounge area that is family friendly and well attended. The spa and pool floor is accessible through a private elevator, which allows the guests to enter in their bathrobes and slippers and in privacy.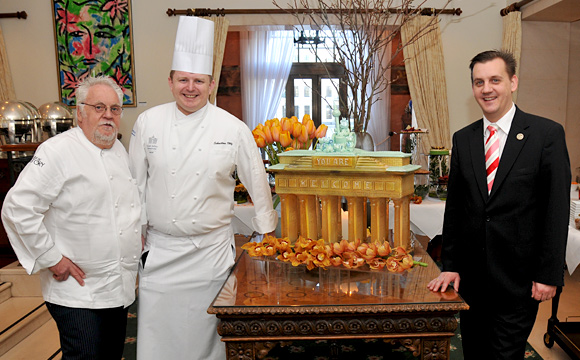 Walter Staib & Sebastian Voelz & Thorsten Buehrmann
Every Sunday the Restaurant Quarré serves a sumptuous feast of amazing foods with unparalleled views of the Brandenburg Gate, from 12.30 noon to 3:30pm. The Sunday Champagne Brunch at the Adlon is worth an event, a celebration for the palate, presented and served with expert skills and gracious smiles and a never-ending stream of Moët & Chandon. This most opulent display of traditional and regional gourmet cuisine, including fresh stone oysters and lobsters and the most creative desserts will not only entice any palate, but it is the perfect setting for a special celebration. Reservations are strongly encouraged. The first impression when one enters the Restaurant Quarré (CLICK HERE) is a sweet creation of the Brandenburg gate made entirely of chocolate, with several little bears on top welcoming all guests. From here the view is instantly drawn to a sinful display of tortes, tarts, petite fours, pralines, chocolates and little cups filled with puddings and creames, all decorated with fresh berries or eatable gold. (Please CLICK HERE to take a closer look.)
We were quickly guided to a table with a stunning view of this ever-fascinating Brandenburg Gate. White, spotless aprons, table linens and napkins – starched, perfectly pressed - delightful. For a quick start we adored the fresh, crackling house-baked and hand cut breads with a soft French salted butter, specialty cheeses and a to die for Foie gras, all so full of natural taste that each precious morsel will not easily find comparison. Some of our favorite hot dishes where the sliced baked rosemary duck with divine typical German red cabbage and the baked goose chockfull with fresh farm apples and herbs, the mouth-watering baked whole fish, wrapped in cucumber slices resembling gills… and then some. The incomparable service under the direction of Mr. Hagen Hoppenstedt was incredibly skilled and very professional, but at the same time warm and personal.
| | | |
| --- | --- | --- |
| | | Managing director Oliver Eller took the Hotel Adlon over just a couple of years ago and has since then brought more then just attention to Berlin's landmark hotel. Much of the Liam Neeson psychological thriller 'Unknown' was filmed at the Hotel Adlon and kept Mr. Eller, PR Manager Ms. Sabina Held (CLICK HERE) and their team in action for quite a while. There is a pride felt at the Hotel Adlon that seems to be ingrained in every single employee that we came in contact with. |
Take for instance Adlon's bar manager Mr. Franz Höckner, celebrated as 'Bartender of the Year'; this man is a find. There is no doubt that the heart of the Hotel Adlon Kempinski is the lobby lounge & bar. This spot is the ultimate hangout for people to meet, greet and watch. Franz Höckner runs the show and keeps the drinks and the conversation flowing, and his team inspired. Mr Eller must get a special mention for hiring the most talented people.
Oliver Eller, of German decent, earned a degree from the Cornell School of Hotel Administration in Ithaca, USA and has since then worked in Egypt, New Orleans, Atlanta, Wolfsburg and Moskau, just to name a few. Mr. Eller, a mover and shaker in the world of affluent hospitality, received the 'Seven Stars and Stripes "Special Recognition" Award' for raising the bar for the Hotel Adlon Kempinski Berlin to a Seven Star Hotel while overseeing nine other properties of the Kempinski Hotels in Germany.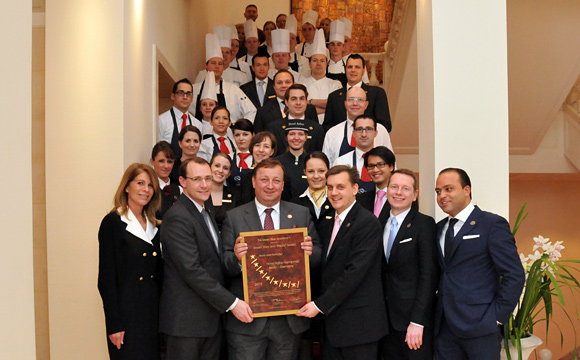 Hotel Adlon Kempinski Berlin - 2012 - Seven Stars And Stripes - Award
The Hotel Adlon Kempinski Berlin received full accolades of Seven Stars and Seven Stripes on February 23rd, 2012. We are welcoming the Hotel Adlon Kempinski to the distinguished group of the officially recognized 'Seven Star Hotels of the World™'. The award ceremony was an exquisite and elegant affair, well attended by Berlin's High Society, members of the press, Seven Stars and Stripes advisory Board member and TV host Walter Staib ('A Taste of History', which he filmed on location), a Trustee of the Culinary Institute of America, Ms. Ingrid Lemme, Host of the 'American Dream Show' (Ingrid host the Seven Stars Travel Show™ on location (CLICK HERE).) and a guest appearance of Europe's star artist Mr. Stefan Szeczesny (CLICK HERE) whose extraordinarily colourful, abstract paintings are exhibited at the Adlon's Restaurant Quarré.
by Thorsten & Edmund Buehrmann

Editor: Ingrid Lemme

Editor-in-Chief: John Lomitola
© 2012 ~ Seven Stars and Stripes, Inc.