Park Hotel Sonnenhof
Vaduz - Liechtenstein
Society - Extraordinary
August - 2005
6 Stars & 5 Stripes
Overall - 'Hotel & Service'
The Ultimate Award:
Seven Stars and Stripes®
The signpost up ahead warned us of an approaching Swiss military installation sitting directly on the road leading to the valley of the Rhine River and the border of the Principality of Liechtenstein. A quick glance at the map confirmed that we had in fact chosen the correct road to the city of Balzers, the southern entryway to this tiny country from neighboring Switzerland. We had just found our way through 'Heidiland', a picturesque area surrounded by jagged peaks and forested slopes in which lived the real little girl named Heidi and her family made famous in the US on the silver screen. It was easy to be lulled into a sense of tranquility and harmony by the incredible scenery playing itself out as we wound up and down these strikingly beautiful Swiss Alps. "Look, here comes another military truck, this time with soldiers in it!" my wife the navigator announced.

Sure enough the military traffic was getting a little busier it seemed when suddenly there it was just as we rounded the next turn, a large 'Medieval' fortress with a couple of Swiss soldiers guarding the front gate. "Now what are we going to do?" Phyllis asked rhetorically as if I really had a solution. I slowed to a crawl and approached the gate with caution hoping not to raise any suspicion that may trigger a search or worse maybe a gunshot to the tires. Nothing could have been further from reality in this peaceful part of the world as the soldiers just waved at us and motioned us to proceed through the fort to the other side where the road continued down the mountain to Liechtenstein. "Maybe they were armed with Swiss knives!" Phyllis said in the excitement. I had no comment at seeing the fashionably dressed manikin-like unarmed guards although I thought I saw them wearing Swatches.

Driving down the mountain was a breeze now as we felt buoyed by our near miss experience of the fort. We paused briefly at the side of the road to admire the incredible view of an ancient castle perched at the top of a smaller hill located at the bottom of the Rhine valley just as a blazing motorcycle came roaring by in front of us. Although we couldn't tell where, we knew that the border of the Principality lay somewhere not far from us and we hurried back on the road now as to make it to the capital Vaduz, and the Park Hotel Sonnenhof before dark.

It didn't take long to reach the capital of this incredibly small 62 sq mile postage stamp nation that is still romantically ruled by a charming storybook Prince. "It says somewhere in our literature that he actually lives in a castle", my wife noted reading from our guidebook. We spotted what looked like the Prince's castle just above as we followed the signs to our destination the Park Hotel Sonnenhof nestled comfortably in the domain of this regal mountain monarchy.
We parked our car adjacent to the hotel entry next to a long line of neatly manicured but bare trees the likes of which you would find in a Vincent Van Gogh landscape. We noticed immediately that although it was March in Liechtenstein the flowers were in full bloom already and the scent of their perfume flourished.

As if that weren't picturesque enough, we were overwhelmed with the view of the sheer mountain side with the castle juxtaposed behind us above the Rhine River and its plain running in front of us towards the sun setting in the west. Talk about 'first impressions!'

Our home for the next few days proved to be a very enchanting and revitalizing place as we were about to find out upon checking in at the reception of the Sonnenhof. This is the domain of the Real family and we were scheduled to meet the chief of operations, executive chef and owner Hubertus Real. The charming receptionist Juliane Funke, announced that she was expecting us and quickly offered a refreshing glass of local wine while she called Mr. Real out of the kitchen to come and greet us.

Emil & Jutta Real
Silje & Baby Mikkel & Hubertus Real
Park Hotel Sonnenhof VIP-Tour Upon being introduced we quickly became friends as I think Hubertus can feel comfortable chatting with royalty as well as the average patron of his quaint little corner of paradise. Over a couple of glasses of superbly delicate local "Grüner Veltliner" from the neighboring vineyards we found out that the Park Hotel Sonnenhof started its history as a private residence in 1917 and then run as a guest house since 1952. Emil and Jutta Real, parents of Hubertus and newly wed at the time carried their own personal love affair over to include a deep feeling of affection for this unique domicile. "It was a wonderful afternoon. We sat in the sun-drenched garden of this villa with the little town of Vaduz below us. This could be the beginning of a story" believed Jutta Real and it was.
| | | |
| --- | --- | --- |
| Please take a closer look | | The Park Hotel Sonnenhof today is fully modernized and renovated according to GM Hubertus and has a solid history of catering to discriminating patrons including royalty, world leaders, stage and screen personalities as well as anyone simply looking for the best that money can buy. "Right from the start our aim was to always be one step ahead and to offer only the very best to our discerning clientele", explains Jutta Real. |
A quick walk towards our suite brought us past a wall of photos portraying family members posing with Sylvia and Carl-Gustav of Sweden, Queen Fabiola of Belgium, members of the royal family of Monaco, the son of the Japanese emperor, the Grand Duke of Luxembourg and his family and heads of state from various countries including Vladimir Putin of Russia. A very impressive start and as we know, in this business consistency is the key to success and the Park Hotel Sonnenhof under the guidance of the Real Family has earned that respect. While belonging to the Relais Et Chateaux association of excellent hotels and restaurants, the Leading Hotels of the World and earning 16 points for cuisine from the prestigious GaultMillau Guide, it all adds up to hard work and sacrifice in transforming Sonnenhof into a first-class venue.
We would soon find out to what degree Hubertus has taken the Park Hotel Sonnenhof in terms of cuisine creativity and expertise as soon as we check-in to our suite and prepare for our evening culinary review. But first a quick tour of the premises to introduce ourselves to the luxury and stateliness that is to be our home for the next few glorious days.
Park Hotel Sonnenhof VIP-Tour
The late afternoon sun filtered down through the leafless branches of specimen trees surrounding the well organized landscape of the Sonnenhof grounds. Little nooks with comfortable chaises and cushioned chairs revealed themselves in the most sought after places.

Please take a closer look
Guests looking for quiet time for reading, painting or just meditating could do so surrounded by the caress of towering alpine peaks bathed in the dappled warmth of south facing sunlight. Service personnel pride themselves on being omnipresent yet inconspicuous, and summoning them for a warm coffee or refreshing mineral water requires no more than the turning of your head. Our suite was surrounded by a meadow of multihued crocuses and daffodils fighting for the attention of those patrons lucky enough to pause and appreciate the explosion of the 'Monet'-like symphony playing in front of them.

We lingered over at the surreal stage at our terrace doorstep but found our eyes being drawn irresistibly upward in the direction of the shimmering alpine oasis of snowcapped mountains radiating the golden ebb of the setting sun. What a sublime place to escape to if only for few days. The sun had set quickly and we thought we observed the 'green flash' although everything at this point seemed a bit surreal. We eagerly prepared now to concentrate on our restaurant cuisine review featuring the creative talents of Sonnenhof's favorite son, Executive Chef Hubertus Real. We asked him what his approach was in his preparation of the daily cuisine for Sonnenhof's discerning guests. "I will go to any lengths to captivate my guests with gastronomic creations", says Hubertus Real, "and I take special delight in meeting their specific requests". I guess that sort of sums it up!

John Lomitola & Hubertus Real

American Dream Cuisine™
Sonnenhof

In Vaduz , Liechtenstein
Receives

Society
6 Stars & Stripes for
Society Cuisine & Service
The Ultimate Award:
Seven Stars & Stripes™
Darkness came quickly and it was a cool starry night when we tore ourselves away from the spectacle of what had unfolded in front of our suite as the sun receded behind the massive ring of mountains. We walked slowly through the luminescent hallways of the Sonnenhof that seemed to reflect the feeling of tranquility by which we could still savor the fleeting experience of the earlier vision at our doorstep.

Maitre D' and expert Sommelier Oskar Schiller who hails from Austria, greeted us warmly and escorted to our table past many well dressed patrons speaking in hushed tones. Amid the lively sounds of silverware clinking against bone china we felt reassured that our dining experience would be a good one.
Oskar now offered us the menus along with two lovely glasses of Laurent Perrier Brut Non-vintage, agreeable and perfectly blended combining 45% Chardonnay, 40% Pinot Noir, 15% Pinot Meunier varietals. While sipping this easily drinkable champagne we noticed its pale gold color,
fine beads and delicate yet complex nose wafting citrus with hints of white fruit.
Its remarkable intensity delivers a fruity nose outstandingly mimicking the subtleties of its chardonnay and pinot noir origins. We observed the brilliance of its goldenrod yellow color before savoring the excellent mousse and fine bubbles showing notes of pear and white peach.
We lingered a while to appreciate the lengthy but harmonious finish before we noticed Maitre D' Schiller approaching the table.
Our tranquility seemed overwhelming while we examined the menus as if in a daze after a full day of relaxed enjoyment at the Sonnenhof. Sensing our serenity, Maitre D' Schiller suggested that we leave the cuisine details to Chef Hubertus Real and 'throw caution to the wind'. He quickly grabbed the menus and returned with the Amuse Busche: Ravioli Emilio with Spinach - a charming little warm up to tease the palate with a light taste of things to come. Our wine paring was a local selection from the pearl of the so called 'wine route' Vaduz Chardonnay 2002, Harry Zech - a well oaked, smoky, medium bodied chardonnay offering aromas of white fruit and peach.

A slight pause was allowed to fully savor the amuse and wine suggestions during which time Phyllis and I couldn't help but recount the feeling of being totally nurtured in this wonderfully remote corner of the civilized world. Soon after arrived the Mixed Garden Salad with Forest Mushrooms and Fresh Herbs, a rather mundane dish in most restaurants that gave new meaning to the words 'garden' and 'fresh'. I can't think of a time that I was so impressed with the explosive tastes of fresh picked greens and aromatic herbs, not to mention the earthiness of the forest mushrooms. All the while Schiller and his staff were constantly checking up on us and refilling water and wine glasses, replacing silverware and refolding our napkins before we returned from the restroom.
| | | |
| --- | --- | --- |
| Our next course was carefully presented as Scampi with Two Sauces featuring the crispest, most succulent and tender jumbo shrimps that literally 'popped' when you bit into them. The artfully arranged remoulade and cocktail sauces reminded us of the peace and tranquility derived from the forces of 'ying and yang'. | | |
Before taking over as Executive Chef at Sonnenhof, Hubertus was trained at the Palace in St Moritz and then off to Sydney, Australia where he won a gold medal at the Skill Olympics for his cooking while he maintained his position at the Pacific-Parc-Royal. His education was formalized when he graduated from a prestigious hotel school in Switzerland and returned to take over the reins of the Park-Hotel Sonnenhof.

Next came Twin Soups-Parsley and Beetroot soups with Horseradish for me, who cannot refuse a hardy soup during the cooler months. I was pleasantly surprised with the refined delicacy in flavor and texture of the contrasting liquids, which appeared side by side at opposite corners of the spectrum. The verdant green, slightly grassy but pungent parsley was graceful and genteel while the fiery sweetness of the beets returned depth and intensity after being spiked with the freshly grated horseradish.

For Phyllis, the selection was Bass with Broccoli Flowers, fried Parsley and green Olives in a Saffron Broth presenting a fresh filet of pan seared Bass in a delicate broth flavored with the 'pestles' of hand gathered crocuses combined with acerbic green olives and the prominent flavor of fried parsley.

I wasn't aware of it until Phyllis mentioned that several other guests were noticing our extreme pleasure while we savored each morsel. I mean after all, the Principality of Liechtenstein is usually referred to as the 'Postage Stamp Country' or the "Land of Milk and Money" (London Times) and is not as well known as a superb culinary destination. Things have changed with the advent of the undisputed master of the kitchen Hubertus Real, who lovingly combines first class international cuisine with regional specialties and ingredients.

Oskar Schiller carefully decantered our red wine Vaduzer Pinot Noir "Bocker" Hofkellrei des Fürsten von Liechtenstein 2002 which presented itself as a noble rendition of a respectable Pinot Noir with notes of dark cherry in a medium bodied structure. It was produced literally next door at the vineyards of the reining regent of the country, His Serene Highness Prince Hans-Adam II, who invites the whole country to an annual garden party in his castle home. You just might want to check up on the Princely Family by accessing http://www.fuerstenhaus.li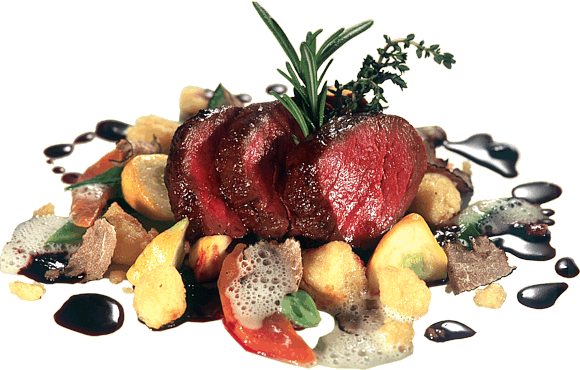 We were thoroughly engaged in the veritable moment in time when the main course arrived. For Phyllis it was Veal Naturale over Pasta and Leeks with rosemary and oregano nage. The preparation of veal in Germanic countries is held in high esteem and handled with the delicate care of an artisan working on his unique creations. A tender, maddeningly thin wafer-like oval quickly sautéed and presented over house-made pasta with leeks while the foam-like herbal nage accentuates the subtle arrangement with fortifying character.

Almost simultaneously my server presented me with Turbot over Sauerkraut with Basil and Potato Puree, which seemed at first too perfect to disturb. A better tasting fish is hard to find although Turbot is relatively unknown in the US. The silky smooth re-defined version of creamy potato puree has to owe its great taste to the skillful preparation and nurturing of Chef Hubertus, who has shown that literally everything that leaves the kitchen has to be perfect in every way.

Our evening was complete, or so we thought! Oskar announced that there would be more to come, a sort of 'grande finale' so to speak. Soon after our attentive and personable server Stefanie arrived with two angelic creations expertly prepared and presented by Chef Hubertus himself. It seemed as if we were seated royalty being pampered with all the regalia of an official visit. After all, Prince Hans-Adam II and his princess wife have been frequent visitors to the Park-Hotel Sonnenhof which is probably the best testimony as to the level of quality, service and cuisine at this resort.
| | | |
| --- | --- | --- |
| | | Dessert of Ten different "house-made" sorbettos with fresh currents, kiwi and melon for Phyllis and Ginger Zabayon with rhubarb wild strawberries for me rounded out this world-class culinary experience. But wait! After espresso and cappuccino came a carefully arranged delightful assortment of chocolate truffles as a surreal sensuous send off. |
Chef Hubertus suddenly came out of the kitchen with a proud 'father-of-the-bride' look on his face to see if his patrons had enjoyed themselves during their dining experience. As he approached each table, you could see happy people reaching out to shake his hand in gratitude time after time. As he came closer to our table, I'm sure he could see the extremely high level of satisfaction written all over our faces. He asked if we would like to take a small walk to visit his newly created wellness board room in the conference center. It seems that Hubertus has more in mind than just dazzling his guests with his gastronomic wonders and has pursued his 'Wellness Conference Center' idea until it came to a reality.
The Sonnenhof Wellness Meeting Concept:

The four factors that make up the foundation for the concept include:

1. Conference


2. Wellness


3. Gastronomy


4. Service




Please take a closer look
The conference factor includes all the necessary implements required for a successful meeting or workshop to proceed. Flip charts; magnetic walls; internet; ISDN; technical touch screens for TV, video, DVD, radio with Dolby Surround Sound ™; automated overhead projector and well planned flexible lighting which can be controlled form a central tech-box just to name a few.

The wellness factor features an automated board room table that raises and lowers according to the necessity to work standing up or sitting. The well thought out color scheme highlights earth tones for tranquility and the room itself had been designed using the ancient method of 'feng shui' to harness the proper energy flow. An aroma bar offers a selection of exotic scents to promote feelings ranging from energy to relaxation according to your requirements. A waterfall has been added in the room not just for appearance but also for regulating humidity and cleansing the air of dust particles. Finally, there is a free standing fresh water bath for tired or distracted conferees to plunge their forearms into thereby refreshing the blood flow and reinvigorating their attention span for another session.

John & Phyllis Lomitola
The gastronomy factor stresses light fresh energy food from the garden along with fresh fruits offered all day for a quick boost to the brain. Garadon service with assorted veggies and fresh fruit juice, salads and canapés can be scheduled to arrive in the board room to optimize quality time in each session.

The service factor offers communications at every level to reach management at all times 24/7.

You could appreciate the tremendous amount of serious thought given to the planning and construction phases of this remarkable endeavor during which Hubertus single-mindedly followed his unique inspiration of deluxe conference facilitation.
Our delightful evening ended with a slow, comfortable stroll through the Sonnenhof gardens with nothing but the scent of fresh, crisp mountain air and the luminescent glow of the milky-way shimmering off the all encompassing snowy peaks.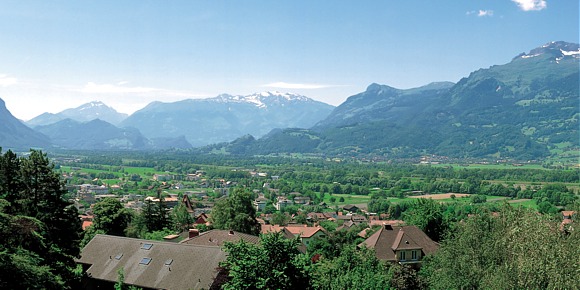 Please take a closer look
by Phyllis & John Lomitola

Editor-in-Chief: Ingrid Lemme
© 2005 ~ Seven Stars and Stripes, Inc.