Restaurant Sonnenhof
Vaduz - Liechtenstein
Society
August - 2005
6 Stars & 6 Stripes
Overall - 'Hotel & Service'
The Ultimate Award:
Seven Stars and Stripes®
His Highness Prince Hans Adam II, the hereditary ruler of this pocket sized Principality, has made this restaurant one of his favorite haunts as a way of enjoying the state-of-the-art preparations of the fruits of his domain. It's all because of the natural born talents of Hubertus Real, a local boy who's on the cutting edge of sophisticated home grown cuisine and who is doing his thing directly in the spotlight of international recognition.

We first became acquainted with the Parkhotel Sonnenhof when the Seven Stars and Stripes American team paid a visit in March of 2004. It was clear to us then that we had stumbled upon a quiet gem tucked away on a lovely tree lined street leading up to the Prince's fairytale castle residence. Our experience then was quite impressive and upon being invited back for a second time we decided to send our pre-eminent team from Germany to see if the excellence could be duplicated. As president of our company, I took it upon myself to lead the review of Sonnenhof using our uniquely developed standards of service, hospitality and cuisine criteria.

Chef de Cuisine Hubertus Real would not disappoint us! Our night began like all others in this pristine Alpine environment, encircled by jagged mountain pinnacles between which stretched a carpet of a zillion sparkling lights as if anchored in place by each peak. We had to tear ourselves away from this apparition as we were led to our table next to a window with a similar view.
| | | | | |
| --- | --- | --- | --- | --- |
| Chef Hubertus instructed restaurant manager and sommelier Joachim to do away with menus and prepare us for the onslaught of what was to be a delightfully creative evening. Joachim approved of Hubertus's suggestion of an aperitif in the form of two micro-thin crystal stemware filled with Laurent Perrier Champagne flavored with Holunder (Elderberries). | | | | The fine bubbles and delicate mousse seemed to enhance the floral scent of the elderberry juice but not so that it became overpowering. There was an acceptable pause while we savored the essence in our glasses when shortly thereafter Marc our waiter appeared with the 'Greetings from the Kitchen", a sort of welcoming appetizer of Ravioli Emilio with Spinach. We felt contented and well on our way to a remarkable experience as we savored the tender veal and spinach filled pasta somehow reminiscent of the finest Bolognaise specialties of Italy. |
It was Joachim who approached this time with a well chilled bottle of Basa 2004 Verdejo, Viura, Sauvignon Blanc, Telmo Rodriguez, Rueda from the winemaker's family estate in Spain. It offered melon and citrus aromas while gooseberry and lemon lingered from the artful blending of the three varietals. This was followed by our first appetizer of Airy Symphony of Tomato in Chilled Sweet Basil. Juicy slices of heirloom tomatoes dressed with sweet chilled basil foam thereby heightening the already fresh pronounced flavors of the tomatoes.

Our server Marc had conveniently placed a basket of the house-made specialty breads of which my personal favorite was infused with rosemary and added depth to the garden fresh tomato appetizer. This was followed by Roasted Goose Liver with caramelized Cherry Vinegar and Breath of Elderberry Blossoms which in turn was paired with a very appropriate Amignez de Vetroz 2003 Cuvee du Maitre de Chais. A special old varietal wine grown in a microclimate near the Rhone River that gets its character from the Föhn (southerly wind) and relatively dry conditions.

At that precise moment that we were savoring the cacophony of flavors and textures our server returned to prepare us for the next eye-opener from Chef Hubertus. This was to be Tuna Tatare with Lemon Zest over Mango Chutney; a rather playful dish of diced raw Ahi tuna timbale perched precariously over tart mango and topped with a lemon zest nest.
| | | |
| --- | --- | --- |
| We couldn't resist the temptation to second-guess what wine paring was in store for us from the cellars of Sonnenhof. This time Joachim delivered a Burgunian specialty of Macon-Milly-Lamartine 2002 Les Héritiers du Comte Lafon. This Chardonnay is refined and steely with smoke and oak on the palate. It is well balanced and reveals a citrus finish proving to be just the thing for the appetizer at hand. | | |
The wine had nice body with some flamboyance, so we decided to savor it for the next course after consulting with Joachim the sommelier. He reminded us that it would acquire more character with age but we stubbornly insisted not to wait. Our next course was brought before us and it couldn't have been a better match for the fleshy Burgundy. Roasted Jumbo Shrimp and Diver Scallops served with Mediterranean Vegetables, Sweet Balm Vinaigrette over Indian Basmati Rice seemed to levitate in a three-dimensional apparition. Luscious fresh ocean aroma proved to us that sea products are shipped fresh and quickly to this landlocked country. Large scallop discs topped with roasted shrimp lay on top of concasse of locally grown vegetables. It became obvious to us that we were in the care of an architect expertly crafting his passion for food.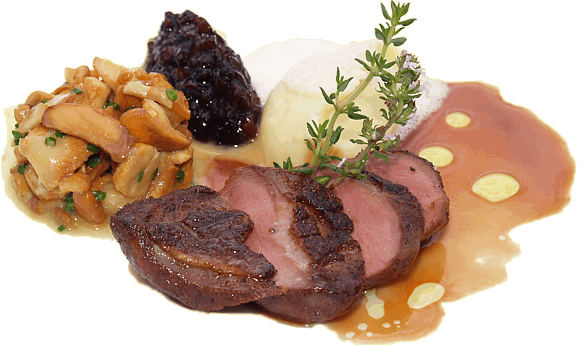 An intermezzo was in order now, but it was not to be. Instead, Joachim approached the table caressing a Château Poujeaux 1998 Cru Bourgeois Appellation Moujlis controlee, a fine Cabernet style wine produced between Margaux and St Julien in Bordeaux. A soft delicate texture combined with a melting pot of red fruit flavors ranging from dark cherry to bright red plum. This wine will do well in someone's cellar to offer delight to some future dinner. All this would have been enough except that our next course was in the offing. Tender Breast of Pigeon with fresh Chanterelles and Cherries and roasted Potato Gnocchi made its debut to the table. I must admit that I would never have thought of ordering pigeon breast prepared in any fashion, but my curiosity got the best of me. Now that it was in front of me I decided to dig in and I was not disappointed. What impressed me the most was the delicate earthy flavor of the forest contained in the mushrooms that complimented the meat-like texture of the pigeon breast.
| | | |
| --- | --- | --- |
| | | Chef Hubertus has ratcheted up the competition by his innovative and intensive flavorful preparations of the raw materials and their subtle garnishes. It wasn't long before we were drawn near to the end of our spectacular dining experience. Another server named Anke worked her way over to our table with a large garadon piled high with cheeses produced locally from raw milk of sheep, goats and cattle. We were mesmerized by the huge selection of all shapes and sizes, of fresh and aged cheeses and couldn't make up our mind. Anke made the selection of ash covered fresh goat cheese and we relished each bite over a bowl of fresh fruits. |
We ordered double espressos while we waited to be presented with the grand finale, a dessert of Nougat-Parfait with Marinated Cherry Tatare. Needless to say it measured up to the fine quality and ingenuity displayed by Chef Hubertus and his team and we became children again offering each other bites from our spoons as a testimony to the great culinary experience that we have just had.
by Thorsten Piosczyk & Sascha Derschewski

Editor-in-Chief: John Lomitola
© 2005 ~ Seven Stars and Stripes, Inc.