Abu Dhabi, U.A.E

Society - World Level Perfection
May 2011
6 Stars & 7 Stripes
Cuisine & Service
The Ultimate Award:
Seven Stars and Stripes®
A serene environment of aquamarine blue surrounds you like a liquid mantle as you enter (CLICK HERE) the threshold to Sayad Restaurant (CLICK HERE) at the Emirates Palace, Abu Dhabi. You simply follow the line of dolphins featured prominently as a design element on the thick pile carpet until you pass intricate ultra-clean aquariums filled with living coral and shells. The mood is created by the carefully choreographed use of indirect lighting and underwater elements together providing the leitmotif of a sub-oceanic symphony.
| | | |
| --- | --- | --- |
| But structure without substance cannot survive in this world of highly competitive restaurant venues with customer pressures the likes of instant messaging and social media. Enter Shaun Anthony (CLICK HERE), newly appointed Chef de Cuisine for Sayad with 14 years of experience in the culinary field in ten countries, and 3-Michelin starred training at Gordon Ramsay's Royal Hospital Road, London under his belt. Since his auspicious beginning at Sayad in July of 2010, Chef Anthony has focused on his strong foundation in European fine dining to utilize a keen interest in modern cooking techniques while being conscious of sustainable practices and environmental concerns of the modern world. | | Sayad Restaurant - Aquarium |
After all, Sayad in Arabic loosely means 'fisherman', from which we must assume the restaurant can supply the freshest of seafood to your private table (CLICK HERE) from the nearby waters of the Persian Gulf. Fresh it is and with a modern twist, giving us a hint that Chef Anthony has influenced his kitchen team to expand their horizons and think out of the box. A well-run kitchen cannot function without a well-run front of the house to compliment great food with seamless gracious service in theory making the complete dining event a memorable one. In our experience regarding tableside service, we found that the restaurant team lead by Zsombor Mehesz , Sayad Restaurant's Manager, proved professionally systematic without being robotic and genuinely sensitive to the needs of the patron without being intrusive.
| | | |
| --- | --- | --- |
| | | Some of the highlights of Chef Anthony's cuisine included a degustation menu of 'modern seafood' (as stated on the menu). A Canapé of marinated white anchovy with crispy potato combo opened our senses with salt and acidity to wet the palate and prepare it for what was yet to come. An Amuse Bouche followed with Royal Beluga caviar delicately placed atop a cherry tomato with smoked tomato consommé poured at the table. Next was an appetizer of Goat Cheese, Almond, Orange and Strawberry, which presented itself as lightly coated with almond crumble and brûléed with a torch to form a crispy, toasty surface. A bottle of 2009 Laurenz V Singing Grüner Veltliner, Austria provided the much-needed fruit bouquet, as it was un-oaked with plenty of complexity and simply delightful with this menu. |
The degustation menu is quite extensive and provides a glimpse into the resourceful and arty mind of Chef Anthony and his team with items like Yellow fin Tuna Tartare sitting amidst layers of avocado, tomato concasse and coriander and Togarashi spice, consisting of seven ingredients. Or Norwegian Salmon (CLICK HERE) brine-cured with a mixture of parsley, dill and tarragon for 5 hrs and poached en sous vide in olive oil then served with green peas and crispy salmon skin.

Sayad Restaurant - Cuisine
Smoked Octopus Carpaccio with peach tamarind dressing and confit potatoes preceded another course of Pan seared Foie Gras with strawberry-rhubarb French toast in which the foie gras is pierced with a pipette filled with hot liquid foie gras and strawberry vanilla syrup. This was precisely the moment for a fragrant, aromatic and spicy Hugel Gewurztraminer 2008 from Alsace, France to compliment the aforementioned courses.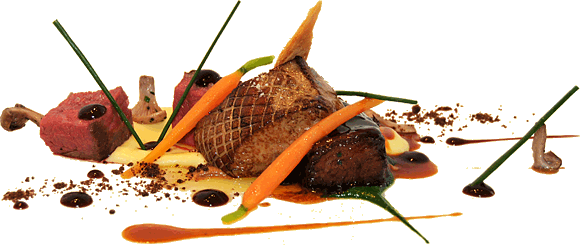 Sayad Restaurant - Cuisine
One of the highlights of the evening was Maine Scallop, Pineapple, Peking Duck and Aromas of 5 spices (CLICK HERE). This entrée turned out to be the most interesting in which a bowl of Jasmine tea with coriander, fennel, star anise, clove and cinnamon is placed in front of you after which boiling water is poured over the spices. Pan-seared scallop atop pineapple is placed carefully on top of the concoction with the idea that you not only taste the 5 spices but at the same time you are smelling the released aroma arousing more of the senses. Australian Barramundi with Peach, Fennel and Almond proved very succulent served with confit La Ratte Potatoes and almond crumble, a recurring theme on some other dishes. The peach combination came in two forms: marinated and as a mousse with a quenelle of buerre noisette ice cream set into the warmed peach mousse at the last moment.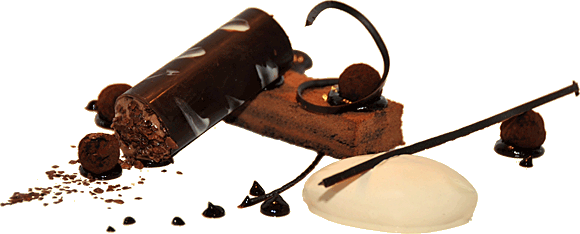 Sayad Restaurant - Cuisine
We marveled at Chef Anthony's focus as we moved thorough the courses and came upon the iconic Wagyu Beef Rump with Wild Mushrooms, Beef Cheek and Bordelaise Sauce. Tender and flavorful, the meat is well marbled and has been cooked en sous vide for 48 hours so that the end result is that it simply melts in your mouth. Earthy and distinctive pieds bleu mushrooms are enhanced with every swipe of the full-bodied bordelaise sauce. A South African 2006 Haute-Cabriere Pinot Noir from Franschhoek elegantly and slowly revealed its smoky characteristic while finishing with soft tannins with a bit of ripe fruit.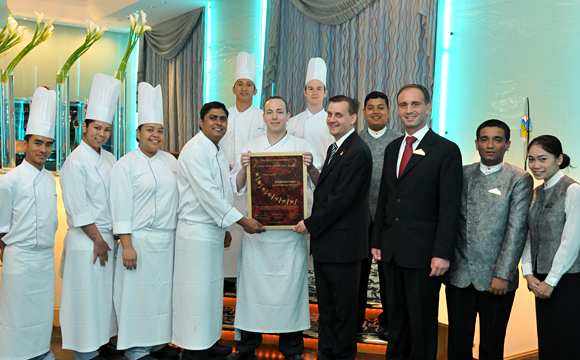 2011 Sayad - Seven Stars and Stripes - Award-Hand-Out
Dessert was nothing less that spectacular with Executive Pastry Chef / Master Baker Mr. Josef Teuschler's rendition of Chocolate Explosion, a triple play of dense layered chocolate, sprayed with chocolate and served with a chocolate cylinder filled with chocolate mousse and caramel ice cream. We finished with Disznoko Tokaji Aszu 4 Puttonyos 2004, made sweet from grapes that have developed 'noble rot' – Botrytis, but maintaining an underlying acidity with a touch of bruleed sugar. We will not forget the fine culinary work that Chef Anthony and his team have done to bring a new standard of dining to the Emirates Palace.
by Edmund & Thorsten Buehrmann

Editor: John Lomitola

Editor-in-Chief: Ingrid Lemme
© 2011 ~ Seven Stars and Stripes, Inc.